Vanessa Hudgens looked positively edgy while showing off her dangling belly button ring for the Season 2 Premiere of 'The Carrie Diaries'.
Vanessa Hudgens at the Season 2 Premiere Party for "The Carrie Diaries" at Gansevoort Hotel Rooftop in New York on September 28, 2013
The 'Spring Breakers' star, who attended the event to support her boyfriend Austin Butler, brought her usual flair for style by wearing a leopard-print crop top.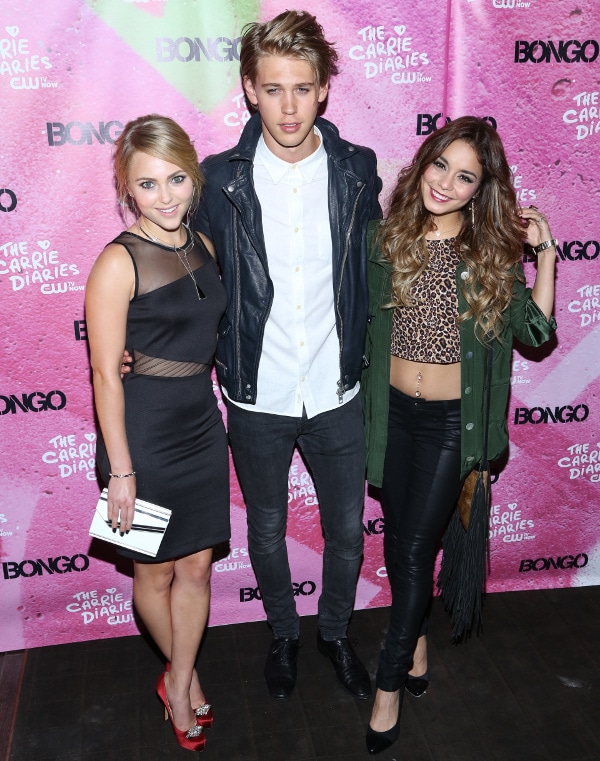 AnnaSophia Robb, Austin Butler, and Vanessa Hudgens pose together at the Season 2 Premiere Party for "The Carrie Diaries"
Just when we thought we'd exhausted all of the hundred and so ways to wear leopard-print, Hudgens strutted in this casual number and reminded us that fashion is limitless.
She wore the leopard-print crop top with a pair of skinny leather pants and black patent leather shoes. Vanessa topped it off with an oversized, shiny green button-down blouse which she kept open and accessorized with a fringed shoulder bag and dangling belly button ring.
Vanessa Hudgens' dangling belly button ring in a cropped leopard-print top
Even Austin Butler dressed to match the casual style of his girlfriend by opting for a James Dean-ish look with denim jeans, white shirt, and leather jacket. We almost forgot what this party was about!
Vanessa Hudgens scored the October cover of Marie Claire and her big drama, Gimme Shelter, is set to hit the big screen on 2014.
Other leopard-print tops for you to check out:
EIGHT SIXTY Leopard Tank, $77
JOIE Gradient Leopard Drew C Tank, $148
SHOW ME YOUR MUMU Estella Topslip, $69
NOOKIE Jungle Crop Top, $96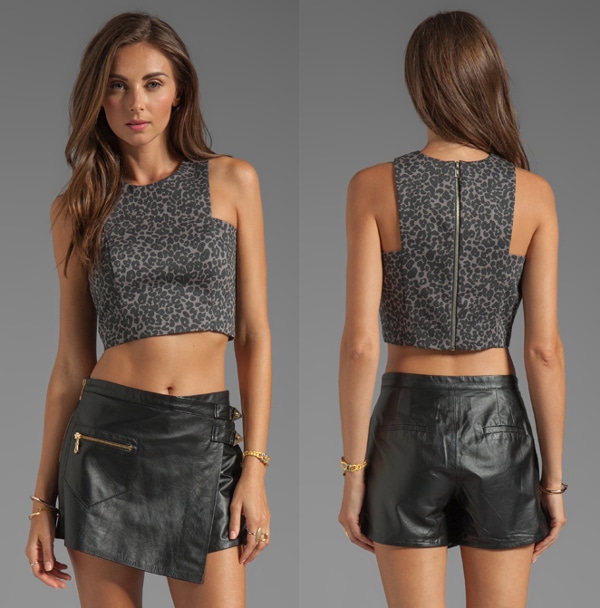 Credit: Andres Otero / WENN