Beyoncé can't miss. Whether she's performing at a major music festival or walking down the red carpet of the Met Gala, she always looks amazing in her high-fashion ensembles. And for the 2022 Oscars, she stunned once again in a naked dress.
View this post on Instagram

From the ceremony to the after-party, the singer donned some of the best looks of the night.
Beyonce's Red Carpet Look
To begin, Beyoncé arrived on the red carpet in a yellow Valentino gown.
The dress was replete with a cape and matching gloves, and the singer wore her hair in a side ponytail with curls cascading down her body, away from her face to show off her dazzling earrings and glittery eyelids.
View this post on Instagram
She carried a glitzy purse mimicking a tennis ball to pay homage to the film King Richard, for which she was nominated for Best Original Song. She kept in theme with matching yellow pumps.
A Quick Outfit Change
After walking the red carpet, Beyoncé made an outfit change to perform for the ceremony. She opened the show with her nominated song "Be Alive" on a tennis court, again nodding to the film, and she took the theme further by wearing a tennis ball-colored dress.
The dress, like her yellow gown, featured matching gloves, but this outfit had a little bit more drama. Beyonce wore giant earrings, several bracelets around her wrist, and rings atop the gloves.
View this post on Instagram
The musician also had a giant piece around her leg peeking through her dress. From her fashion to her captivating performance, it was impossible to keep our eyes off the singer.
After the performance, Beyoncé returned to her yellow Valentino dress to watch the rest of the ceremony.
Her Naked Celia Kritharioti Dress
For the after-party, the star made yet another outfit change. While it's typical for celebrities to change from the ceremony to the after-party, most stars aren't seen in a third ensemble. But most stars don't get to perform at the ceremony, and most stars aren't Beyoncé.
Mrs. Carter showed up at her husband Jay-Z's Oscars after-party in a daring dress. The Celia Kritharioti Couture gown was embellished in just the right places, strategically covering up any sensitive areas while remaining provocative by showing plenty of skin.
View this post on Instagram
Beyoncé paired her gown from the Greek fashion designer with sunglasses, a clutch, and heels, as well as a Tiffany & Co. diamond necklace. The singer recently became an ambassador for the brand, so it was fitting that she adorned their jewels.
The Internet's Reaction
It's rare for Beyoncé to receive criticism, and although her outfit was quite risqué, fans were in awe of the ensemble. Beyoncé took to Instagram to post photos of her look, and the comments were overwhelmingly positive.
With 5.7 million likes and counting, the singer received nothing but love for her look. Celebrity friends like Kelly Rowland and Vanessa Bryant were just a couple of the commenters to post their affinity for her fashion on Oscars night.
Although she didn't walk away with a trophy for Best Original Song, she did get a metaphorical trophy for best dressed.
Beyoncé Knowles at First Lady Michelle Obama's fundraising dinner in New York City on March 19, 2012 (Credit: Ivan Nikolov / WENN)
In March 2012, Beyoncé showed off her feet in a pair of incredible heels from Nicholas Kirkwood styled with a 3/4 sleeve sheath dress from Victoria Beckham.
The American singer, songwriter, and actress accessorized with a stunning Lanvin "Swarovski Crystal Eagle" necklace.
The lavish $5,000-a-head Obama election fundraiser, which was hosted by Michelle Obama and Robert DiNero at DiNero's Greenwich Hotel restaurant, Locanda Verde, raised funds for Barack Obama's re-election campaign.
Beyoncé Knowles shows off her feet in beautiful heels from Nicholas Kirkwood (Credit: Ivan Nikolov / WENN)

Her heels looked great with this figure-hugging navy blue dress. Beyoncé has shed her baby weight extremely quickly and the dress highlighted her curvaceous silhouette.
The satin and glitter Nicholas Kirkwood sandals are from the Spring 2012 collection and can be purchased at Farfetch.
Nicholas Kirkwood Satin and Glitter Sandals, $1,265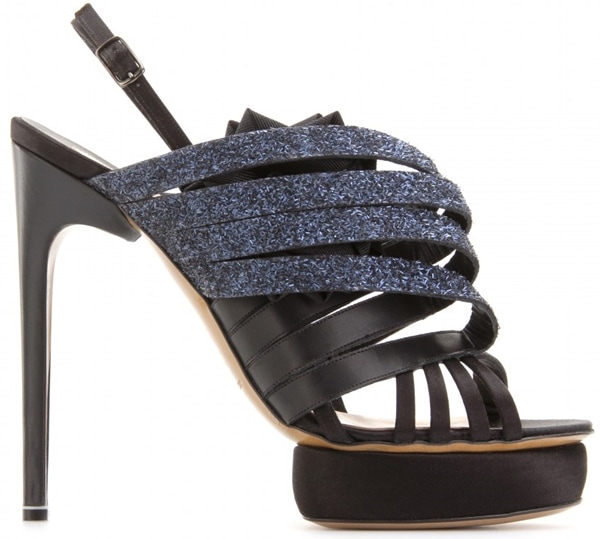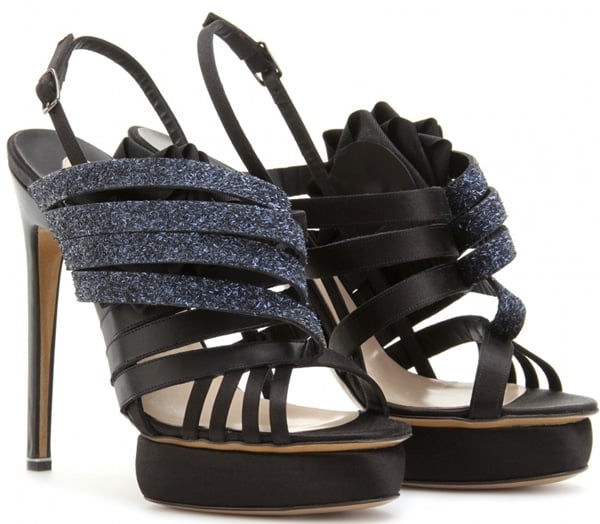 What do you think of them? I love the multiple straps and glittery cage design surrounding the rosette floral details. These heels are the perfect evening sandal for the season. They're fun and fresh but sophisticated and classy as well.
I'd love to see these heels paired with a glittery cocktail dress or maybe black tailored shorts and a sheer flowy top.
However, the dress that Beyoncé chose is possibly a perfect match as well. We found it at Mytheresa for $1,685 – which means Beyoncé really treated herself this evening.
Victoria Beckham Cotton Blend Dress, $1,685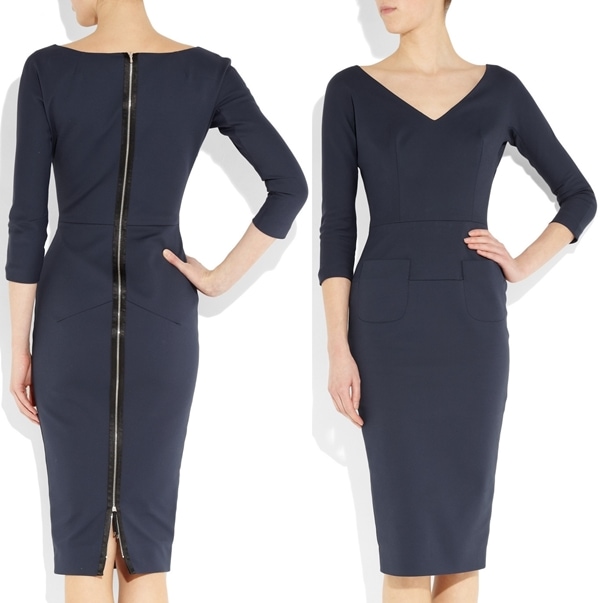 So, overall, what do you think of Beyoncé's look? More importantly, what do you think of her shoe choice?