From Soundcloud to the Grammys, Billie Eilish Pirate Baird O'Connell has already carved out her own space in the music industry.
With a chart-topping debut studio album, over 50 million monthly listeners on Spotify, several clothing collaborations and product endorsements, and a lengthy list of accolades, Billie has become one of today's biggest and most successful teenagers.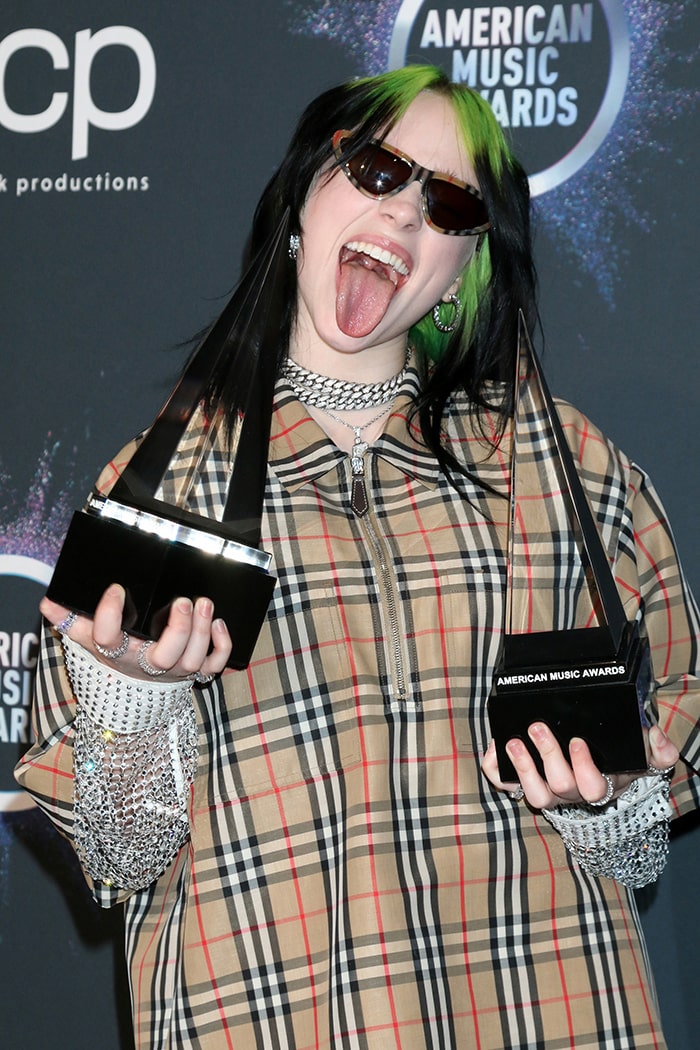 Billie Eilish takes home Best New Artist and Favorite Alternative Rock Artist awards at the 2019 AMAs in Los Angeles on November 24, 2019
What Is Billie Eilish's Net Worth?
Her net worth is estimated to be around $8 million, which is huge considering she just turned 18. However, her recent venture has reportedly increased her net worth by a whopping $25 million.
It has not been confirmed yet, but according to Billboard, Apple paid Billie $25 million for the right to a documentary about her life. The film, which has already been shot, was directed by R.J. Cutler and was co-produced by Billie's label, Interscope.
It follows Billie Eilish's private life in the wake of the release of her debut studio album, When We All Fall Asleep Where Do We Go?, last March. The project is expected to be released on Apple TV+ in 2020.
Billie Eilish in gray sweat pants and Nike Jordan Legacy 312 "Wolf Grey" sneakers outside Jimmy Kimmel Live studios on November 21, 2019
A few weeks ago, Apple kicked off its first-ever Apple Music Awards. The tech giant named Billie Global Artist of the Year and Songwriter of the Year. Her debut album received the Album of the Year award.
Who is Billie Eilish?
Born Billie Eilish Pirate Baird O'Connell to a family of entertainers, Billie practically grew up in the entertainment industry. Her mother, Maggie Baird, is an actress and a screenwriter, while her father is actor Patrick O'Connell, both of whom are also musicians.
She was homeschooled along with her brother Finneas O'Connell during their childhood. At 8, she joined the Los Angeles Children's Chorus, and at age 11, she started writing songs.
Billie Eilish and her brother Finneas at the LACMA Art + Film Gala 2019 on November 2, 2019
How Billie Eilish became an overnight success
Just two months shy of her 14th birthday, Billie recorded Ocean Eyes, a song written by her brother Finneas O'Connell for The Slightlys, an all original alternative pop-rock band. She sent it to her dance teacher who helped choreograph the song, which was later used in her music video.
In a 2016 interview with Vogue, Billie recalled: "He came into my room in October of last year to tell me he had this song called "Ocean Eyes." He'd been doing it with his band before, but of course, I'd heard it because I was right next door. I sang it, and we both loved it. It's just a beautiful song, and [my brother] Finneas is an amazing writer. I loved it and I couldn't get it out of my head for weeks. I'm in a dance company, and one of my teachers asked if I could record [the song] and send it to him so he could choreograph a dance. So all of the production is based off of lyrical contemporary dance."
Billie Eilish attends the 60th Annual Clio Awards in Keep Going Rubik's Cube suit with her brother Finneas O'Connell on September 25, 2019
Billie uploaded her Ocean Eyes recording to Soundcloud, and the track quickly became a viral hit overnight. She eventually signed with Darkroom/Interscope Records, and in November 2016, they re-released Ocean Eyes worldwide.
As of February 2019, the song has racked up over 200 million streams on Spotify. It was certified platinum by the RIAA, and it peaked at number 84 on the Billboard Hot 100 in May 2019.
Ocean Eyes was also included in the 2017 drama Everything, Everything and in the 2018 movie The Hate U Give.
Billie Eilish wears an oversized yellow jersey top and camo pants at the Everything, Everything Los Angeles premiere on May 7, 2017
Billie Eilish's rise to fame
Following her breakthrough hit, Billie Eilish released the single Bellyache in February 2017. A month later, she recorded Bored as part of the official soundtrack of Netflix's 13 Reasons Why.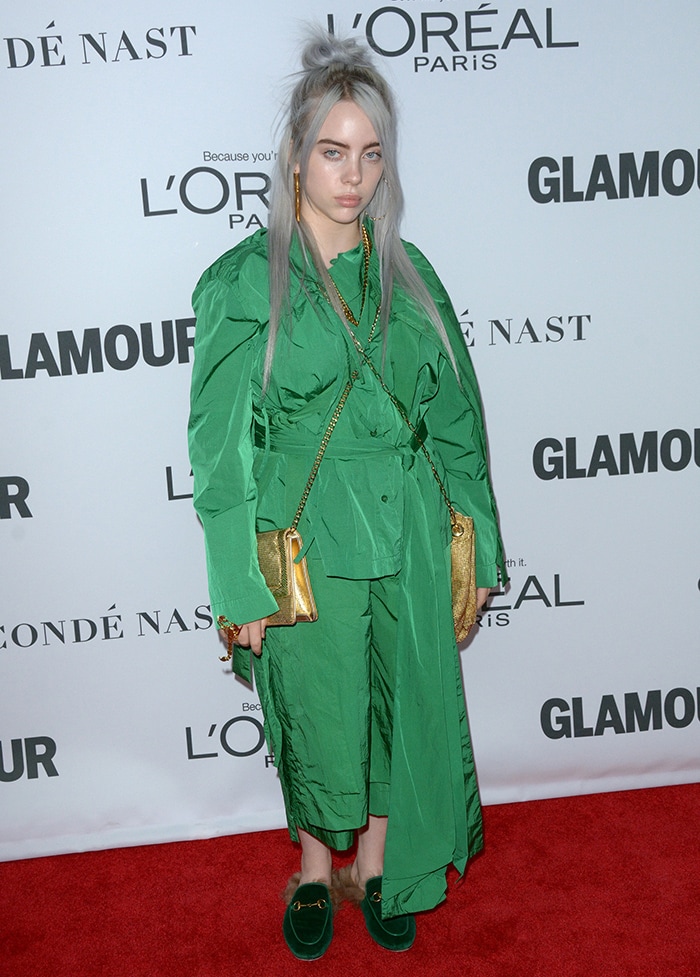 Billie Eilish in Craig Green outfit and Gucci slides at the 2017 Women Of The Year Awards on November 14, 2017
In August 2017, she dropped her debut EP, Don't Smile at Me, which peaked at number 14 on the US Billboard 200. It contains 10 songs, including Ocean Eyes, Bellyache, and My Boy, which was used in the fourth episode of the third season of the supernatural series, Shadowhunters.
After her debut EP's commercial success, Apple Music named Billie as one of its Up Next artists.
Billie Eilish in an orange hoodie at Pharrell Williams' Yellow Ball event on September 10, 2018
Billie then embarked on the Where's My Mind tour in February 2018 to further promote her music.
In April 2018, Billie collaborated with singer Khalid for the single, Lovely. It was later added to the soundtrack for the second season of 13 Reasons Why.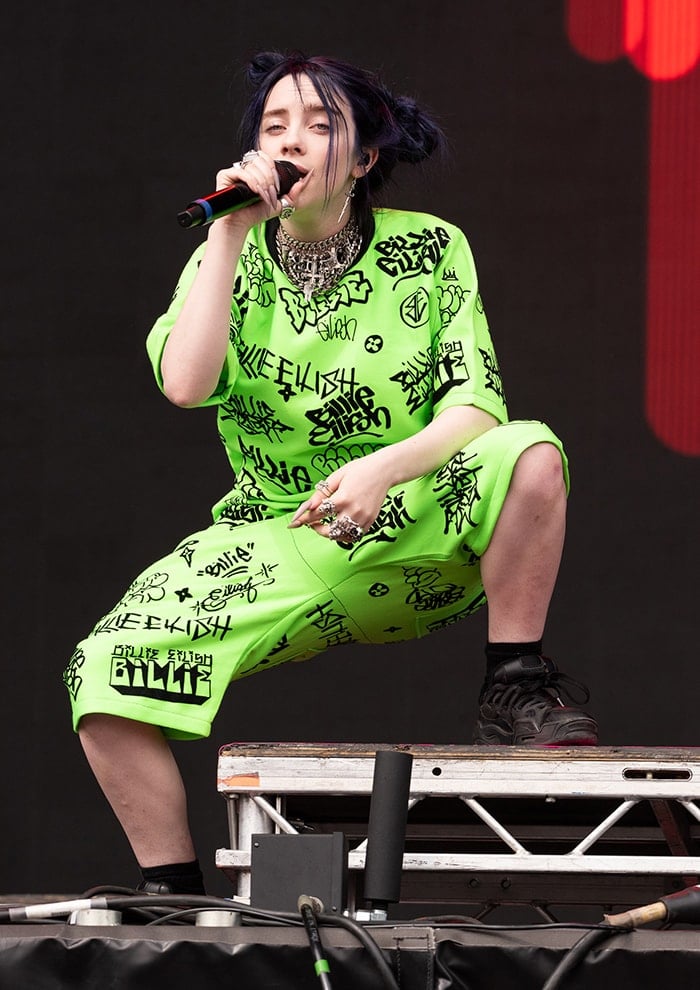 Billie Eilish performs at BBC Radio 1 Big Weekend in custom Freak City graffiti set and Under Armour x ASAP Rocky sneakers on May 25, 2019
In October 2018, she released When the Party's Over, and signed with Next Models for fashion and beauty endorsements.
A month later, Billie made it to Forbes' 30 Under 30 Class of 2019. She also released the single Come Out and Play that same month for Apple's holiday-themed commercial.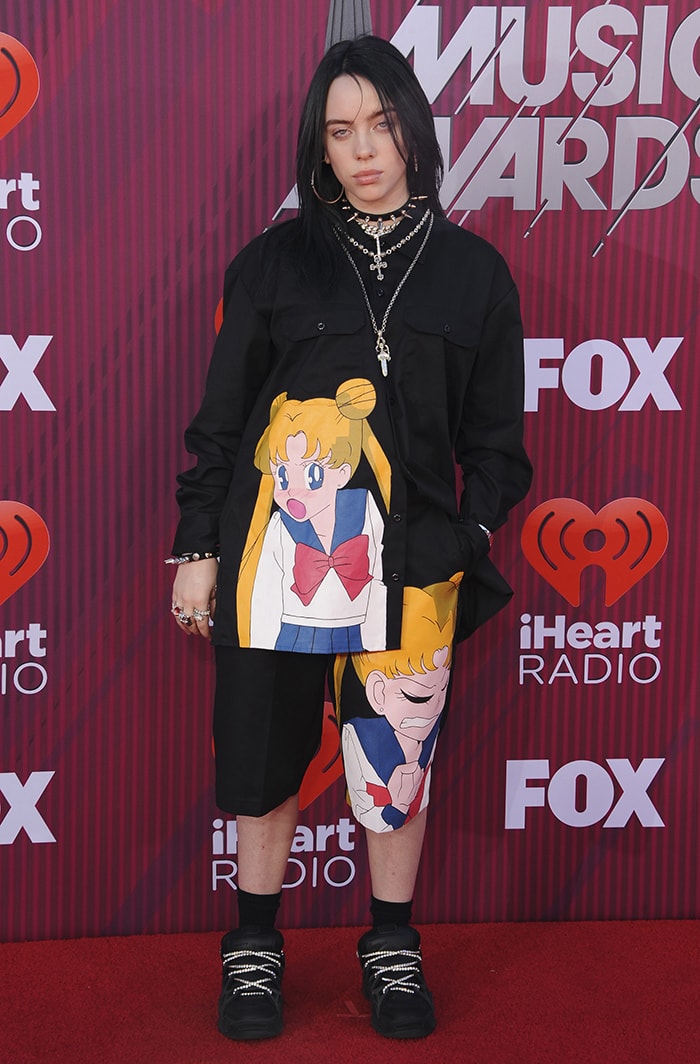 Billie Eilish in a custom Slumpy Kev 'Sailor Moon' outfit and Under Armour x ASAP Rocky SRLo black sneakers at the iHeartRadio Music Awards 2019 on March 14, 2019
When We All Fall Asleep, Where Do We Go?
Billie already has a huge cult following online. But three years after her viral Soundcloud upload, the teenage pop star broke into mainstream fame with the success of her first debut studio album, When We All Fall Asleep, Where Do We Go?.
Billie Eilish in a Burberry beekeeper outfit at the 47th American Music Awards on November 24, 2019
The full-length album topped the charts in several countries, including Canada and the United Kingdom. It debuted at number one on the US Billboard 200, while Bad Guy, which is the fifth single from the album, reached number one on the US Billboard Hot 100.
This made Billie Eilish the first and so far, the only artist born in the 21st century to achieve both a number one album and single. She is now also the third female solo artist, alongside Alanis Morissette and Sinead O'Connor, to have multiple number-one singles on the Billboard Alternative charts.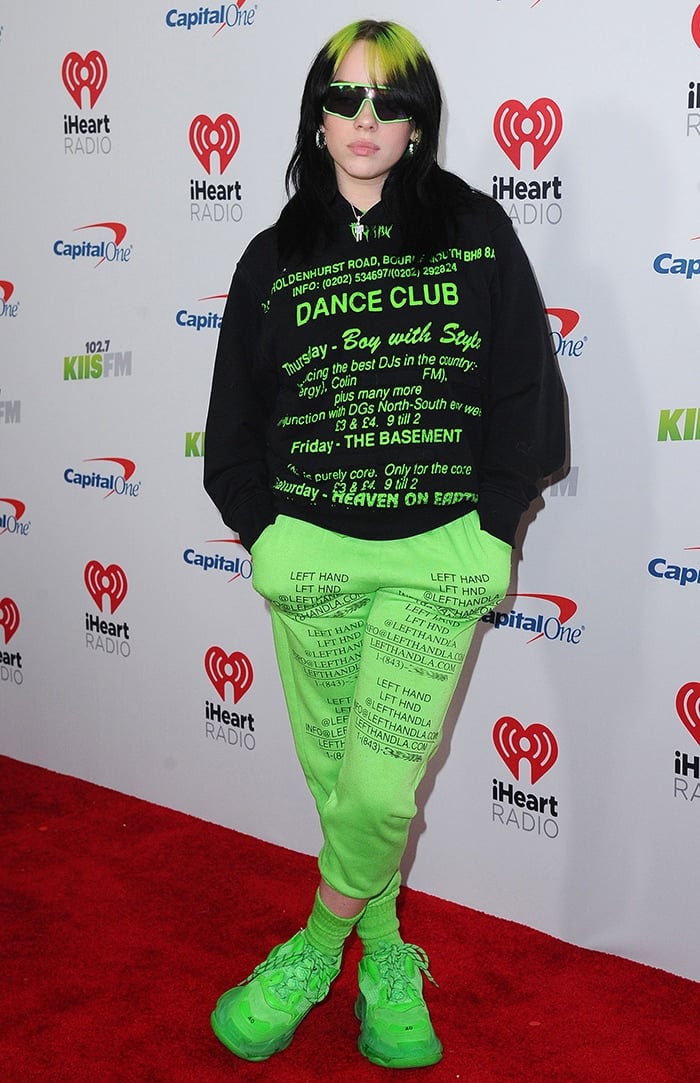 Billie Eilish in MISBHV green sweater, Left Hand LA pants and Balenciaga Triple S Sneakers at KIIS FM's iHeartRadio Jingle Ball 2019 on December 6, 2019
Billie embarked on the When We All Fall Asleep World Tour in April to support her record. It began in April during the Coachella Valley Music and Arts Festival and concluded in Mexico last November.
In September, she announced her upcoming fourth concert tour, Where Do We Go? World Tour. It will kick off in Miami on March 9, 2020, and is set to conclude in London in July.
Billie Eilish's signature style
When it comes to fashion, Billie Eilish is known for her signature baggy look. Often seen in oversized outfits, Billie revealed the reason behind her baggy clothes in a Calvin Klein ad in May.
In the "I Speak My Truth In #MyCalvins" campaign, Billie explained that she doesn't want the world to know everything about her, so she covers herself up in big, baggy outfits.
"Nobody can have an opinion because they haven't seen what's underneath. Nobody can like, 'she's slim-thick, she's not slim-thick, she got a flat ass, she got a fat ass.' No one can say any of that because they don't know."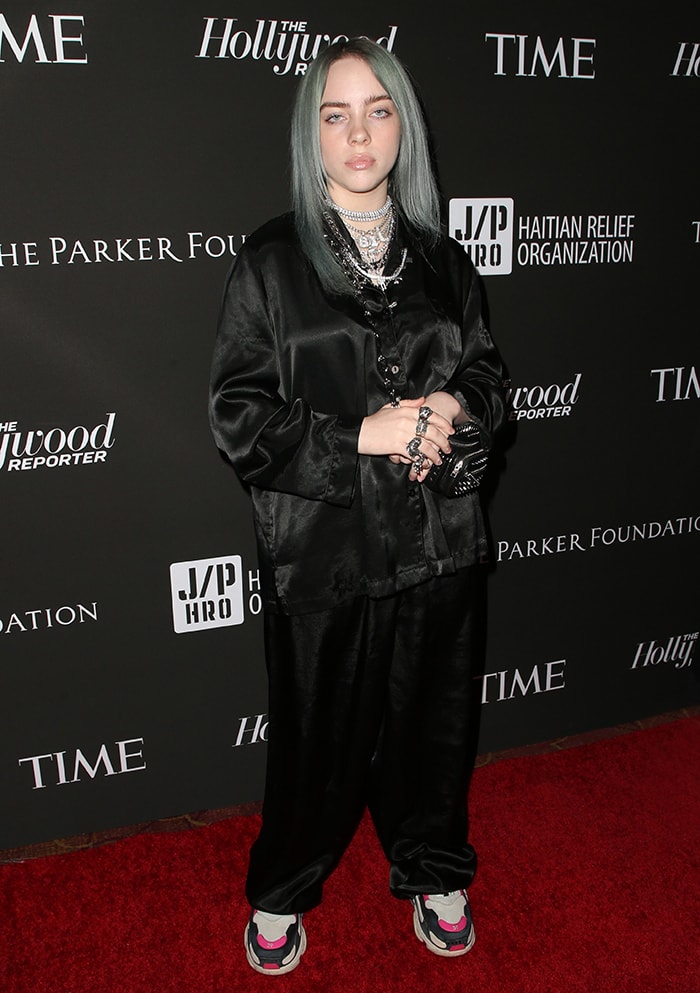 Billie Eilish in a black satin outfit at Sean Penn's CORE Gala in Los Angeles on January 6, 2019
In her recent outing, Billie once again showed her signature style at Billboard's Women in Music Awards 2019.
She posed on the pink carpet in head-to-toe Prada, which consisted of a brown baggy coat and matching shorts.
Billie Eilish in head-to-toe Prada at the 2019 Billboard Women in Music in Los Angeles on December 12, 2019
At the event, Billie received the Woman of the Year award, making her the youngest artist to win the title.
For her accessories, she wore a chunky chain necklace, a pair of oversized aviators, and on-trend chunky sneakers by Prada.
Billie Eilish's Prada chunky sneakers in a subtle quartz-pink hue sitting on a 75mm light rubber tread sole
Prada Leather Panel Chunky Sneakers, $850 at Farfetch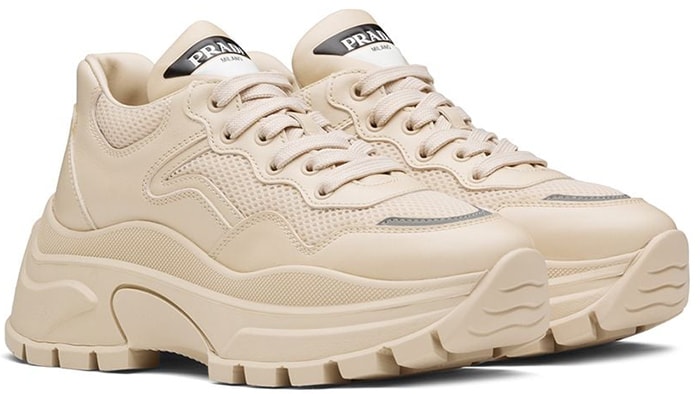 While Billie purposely wears loose-fitting outfits to hide her figure, she also said in an interview with Elle last September that she wants to show her body when she turns 18.
"I'm gonna be a woman. I wanna show my body. What if I wanna make a video where I wanna look desirable? Not a porno! But I know it would be a huge thing, I know people will say, 'I've lost all respect for her,'" she said.
Now that she's 18, we might see Billie Eilish in a whole new different look anytime soon.
Credit: Instar / Nicky Nelson / Apega / Derrick Salters / Ivan Nikolov / Adriana M. Barraza / FayesVision / WENN