Blac Chyna (33) took to the internet to claim that her ex-partners Tyga (32) and Rob Kardashian (35) do not pay her any child support for their children Dream and King, who are 4 and 8. Tyga is reportedly worth $5 million, while Rob has a net worth of $10 million.
She tweeted "Yesterday I had to give up 3 of my cars…my reasons…morals, beliefs, being a single mother, no support I'm a MAMA. She later tweeted: "Single. No child support."
Instagram page The Shade Room made a post about Chyna's claims and both fathers commented underneath to let the public know the truth.
View this post on Instagram
Tyga said "I pay 40K a year for my son's school and he lives with me mon-sat. Why would I pay child support lol."
Rob chimed in: "I pay 37k a year for my daughter's school. Handle every single medical expense, I pay for all her extra-curricular activities. I have my daughter from Tuesday-Saturday. Why would I pay child support lol."
Blac Chyna opened up on social media about being a single mother without support (Credit: Eugene Powers / Shutterstock)
Tyga replied to Rob's comment saying "how u pay 3k less. Let me know the plug."
In 2020, Rob and Blac Chyna signed a custody agreement stating that they both share custody of Dream and have an alternating weekly schedule. They also share equal time with their daughter over the holidays.
She has sued Kris Jenner and her daughters for defamation and intentional interference with contract due to the cancellation of her reality television series Rob & Chyna. It premiered on September 11, 2016, on the E! cable network.
"I plan to re-focus my attention on my trial against Kris Jenner and her daughters Kim, Khloe, and Kylie which starts in 13 days. When they got my #1 hit show killed back in January 2017, that not only hurt me financially and emotionally, that hurt my beautiful KIDS," Chyna said in a statement on Twitter.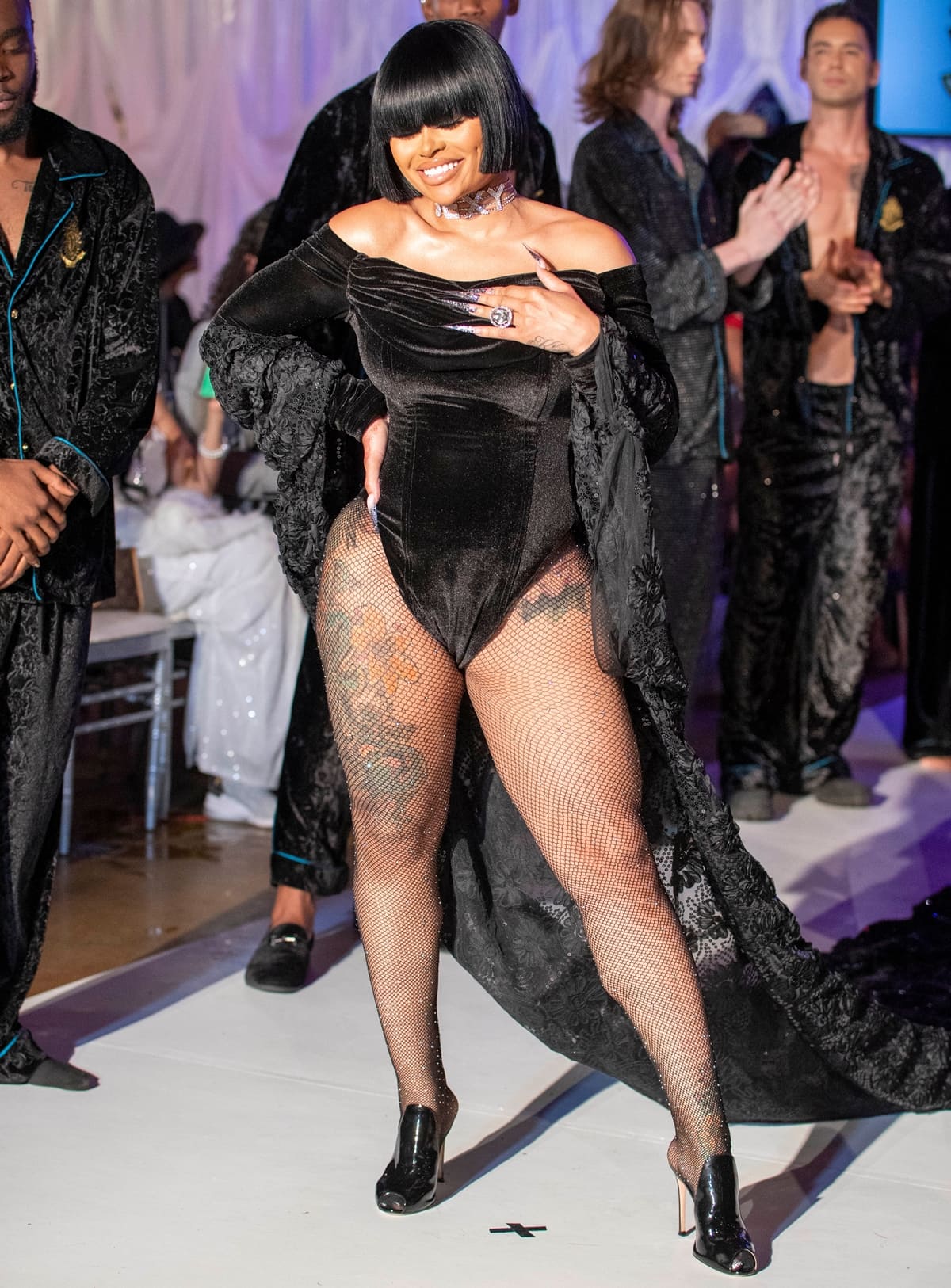 Model Blac Chyna flaunts her legs at the 'LA Fashion Week' Glamour And Style edition at Don Quixote on October 27, 2021 in Los Angeles, California (Credit: Eugene Powers / Shutterstock)
"I'm taking them to court to stand up for my legal rights and to be an example to my kids that 'what's right is right, what's wrong is wrong.' And what they did was so wrong. "
"I am so thankful that a jury will finally listen to what really happened behind closed doors —the lies that were told and the damage that was done," Chyna added.
"At the end of the trial, I'm going to be able to proudly tell King and Dream that I did everything I could to right the wrong that was done to me. And that, in life, it is my hope that they will be able to stand up for themselves when it matters too. Peace and Love to you all. Angela."
Blac Chyna did her best to look like Dolly Parton at the 2019 BET Awards in Los Angeles on June 23, 2019 (Credit: FayesVision / WENN)
In June 2019, Blac Chyna tried to look like Dolly Parton on the blue carpet in a red sparkling floor-length dress by Bryan Hearns at the 2019 BET Awards in Los Angeles.
The then 31-year-old reality star, whose real name is Angela Renée White, wore her platinum blonde hair up in a classic beehive. She completed her look with a red flower corsage and towering platform Perspex sandals.
Earlier the same month, Blac slammed Rob Kardashian and his family for not allowing their then 2-year-old daughter Dream to appear on her upcoming reality show The Real Blac Chyna without his consent.
"As Executive Producer of my show, It is very unfortunate that Rob could not simply have an adult conversation with me 'the mother of his child,' Dream Kardashian appearing on my show 'The Real Blac Chyna,'" Chyna wrote on social media.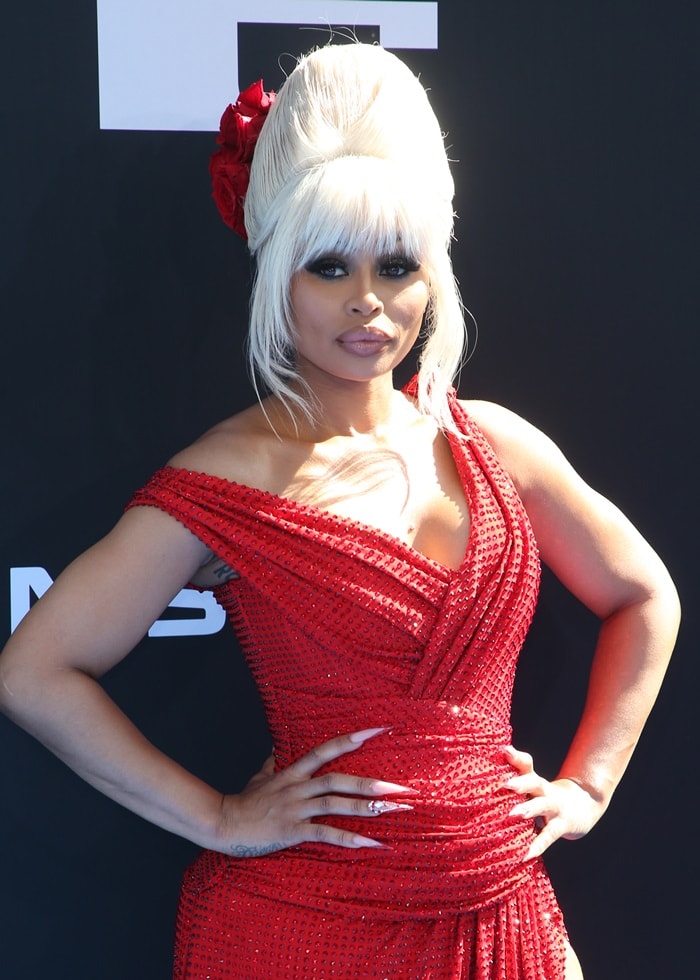 Blac Chyna's red sparkling dress by Bryan Hearns (Credit: FayesVision / WENN)
"Had Rob contacted me directly rather than through his attorney Marty Singer, Rob would have learned about Dream participation in the show," Rob Kardashian's ex-fiancee continued.
She added that she would never allow Dream to be "subjected to long hours on the set." The Real Blac Chyna premiered on July 14, 2019, on Zeus Network.
"I also would have pointed out to Rob the hypocrisy of his family's insistence that Dream appears on 'Keeping Up with the Kardashians' in the family's desperate attempt to boost the dismal ratings for their stale and contrived show, without my approval," Chyna added.
Blac Chyna's towering platform Perspex sandals and red flower corsage (Credit: FayesVision / WENN)