Get ready to swoon. Ryan Reynolds and Blake Lively became parents again!
The 35-year-old actress has disclosed that she and her husband, Ryan Reynolds, have brought their fourth child into the world, shocking her supporters with some excellent news on Sunday, February 12.
Blake uploaded a picture with the 46-year-old Deadpool star and a photo with his mother, Tammy, on her Instagram account, in addition to sharing some snaps of the foods she prepared for Super Bowl Sunday.
View this post on Instagram
Along with the post, the Gossip Girl star wrote, "Puppy Bowl Sunday 2023 🥘 🍲 🥧 been busy."
Her devoted fanbase quickly noticed the absence of a pregnancy bump on Blake. Fans of the couple were quick to flood the comments section with congratulatory messages, expressing their excitement over the news.
Blake and Ryan, who have been married since 2012, are known for keeping their personal lives private, so it's no surprise that they haven't shared any other details regarding their newborn child.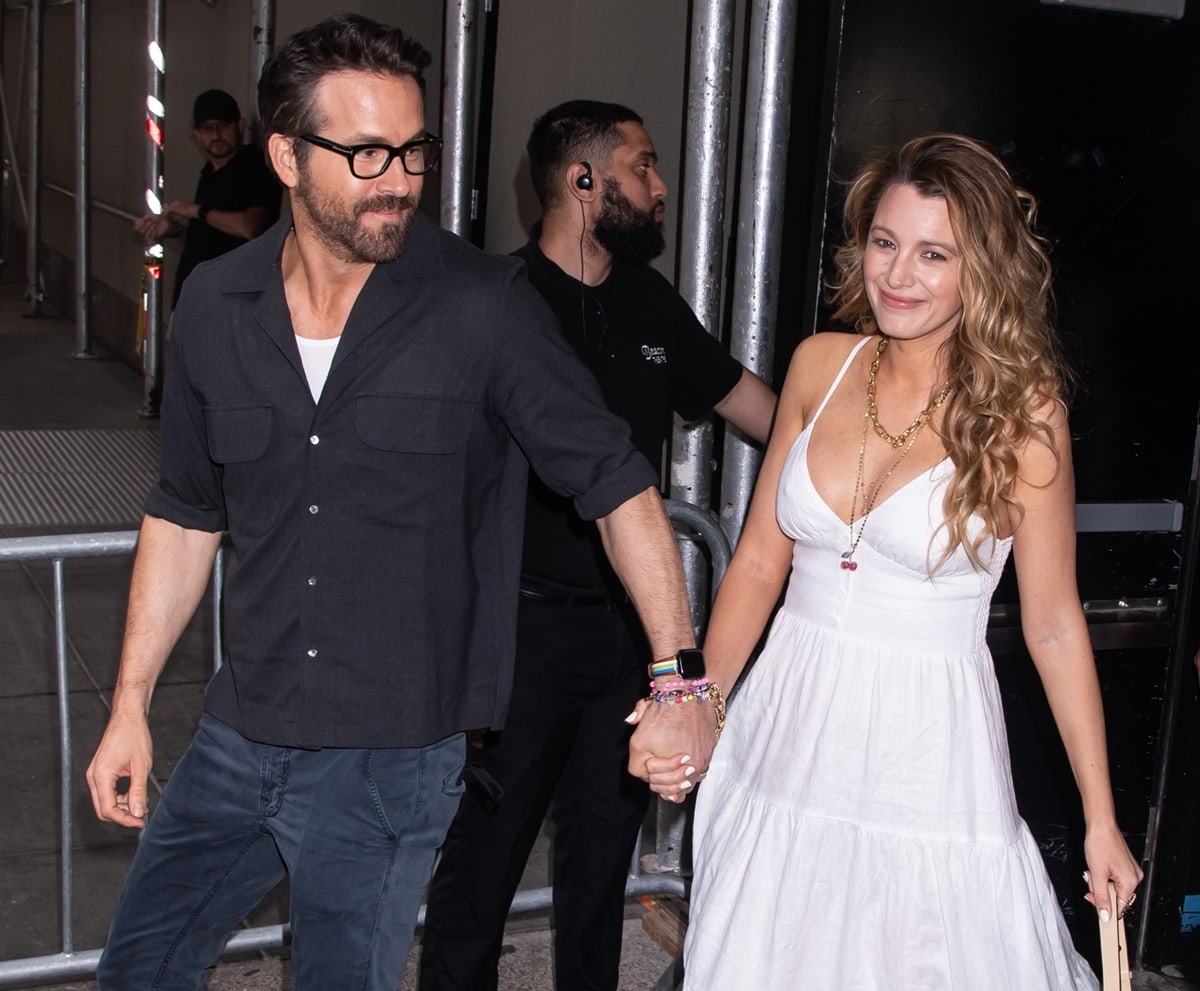 Blake Lively announced on Instagram that she and her husband, Ryan Reynolds, have welcomed their fourth child (Credit: Janet Mayer / Startraksphoto)
This new addition will be welcomed by older sisters James, 8, Inez, 6, and Betty, 3.
After keeping her pregnancy secret for a while, Blake Lively finally shared the news of her fourth pregnancy in September. She avoided the spotlight as much as possible and just mentioned it once in an Instagram post.
To prevent the paparazzi from sneaking into her house and taking images of her and her family, the actress posted private photos of herself while pregnant.
View this post on Instagram
She captioned, "Here are photos of me pregnant in real life so the 11 guys waiting outside my home for a 🦄 sighting will leave me alone. You freak me and my kids out. Thanks to everyone else for all the love and respect and for continuing to unfollow accounts and publications who share photos of children. You have all the power against them. And thank you to the media who have a 'No Kids Policy.' You all make all the difference 🙏♥️. Much love! Xxb."
When winning The People's Icon Award at the 2022 People's Choice Awards in December of last year, Ryan made a touching statement about his wife and girls, demonstrating how much they mean to him.
The actor exclaimed, "Blake and my girls, you are quite literally you're my heart, you're my hope, and you're my happiness. I joke that my family exhausts me, but in reality, you give me more strength than any man possibly deserves."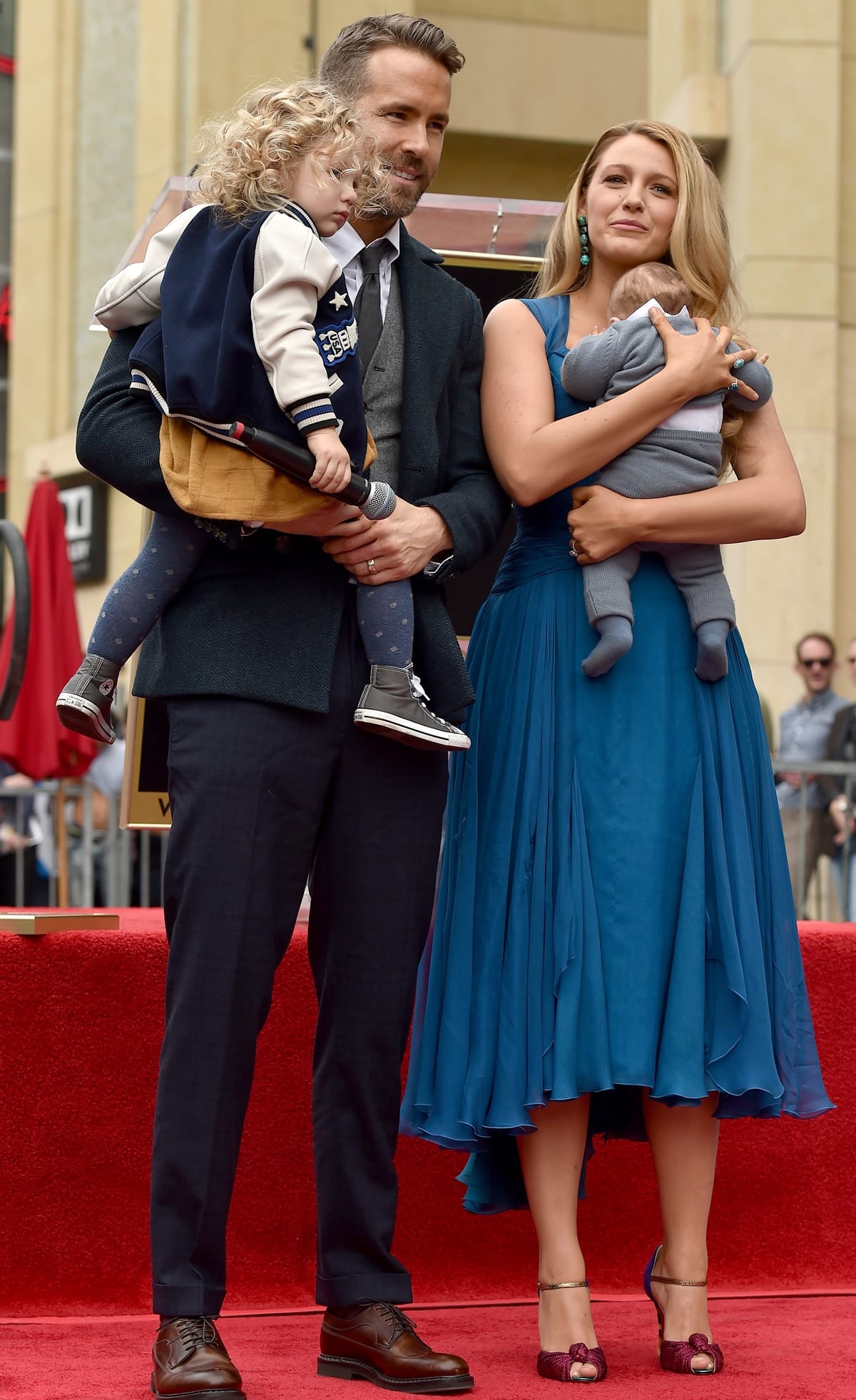 Ryan Reynolds and Blake Lively, with daughters James Reynolds and Ines Reynolds, attend the ceremony honoring Ryan Reynolds with a Star on the Hollywood Walk of Fame on December 15, 2016, in Hollywood, California (Credit: Lionel Hahn / Abacausa / INSTARimages)
We wish Blake, Ryan, and their growing family all the best as they continue to navigate parenthood and marriage with grace and humor!