In June, Chrissy Teigen revealed on Instagram that she had undergone surgery to have breast implants removed.
"They've been great to me for many years but I'm just over it. I'd like to be able to zip a dress in my size, lay on my belly with pure comfort! No biggie! So don't worry about me! All good. I'll still have boobs, they'll just be pure fat. Which is all a tit is in the first place. A dumb, miraculous bag of fat, ❤️" Chrissy posted about her decision to remove her boob implants.
Having had implants for 10 years, she decided to remove them so she could experience "pure comfort." Chrissy also shared a video on Instagram of scars on the lower part of her breasts where the boob implants were removed.
"A few of my friends keep having to tell people that I really got my implants out because no one believes it," Teigen commented while filming the clip. "These are the scars."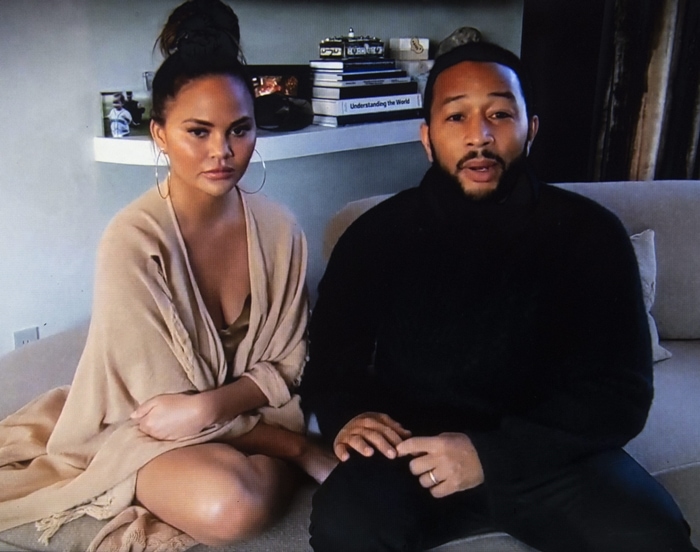 Chrissy Teigen and John Legend at One World: Together at home – celebrating heroic efforts of community health workers on April 18, 2020
This month, Chrissy revealed that she had no idea she was pregnant with her third child during the time she underwent surgery to remove her breast implants.
"I did the routine pregnancy test you do before surgery. It said negative. It was not negative," Chrissy wrote about the situation in response to a fan's question on social media.
She continued, "A few weeks after surgery, I took a test. And for many years now, I've taken pregnancy tests almost every month, praying to see a positive one day. Just wishful thinking. I never had a positive before."
"So the morning of John's [Legend] album release, he wakes up at 3am to do good morning america. I woke up with him and was like man, should take my monthly test to be disappointed…I was not disappointed. But I was scared shitless. Was pretty positive you shouldn't get your boobs out while pregnant? Pretty sure."
Chrissy explained that she and her rich husband "prayed to the boob surgery gods that everything would be okay. Went to every appointment terrified. Even without the surgery, I didn't think I could get pregnant naturally anyway. So the odds just felt…bad. But what they say so often can be true. When you give up on trying, life has a way of surprising you. In summary, my boobs hurt."
Chrissy Teigen didn't know she was pregnant when undergoing surgery to remove the breast implants
Chrissy Teigen's antics may not go down well with everyone, but her refreshing realness in an industry full of fakes is what keeps the model winning people over.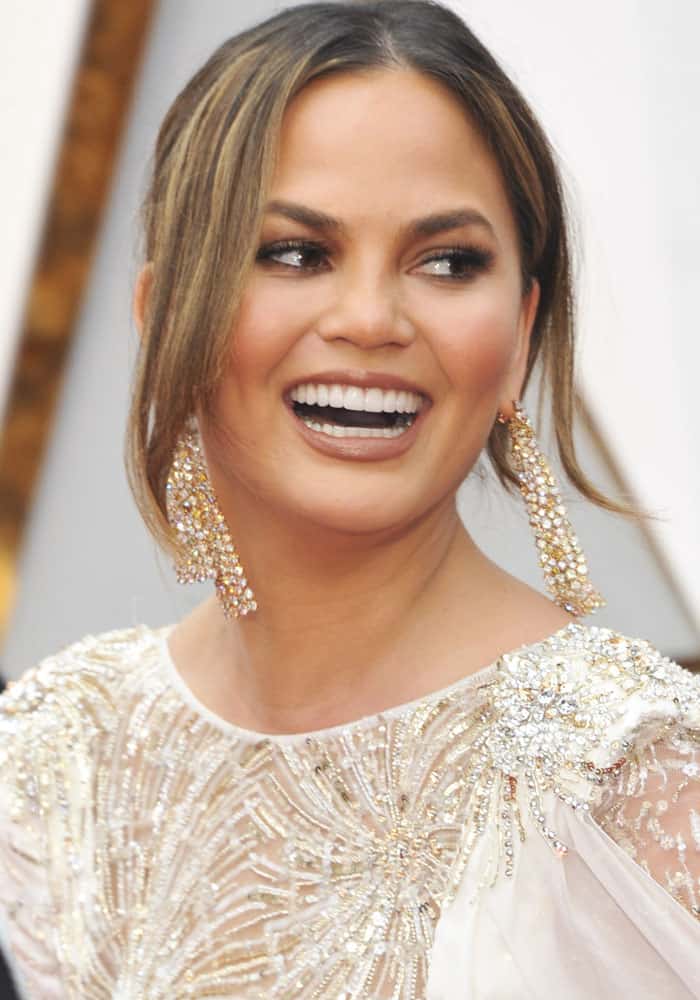 Chrissy Teigen shows off her jewelry from Lorraine Schwartz
The beautiful American model is not afraid to be herself in front of the world, which we imagine is what keeps her husband John Legend enamored.
In February 2017, Chrissy was literally spotted taking a nap in one of the most important moments of one of the most important events in the year.
Chrissy Teigen at the 89th annual Academy Awards held at the Dolby Theatre at the Hollywood & Highland Center in Los Angeles on February 26, 2017
The new mom's moment was captured on live television at the 2017 Academy Awards.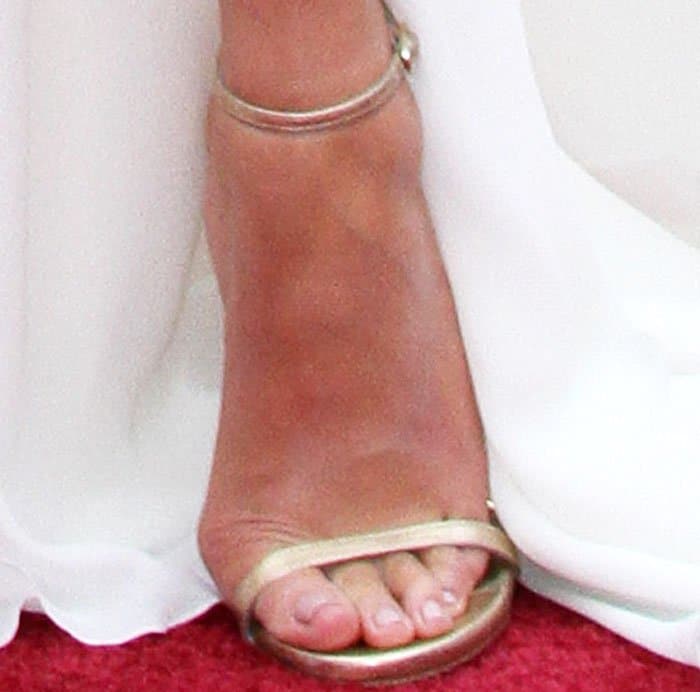 Chrissy gets the aid of the classic Stuart Weitzman "Nudist" sandals to complete her Oscars look
Chrissy shone in a Zuhair Murad Spring 2017 Couture dress. Her Oscar piece features fully-embellished tulle sleeves and bodice that sprinkled down to her skirt.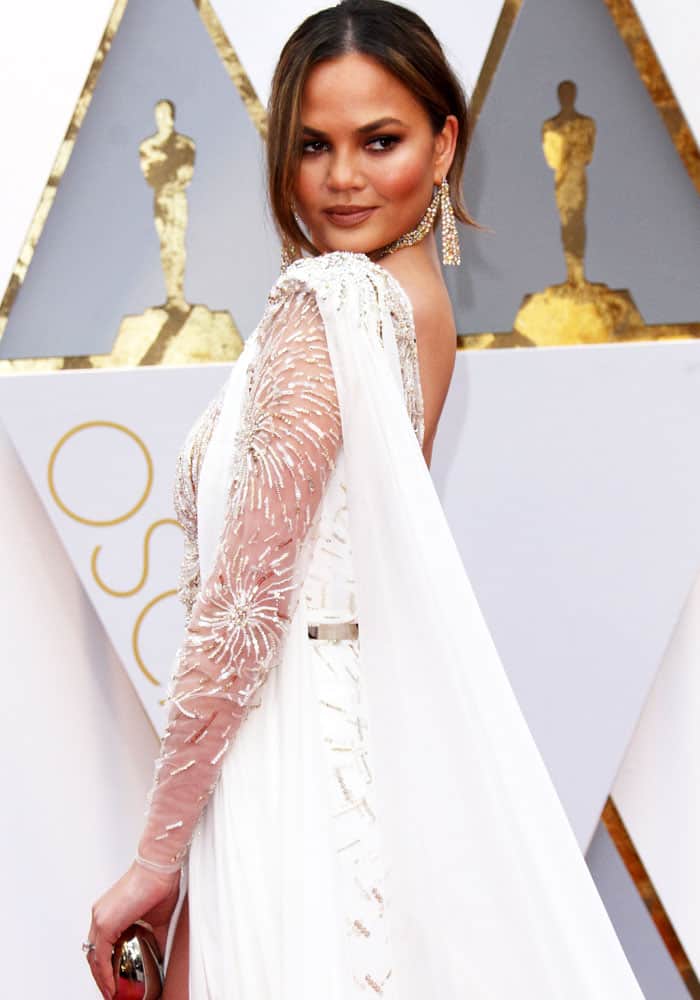 Chrissy shows off the cape of her Zuhair Murad couture gown
The Zuhair Murad creation had a low back, padded shoulders, and a flowing cape that doubled as train.
The "Lip Sync Battle" host finished her look with a Judith Leiber clutch, jewelry from Lorraine Schwartz, and her no-fail Stuart Weitzman "Nudist" sandals.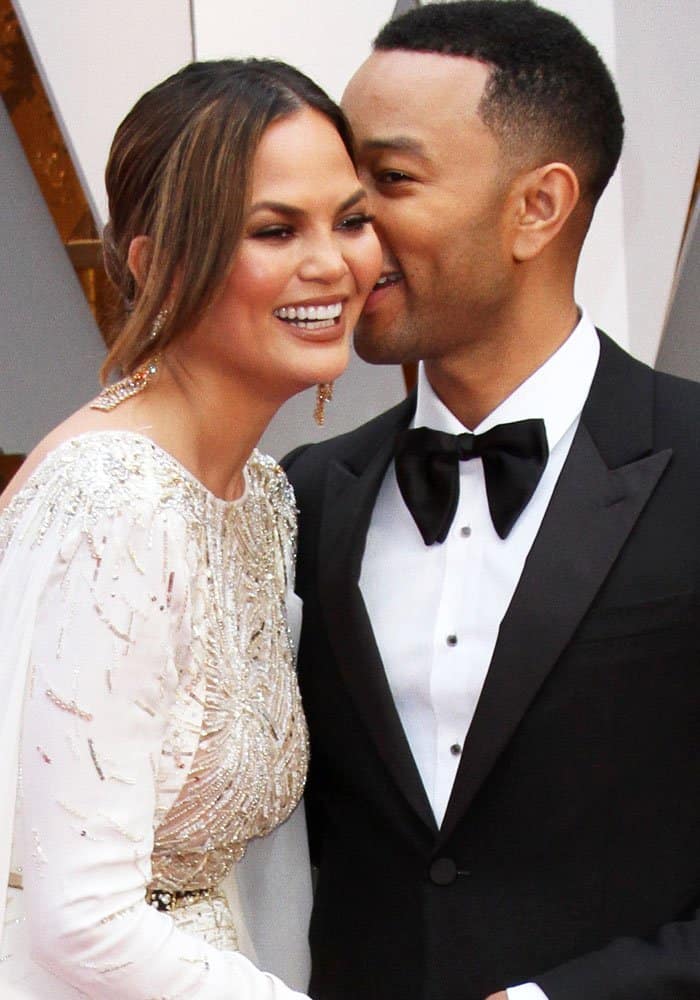 Chrissy's husband John whispers sweet nothings into her ear
Being a first-time mom was probably a bit of an adjustment to Chrissy (as for most mothers), with all the late-night feedings she had to wake up for.
The swimsuit model was spotted taking a nap in the middle of Best Supporting Actor winner Casey Affleck's speech, much to the hilarity of the internet.
In true Chrissy Teigen fashion, the host took to Twitter to hilariously quip back at the netizens. Chrissy tweeted, "just woke up what happened."

Chrissy Teigen jokes about falling asleep
Shop Chrissy's Stuart Weitzman "Nudist" sandals at Amazon, Nordstrom, and Zappos.
Stuart Weitzman Nudist Sandals, $172.43 – $435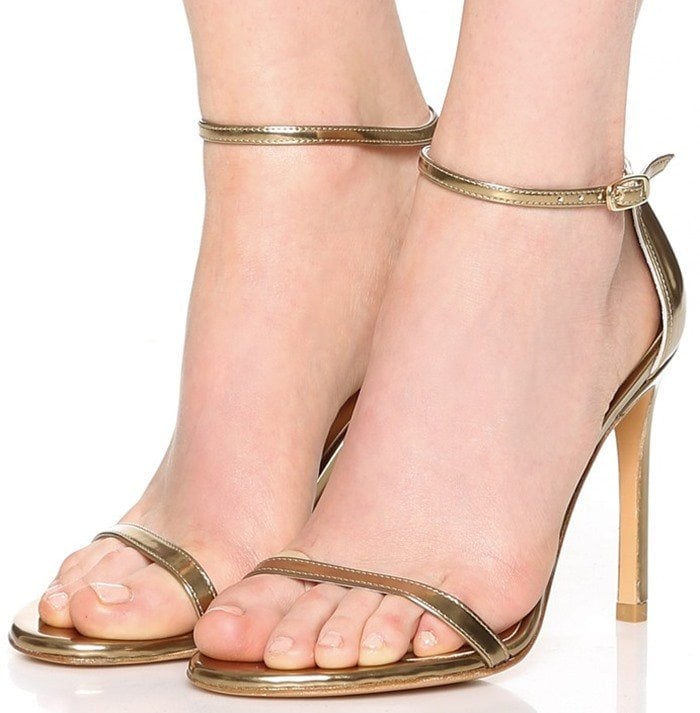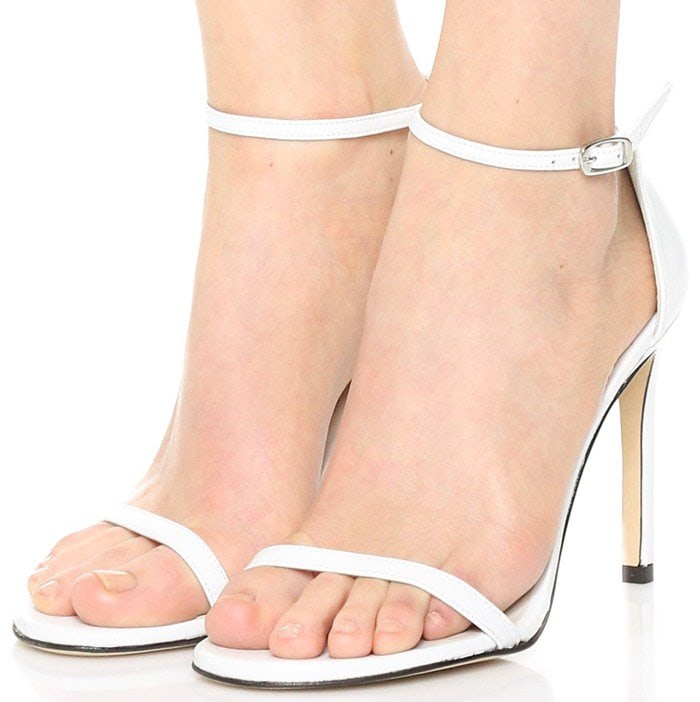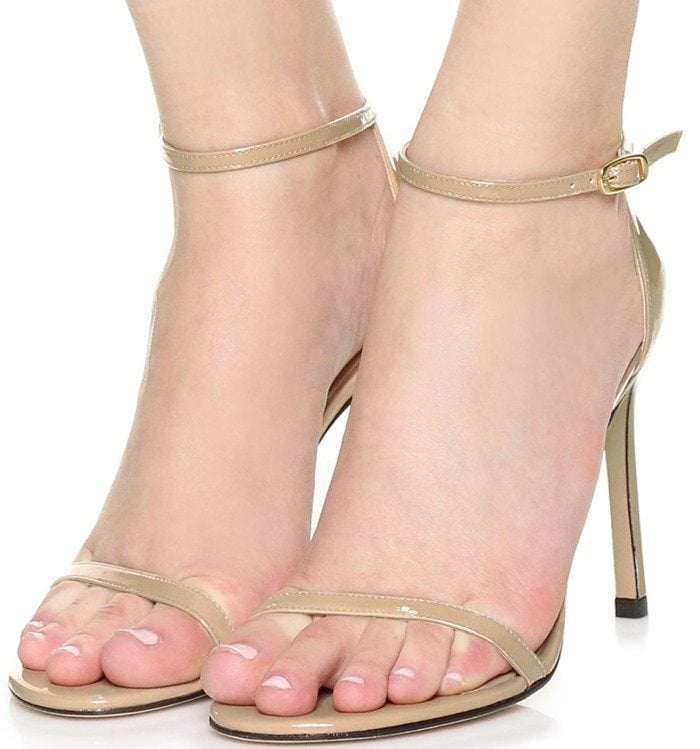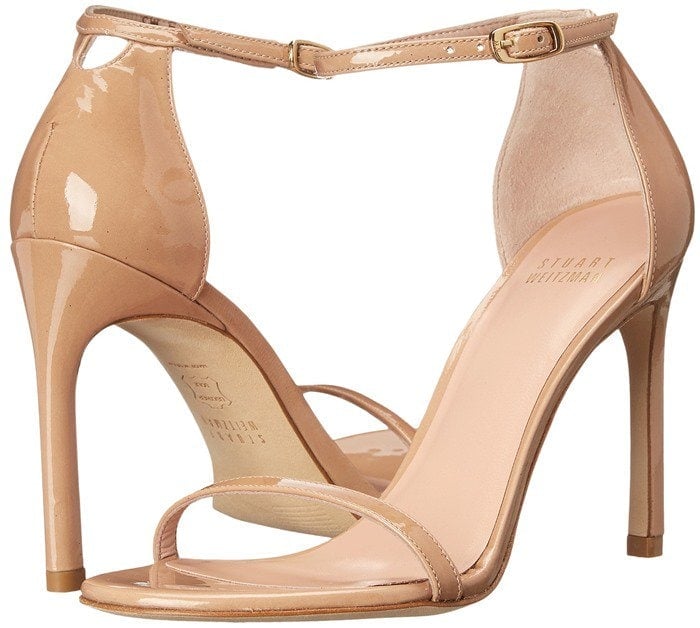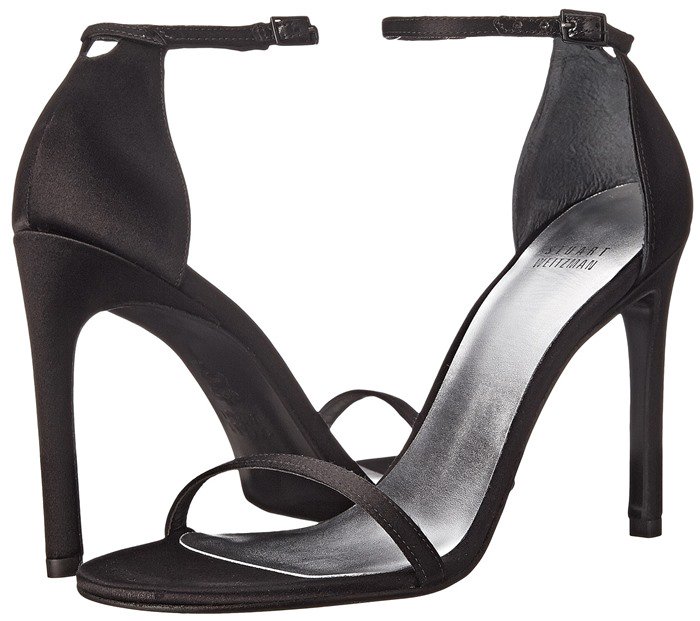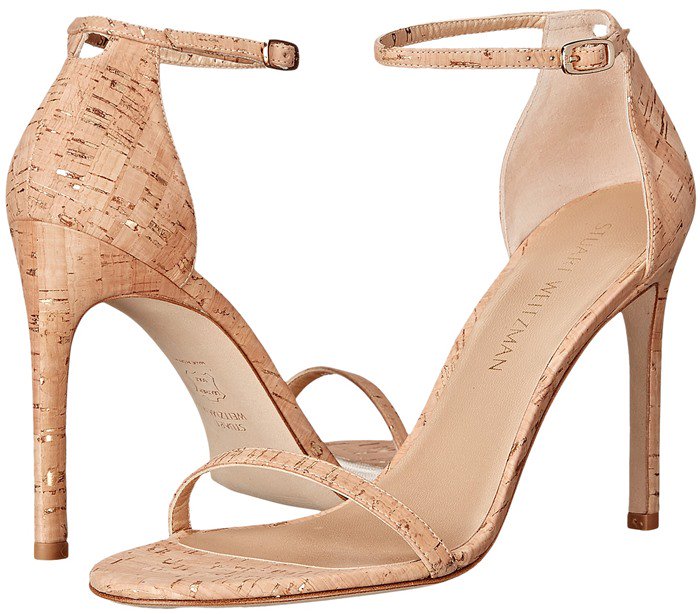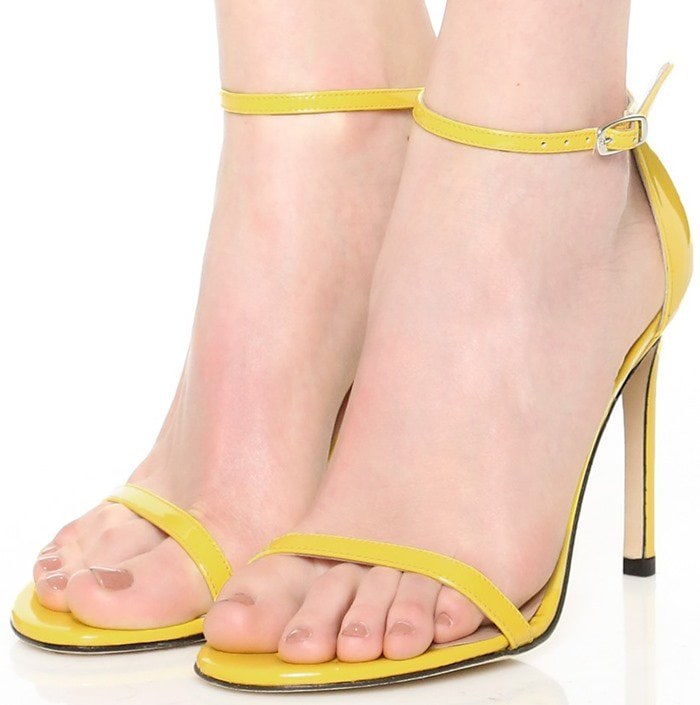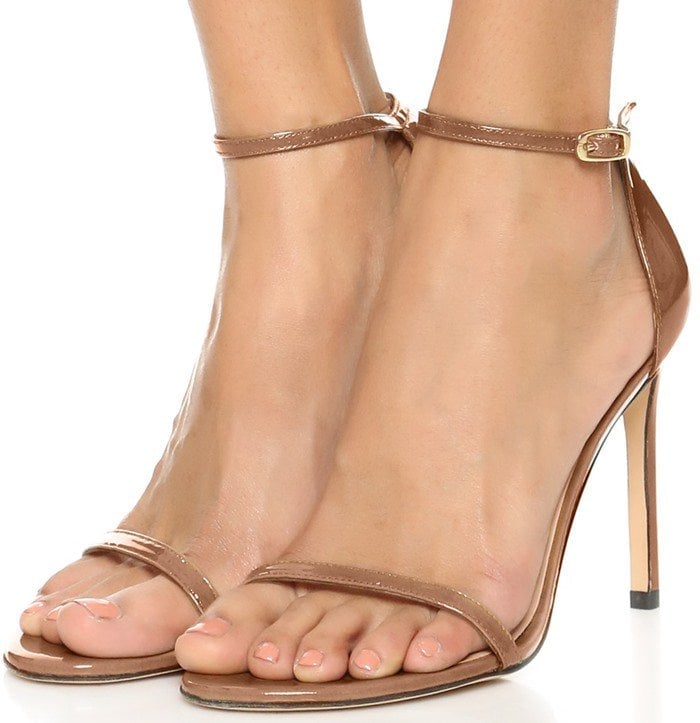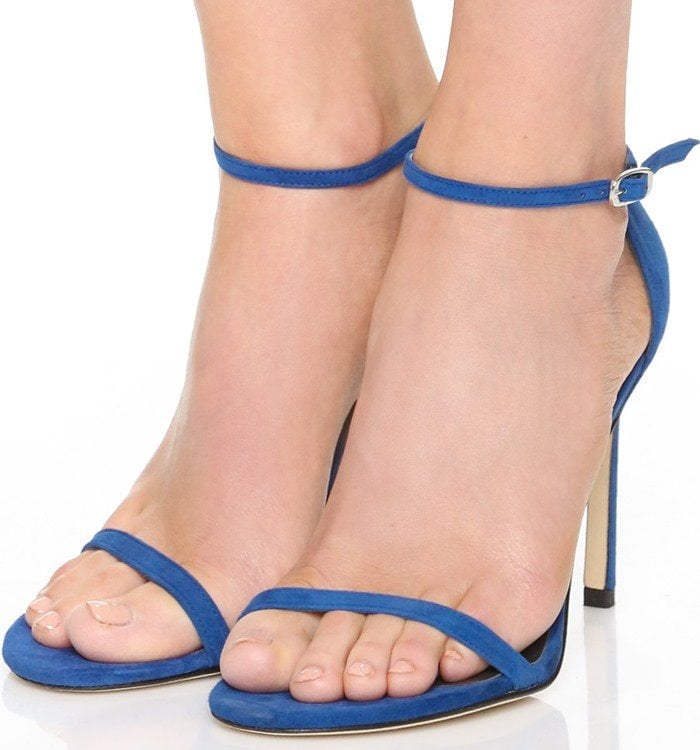 Credit: Chrissy Teigen's Twitter / Apega / Adriana M. Barraza / WENN / Avalon