If you're thinking of watching a movie with your significant other, you might want to steer clear of "How to Be Single."
In case the name isn't enough of a dead giveaway, Big Daddy actress Leslie Mann said the 2016 American romantic comedy film is the type of movie that will make couples break up and singles feel good about themselves.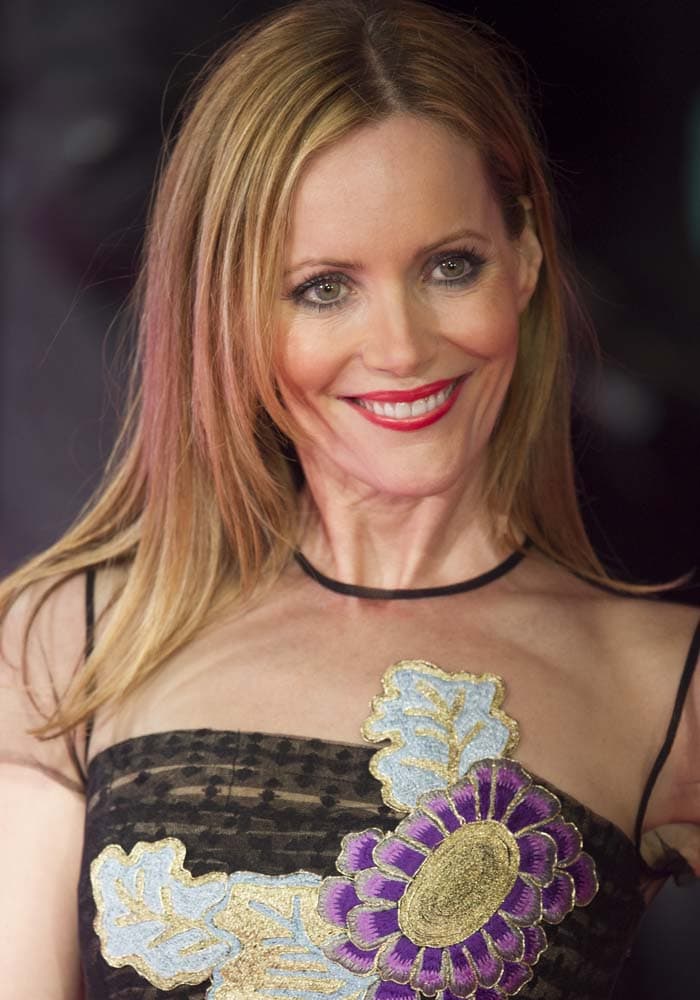 Leslie Mann wears her hair down at the European premiere of "How to Be Single" held on February 9, 2016, in London
In February 2016, Leslie Mann hit the red carpet of the "How to Be Single" premiere in London. 17 years earlier, she starred as Hooters girl turned podiatrist Corinne Maloney in the 1999 American comedy film Big Daddy.
Meeting her boyfriend Kevin Gerrity (Jon Stewart) in college, Kevin's roommate Sonny Koufax (Adam Sandler) frequently teases Corinne Maloney about her former job. According to an interview with Leslie Mann in Esquire, her boobs in the movie aren't real.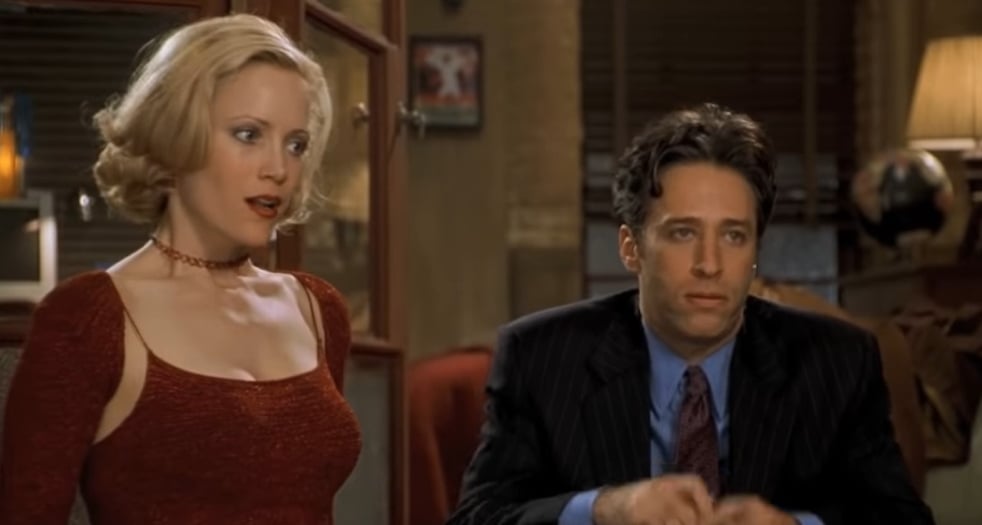 Leslie Mann with fake boobs as Corinne Maloney and Jon Stewart as Kevin Gerrity in Big Daddy
"They made me wear these big plastic boob things that you just shove in your bra," Mann said.
"I could take them out and throw them around with people between scenes. It was fun having them. They made me more flirtatious, kind of…vavoomy. Oh, and men were definitely nicer to me," she added.
Born on March 26, 1972, in San Francisco, California, Leslie Mann was 27 years old when attending the premiere of Big Daddy in June 1999.

Leslie Mann at the Los Angeles premiere of "Big Daddy" held at Avco Cinema in Westwood, California, on June 17, 1999
"It was all prosthetics," she told Orange County Register about her Big Daddy breasts in 1999. "They put these big plastic mounds in my bra."
"The truly bizarre thing," the George of the Jungle actress added, "was that even though everybody on the set knew they were fake, all these young guys kept staring at me and following me around the set. What does that tell you about men?"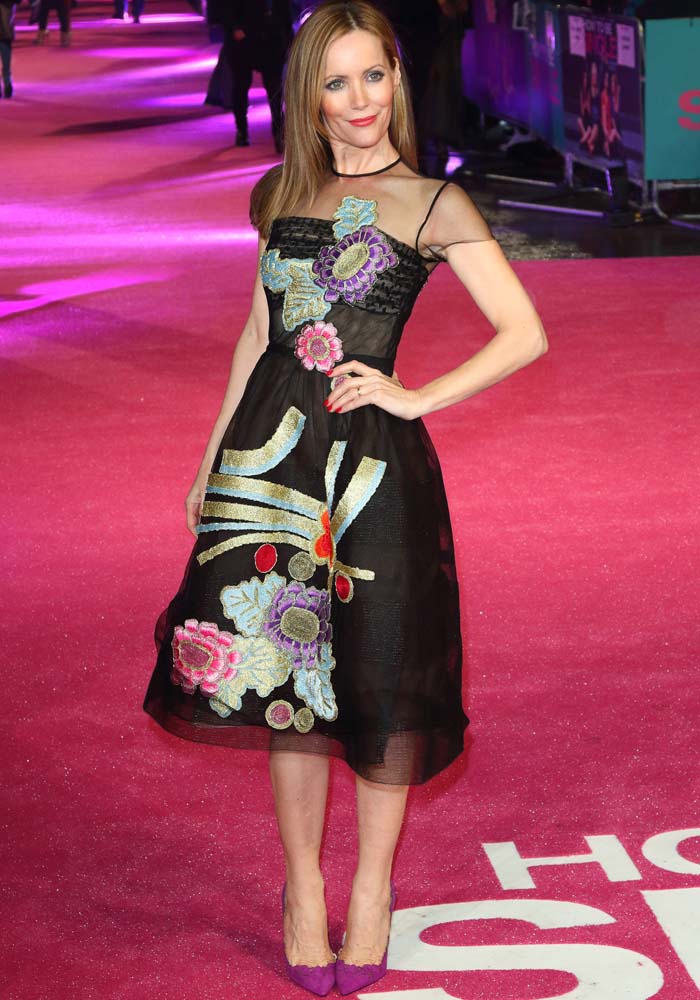 Leslie Mann wears a floral-embellished Reem Acra dress on the pink carpet
Despite the freezing winter weather in London, at the "How to Be Single" premiere Leslie gave us a taste of spring in her gorgeous floral dress by Reem Acra.
She paired the dress with jewelry from Irene Neuwirth and showed off her feet in Christian Louboutin's "Beloved" pumps.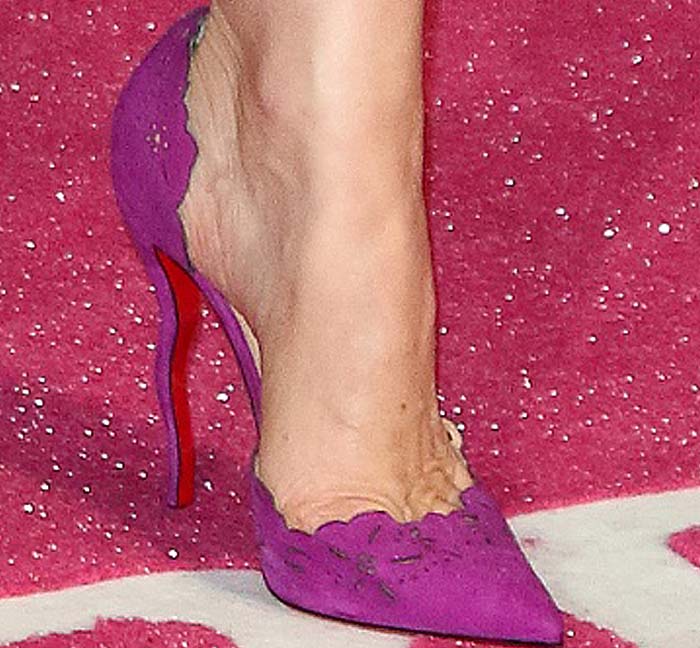 Leslie Mann's feet in laser-cut fuchsia Christian Louboutin pumps
We have to admit: We really love this Reem Acra number. The graceful mesh yoke and the embroidered floral details really make this classy warm weather-ready dress stand out.
Dakota Johnson and Leslie Mann attend the European premiere of "How to Be Single"
Leslie briefly talked about her and Dakota's characters, as well as what the moviegoers should expect from the film.
Leslie's version of the Christian Louboutin "Beloved" pumps is not available online, but you can check out the black and white versions over at Nordstrom and Mytheresa.
Christian Louboutin 'Beloved' Laser-Cut Patent Red Sole Pump in White, $1,045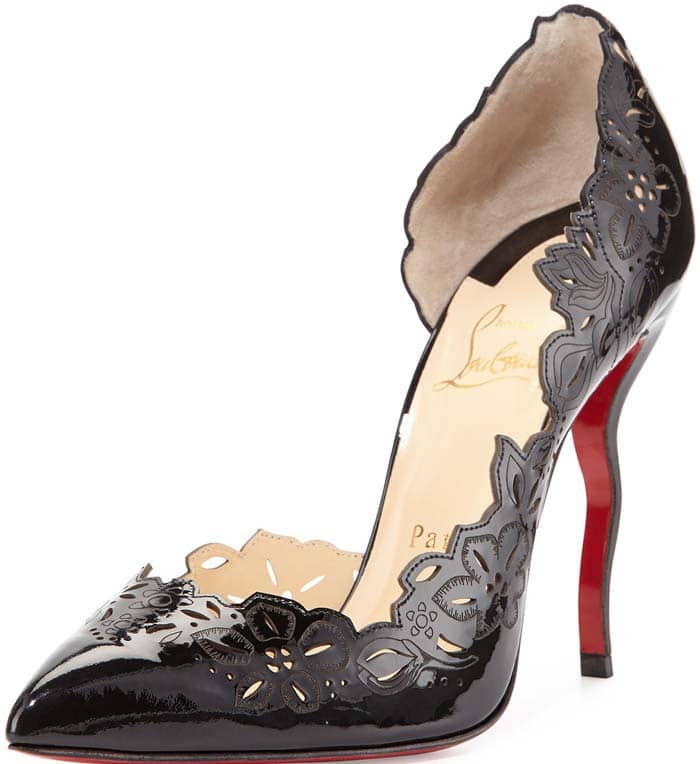 Christian Louboutin 'Beloved' Laser-Cut Patent Red Sole Pump in Black, $1,045
Credit: Zibi / Euan Cherry / Mario Mitsis / WENN / Marcus Hoffman