Kobi Levi's Best Shoes: Chewing Gum and Banana Heels
Please subscribe to
our newsletter
to receive updates from Your Next Shoes. This post may contain affiliate links. Please see our
disclosure
for more details.
Unless you've been staying away from your computer, you would've probably already come across these very weird yet absolutely amazing shoes from Kobi Levi.
And unless you've been living under a rock, you would've already seen or at least heard "Born This Way" by Lady Gaga, the video in which one of Kobi Levi's own bizarre-o designs makes an appearance right on the very feet of LG herself (double boots with the toe in front and in the back, anyone?).
One look at Kobi Levi's shoes is all it takes to understand why the Israeli footwear designer is getting all this attention (and a much sought-after and highly paid for celebrity endorsement to boot). Kobi Levi's footwear designs are very unusual, wonderfully whimsical and, in their own crazy, unique and humoristic way, also unexpectedly beautiful.
Israeli shoe designer Kobi Levi
Kobi Levi graduated from Bezalel Academy of Arts and Design in Jerusalem in 2001. In his CNN interview, he says he has been studying fine arts since fourth grade and found that footwear always somehow makes its way into his sketches, drawing and sculptures.
Now currently working as a freelance designer focusing on footwear design and development, Kobi Levi has  collaborated with many Israeli and international companies, designed commercial footwear for many different countries, and presented his designs in exhibitions all around the globe.
Still he says he's not making money off these shoes nor is he out to make money off of them.
Take a look at part 1 of Kobi Levi's wearable sculptures or "shoe creatures" as he likes to call them. We've arranged them according to inspiration because for us, that's the only way to make any sense out of them. Would you buy or wear any of Kobi Levi's footwear creations?
Inspired by everyday things and everyday situations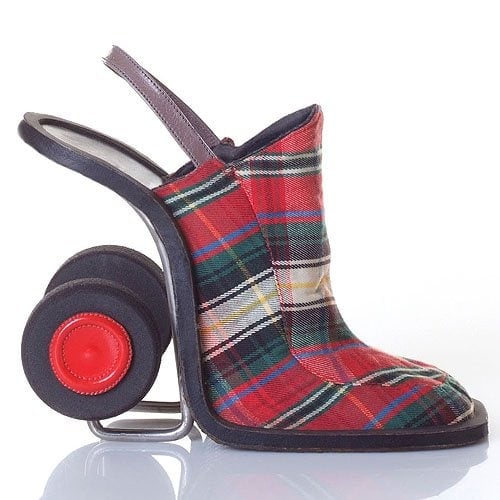 Market Trolley shoe, 1998
Market shoe, 1998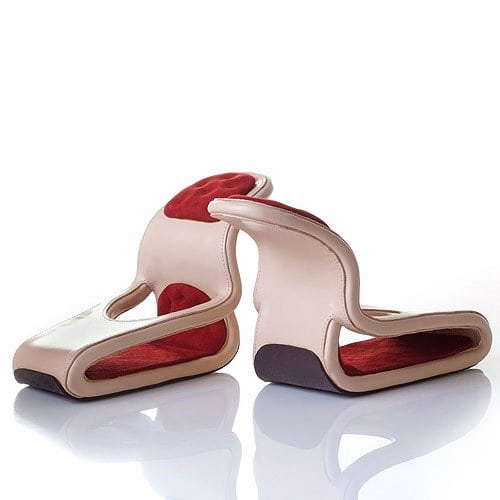 Rocking Chair shoe, 2003
Kobi Levi Chewing Gum shoe, 2009
Slide shoe, 2010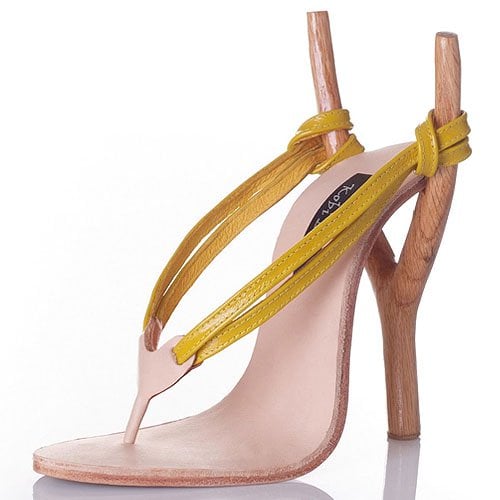 Slingshot shoe, 2010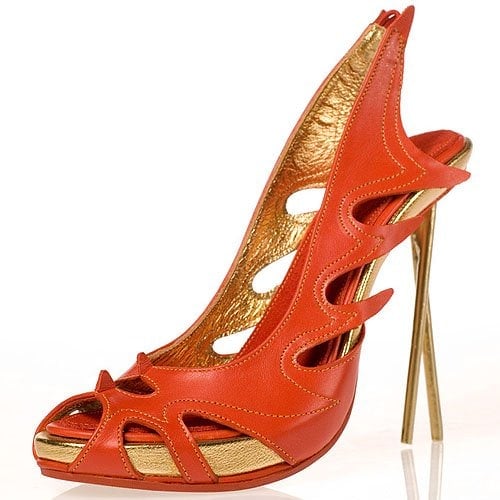 Contemporary Chinese shoe (chopstick stilettos), 2011
Ordinary shoe styles with an unexpected twist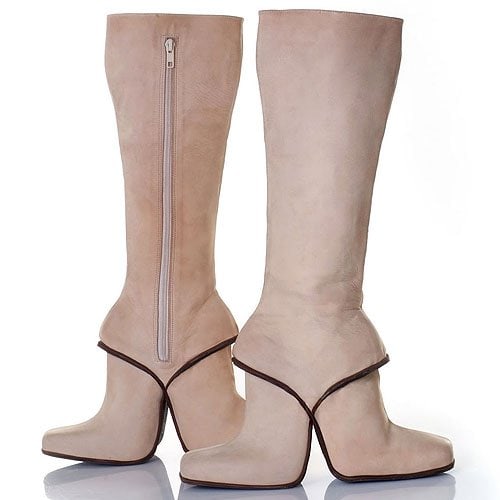 Double Boot, 2000 (As worn by Lady Gaga and Racquel Zimmerman in the "Born This Way" video)
Sport Elegant shoe, 2001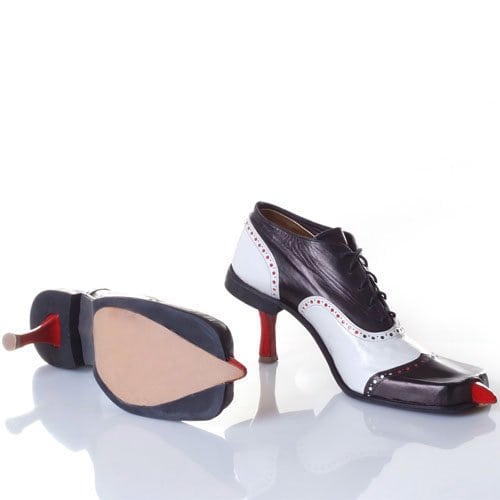 Androgyne shoe, 2002
Mother & Daughter shoe, 2011
Kobi Levi reassures people that his shoes, fantastical as they are, really and truly are 100% wearable.
"They're always real shoes," Levi says in his interview with CNN, "It's never supposed to be just a toy."
He adds: "I make each pair one by one, and they're strong; technically, it can function like any other high-heeled shoe. It just looks kind of more crazy than usual so people sometimes cannot believe that it is wearable."
He's right, it really is hard to believe that his shoes really are wearable just by looking at them. There is one surefire way to find out though and that's by trying the shoes out for yourself.
Kobi Levi is currently accepting custom orders for a selected few of his out-of-this-world shoe styles. Email [email protected] to place an order, buy his shoes or simply to get more details.
Inspired by the human body
Tongue shoe, 2005
Blow shoe, 2010 (Okay, so this one is technically inspired by a blow-up doll which is modeled after a human body anyway so it still fits)
Inspired by iconic images
Blond Ambition shoe, 2011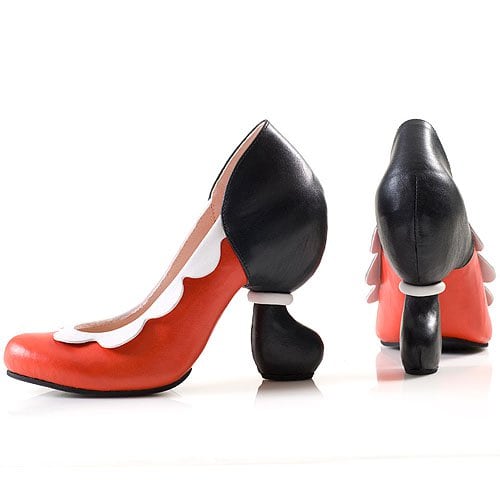 Olive Oyl shoe, 2011
Inspired by animals
Dog shoe, 2010
Miao shoe, 2010
Toucan shoe, 2011
Mallard Duck shoe, 2011
Swan shoe, 2011
Inspired by food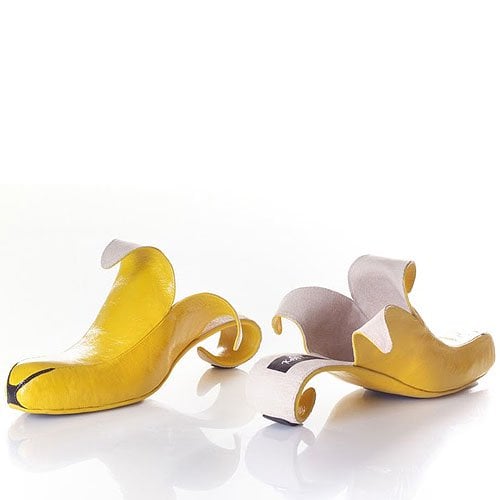 Banana Slip-On shoe, 2010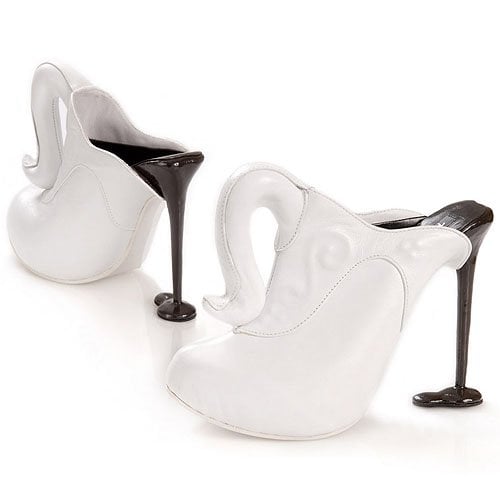 Coffee Porcelain Version shoe, 2011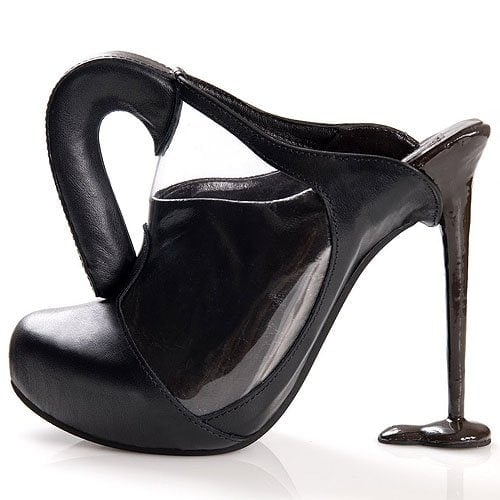 Coffee Diner Version shoe, 2011
Who said you need clout like Lady Gaga's to rock some of the craziest high heels available? If you dig…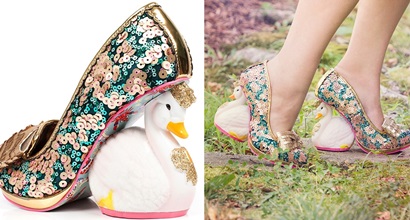 The shoe designers at Irregular Choice have once again lived up to their name with the quirky 'Savan' swan shoes…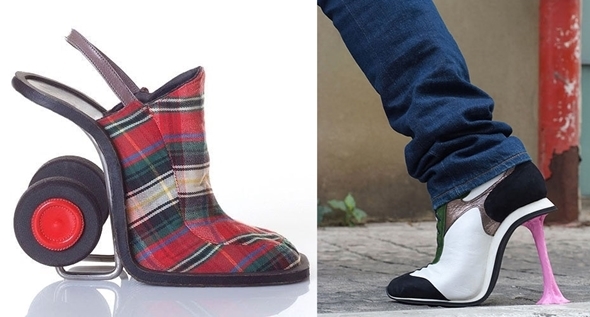 New year, new crazy designs: The Israeli footwear designer, Kobi Levi, has come out with even more bizarre shoes for 2013….
In our feature on Kobi Levi and his shoes back in November, we mentioned that the Israeli designer was not…