Just when you think you've seen enough gorgeous heels, out comes another.
That's exactly how I feel today after seeing this insanely gorgeous chain fringed sandal from B by Brian Atwood – the Cassiane. It's really unfair if you think about it, because the more stunning the shoe, the more expensive it is. Whether you like it or not, that's the reality of it. And for this new baby from Atwood, the price is a high $400 at Nordstrom:
B by Brian Atwood 'Cassiane' Sandals, $400 at Nordstrom
Sigh…isn't it a beauty?
It's a guaranteed showstopper if you ask me. Sure, it's in classic black, but those fringes will easily draw anyone's eyes to it. The Cassiane's charm is very much innate, and that is why it looks all the more tempting to have.
Apart from the chain fringes, the Cassiane also features snake stamped leather straps, an island platform of about 0.5 inch thick, and a heel of about 5.25 inches, both of which are covered in glitter. If you do the math, that's an actual heel height of about 4.75 (inches); staggering and scary if you ask me, and definitely not meant for the faint-hearted.
Ashley Tisdale wore this style to the 2012 Kids Choice Awards, Carrie Underwood wore them to the 2012 American Country Awards, and Z La La wore them to the 2013 Grammy Afterparty. Finally, Brenda Strong wore them to a launch party held in London. The American actress and yoga instructor, known from 'Desperate Housewives', styled her sandals with a sleeveless black-and-nude chiffon-lace dress by Tadashi Shoji. She completed the outfit with a Swarovski clutch and jewels:
Brenda Strong in a sleeveless black-and-nude chiffon-lace dress by Tadashi Shoji at the Dallas Launch Party held at the Old Billingsgate in London on August 21, 2012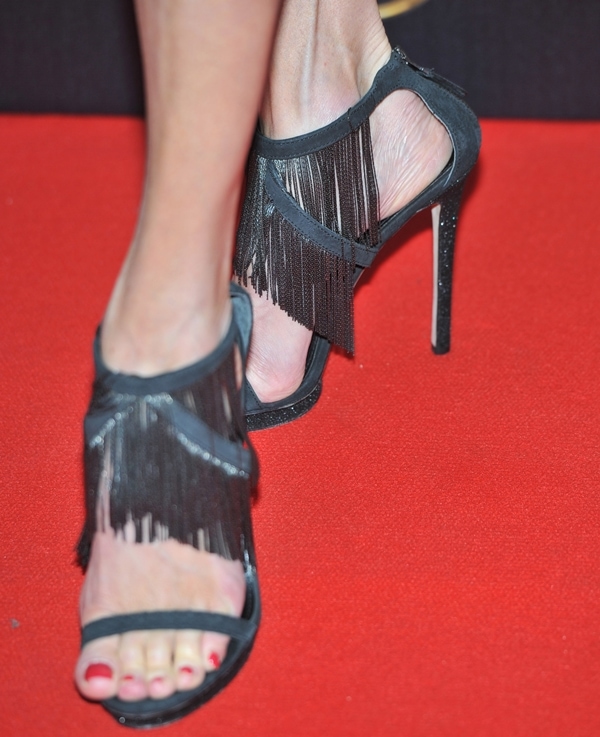 Brenda Strong's feet in Brian Atwood 'Cassiane' sandals
Brenda Strong showing off her Swarovski clutch
Credit: Daniel Deme / WENN