Caitlyn Jenner made an appearance on Tuesday night's episode of 'Jimmy Kimmel Live' and confronted the talk show host over some jokes he cracked about her while she transitioned into female two years ago. While the conversation was good-natured, it still prompted an apology from Kimmel.
"I am not a spokesperson for the trans community. I'm only really a spokesperson for my journey and then take my platform, which I have, and see if I can make a difference in the world," the Caitlyn expressed. "Kris and I, we had gone our separate directions, not because of gender issues but because of other things," the 67-year-old reality star said, referring to his ex-wife Kris Jenner. "And there I was back in Malibu all by myself, and so I slowly went through, told all my children, because it had been just hammered all over the media."
Caitlyn Jenner on Late Night Talk Show Hosts Teasing Bruce Jenner
Caitlyn Jenner Reveals 'Dude Looks Like a Lady' Was Her Anthem
Caitlyn Jenner on Winning Gold Medal & Olympics Coming to LA
Caitlyn sported a sophisticated ensemble while making her way to Jimmy Kimmel Live! on Tuesday. She styled a red long sleeved top with black pants and matching pointy-toe pumps.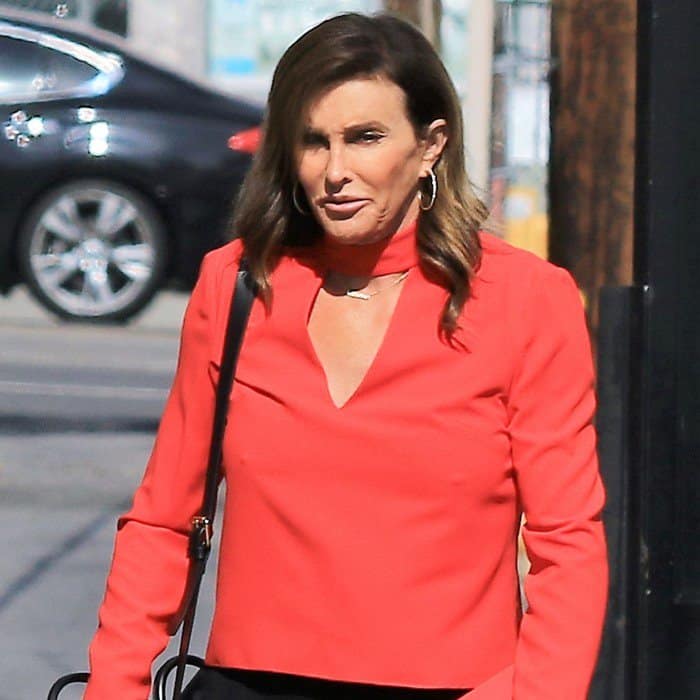 Caitlyn Jenner arrives at the 'Jimmy Kimmel Live!' studios in Los Angeles on July 18, 2017
Credit: WENN