There's much more to Camila Alves than meets the eye. Even though many know her as Matthew McConaughey's wife, the Brazilian model has her own hobbies. Camila has a penchant for food, passed down from her family, but never really became a cook until she became a wife. Now, she enjoys cooking so much that she landed a spot as a co-host for Food Network's "Kids BBQ Championship."
The model gave us a chance to scope out two pairs of her shoes as she ran around New York to promote her brand new show.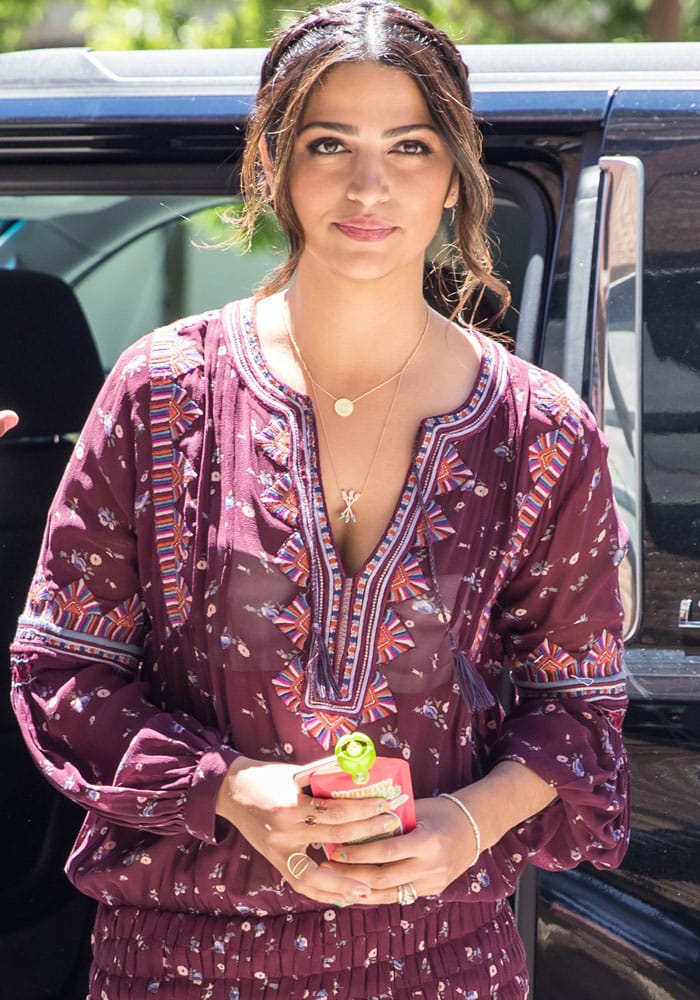 Camila Alves arrives at her hotel in Tribeca on June 14, 2016
Camila starts off her promotions with the Giuseppe Zanotti 'Azalea' sandals in a coral shade
Camila started her day off in a boho chic getup, choosing a printed tunic as a base piece. She styled her top with a Jennifer Myer initial pendant necklace, the Meira T "Pave" diamond ear crawler and the Giuseppe Zanotti "Azalea" sandals in coral suede.
Camila Alves arrives at her hotel in Tribeca on June 14, 2016
Giuseppe Zanotti 'Azalea' Side Tie Sandals, $450 at Shopbop
The actress was later spotted running late to shoot a segment on Food Network's "The Chew" with a coffee in hand. Camila uploaded a snap, giving us an inside peak into her hectic life. It looked as though her glam squad was making a few final touches inside the car as they rushed off to the studio.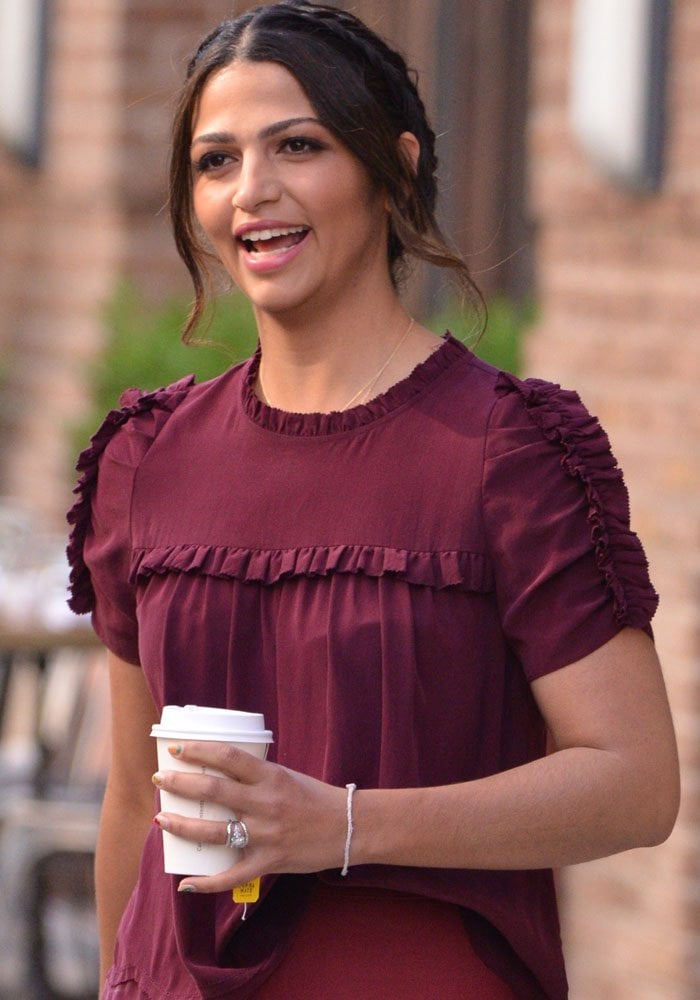 Camila Alves exiting her hotel in New York on June 15, 2016
Camila later wore the Ulla Johnson "Isle" ruffle silk top paired with the Roland Mouret "Arreton" wool crepe pencil skirt. The actress switched out her Giuseppe Zanotti sandals for Tamara Mellon's best-selling "Frontline" heels in nude leather for this outfit.
Camila switches out her Giuseppe Zanotti for a pair of the Tamara Mellon 'Frontline' sandals
The actress had only recently arrived from Africa, which may explain why the team wasn't quite up-to-beat yet in terms of the work schedule. Nonetheless, Camila made it to the set, talking about her stint as a cooking competition show host as well as what it was like to grow up in a food-loving family.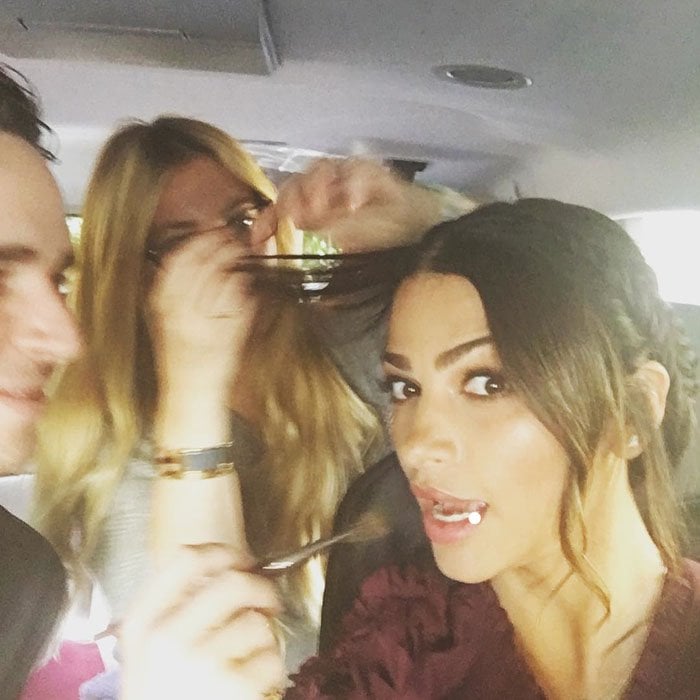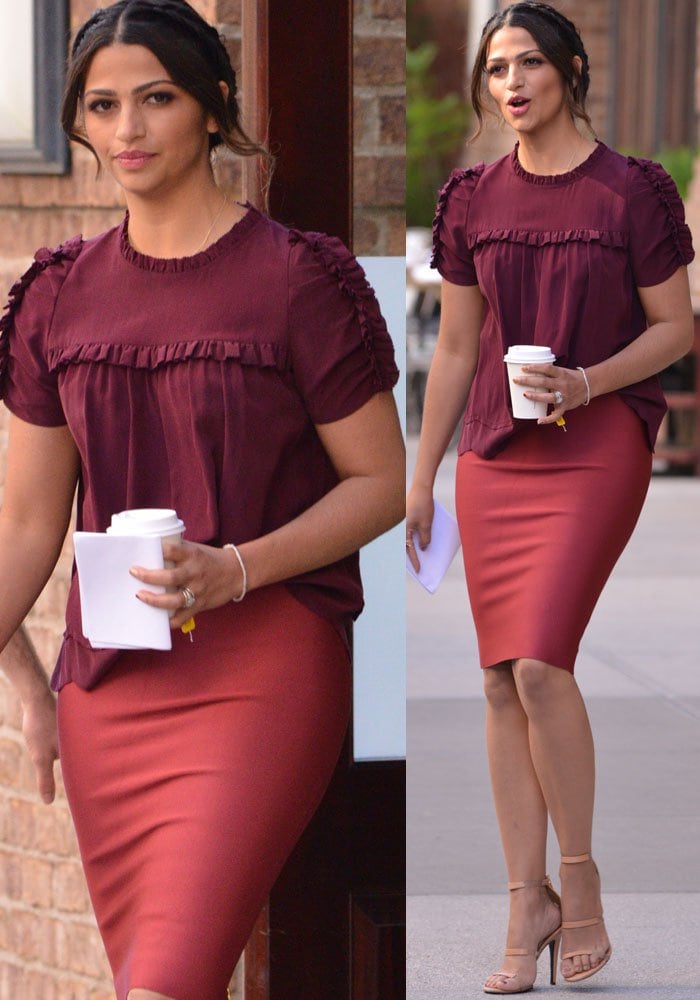 Camila pairs her Ulla Johnson top with a Roland Mouret skirt to enjoy a cooking afternoon at "The Chew"
Check out the Tamara Mellon "Frontline" sandals at Forward.
Tamara Mellon Leather "Frontline" Heels, $387 (before: $595) at Forward
Credit: Camila Alves' Instagram / TNYF / WENN