Cara Delevingne brought her dog Leo to the Chanel spring 2016 haute couture fashion show in Paris on Tuesday — just one advantage of a friendship with Karl Lagerfield! The dog not only got to enter the venue, but also got to sit front row. It got its picture taken by professional photographers. It even got to roam the catwalk that was set-up like modern wooden house complete with a garden and a grass lawn. Is it wrong that we're envious of a dog?
Check out Cara's Instagram posts of her pet pooch Leo looking very glamorous at the Chanel couture fashion show below. Cara's not looking bad herself either in a racy sheer top with strategically placed cat appliqués. She completed her look with a sheer embellished jacket, black leather-paneled jeans and blue-and-black gold-chain-shoelace boots.
Cara Delevingne's Instagram posts of her and her pup at the Chanel spring 2016 haute couture fashion show — posted on January 26, 2016
Unfortunately, the pup peed on the fake grass on the catwalk and was unceremoniously evicted from the front row. We guess that not even Cara's connections — nor the dog's cuteness — could work around the no-pets-allowed rule. But that didn't seem to matter to the two as they were reunited very soon after and were spotted glamorizing the streets of Paris.
Cara Delevingne with her dog Leo at the Guitar Legend store in Paris, France, on January 26, 2016
Cara Delevingne wearing head-to-toe in Chanel to walk her pet pooch Leo
Cara Delevingne wearing a see-through mesh top with cat-shaped chest appliqués, an embellished see-through jacket, leather-paneled black jeans, and blue-and-black chain-shoelace boots
Closeup of Cara Delevingne's blue-and-black Chanel boots with patent cap toes and gold chain shoelaces
Love Cara's boots? Check out the splurge, spend and save alternatives we found below.
Splurge: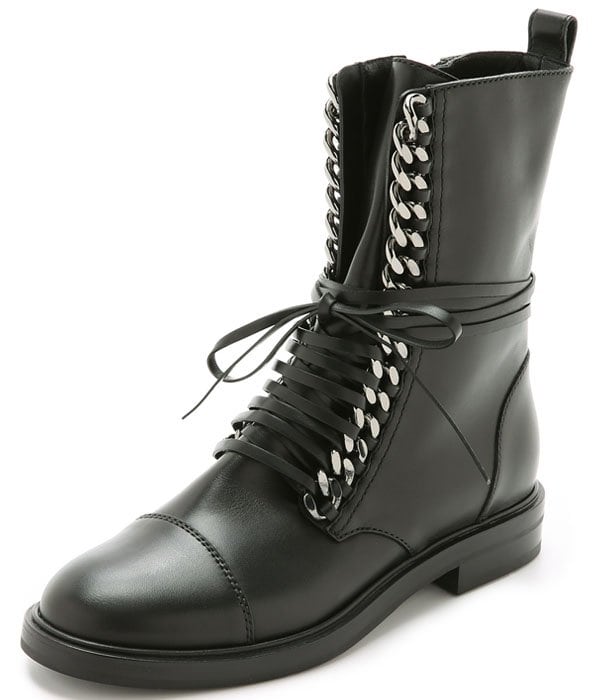 Casadei Leather and Chain Combat Boots, $1,099.12 to $1,350 at Farfetch and Shopbop
Spend: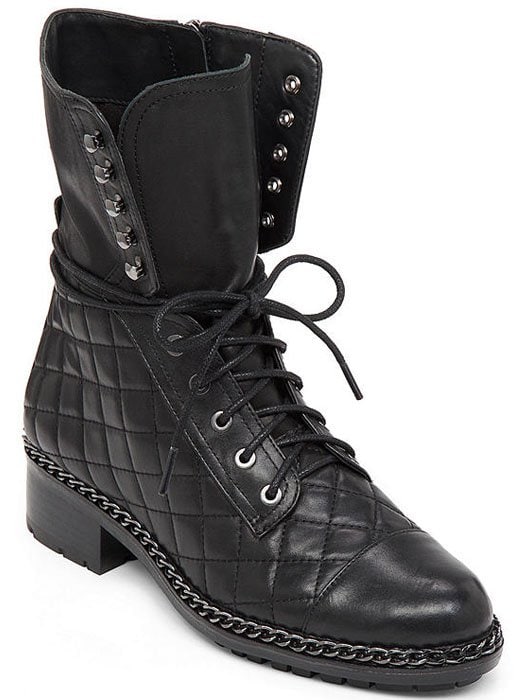 Vince Camuto "Joanie" Chain-Inlay Quited Boots, $112.95 to $198 at Amazon
Save:
Fergie "Nemo" Boots, $65.75 to $150.95 at Amazon
Credit: WENN