One celebrity who took 'gilded glamour' to heart – literally – was Cara Delevingne.
The British supermodel, known for her daring fashion sense, appeared topless with her skin brushed in metallic gold to contrast against her custom Dior red satin suit.
Her upper body, including her arms, was entirely painted in gold except for a few parts affected by psoriasis. It is a skin condition that causes red, itchy scaly patches, most commonly on the knees, elbows, trunk, and scalp.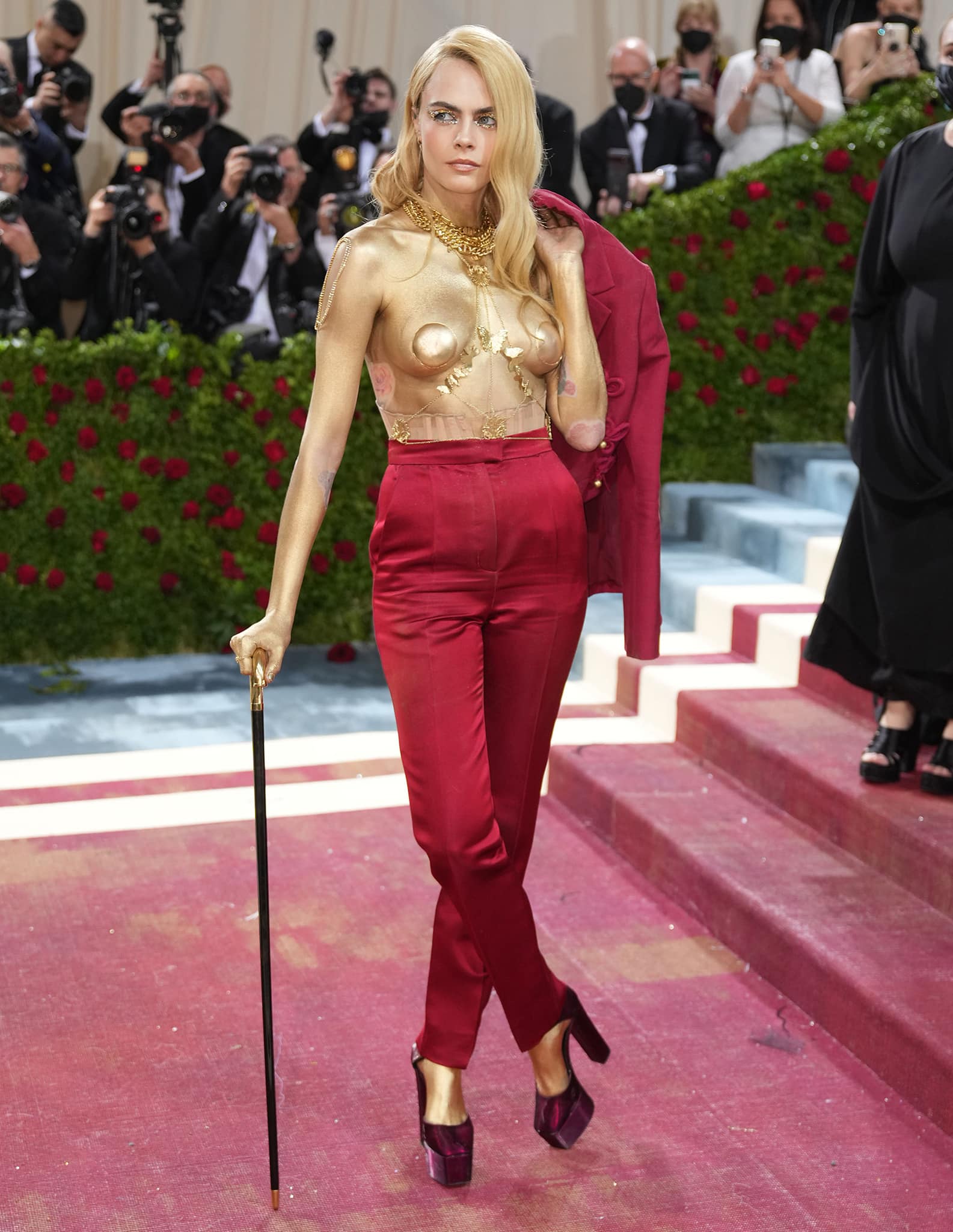 Cara Delevingne goes topless and dips her body in metallic gold for the 2022 Met Gala (Credit: JOHN NACION / startraksphoto)
The 29-year-old wealthy model has openly talked about her psoriasis in the past. In a 2013 interview with W Magazine, Cara said her psoriasis flares up whenever she's stressed or nervous and that "it only happened during Fashion Week."
"Which is, of course, the worst time of the year for me to be covered in scabs. Psoriasis is an autoimmune disease, and I'm sensitive."
That same year, at a Paris fashion show, Cara showed a flare-up on her stomach and told the press, "it's all over my body." She explained that her symptoms worsen "at stressful times when I'm working a lot. You can't cure it. You just got to go on holiday."
Fans praised the model for refusing to hide her skin condition that society might have deemed a flaw.
Cara Delevingne removes her Dior jacket and proudly shows off her psoriasis and gold nipple pasties (Credit: DNphotography / ABACA / INSTARimages)
The Face of an Angel star showed up on the red carpet wearing the double-breasted blazer with matching cigarette pants and platform heels before removing the jacket to show (almost) everything underneath.
She covered herself with gold pasties and an intricate goddess-inspired necklace that added a butterfly motif to her midriff. Delevingne also layered several Dior chokers for a contemporary twist.
Cara Delevingne arrives on the red carpet in a Dior red suit, burgundy platform heels, and a gold cane (Credit: Jennifer Graylock / INSTARimages)
A gold cane added a masculine twist to her outfit, while Tyler Ellis' $1,850 The Grace pouch rounded out her ensemble.
Her makeup artist, Romy Soleimani, took the metallic gold theme and incorporated it into her look with metallic gems along her lashes.
Hairstylist Mara Roszak simply styled Cara's tresses in soft waves, with one side tucked behind her ear and the other cascading over her shoulder.
Cara Delevingne's eyes are lined with gold crystals, completing her take on a gilded age look (Credit: PA IMAGES / INSTARimages)