Nowadays, winners of talent-based reality shows like American Idol and The Voice are a dime a dozen, with few seeing any sort of actual success after their wins.
However, this wasn't always the case. American Idol was a groundbreaking primetime television show, first premiering in 2002, and the winners (and runner-ups) from the first few seasons have found bonafide fame.
Carrie Underwood is the richest American Idol winner of all time (Credit: Kathy Hutchins / Shutterstock)
The most successful American Idol alum, by far, is none other than 39-year-old country queen Carrie Underwood.
In fact, Underwood's fame has soared so far that many people forget that she actually got her start on reality TV.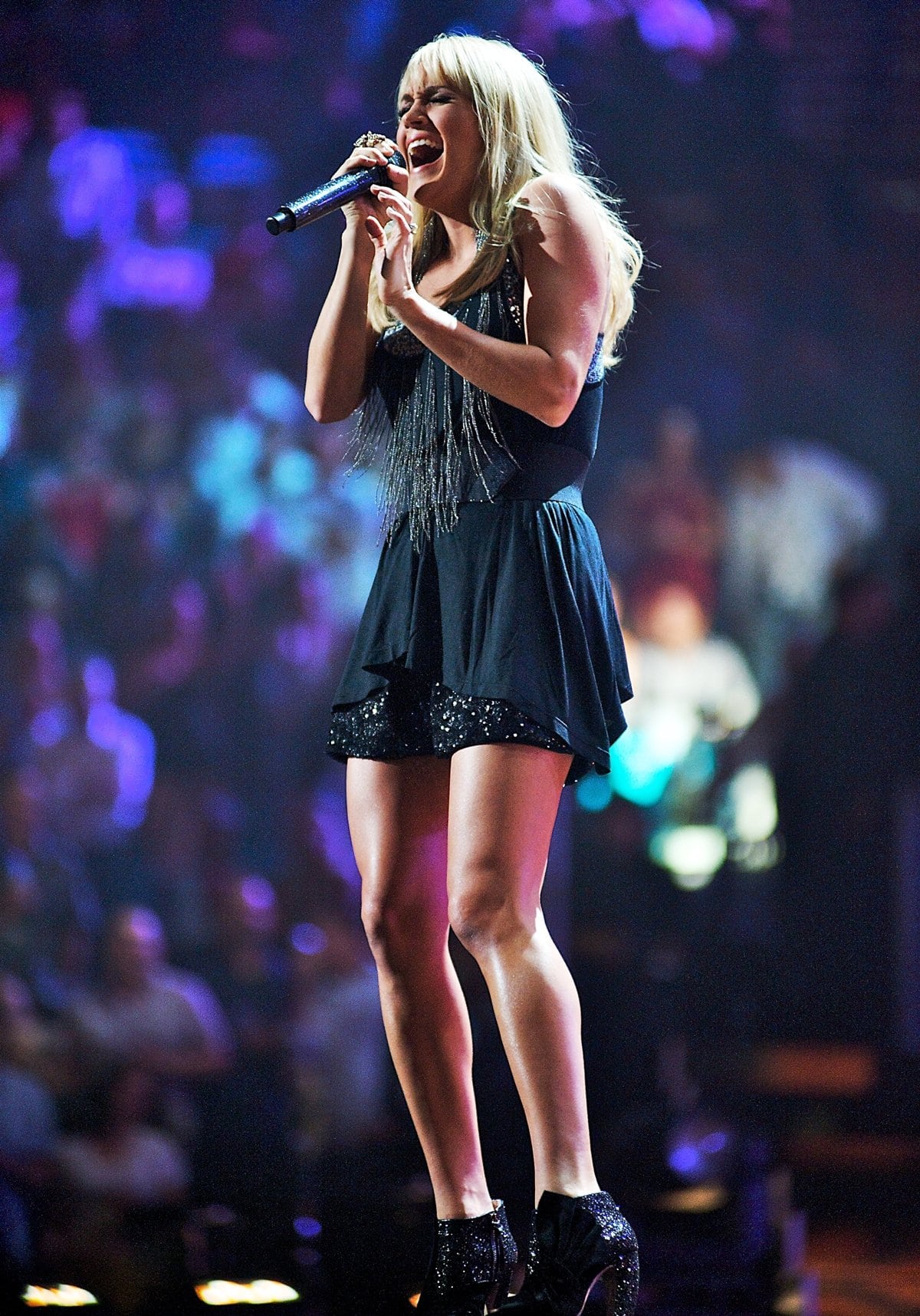 Carrie Underwood performs at the iHeartRadio Music Festival held at the MGM Grand Garden Arena on September 23, 2011, in Las Vegas (Credit: Brian Friedman / Shutterstock)
Follow along as we take a trip down memory lane, revisiting the milestones that aided Carrie Underwood's rise to fame.
Before American Idol
Like the legendary Merle Haggard song, Carrie Underwood is a tried and true Okie from Muskogee — or, at least, an Okie from the Muskogee metro area.
The singer was born and raised in Oklahoma, growing up on her parents' farm in the nearby town of Checotah. She speaks fondly of her time there, noting multiple times that she had a special love for the animals on the farm.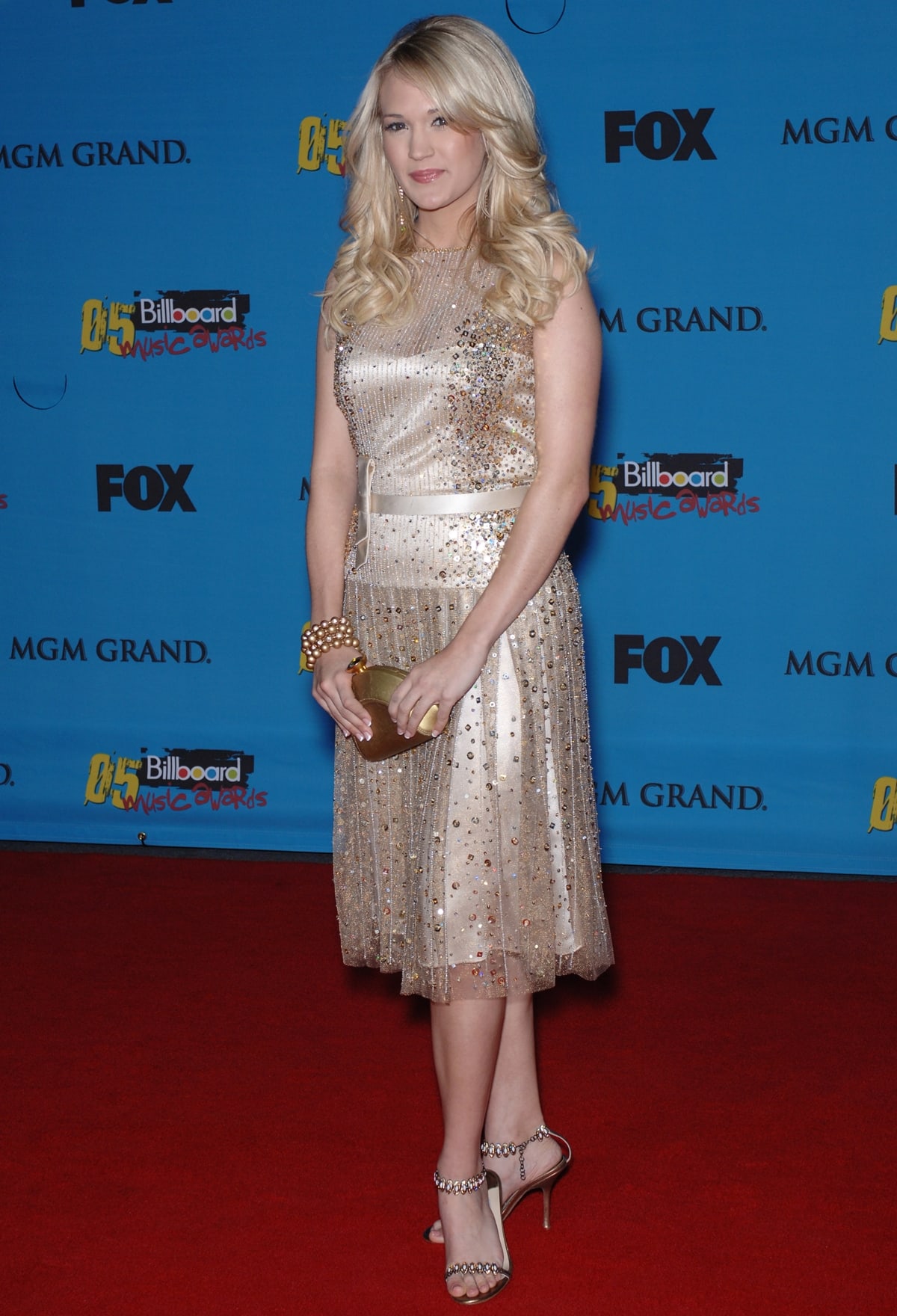 Carrie Underwood in a beaded cocktail dress at the 2005 Billboard Music Awards held on December 6, 2005, at the MGM Grand Garden Arena in Las Vegas, Nevada (Credit: Featureflash Photo Agency / Shutterstock)
Underwood developed an interest in singing at a very young age, taking every opportunity to perform at her church, talent shows, and other local events.
It was evident that Underwood was extremely talented, even as a child, earning her an audition with Capitol Records when she was 14. Though the deal ultimately fell through, this wasn't the end for Underwood's career — thankfully!
2004 – Carrie Underwood auditions for American Idol
Though the country music singer herself has said that she never originally thought she would pursue a career in singing (even earning herself a degree in communications from Northeastern State University) Underwood decided to take a chance and audition for the fourth season of American Idol.
She auditioned in St. Louis in September 2004 at only 21 years old. She sang a rendition of Bonnie Raitt's "I Can't Make You Love Me".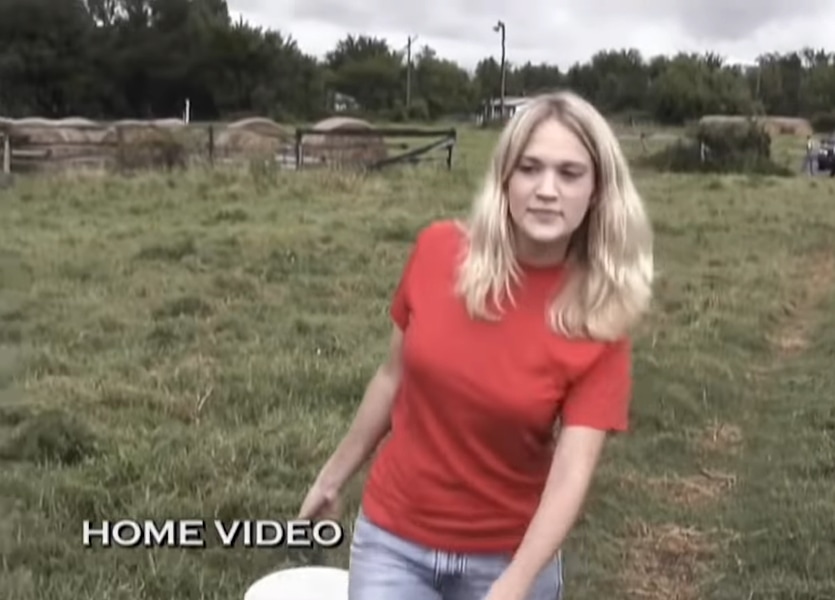 Carrie Underwood's American Idol audition starts with a home video of the future superstar feeding cattle (Credit Fox)
Her down-to-earth attitude and paired with her big blonde hair — not to mention her fantastic voice — charmed judges Simon, Randy, and Paula, earning Underwood a spot in the competition.
You can watch her audition below to see the star in action. We totally forgot she told that story about getting a third nipple removed and clucked like her beloved farm chickens!
2005 – American Idol win and first album release
During her time on the show, Carrie Underwood was a major fan favorite — even the grumpy Simon Cowell noted that she was a favorite to win the whole shebang.
According to producers, Underwood absolutely dominated when it came to votes from the public, garnering herself a loyal fan base that referred to themselves as "Carrie's Care Bears" and dutifully voted for their favorite idol every week.
Carrie was 21 years old when she auditioned in St. Louis with "I Can't Make You Love Me" by Bonnie Raitt (Credit: Fox)
After singing the country classic "Bless the Broken Road" by Rascal Flatts in the show's finale, it was time to vote. In a monumental moment, Carrie Underwood officially won the fourth season of American Idol due to her popularity with the public and the judges.
You can see her winning moment below — check out that deep-wave crimped hair, so 2005. Harold Elwin "Bo" Bice Jr. was the runner-up.
After her win, Underwood wasted no time and immediately began working on her career.
Her first single "Inside Your Heaven" was released later in June that year to massive success, debuting at number one on the Billboard Hot 100, breaking chart history as the first country singer to debut at the top of the chart.
In November of 2005, Carrie Underwood released her debut album, Some Hearts, which is now considered to be a modern classic. It debuted at number one on the country charts and number two overall.
Singer Carrie Underwood poses with her awards in the press room at the 2006 Billboard Music Awards at the MGM Grand Garden Arena on December 4, 2006, in Las Vegas, Nevada (Credit: s_bukley / Shutterstock)
Some Hearts includes singles such as "Jesus, Take the Wheel", "Don't Forget to Remember Me", and the iconic karaoke and girl's night tune, "Before He Cheats" — it is no wonder that this album has become so iconic!
In December of 2005, Underwood was honored by her home state and was named the Oklahoman of the Year by Oklahoma Today.
Though this may not be as groundbreaking as some of her other achievements, it must have been nice to know that the people back home had her back.
2007 – Second album release and first Grammy Awards
Carrie Underwood was honored in 2007 by the Grammy Music Awards, earning her first nominations and awards for Best Female Country Vocal Performance for "Jesus, Take the Wheel" and the coveted Best New Artist award.
In October of that year, Underwood released her second album, Carnival Ride. This time around, Underwood was more involved in the songwriting and producing processes, which paid off.
The album debuted at number one on the Billboard charts and was certified double platinum in a mere two months — an impressive feat!
Singer Carrie Underwood arrives in a pink dress and peep-toe heels at the American Idol Season 8 Grand Finale held at Nokia Theatre L.A. Live on May 20, 2009, in Los Angeles, California (Credit: s_bukley / Shutterstock)
Even more, Victoria's Secret named Carrie Underwood the Sexiest Female Musician in 2007, showing that people loved her looks just as much as her music.
The Mid-2010s to Now
Since winning American Idol, Carrie Underwood has released a whopping nine albums that have netted the country music star 7 Grammy Awards, 12 Billboard Music Awards, 17 American Music Awards, and 15 Academy of Country Music Awards.
Even though Underwood is busy with her music career, she has found time to carve out a fulfilling personal life. She married hockey player Mike Fisher in 2010 and the pair have two children together.
She is also an outspoken animal rights activist, using her large platform to urge politicians to do right by the animals she loves so much.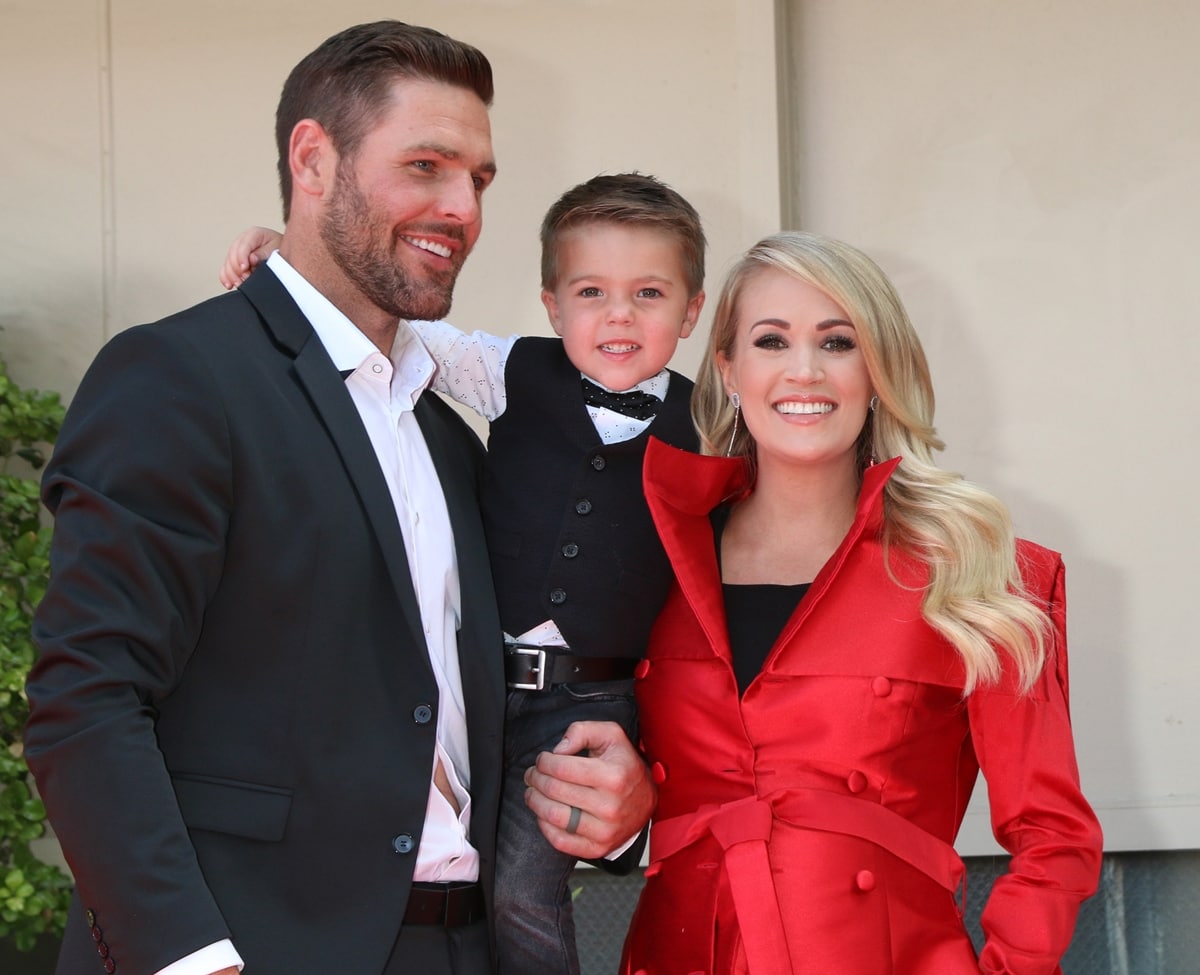 Carrie Underwood was supported by her husband Mike Fisher and their adorable 3-year-old son, Isaiah, while receiving a star on the Hollywood Walk of Fame on September 20, 2018, in Hollywood (Credit: Kathy Hutchins / Shutterstock)
Though many think Kelly Clarkson may be the richest previous American Idol winner, Carrie Underwood blows Clarkson's $45 million net worth away, as her estimated worth is $140 million.
Underwood has sold more than 70 million records across the globe, making her one of the most successful female country artists and the most successful American Idol alum by far.
In August 2012, we spotted Carrie Underwood in the 'Fruitera' booties from Brian Atwood during an appearance at Rockefeller Plaza.
Carrie Underwood's Fruitera booties from Brian Atwood (Credit: Dan Jackman / WENN)
The Oklahoma-born country music singer, songwriter, and actress sported a bronzed glow, long curly locks, and a shimmery ensemble to match her glam booties.
Her shorts have metallic brocade details and the shimmer in her top follows suit. While some may feel her look is a bit too much, we need to remember that she's a glamorous pop-country singer. Therefore, she can't go wrong with big hair, bold accessories, and sparkle.
Carrie Underwood performs live at Rockefeller Plaza as part of the Toyota Concert Series on August 15, 2012 (Credit: Dan Jackman / WENN)
Carrie's look was really glamorous, and the heels matched her outfit perfectly. She could have worn pumps or sandals, but shimmery booties have a different feel that I really like.
B Brian Atwood 'Fruitera' Booties, $425
An inside zip and glitter-infused fabric elevate an abbreviated bootie topped with a slim ankle strap
These booties feature covered heels and platforms with a zip-up design and added ankle strap with buckle closure.
The glittery upper is complemented by the darker suede trim. We love that these designer heels aren't priced over $500 like so many other styles we've seen.
So, what do you think of Carrie Underwood's shoe selection? Do you approve of the 'Fruitera' from Brian Atwood?