She is one of the leading pop stars in the U.K. with multiple chart-topping singles under her belt. On March 5, Ellie Goulding showed off her singing prowess at The Global Awards 2020 in London.
She took to the stage in a black see-through outfit as she belted out her 2015 hit song, Love Me Like You Do, and her latest single, Worry About Me.
Ellie announced in January that she will be releasing her fourth studio album this year.
Ellie Goulding was styled by Nathan Klein at The Global Awards 2020 at Eventim Apollo, Hammersmith in London on March 5, 2020
Before hitting the stage, Ellie graced the blue carpet dressed in an edgy ensemble by Lebanese designer Sandra Mansour. She wore a bespoke black dress that's crafted from PVC material.
It features a low-cut v-neckline that showed a glimpse of cleavage and trendy voluminous see-through puff sleeves with circular crystal trims.
Styled by Nathan Klein, Ellie accessorized her look with David Morris jewelry. She wore a pair of diamond chain earrings, a matching necklace, and several rings.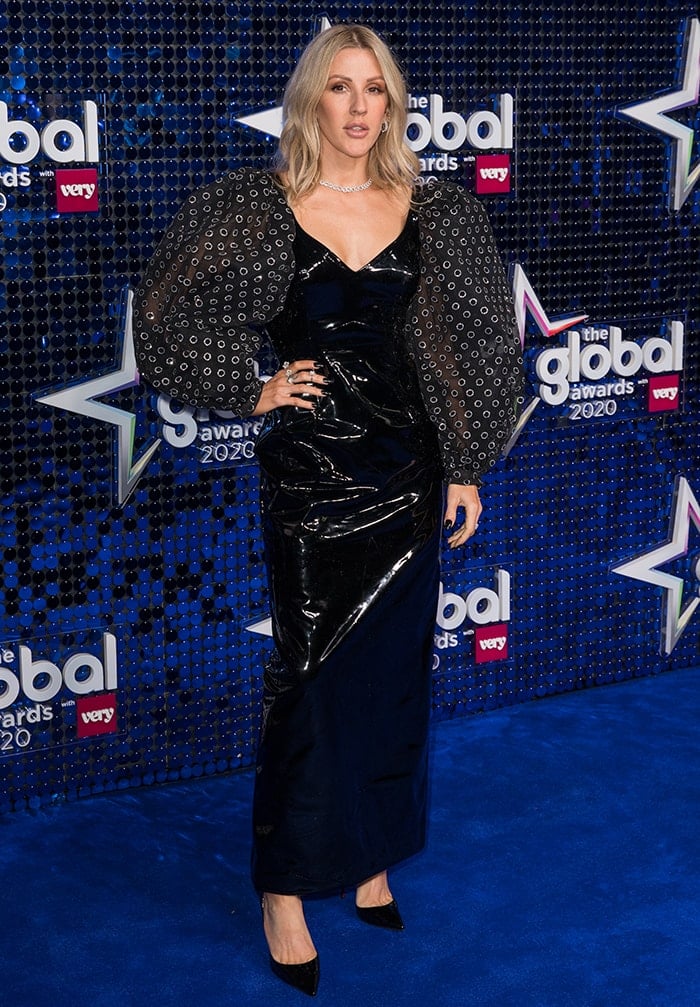 Ellie Goulding goes for an edgy look in Sandra Mansour PVC dress with David Morris jewelry
The English singer-songwriter completed her fashion-forward outfit with a pair of classic black Christian Louboutin pumps.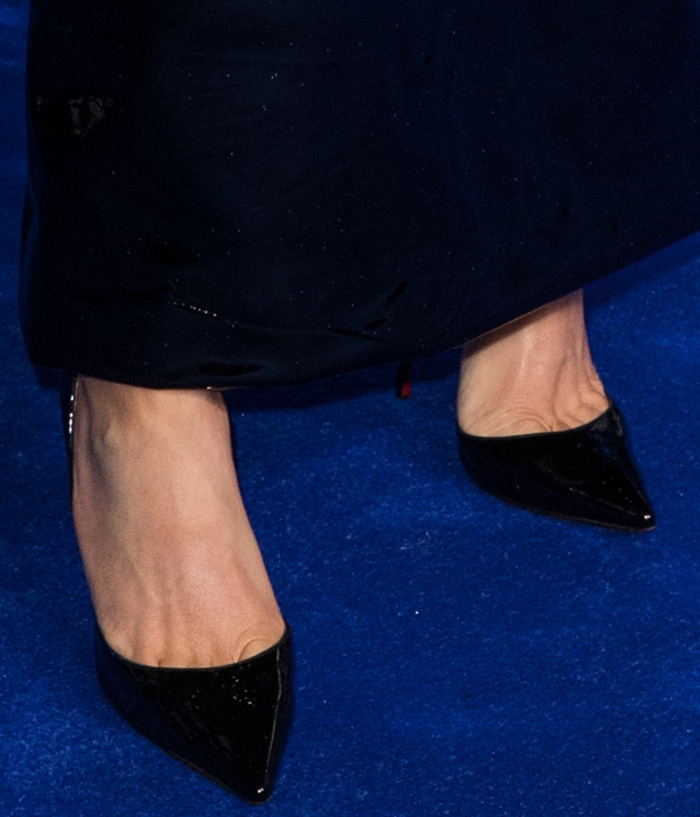 Ellie Goulding shows off her feet in classic black pumps
Beauty-wise, Ellie let her blonde locks fall loose over her shoulders, while her face was simply made-up in a natural palette.
Ellie Goulding wears her blonde hair down and highlights her features with natural makeup-look
Ellie, who tied the knot with Caspar Jopling in August last year, opened up about her marriage while on the blue carpet.
She told Heart: "Being married is still just like being boyfriend and girlfriend with my husband, we're like good mates." She added that she and her husband will be in "the honeymoon period forever."
The 33-year-old singer also told BANG Showbiz that being married is "wonderful."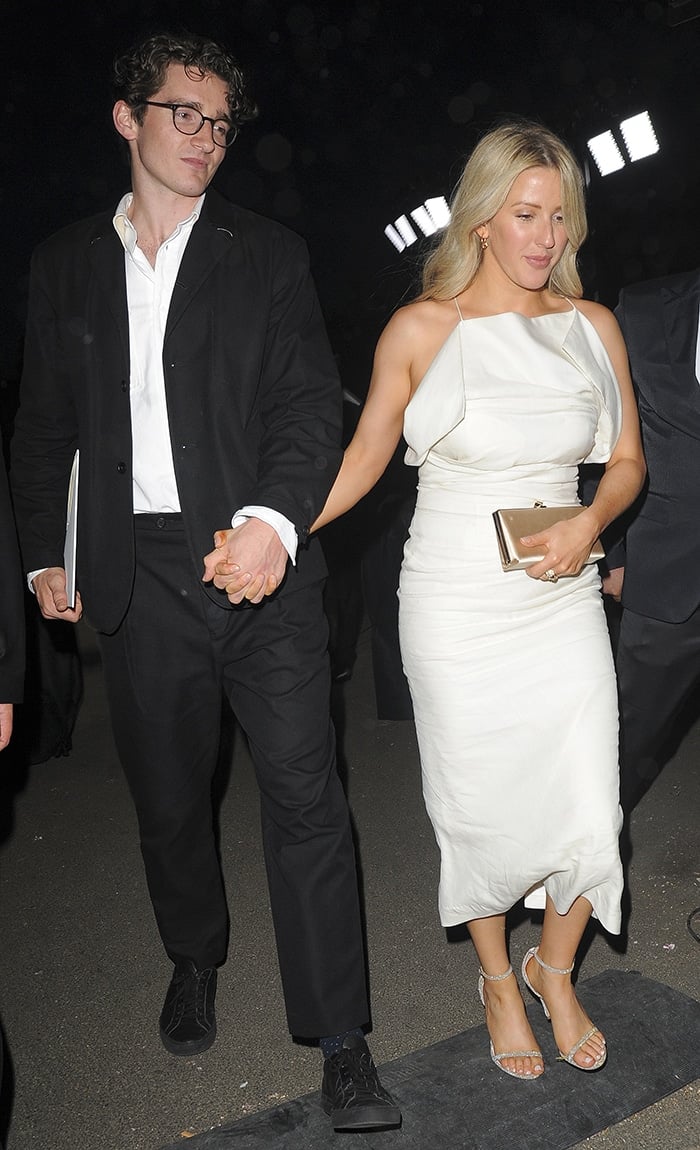 Caspar Jopling and Ellie Goulding at the Serpentine Summer Party in London on June 20, 2018
Who is Caspar Jopling?
Born on January 10, 1992, Caspar Jopling is an art dealer, who works in the contemporary art department at Sotheby's—one of the world's largest brokers of fine and decorative art.
He's currently studying at the Saïd Business School at the University of Oxford for his MBA. He also went to Eton College, the same school that Prince William and Prince Harry attended. Afterward, he studied History of Art and Architecture at Harvard University, where he also joined the rowing team.
Caspar's dad is The Honorable Nicholas Jopling, son of politician Thomas Michael Jopling, Baron Jopling, while his uncle is famous art dealer Jay Jopling. His mom, who is divorced from his father, is Jayne Warde-Aldam of Yorkshire, owner of the estate Frickley Hall, northwest of Doncaster.
According to Yorkshire Post, his family is famous in equestrian circles and holds a tournament, called the Frickley Horse Trials, on their estate.
How did Caspar and Ellie meet?
It has been reported than Caspar and Ellie met through Princess Eugenie.
Doncaster Free Press mentioned that Princess Eugenie used to work with Caspar's uncle Jay at an online auction platform, Paddle8. Caspar and Princess Eugenie then became friends in 2016—the same year that Ellie Goulding was linked to Prince Harry.
Ellie and Princess Eugenie maintained their friendship even after Ellie's rumored relationship with Prince Harry ended.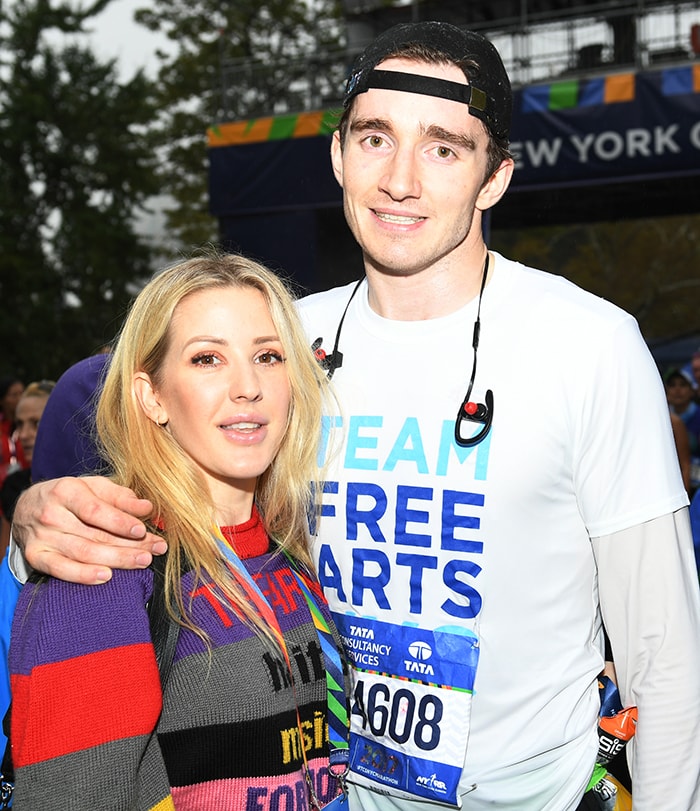 Ellie Goulding and Caspar Jopling at the TCS New York City Marathon on November 5, 2017
How long have Caspar and Ellie been together?
Caspar and Ellie believed to have started dating in 2017 after Caspar posted a photo of Ellie on his Instagram in May 2017, with the caption: "Weekend of art, Ricky Gervais and stodgy mushroom pâté."
View this post on Instagram
In December 2017, Caspar took to Instagram to greet Ellie a happy birthday. Calling her by her real name, Elena, he captioned Ellie's photo: "Happy birthday Elena.. you're another year older and another year wiser.. thank you for inspiring me, challenging me, teaching me, and most importantly, loving me.. I love you a lot a lot and look forward to many more birthdays to come!"
When did Caspar and Ellie get engaged?
On August 7, 2018, Caspar announced their engagement via Instagram. He posted a photo of Ellie wearing a giant ring on her finger, with a long, sweet caption.
Speaking on The Jonathan Ross Show, Ellie said: "I think he proposed a bit sooner than he thought he was going to. I think he got a bit over-excited and proposed the week before he was planning."
"We were having maybe a couple of drinks and we were doing a Jigsaw puzzle. He likes them. I think it was quite an easy one. Probably 400 (pieces). Anyway, I think he was getting bored of it and then he proposed. It was quite romantic for some reason," she added.
The two formally announced their engagement in The Times that same month.
Caspar and Ellie tied the knot
The pair tied the knot on August 31, 2019, at York Minster. Caspar looked handsome in a bespoke Huntsman suit, complete with a beige vest, a black morning coat, a white shirt underneath, and a blue necktie.
Ellie wore a timeless white Chloe gown, which reportedly took over 640 hours to make. The bespoke gown, designed by Chloe's creative director Natacha Ramsay-Levi, has a high ruffled lace collar, long sleeves, and pearl bead embellishments. The silk tulle veil, which took 591 hours to make, was intricately embroidered with White Rose of York and the couple's initials, C and E.

A whopping 300 guests, which include members of the British royal family as well as the couple's celebrity friends, attended the ceremony.
Credit: Phil Lewis / WENN