Casper, a 1995 American live-action/computer-animated fantasy comedy-drama film directed by Brad Silberling, was released in cinemas on May 26, 1995.
Christina Ricci portrayed Kathleen "Kat" Harvey, the love interest of lonely ghost Casper McFadden. According to the film, Casper was a twelve-year-old boy who died from pneumonia after playing out in the cold for too long.
Christina Ricci as Casper's 13-year-old love interest Kathleen "Kat" Harvey
How old was Christina Ricci in Casper?
"I'm still going through my awkward stage and that's OK," Ricci told ET in a 1995 interview about the movie. "I don't have to be perfect. No one's perfect at 15 or any other age. It's just me, and if I'm awkward or ugly or whatever, it's just what I am."
Principal photography for the movie began on January 27, 1994, and ended on June 8, 1994, when Christina Ricci was 14. Actually, she was 13 for a few days of filming as Ricci turned 14 on February 12, 1994.
Having turned 15 by the time of the movie's release, Ricci was already known for her portrayal as Wednesday Addams in The Addams Family in 1991 and Addams Family Values in 1993.
"I look for parts that are different," said Ricci. "I never want to do two parts that are exactly the same."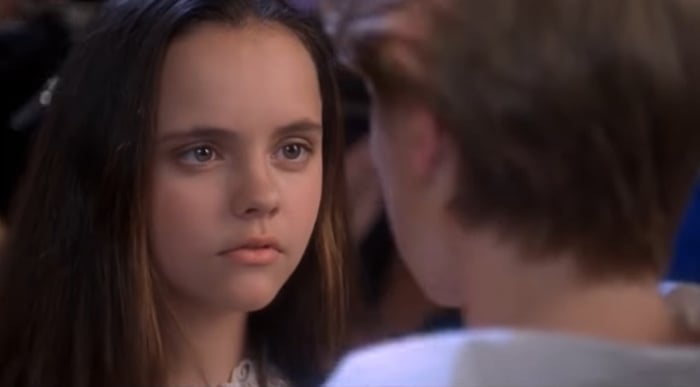 Christina Ricci was 14-years-old when filming Casper
After watching the movie, Ricci did not seem pleased with the result. Wanting to move away from children's films, she was not interested in making a sequel.
Looking back, that movie sucked. It made no sense. I'm supposed to fall in love with a ghost? How does this work? And he's like cartoon, well part of him?
In May 2013, Christina Ricci came out to support The Fresh Air Fund's "Salute to American Heroes" event held at Chelsea Piers in NYC.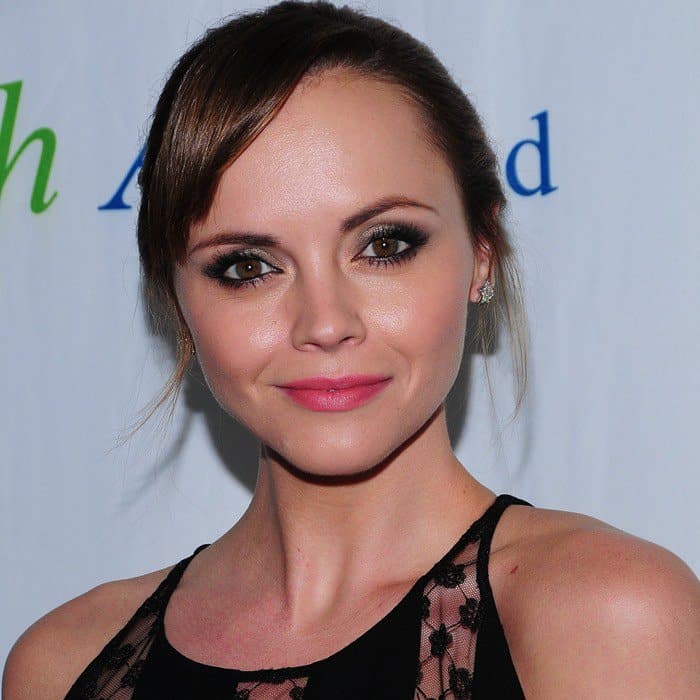 Christina Ricci's sheer-lace-paneled Thakoon dress
She was in a sheer-lace-paneled Thakoon dress, a very Christina Ricci–esque LBD. The Casper actress also accessorized in her usual style, with totally unexpected Giuseppe Zanotti pointy-toe pumps in unashamed metallic gold.
Christina Ricci flaunts her sexy legs at The Fresh Air Fund's "Salute to American Heroes" event held at Chelsea Piers in New York City on May 30, 2013
Christina Ricci's pumps are so shiny, you can practically see her reflection in them!
Christina Ricci's super shiny gold pumps up close
We don't get to feature Christina Ricci a lot compared with other celebrities here on Your Next Shoes, but she is most definitely one of our favorites. Despite her petite frame, Christina never fails to bring big drama when it comes to fashion and footwear.
Get Christina Ricci's exact look with these Giuseppe Zanotti pumps from Nordstrom or Farfetch:
Giuseppe Zanotti Metallic Gold Pumps, $588.42
Or get the look for less with these Boutique 9 "Justine" pumps that are marked further down right now at Amazon:
Boutique 9 "Justine" Pumps, $104.99 (before: $140)
Does Christina Ricci's getup — pairing her Thakoon dress with Giuseppe Zanotti pumps — get top marks from you as well?

Credit: Dan Jackman / WENN