Lizzy Caplan's Height, Outfits, Feet, Legs and Net Worth
Please subscribe to
our newsletter
to receive updates from Your Next Shoes. This post may contain affiliate links. Please see our
disclosure
for more details.
Explore the images below to witness Lizzy Caplan elegantly showcasing her feet and legs adorned with an array of designer high heels, boots, sandals, pumps, and stylish footwear.
Lizzy Caplan in a Chloe Fall 2019 dress with her husband, Tom Riley, at the premiere of Apple TV+'s 'Truth Be Told' at AMPAS Samuel Goldwyn Theater on November 11, 2019, in Beverly Hills, California (Credit: Hahn Lionel / ABACA / INSTARimages)
Lizzy Caplan is a highly accomplished American actress and producer best known for her roles in both television and film. Born on June 30, 1982, Caplan stands at a height of 5ft 4 (162.6 cm). Her talents and hard work have earned her a net worth of $5 million.
Lizzy Caplan's height of 5ft 4 (162.6 cm) is just slightly below the average height of an American woman, which is approximately 5ft 4.5 inches (164 cm). She wears a shoe size 6.5 (US).
Caplan began her acting career with a role on the television series Freaks and Geeks (1999-2000) and has since appeared in numerous productions.
Actress Lizzy Caplan displays her feet and toes in strappy sandals at the premiere of RADiUS-TWC's 'Bachelorette' at ArcLight Cinemas on August 23, 2012, in Hollywood, California (Credit: Joe Seer / Shutterstock)
She gained wider recognition for her performances in the films Mean Girls (2004) and Cloverfield (2008) and has also starred in popular television shows such as Related (2005-2006), The Class (2006-2007), Party Down (2009-2010 and 2023), Masters of Sex (2013-2016), and Castle Rock (2019).
In addition to her television work, Caplan has also had a successful film career. She has appeared in several movies, including Hot Tub Time Machine, 127 Hours (both 2010), Save the Date, Bachelorette (both 2012), The Interview (2014), Now You See Me 2, Allied (both 2016), and Extinction (2018).
In 2022, she starred as Libby in the American drama streaming television miniseries Fleishman Is in Trouble on FX on Hulu.
Actress Lizzy Caplan shows off her feet in metallic sandals at CBS' 2015 Summer TCA party at the Pacific Design Center on August 10, 2015, in West Hollywood, California (Credit: Kathy Hutchins / Shutterstock)
Caplan has received critical acclaim for her work, including a Primetime Emmy Award for Outstanding Lead Actress nomination in a Drama Series for her role in Masters of Sex.
With her impressive talent and diverse range of roles, she has become one of the most sought-after actresses in the entertainment industry.
Lizzy Caplan wearing a Christopher Kane dress and carrying a Stuart Weitzman bag at FX's "Fleishman Is In Trouble" New York premiere at Carnegie Hall on November 7, 2022, in New York City (Credit: Lev Radin / Shutterstock)
Lizzy Caplan Facts
Is Lizzy Caplan a millionaire?
Yes, she is. Lizzy Caplan is an American actress and producer with a net worth of $5 million.
Full Name:
Elizabeth Anne Caplan
Born:
June 30, 1982, in Los Angeles, CA
Who is Lizzy Caplan married to?
She married English actor Tom Riley in September 2017.
Does Lizzy Caplan have any children?
Yes, she does. Lizzy Caplan welcomed her son, Alfie, in 2021.
Weight:
117 lbs / 53 kg
Shoe Size:
6.5 (US) / 37 (EU)
Is Lizzy Caplan tall?
No, she's not. Lizzy Caplan's height of 5ft 4 (162.6 cm) is considered to be slightly below average for a woman in the United States, so she is not considered tall.
Nationality:
American
Source of Wealth:
Professional actress and model
What ethnicity is Lizzy Caplan?
Lizzy Caplan comes from a Jewish family with roots in Latvia, Austria, Lithuania, and Russia.

She was raised in the Reform Judaism tradition and stated in 2005 that she had a bat mitzvah, was confirmed, and attended Jewish summer camp.

While she had drifted away from her religious practices in her early 20s, she expressed a desire to return to them once she had a family. Caplan appreciates her Jewish heritage but describes herself as more focused on the traditional aspects of Judaism rather than the religious aspects. She plans to raise her children in the Jewish faith.
Who does Lizzy Caplan play in True Blood?
She plays Amy Burley, a fangbanger on the HBO original series True Blood, who made her debut on the episode "Burning House of Love" in the series' first season.
Who plays Tina in Smallville?
Lizzy Caplan played Tina Greer on Smallville, an American television series developed by writer-producers Alfred Gough and Miles Millar.
How did Tom Riley and Lizzy Caplan meet?
In January 2015, Lizzy Caplan met Tom Riley, who is also an actor, while she was filming in London. The couple made their relationship public in 2016 at the Prague Opera Ball. Several months prior to that, in May 2016, they had gotten engaged.
Are twin sisters Lanie and Josie in Truth Be Told played by the same actress?
Yes, Lizzy Caplan portrayed the characters of Josie and Lanie Buhrman in the American legal/crime drama streaming television series Truth Be Told on Apple TV+.
Why is Lizzy Caplan not in Party Down?
In the American sitcom "Party Down", Lizzy Caplan played the character of Casey Klein. Casey is a struggling comedian and actress who often rebels against authority, particularly Ron's.

At the beginning of the series, Casey was married but later got divorced and began a relationship with Henry in an attempt to start anew. Caplan's portrayal of Casey showed her versatility as an actress, as she brought a sense of humor and vulnerability to the character, making her both relatable and endearing to viewers.

While Casey was a main character in seasons 1 and 2, Caplan returned as a guest star in season 3.
Lizzy Caplan's Hollywood Journey: Quotes on Acting, Success, and Personal Life
"Had 'Bridesmaids' not ended up being so amazing and successful, we would never have been able to make 'Bachelorette.' So we are in awe of 'Bridesmaids' and totally owe them so much." – Lizzy Caplan
"Don't peak in high school." – Lizzy Caplan
"There's only so many times you can read how ugly you are and how much people hate you." – Lizzy Caplan
"I don't think you should be allowed to eat in a restaurant if you haven't waited tables at least once. It's so irritating when I see people being rude to waiters, like, it makes me want to slit their throats! Like, really? You're really this inconsiderate?" – Lizzy Caplan
"I try to bring elements of my own personality to every character I've played, but I think I'm pretty similar to the character I'm playing now. The biggest departure would have to have been Freaks and Geeks Sara, who was this sort of subordinate and shy girl." – Lizzy Caplan
"I think being mean to people in high school is healthy. It's sort of like you're in this situation with all these other kids and sometimes you need to get your aggression out. And if you'd had people be mean to you before, it really does build character." – Lizzy Caplan
"I think it's necessary to identify with anything – with any character you play, there's got to be something in common, so you can link up to that person, even if it's like one tiny thing. But it's equally fun to play somebody completely different, and trying to find what that thing is to make it." – Lizzy Caplan
"For the past few years, I've been more selective than I have any right to be, but I think that's finally starting to work in my favor. I think I get way too much credit for making what people consider to be smart choices, but it's only because I made a decision to stop worrying about making money." – Lizzy Caplan
"When you're shooting a network television show it inevitably starts airing a few episodes in, and depending on the ratings and the response from the public, you find yourself tweaking your performance or the scripts go in a different direction." – Lizzy Caplan
"I never get recognized for 'Mean Girls.' I can be walking around with Daniel Franzese, who's in the movie and a friend of mine, and people will come up to him and start freaking out and have no idea who I am." – Lizzy Caplan
"I really fancied myself a comedic actress." – Lizzy Caplan
"I do think, oddly, that a comedic actor has a better chance of pulling off a dramatic role than a great dramatic actor has of being able to pull off a highly comedic role." – Lizzy Caplan
"On 'Masters of Sex,' especially in the pilot, everybody was showing up word-perfect, and you're expected to show up word-perfect." – Lizzy Caplan
"I've loved being the sarcastic chick, but I didn't want to be her forever." – Lizzy Caplan
"The family you were raised in, the time period you were born in, and the part of the country you're in absolutely shape your view on sex, which shapes a huge part of anybody's personality." – Lizzy Caplan
"I was a Russian dancer in my elementary school production of 'Fiddler on the Roof' when I was in third grade or fourth grade. I was one of the younger kids accepted into the play, and the plays were pretty impressive, let me say." – Lizzy Caplan
"I find that working with friends is always the goal, even if it's just one person. Because the comedy community is kind of insular, it's easy to run into people you've worked with, even if you worked with someone on something for a day, or whatever." – Lizzy Caplan
"I saw 'Clueless' five times in the theatre when I was growing up." – Lizzy Caplan
"I think I get way too much credit for making what people consider to be smart choices, but it's only because I made a decision to stop worrying about making money. I had done network sitcoms. I had a nest egg." – Lizzy Caplan
"It's weird, It's really weird to be called a breakout star. And some people are referring to my show as the new 'Friends', which I can't really even wrap my head around." – Lizzy Caplan
"You'd be surprised. Girls like sensitive, namby-pamby guys." – Lizzy Caplan
"I had a bat mitzvah, was confirmed, went to Jewish summer camp, I go to temple for the High Holy Days. I think, like most people in their early 20s, I kind of strayed away from it. I think once I have a family I'll be back into it." – Lizzy Caplan
"'Save the Date' feels like a quiet story about two sisters and the men in their lives, kind of reminiscent of the quieter rom-coms of the 1990s; it's very character-driven and not as wedding-focused." – Lizzy Caplan
"'Party Down' is the most fun I've ever had working in my life. We shoot 10-episode seasons and we shoot it in 10 weeks, so it's very brief: 4-day episode shoots. You never get sick of anybody, and it never feels like a drag. It's way, way, way too short." – Lizzy Caplan
"I'm still waiting to hit it big. But there was the moment when I didn't have to work at the restaurant anymore, which is the milestone for every actor. When your job is just to be an actor and not to have to do anything else." – Lizzy Caplan
"It's scary to sign a six-year contract for something that you don't necessarily know about. And yet I did that most every year. I've done a lot of failed pilots." – Lizzy Caplan
"As an actress – and as an actor, too, but it's worse for actresses – you constantly get picked apart for how you look." – Lizzy Caplan
"There are some of us who are just born with a more adventurous spirit than others." – Lizzy Caplan
"Everyone who made 'Save the Date,' like the writers and the director, they're all happily married and not anti-marriage at all, so that was kind of interesting to me." – Lizzy Caplan
"I try to find some similarities between myself and the characters, even if it's the tiniest thing." – Lizzy Caplan
"I had to do a lot of dancing in 'Queens of Country.'" – Lizzy Caplan
"I did the whole non-dairy thing for a year." – Lizzy Caplan
"I think, as an actress, people get on your case if you do the same thing over and over again. But if you get too far away from that, people don't like that, either." – Lizzy Caplan
"I find reality television to be so delectable." – Lizzy Caplan
"I have a special ability to spot TV shows that don't go past two seasons; that's my gift." – Lizzy Caplan
"Everybody hangs out with everybody, which is very strange for a cast this large and this young. We're all cool and down to earth and not caught up in this maniacal business at all… . Everybody really, really likes everybody else." – Lizzy Caplan
"I really unfortunately don't have tons of hilarious Sundance stories, because really I am not the biggest fan of hanging out, but the reason why is because I never go see other people's movies and I think that's the way to do it." – Lizzy Caplan
"There's definitely a luxury to the fluidity of not being a mega-star. I've done a ton of really, really odd, off-the-wall movies." – Lizzy Caplan
"I'm really awkward when people recognize me. I'm not good at it, and for the most part it hadn't happened to me until 'True Blood,' and then, all of a sudden, it started happening all the time." – Lizzy Caplan
"I think there's something very lovely and hilarious about exploring the particular neuroses of the female mind. It's just not the same thing with men. I mean, there are exceptions, but for the most part, women beat themselves up in their heads more." – Lizzy Caplan
"Comedy is not something that a person can fake or learn how to do." – Lizzy Caplan
"I really like doing television shows, and I anticipated doing a comedy, because that's the place I feel the most comfortable – those are the risks I want to take." – Lizzy Caplan
"I'm choosy to a fault. You want to hold out for a project that means something. You're the one who's there working fifteen hours a day, and if you don't believe in it, it can feel a whole lot longer." – Lizzy Caplan
"When I was younger, I actually wanted to be a CIA agent. Really. I even did the online questionnaire." – Lizzy Caplan
"My first acting role as a kid was on 'Freaks and Geeks.'" – Lizzy Caplan
"I find that break-ups are so much easier when you can hate the person." – Lizzy Caplan
"I have no drawing talent whatsoever. I cannot do it." – Lizzy Caplan
"In the early days, I just got lucky. I would audition for everything and just happen to land in something pretty respectable, like 'Freaks and Geeks,' my first job, which was a complete fluke." – Lizzy Caplan
"None of my friends are in the entertainment industry." – Lizzy Caplan
"Whenever you're starting a new show, you have these awkward first lunches and meetings that are sort of mandatory, and everybody shows up, but nobody knows each other." – Lizzy Caplan
"I have a habit of getting very obsessive about one thing, but it usually lasts no more than three days." – Lizzy Caplan
Lizzy Caplan's Sexy Feet and Hot Legs
The world of television is about to get much steamier with the upcoming release of the American erotic psychological thriller…
Now You See Me 3 was announced way back in 2015, but apart from a few tidbits of news, information…
Lindsay Lohan has graced the big screen many times, taking on iconic roles including Lola Johnson in A Prairie Home…
Tom Riley, an English actor/producer/director with an estimated net worth of $12 million, supported his wife Lizzy Caplan while attending…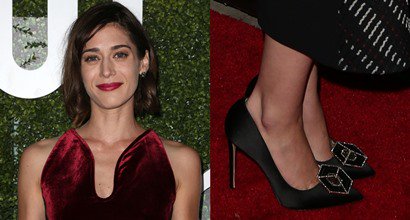 Lizzy Caplan was all smiles next to her fiancé Tom Riley while hitting the red carpet at the CBS, CW,…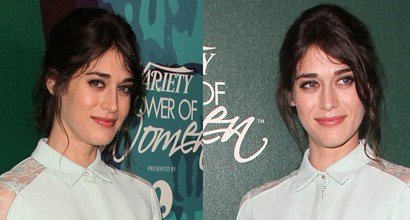 Together with Reese Witherspoon, Eva Longoria, and Jennifer Lopez, Lizzy Caplan flaunted her sexy legs at the 2014 Variety Power…
Lizzy Caplan may have a wild character in the Showtime drama series 'Masters of Sex', but she chose to show…
Lizzy Caplan is known for playing edgy and no-nonsense roles, such as Casey Klein in 'Party Down', Julia in 'New…