We're all counting down the days til the start of the New Year, but before 2012 ends, we are counting down the chic celebrities we've spotted wearing stylish ensembles with our favorite kind of boots – cognac colored ones! We've narrowed it down to our top 3 celebrities, their chic ensembles, and how you can get their looks for less!
Mrs. Channing Tatum was spotted out and about in Beverly Hills a few weeks before news of her pregnancy came out, and boy was she glowing and rocking her stylish ensemble!
Jenna embraced her love for fringe by donning a cozy fringed cardigan and a fringed cognac colored bag, which went perfectly well with her cognac boots. Mixing a nautical themed sweater with the western-y fringe theme resulted in a stylish mashup that elevated her into a savvy fashionista, with fashion communities around the blogosphere praising her chic ensemble. See below for a similar and more affordable outfit we came up with!
Cognac Boots: Nine West 'Aggy' Knee High Boot, $80.60
Denim Jeans: Acne Skinny Jeans, $164.99
Striped Sweater: Theory Striped Sweater, $341
Fringed Cardigan: Topshop Knitted Fringe Cardi, $130
Fringe Bag: Gunmetal Studded Fringed Shoulder Bag, $21.98
Sunglasses: Roxy Sienna Tortoise Sunglasses, $50.99
Jamie Chung was spotted looking fiercely stylish in her casual ensemble while out shopping in Beverly Hills. Another celebrity look hailed by fashionista's worldwide, Jamie's combination of cognac riding boots, a casual sweater, and a chic printed scarf rightly deserves the two thumbs up and nods she got from fashion critics, don't you agree?
We came up with a cost-effective ensemble that's very similar to what Jamie wore, so if you're looking for a fashionable outfit to wear on a casual day, then this might be your look!
Cognac Boots: Nine West Tiptop Boots in Cognac Leather, $117.99
Skinny Jeans: Siviglia Skinny Jeans, $116.47
Knit Sweater: Hoss Intropia Feather Knit Sweater, $79.22
Printed Scarf: Bindaya Printed Modal-Gauze Scarf, $59.99
Bag: ShoeDazzle Manti Bag, $29.95
Sunglasses: Fossil Audrey Large Tortoise Sunglasses, $47.99
Style icon Kate Bosworth looked simply chic and stylish when she was spotted at the 2012 London Fashion Week wearing an adorable owl sweater and peplum skirt from the Burberry Prorsum Pre-Fall 2012 collection. We love how she paired her outfit with lace-up ankle booties, the result was simply gorgeous.
What we love about Kate's style is her ability to mix and match casual separates and come up with chic and stylish ensembles, an epitome of a style icon! That's why she's our winner! Now, we came up with a similar yet more budget friendly ensemble that you ladies can wear for your next casual or formal event.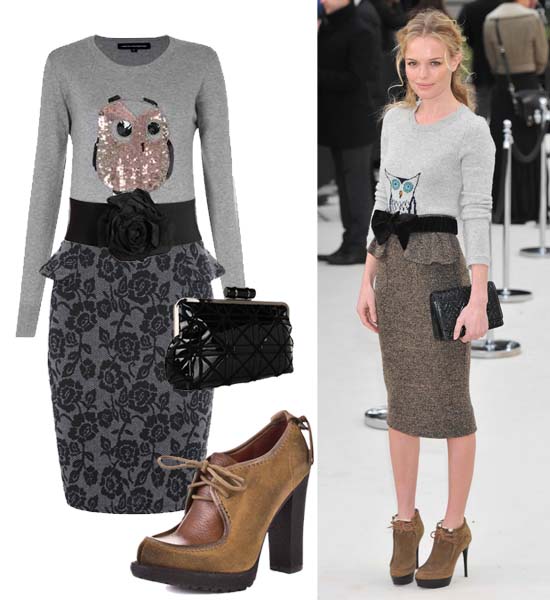 Cognac Boots: Luxury Rebel Paula Booties in Cognac, $119.99
Sweater: French Connection Lady Owl Sequin Knit Sweater, $80.64
Peplum Skirt: Dorothy Perkins Grey Lace Print Peplum Skirt, $19.39
Floral Belt: Natasha Couture Flower Stretch Belt, $42
Black Clutch: Big Buddha Brie, $74.95
Credit: Revolutionpix / Forty Seven / WENN / Daniel Deme