Were you gals able to catch the 2014 MTV Movie Awards yesterday?
As expected, we found a good number of well-dressed celebrities attend the occasion. Many of the women slipped into sky high, albeit classic, pumps and peep-toe heels, so the shoe action was not exactly that exciting. However, a select handful stole the spotlight, thanks to their scene-stealing footwear. Here's a quick rundown of who turned our heads with their showstopping heels. Let us know if we missed anyone.
1. Jessica Alba in Jimmy Choo Pumps
The always effortlessly chic Jessica Alba showed some skin at the awards show by wearing a high-waist yellow Kenzo skirt with a Piece d'Anarchive bandeau. She finished the combo with a Narciso Rodriguez clutch and a pair of black-and-white woven leather pointy pumps from Jimmy Choo.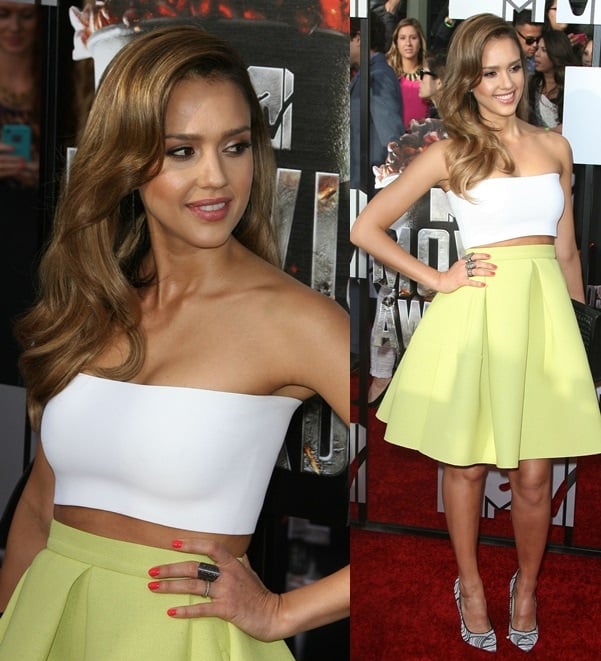 Jessica Alba looking stunning on the red carpet at the 2014 MTV Movie Awards in Los Angeles on April 13, 2014
Below is a closer look at Jessica's pumps if you fancy them. They're actually the iconic "Abel" done in not-so-traditional woven leather. These shoes feature 4-inch-tall heels and a classic pointed-toe silhouette.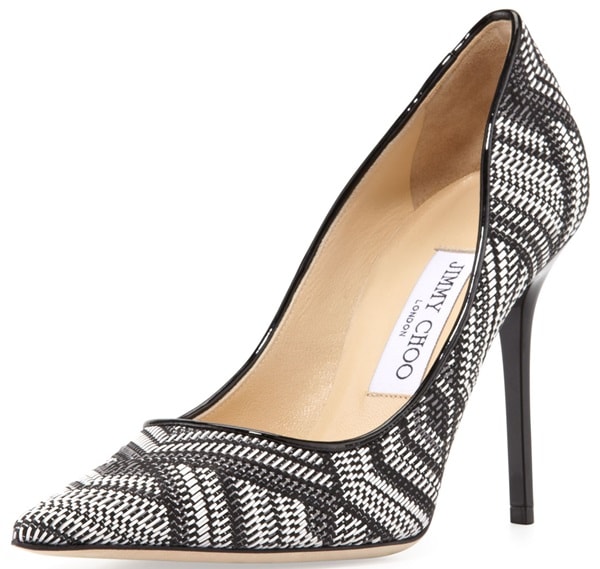 Jimmy Choo "Abel" Woven Leather Pointy-Toe Pumps, $595
2. Iggy Azalea in John Galliano Sandals
Aussie rapper Iggy Azalea got everyone's attention, though sadly, for all the wrong reasons. Her outfit, a piece from John Galliano's Spring 2014 collection, didn't exactly flatter her shapely figure. She made it look even worse by capping off the ensemble with bow-detailed platform wedges from the same Gibraltar-born British fashion designer that were just a little too bulky for their own good. We think she could have done better. Do you agree?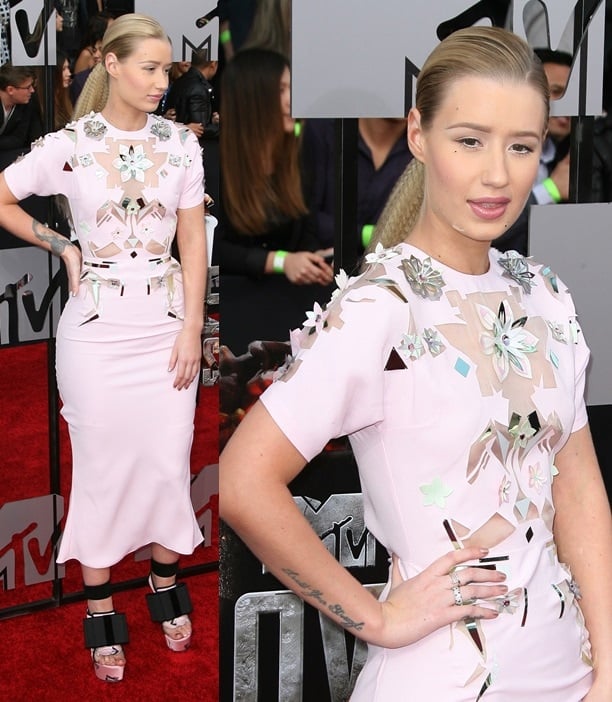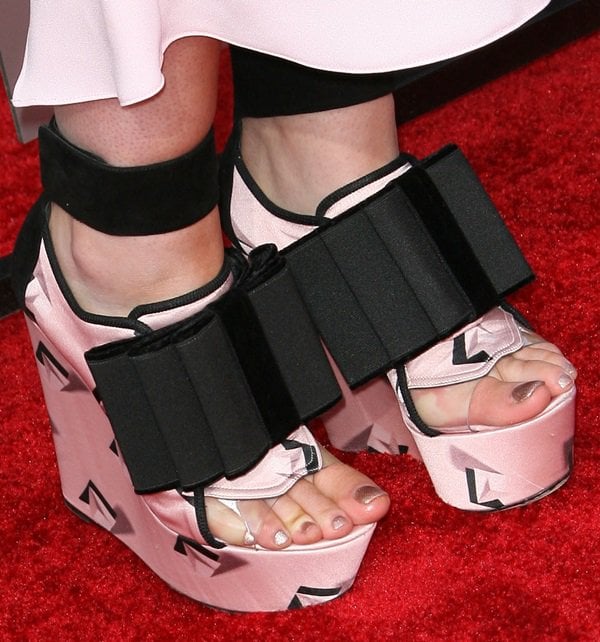 Iggy Azalea finishing her light pink John Galliano dress with platform wedges from the same collection for the 2014 MTV Movie Awards in Los Angeles on April 13, 2014
3. Jill Wagner in Gladiator Pumps
TV personality and 'Wolf Watch' host Jill Wagner also turned our heads yesterday. The blonde beauty wore some seriously strange-looking strappy pumps for the occasion. The pair had straps that went all the way up to her knees. She used the shoes to cap off a strapless LBD with a high-low hemline. We found the mix a little odd, but she somehow managed to pull it off. We also tried to locate her shoes but had no luck. Can you help us ID the pair?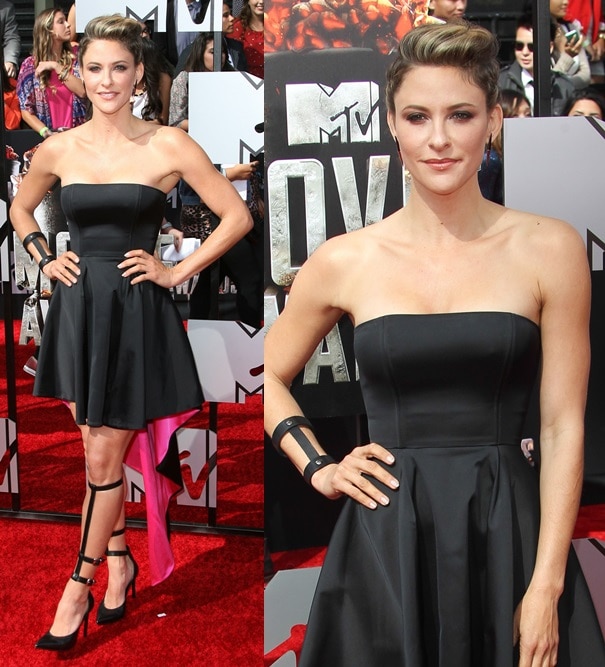 Jill Wagner wearing extra strappy pumps at the 2014 MTV Movie Awards in Los Angeles on April 13, 2014
4. Lupita Nyong'o in Casadei Pumps
One of the best-dressed ladies last evening was Oscar winner Lupita Nyong'o. The actress was a vision in a one-of-a-kind Chanel dress that was sprinkled with a million multicolored pailettes. She finished the outfit with a Chanel clutch and a pair of bright blue metal-heel pumps from Casadei.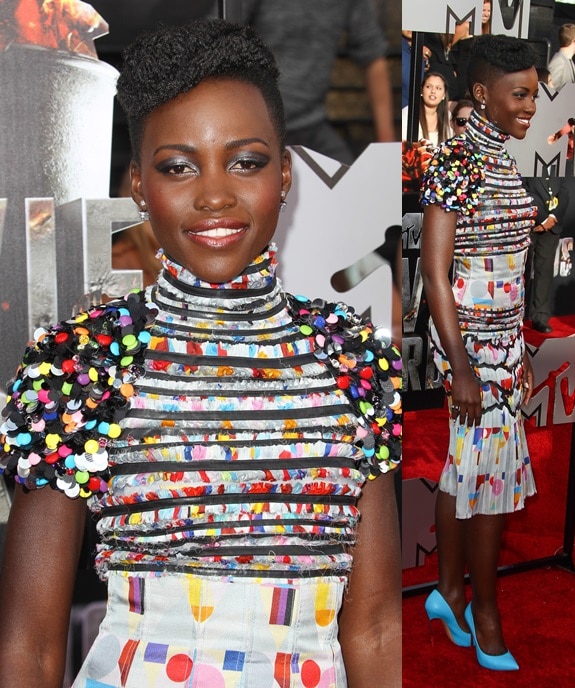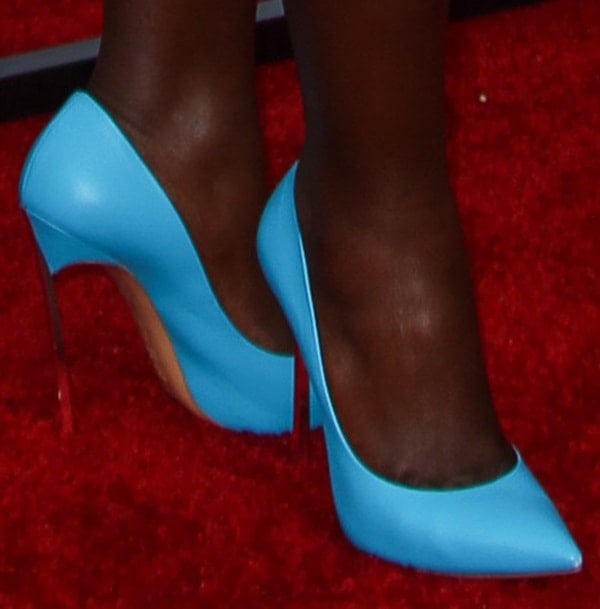 Lupita Nyong'o capping off her colorful dress with a pair of bright blue Casadei pumps at the 2014 MTV Movie Awards in Los Angeles on April 13, 2014
We couldn't find Lupita's bright blue pumps, but here's a hot pink pair of the same style for you to peruse. These shoes feature 120-mm-tall super-slim heels (about 4.75 inches) and flattering pointy toes. If you want to grab them, simply visit Amazon. They retail at $690 with free shipping: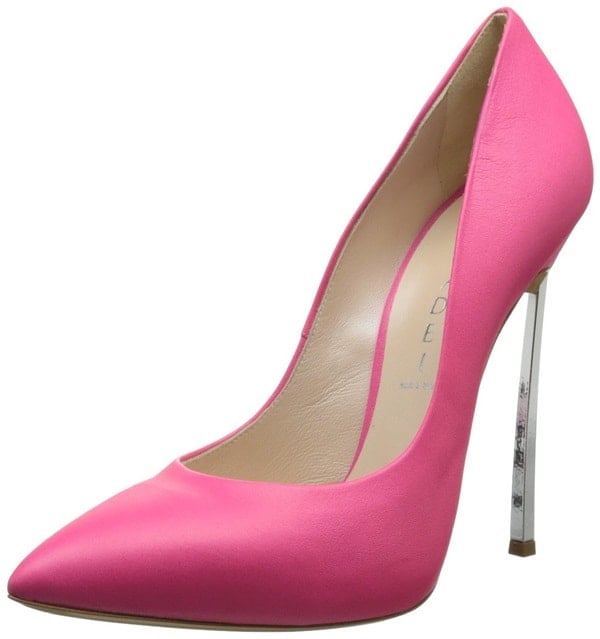 Casadei Metal-Heel Pointed-Toe Pumps, $690
5. Pia Mia in Cork Platform Sandals
She's not that popular yet, but it was easy to notice up-and-coming singer Pia Mia, thanks to her all-purple outfit. Let's just say that the look was a little hard to ignore. We're not big fans of the combo she put together, but the all-cork platform sandals on her feet were certainly quite interesting. Any idea where she scored those shoes?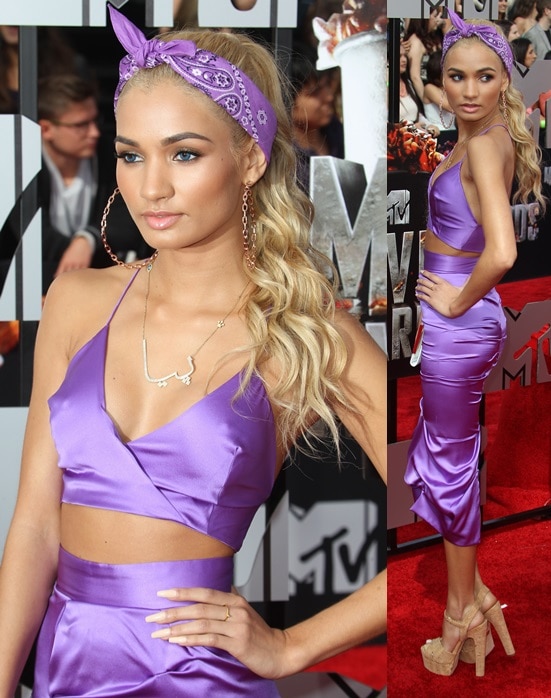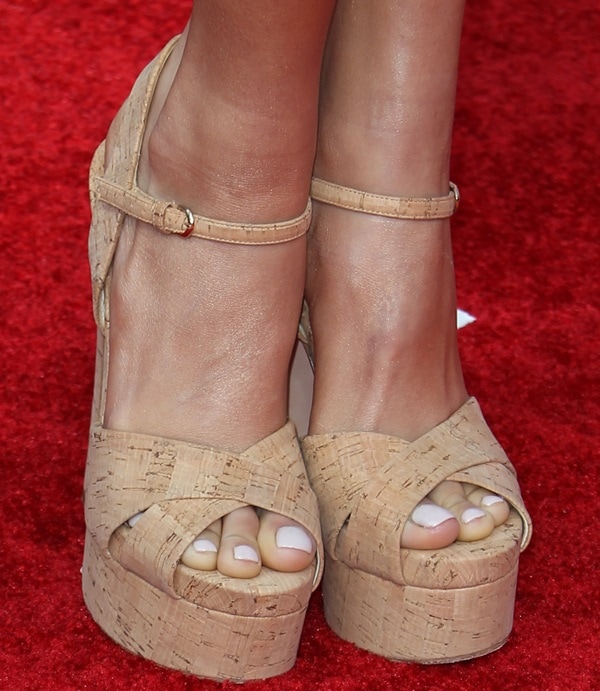 Pia Mia wearing a pair of all-cork sandals with her head-to-toe purple outfit to the 2014 MTV Movie Awards in Los Angeles on April 13, 2014
If you fancy the idea of wearing heels made of cork, you can also try the following sandals from Diane von Furstenberg. They're not as high as Pia's shoes, nor do they feature platforms, but they're a lot more comfortable to wear and perhaps even more ladylike.
Diane von Furstenberg Kinder Cork Ankle-Strap Sandals, $298
6. Shailene Woodley in Balmain Sandals
Shailene Woodley look fantabulously edgy on the red carpet yesterday. She wore green leather separates from Balmain and capped off the combo with super gorgeous black woven sandals from the same label.
Shailene Woodley looking chic and edgy in head-to-toe Balmain on the red carpet of the 2014 MTV Movie Awards in Los Angeles on April 13, 2014
Shailene's heels are not available online yet, but just in case you're into the woven treatment, you can try the following alternative from Jason Wu instead — crafted from interwoven leather and suede straps and featuring 4-inch-tall stilettos: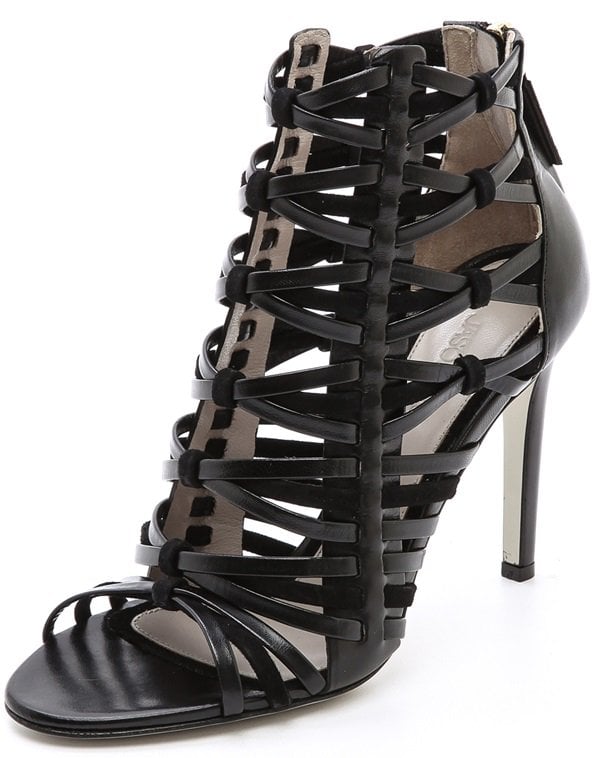 Jason Wu Leather-and-Suede Woven Sandals, $1,195
7. Zendaya Coleman in Christian Louboutin Pumps
Last looker to turn our heads during yesterday's event was Zendaya Coleman. The young actress was completely stunning in her Emanuel Ungaro printed dress. She punctuated the look with barely there makeup and a pair of uber exquisite spiked cap-toe ankle-strap pumps in black lace from none other than Christian Louboutin.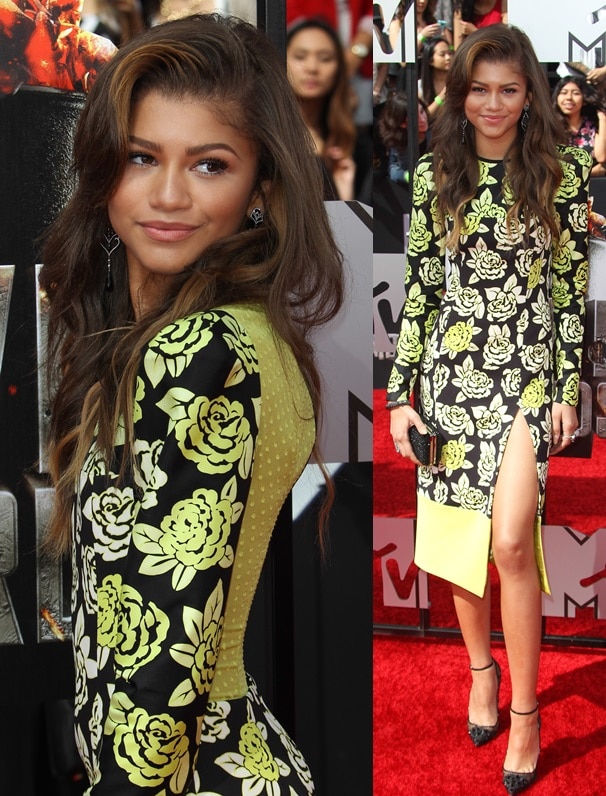 Zendaya Coleman in a printed dress finished with Christian Louboutin pumps at the 2014 MTV Movie Awards in Los Angeles on April 13, 2014
The shoes, dubbed as "Picks & Co Potpourri," are crafted from semi-sheer lace material trimmed and piped with smooth leather. The toes of these pumps are covered with crystals, spikes, and studs. Here's a closer look at the Picks & Co in champagne and black. These are sold out online, so you may need to look for them elsewhere: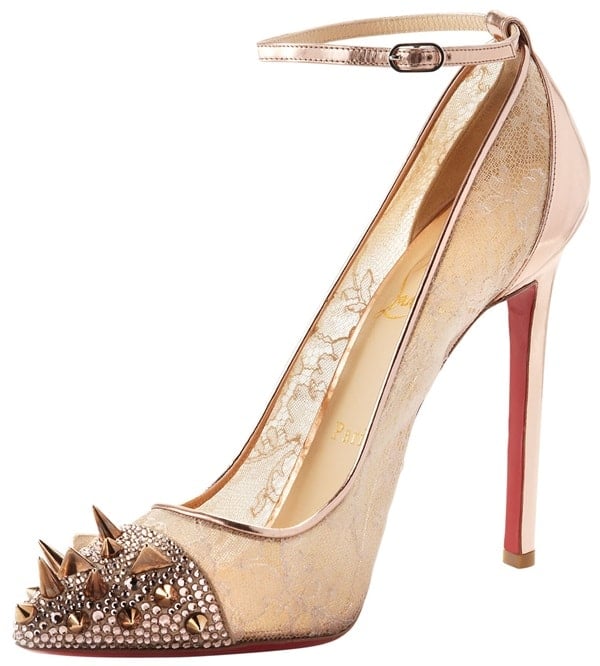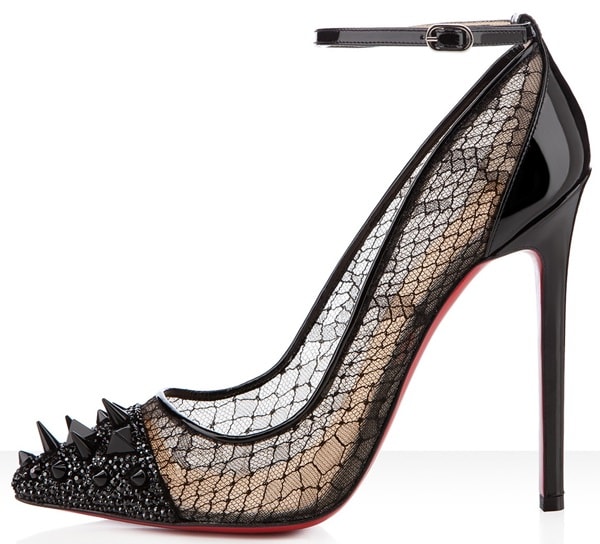 Christian Louboutin Picks & Co Potpouri Ankle-Strap Pumps, $1,495
Special Mention: Rihanna in Manolo Blahnik Sandals
In terms of shoes, the seven mentioned above were pretty much the only exciting ones we saw. However, one famous face worth mentioning — despite the fact that she wore a pair of sandals we've seen a million times before — is Rihanna.
How can you ignore the pop star when she sashayed her way on the red carpet in what looked like a lingerie-inspired all-white ensemble? You simply can't. And we could not.
Ri-Ri wore a robe and a bustier from Ulyana Sergeenko and punctuated the combo with her favorite Manolo Blahnik "Chaos" sandals.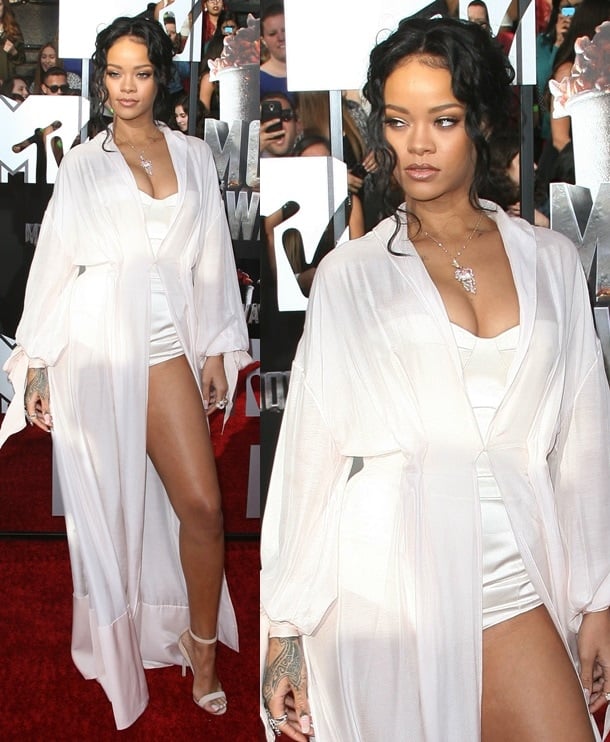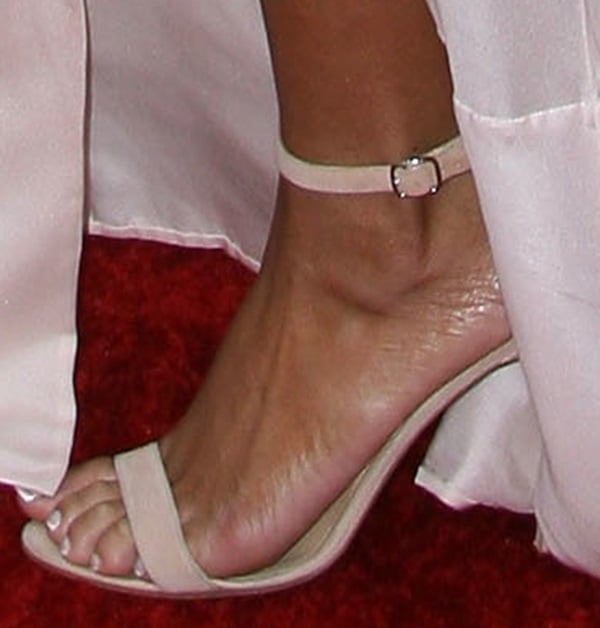 Rihanna in a lingerie-inspired outfit paired with Manolo Blahnik ankle-strap sandals at the 2014 MTV Movie Awards in Los Angeles on April 13, 2014
You can purchase Rihanna's sandals at Nordstrom for $725.
Manolo Blahnik "Chaos" Ankle-Strap Sandals, $725
Credit: Adriana M. Barraza/FayesVision/WENN