Did we just witness some friendly model-to-model competition?
It all started when Chanel Iman attended the Sports Illustrated Swimsuit release party in New York wearing gorgeous over-the-knee cage heels.
Chanel Iman wears her hair half-up, half-down at the 2016 Sports Illustrated Celebrates Swimsuit VIP press event held Feb. 16 in New York
One of the top 30 models of the 2000s, she wore a midriff-baring two-piece dress by August Getty Atelier.
Chanel Iman wears a nude two-piece dress from August Getty Atelier on the red carpet
The model dressed up her look with a pair of Schutz "Karlyanna" over-the-knee cage boots in nude leather.
Chanel Iman's feet in nude leather over-the-knee Schutz "Karlyanna" cage boots
So, here's where the model-to-model competition comes into play.
Chanel Iman wears bronzed makeup on the red carpet
After the event, Chanel uploaded a photo of her Schutz boots next to fellow model Gigi Hadid's Kurt Geiger "Britton" pumps.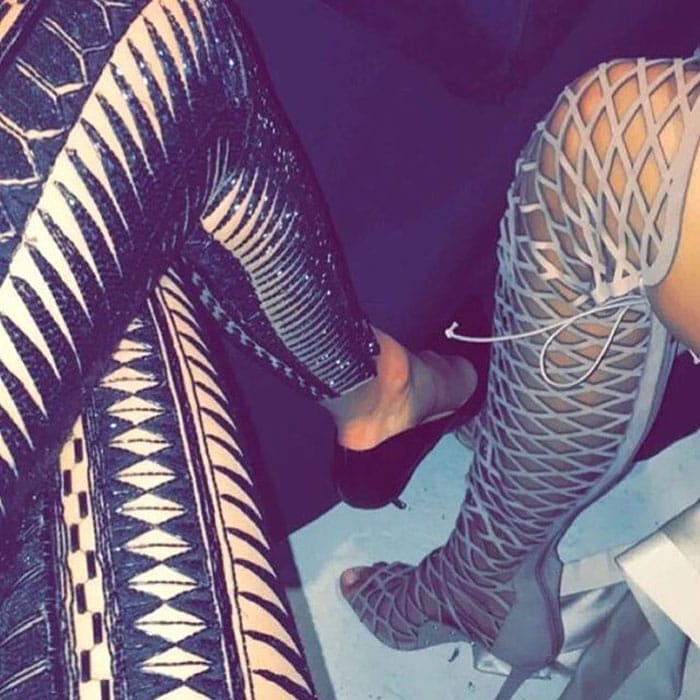 Chanel Iman and Gigi Hadid compare their high heels (Credit: Chanel Iman Instagram)
Whose shoes do you prefer? Chanel's Schutz "Karlyanna" cage boots are unfortunately no longer available online.
Schutz 'Karlyanna' Knee-High Leather Heels, $395
Credit: Ivan Nikolov / Andres Otero / Dennis Van Tine / Future Image / WENN