I never thought I'd see the day when I would be able to lump together the words 'shoes' and 'fruit' in one sentence and still make sense, but it looks as if I'm about to do so now, thanks to this whimsical creation from Charlotte Olympia.
Charlotte Olympia Suede & Leather Fruit Covered Pumps

Is it a fruit platter that's been designed as a shoe or just a shoe with fruits in it? Well it's a shoe, all right, and the fact that we're featuring it here at Your Next Shoes is an obvious giveaway.
Take a look at its different angles: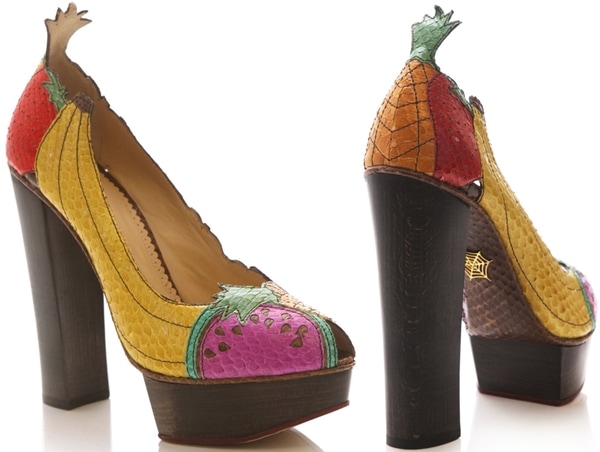 These suede & leather fruit covered pumps are from Charlotte Olympia's Spring 2011 Collection. Aside from its suede and leather material, this pump also sports a real wood for a platform and a heel. As you can see, it has different fruit shapes in it, so you basically have quite a variety there, like strawberries, bananas and pineapples. And is that a watermelon I'm spying on its vamp?
So, the big question is: would you wear these fruit covered pumps?
Surprisingly, I would answer yes to that question. It's one of the most eclectic pair of shoes there are and certainly not the most versatile you would have, but I love how funky and utterly unique it is. It's sweet, sexy, sassy and definitely playful that it will make a great statement piece in your wardrobe.
So if you're looking to add some fun and spunk in your spring wardrobe, then this would be a great way to do it!