What do you call it when two of the funniest, most talented actors and filmmakers fall in love? It's not a joke and there's no punch line — that's right — Chelsea Peretti and Jordan Peele.
Both are extremely successful in their own right.
Chelsea Peretti and Jordan Peele met online in 2013 and married in 2016 (Credit: Nicky Nelson / WENN)
Like many comedians, 43-year-old Chelsea Peretti got her start as a writer for shows like Parks And Recreation and Saturday Night Live.
Peretti then made the jump to the silver screen, making appearances on comedy programs such as the Kroll Show, Louie, and The Sarah Silverman Program before she landed her iconic role as Gina on the hit NBC show, Brooklyn Nine-Nine.
Writer/comedian Chelsea Peretti and actress/comedian Natasha Leggero arrive at the Comedy Central Roast of Roseanne Barr at Hollywood Palladium on August 4, 2012, in Hollywood, California (Credit: FayesVision / WENN)
42-year-old Jordan Peele had his breakout role in 2003, on the sketch comedy show MADtv, but rose to stardom when he and fellow MADtv alum, Keegan-Michael Key, collaborated for their own Comedy Central show, Key & Peele.
He has also appeared in a plethora of notable titles, such as Children's Hospital, Weird City, and Lovecraft Country. Recently, Peele has moved behind the camera as a director, producer, and writer. Currently, he has four Academy Award nominations for Get Out and BlacKkKlansman, and one Academy Award win for Best Original Screenplay with Get Out.
Jordan Peele attends the "Wanderlust" Los Angeles Premiere at Mann Village Theatre on February 16, 2012, in Westwood, California (Credit: Nikki Nelson / WENN)
By some miracle, Chelsea Peretti and Jordan Peele found time in their busy schedules to build a life together. Measuring 5ft 4 (162.6 cm), she is much shorter than Jordan, who is 5ft 7 ½ (171.5 cm).
He was born on February 21, 1979, in New York, just about a year after Chelsea Vanessa Peretti, who was born on February 20, 1978, in Contra Costa County, California. Jordan is believed to have a net worth of $50 million while his wife is worth around $20 million.
Though the actors are notorious for keeping their private life private, we have pieced together a timeline of their romance and everything in between.
Jordan Peele and Chelsea Peretti's Relationship Timeline
It was first speculated that Peretti's fellow Brooklyn Nine-Nine co-star, Andy Samberg, introduced the couple, but that turned out to be a rumor.
In fact, Peele and Peretti's relationship began in the same place that many 21st century relationships do: on the internet. Not on Tinder, though.
Peretti told EW that the pair first connected on Twitter, where Peretti said that Peele reached out and was "very complimentary of the web series I once did." From there, it was history — who says that flattery gets you nowhere?
The actress joked to Entertainment Weekly that after talking online, she and Peele made plans to have their first date at the kitschy chain restaurant, Sizzler. The admission was certainly on brand for the comedic actors, but it was never confirmed if the couple actually went to Sizzler or to a more upscale establishment (sorry, Sizzler fans) for their first date.
Jordan Peele and Chelsea Peretti started dating after meeting on Twitter (Credit: Bridow /WENN)
Again, Peele and Peretti were (and still are) very good at keeping the intimate details of their relationship out of the media, so fans were shocked when the actors suddenly revealed their engagement in 2015, after roughly two years of dating.
On November 27 of 2015, the pair took to Twitter — where their relationship began — to announce their engagement. Peretti tweeted, "My fiancé (lololol) @JordanPeele proposed to me last night during the family talent show lolol" and followed the tweet with a bevy of cute emojis.
At the same time, Peele made his announcement, too. He simply tweeted "@chelseaperetti" followed by an engagement ring emoji.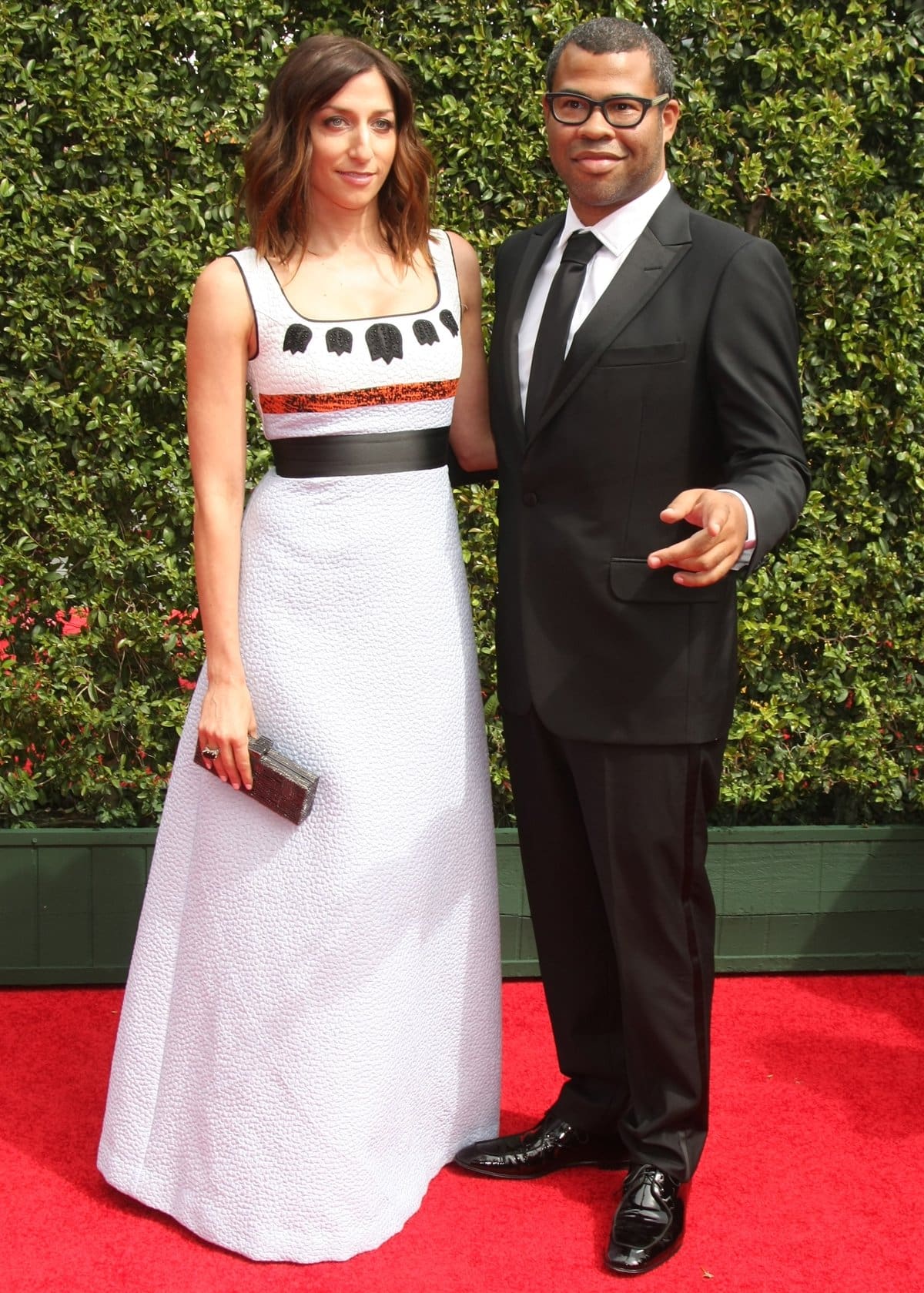 Jordan Peele and Chelsea Peretti announced their engagement on Twitter in 2015 (Credit: Nicky Nelson /WENN)
Following their pattern of surprising their fans, Peretti and Peele eloped in 2016, Peretti made an Instagram post to announce their nuptials, saying "eloped a bit ago".
She paired the statement with a photo of the couple's little black dog, saying "our only witness was this lil guy".
The couple did not say exactly when they were married, but it happened less than six months after their engagement announcement. In fact, without Chelsea Peretti's simple Instagram post, fans likely would never even have known that the couple had eloped!
View this post on Instagram
Later in 2018, the actress appeared on Conan and gave fans a taste of the juicy details about the wedding that they were dying to hear.
According to the couple, they eloped in Big Sur and the wedding was a very small and private affair — neither Peele nor Peretti's (human) families were invited — the only beings in attendance were the couple, a woman named Soaring who officiated the event, and their dog.
"We made these whole big photo books for everyone afterward and four out of four left them at our house," Chelsea told Conan about her family's reaction. "In retrospect, it's just photos of us having a good time at a party they weren't invited to. It's fair."
Jordan Peele corroborated his wife's statements when he and Keegan-Michael Key made an appearance on Late Night With Seth Meyers, confirming, "I am married to actress Chelsea Peretti."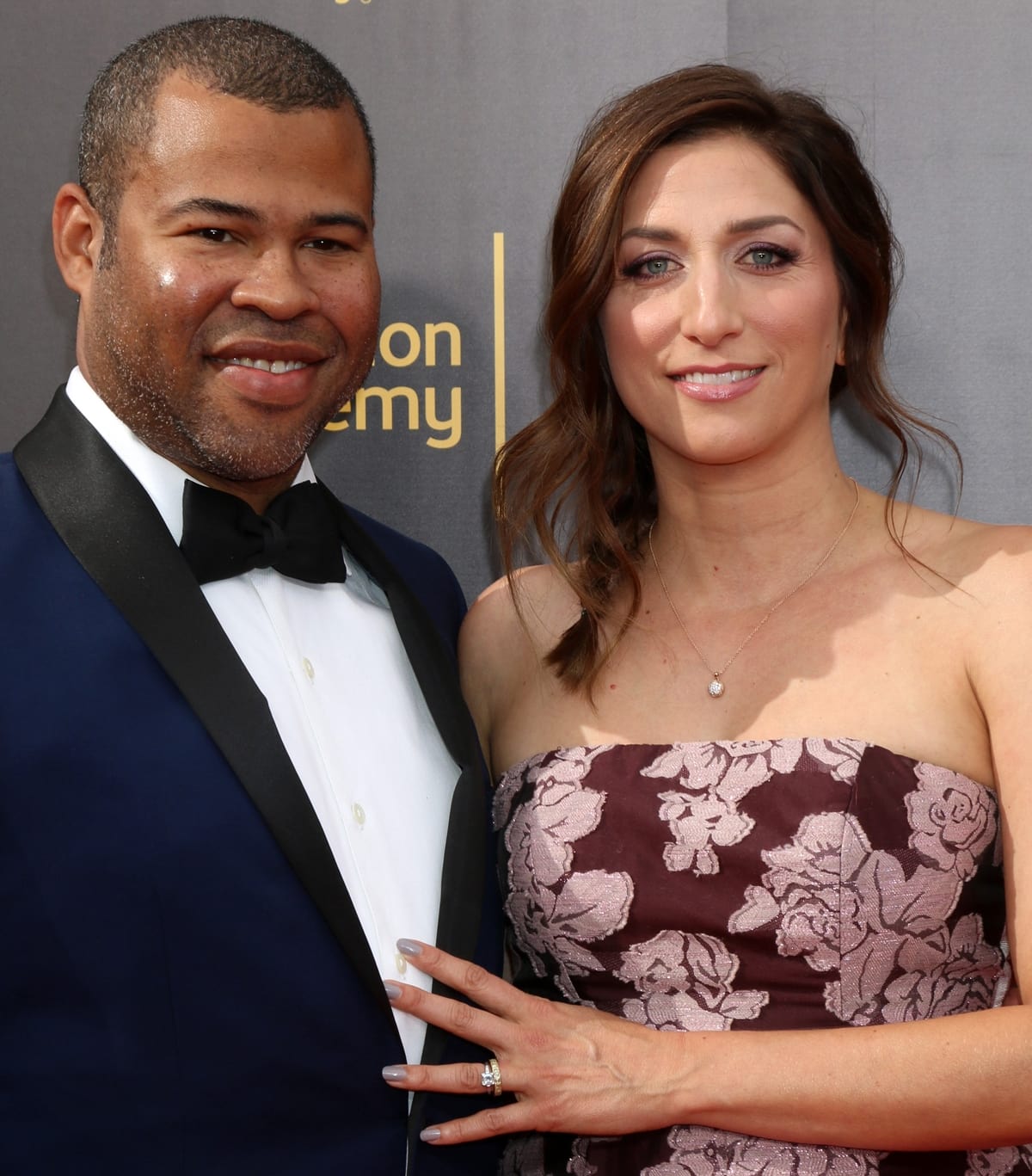 Jordan Peele and Chelsea Peretti married in Big Sur and only brought their dog (Credit: Nicky Nelson /WENN)
Fast forward to February of 2017, less than a year after the couple's nuptials. Chelsea Peretti once again takes to the internet, sharing a selfie to Instagram in which the actress is very pregnant, captioning the photo, "beyonce schmonce", referencing the pop icon's own pregnancy announcement, which had come just before Peretti's post.
During her pregnancy, the actress switched up the couple's pattern of using the element of surprise, as she frequently posted updates on her social media pages, sharing the highs and lows of her pregnancy.
Chelsea Peretti and Jordan Peele are the parents of Beaumont Gino Peele, who was born on July 1, 2017, in Los Angeles, California (Credit: Nicky Nelson / WENN)
On July 1, 2017, Chelsea Peretti and Jordan Peele welcomed their son, Beaumont Gino Peele, into the world.
Some fans jokingly tweeted at Peretti, asking if their son would inherit her "lack of teeth", referencing an episode of Brooklyn Nine-Nine where Peretti's character, Gina, is missing her front teeth.
Chelsea Peretti with missing front teeth in "Halloween IV," the fifth episode of the fourth season of the American television police sitcom series Brooklyn Nine-Nine (Credit: NBC)
However, this was just movie magic as Peretti does, indeed, have all of her teeth, revealing to fans on Twitter that it was "literally black paint".
Keeping Up With the Comedians
Though the comic couple had a whirlwind romance — meeting, getting married, and having a son in roughly four years — they show no signs of slowing down.
Peretti eventually left the cast of Brooklyn Nine-Nine, saying that the decision "was somewhat mutual. And it was amicable. That's the best way I can put it."
"Well, it wasn't just a solo process. I wasn't just like, 'I'm leaving!' and I swing my cape," she elaborated in an interview with THR.
"I can't get into the exact breakdown of how it all transpired, but it wasn't just my solo decision. I'm friends with Dan, I'm friends with Andy [Samberg], I've talked with them about the situation over the years. I think it came together this was the time to do it. It's not always easy to make changes in life, but I feel like everyone came to a point where everyone was like, 'OK, this is the time.' That's the gist of it."
Chelsea Peretti shows off her size 8.5 (US) feet in black sandals (Credit: PNP / WENN)
Since then, she has worked on a multitude of projects, such as Crank Yankers, Search Party, and The Great North. Her husband, Jordan Peele, has continued his work behind the camera on upcoming titles such as Nope and Wendell and Wild.
The pair have even collaborated on projects together, such as Netflix's adult cartoon, Big Mouth, where the couple has recurring roles; Peele as the ghost of Duke Ellington and Perretti as Monica Foreman-Greenwald and a sentient cellphone named Cellsea.
Chelsea Peretti displays her feet in high heel sandals (Credit: FayesVision / WENN)
As the couple's professional lives continue to soar, we hope that their relationship is just as successful as they are — and that their son inherits his parents' sense of humor!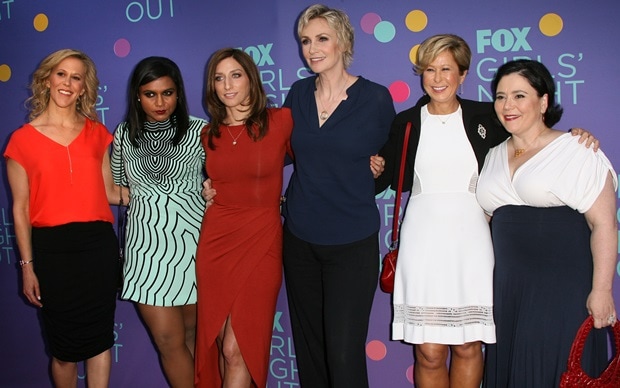 Heather Kadin, Mindy Kaling, Chelsea Peretti, Jane Lynch, Yeardley Smith, and Alex Borstein at FOX's "Girls Night Out" Q&A and Champagne Bar Reception held at the Leonard H. Goldenson Theater in North Hollywood on June 9, 2014 (Credit: Adriana M. Barraza / WENN)
In June 2014, Chelsea Vanessa Peretti attended Fox's Girls Night Out in Hollywood.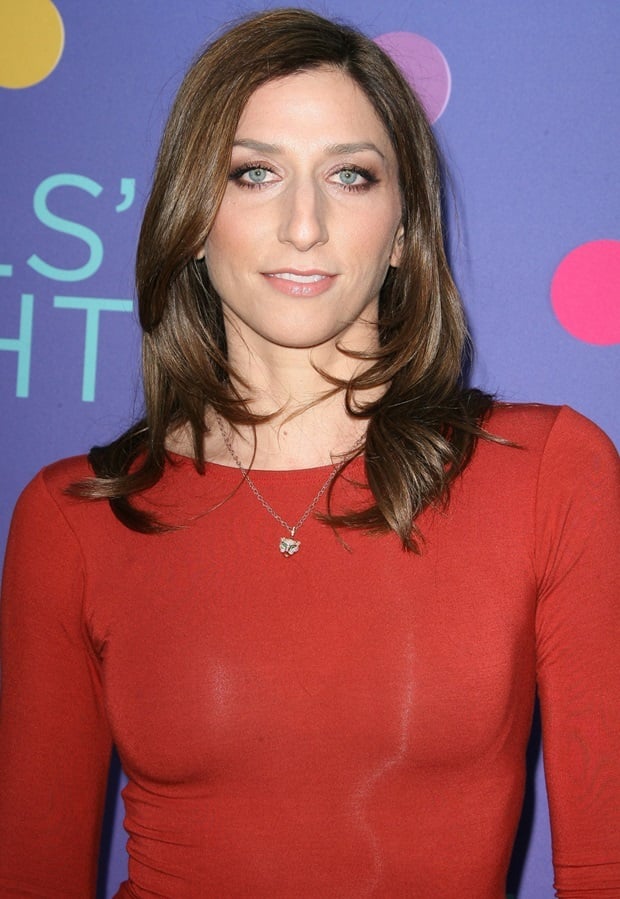 Chelsea Vanessa Peretti is an American comedian, actress, television writer, singer, and songwriter (Credit: Adriana M. Barraza / WENN)
She was joined at the event by Jane Lynch, Alex Borstein, Mindy Kaling, Yeardley Smith, and producer Heather Kadin. All the ladies got plenty of time to promote their current shows and to talk about their careers.
Chelsea Peretti wearing a sleek red dress (Credit: Adriana M. Barraza / WENN)
For the promotion event, she donned a sleek red dress paired with open-toe caged "Elenora" sandals from the Via Spiga Spring/Summer 2014 collection.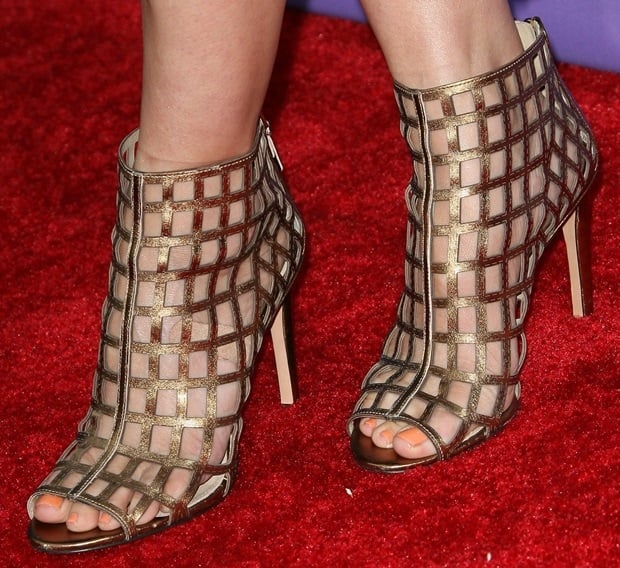 Chelsea Peretti shows off her feet in Via Spiga's open-toe caged Elenora sandals (Credit: Adriana M. Barraza / WENN)

Do you like how Chelsea Peretti styled her red dress with open-toe caged sandals in metallic, dark gold leather?
They feature back-zip closure and wrapped heels and are available in several different color combinations at Nordstrom and Amazon:
Via Spiga Elenora Dress Sandals, $275