Legendary singer and actress Cher has been making headlines lately thanks to her new relationship with rapper Alexander Edwards.
In an interview with ET on March 2, the 76-year-old superstar couldn't help but express her happiness with her 37-year-old partner.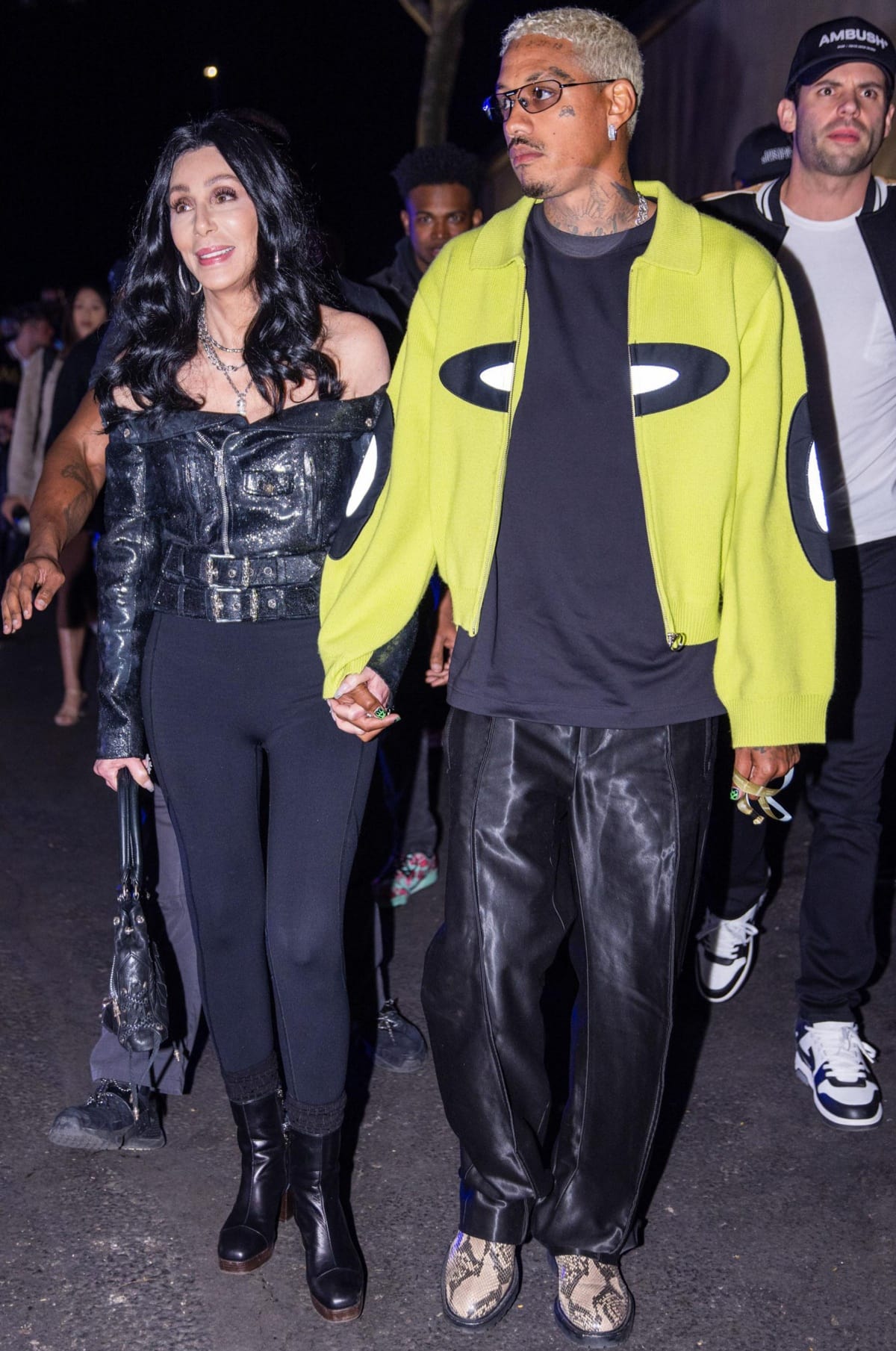 Cher and younger boyfriend Alexander Edwards continue to make headlines due to their relationship and almost 40-year age gap (Credit: Seth Browarnik / Startraksphoto / Cover Images)
The Goddess of Pop attended the Los Angeles premiere of Carol Burnett: 90 Years of Laughter + Love, where she chatted with ET's Denny Directo. When told that Alexander seemed to make her happy, Cher replied, "Yes, I am."
Cher, who attended the Carol Burnett 90th birthday party alone, also gave a brief update about her partner in a different interview with Access Hollywood.
The reporter humorously asked, "Do you have a date tonight? You know what I am trying to get to…," to change the subject of conversation after the hitmaker gushed about the famous host.
The singer answered, "My date is taking care of his son," while flashing a smile.
Cher arrived solo on the red carpet in a Bob Mackie black sequined jacket, glittering grey plaid pants, and black platform heels at NBC's Carol Burnett: 90 Years of Laughter + Love birthday special in Los Angeles, California on March 2, 2023 (Credit: Faye's Vision / Cover Images)
Cher and Alexander were initially rumored to be dating in November of last year when they were seen holding hands as they entered a popular restaurant for celebrities in Los Angeles for a nice dinner, igniting romance speculations. After a satisfying meal, the happy couple returned to their waiting car, where Alexander gave Cher a tender kiss on the hand as they stayed close to one another in the back.
The two lovers, who first met while attending Paris Fashion Week in October 2022, were seen holding hands and enjoying romantic date nights on numerous other occasions in November.
Despite the criticism directed at their relationship, Cher seems to enjoy every moment with Alexander.
A source told Us Weekly then, "Cher knows full well that there's a lot of skepticism about this romance, but she couldn't care less. She's reveling in the attention and saying that she and AE have something very special going on that's made her feel more alive and sexier than ever."
Cher and Alexander Edwards kept close to each other during Cash App and Visa's h.wood Homecoming Party in Miami, Florida on February 11, 2023 (Credit: Seth Browarnik / Startraksphoto / Cover Images)
The insider continued, "She's always been drawn to younger guys, and this is by no means the first fun, no strings attached fling she's had in recent years. The difference here is that this one feels special, which is why she felt confident to go public as a couple."
Despite their almost 40-year age difference, Cher and Alexander are going strong. Cher joked about their age gap during a guest appearance on The Kelly Clarkson Show in December, saying, "Well, on paper, it's kind of ridiculous, but in real life, we get along great."
The singer continued, "He's fabulous, and I don't give men qualities that they don't deserve, you know? But he's very, very kind, he's very smart, he's very talented, and he's really funny. And I think he's quite handsome."
Alexander and Cher celebrated New Year's together, and in a lovely photo, Cher flashed a magnificent diamond ring that was a present from him, sparking engagement rumors.
Happy New Year
Daddy pic.twitter.com/hkJLAlsPqU

— Cher (@cher) January 1, 2023
The duo was seen together at a pre-Grammy party last month in February, and shortly after that, a source talked to People, saying, "They are very much in love. They held hands all night and were very lovey-dovey and kissing often."
However, the insider elaborated, "They're not talking marriage or anything like that, but they are exclusive and serious." The informant said that the legendary icon "was smiling the entire time" during the celebratory evening before the well-known yearly awards event and afterward said, "Cher likes that he's young. It's exciting for her."
Alexander once dated American model and television personality Amber Rose. The two, however, parted ways in August 2021 after she accused Alexander of having extramarital affairs with 12 women, which he later confessed.
They have a three-year-old son named Slash Electric Alexander Edwards, who was born in 2019, and the two personalities continue to have an amicable co-parenting arrangement.
Meanwhile, between 1975 to 1979, Cher was married to musician Greg Allman, with whom she had a son, Elijah Blue Allman. Her first marriage lasted from 1964 to 1975, when she divorced Sonny Bono, and they also have a son named Chaz Bono.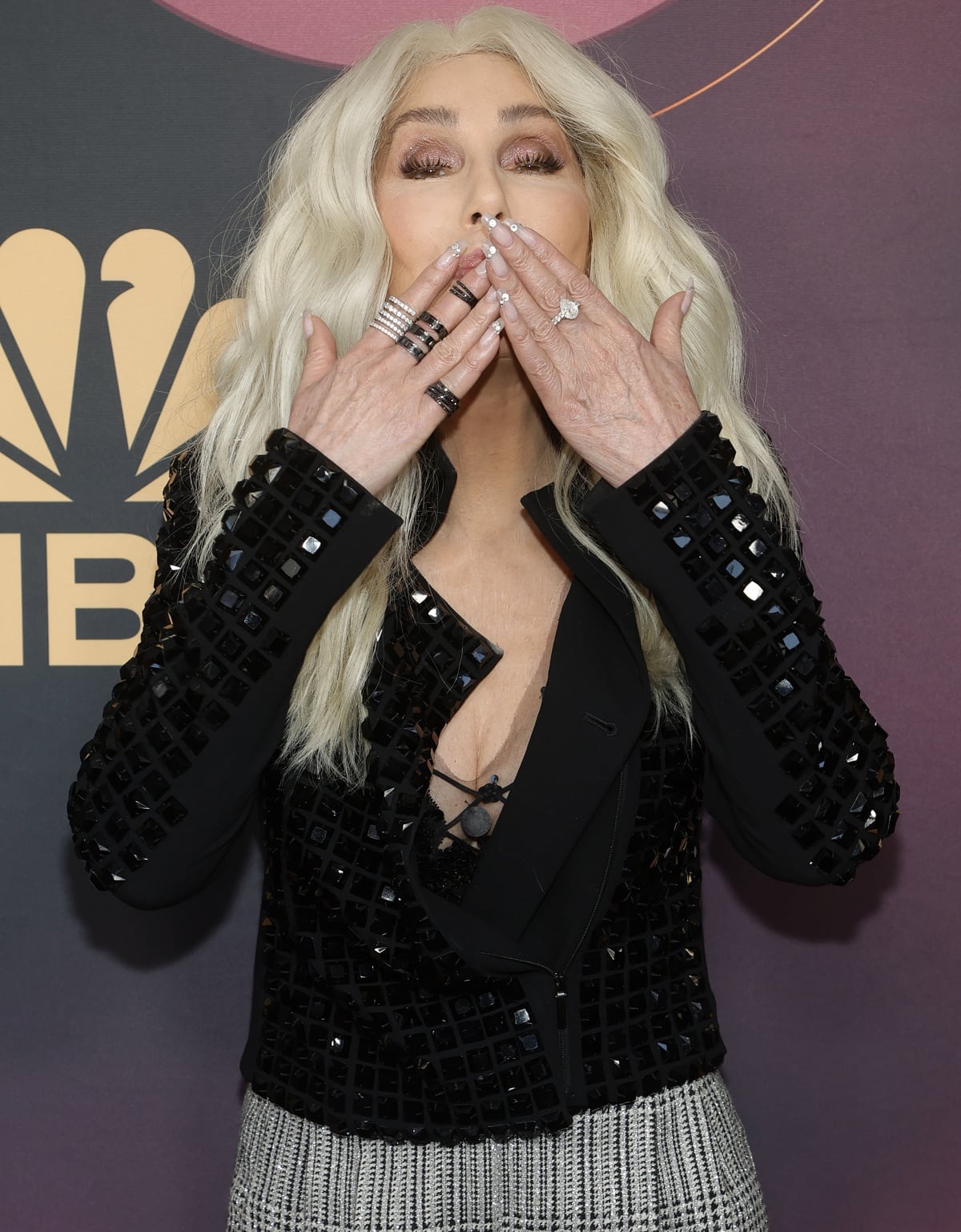 Cher shows off her diamond rings and evident happiness at NBC's Carol Burnett: 90 Years of Laughter + Love birthday special (Credit: Faye's Vision / Cover Images)