Diane and Cheryl Ladd are two well-known Hollywood actresses that rose to fame in the '70s and '80s. These talented celebs have continued their careers starring in several television and film specials well into their senior years.
With Diane Ladd starring in over 120 film and television roles to date, and Cheryl starring in over 80, there is a good chance you have seen them on the big screen at some point!
Diane Ladd was born November 29, 1935, and is an American actress, film director, producer, and author. She has won several awards over the years including a Golden Globe Award for Best Supporting Actress on Television for her role in the series Alice (1980-81).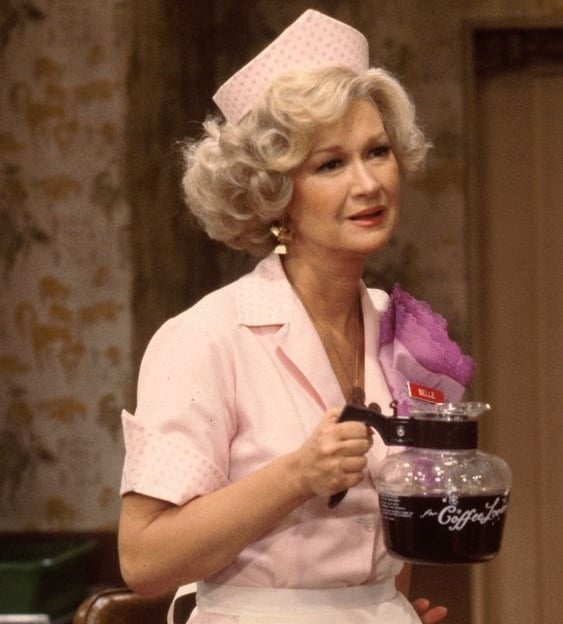 Diane Ladd as Isabelle "Belle" Dupree on Alice, an American sitcom television series that aired on CBS from August 31, 1976, to March 19, 1985
She has also received two Academy Award Nominations for her role in Wild at Heart (1990) and Rambling Rose (1991). She has also starred in Chinatown (1974), National Mapoon's Christmas Vacation (1989), Ghosts of Mississippi (1996), Primary Colors (1998), 28 Days (2000), and American Cowslip (2008).
Cheryl Ladd was born on July 12, 1951, as Cheryl Jean Stoppelmoor. An American actress, singer, and author, Cheryl is best known for her role as Kris Munroe in the famous television series Charlie's Angels.
Jaclyn Smith, Cheryl Ladd, and Kate Jackson in Charlie's Angels, an American crime drama television series that aired on ABC from September 22, 1976, to June 24, 1981
Cheryl joined the series in 1977 to replace the infamous Farrah Fawcett. Ladd played a key role in the series until its 1981 cancellation.
She is also known for her role in Hollywood films such as Purple Hearts (1984), Millennium (1989), Poison Ivy (1992), Permanent Midnight (1998), and Unforgettable (2017).
The early life of Diane and Cheryl Ladd
Diane Ladd, 84, was an only child, born 'Rose Diane Ladner'. Her mother was a housewife and actress, and while her father, Preston Paul Ladner, was a veterinarian. Diane was born and raised in Mississippi and grew up in the Catholic faith.
Cheryl Ladd, 69, was born Cheryl Jean Stoppelmoor to parents Dolores and Marion Stoppelmoor, a waitress and railroad engineer. Cheryl was born and raised in Huron, South Dakota, and relocated to Los Angeles at 19 years old.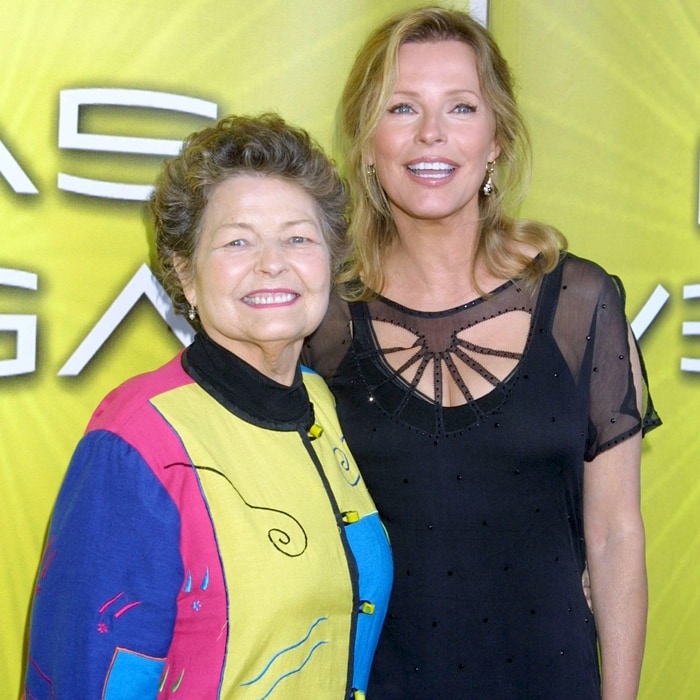 Cheryl Ladd with her mother Marion Stoppelmoor during NBC Cocktail Party for "Las Vegas" at TCA at Beverly Hilton Hotel in Beverly Hills, California, on July 25, 2005
With a love for music, Cheryl traveled with the band The Music Shop and played gigs across mid-western America before finding her way to LA.
Personal Life
Diane Ladd has two daughters with Bruce Dern, whom she was married to from 1960-1969. Her first daughter, Diane Elizabeth Dern, died at only 18 months.
Her second daughter, Laura Dern, is also an American actress that has co-starred along with her famous mother in movies such as Wild at Heart, Rambling Rose, and Inland Empire. Acting talent clearly runs in the Ladd family!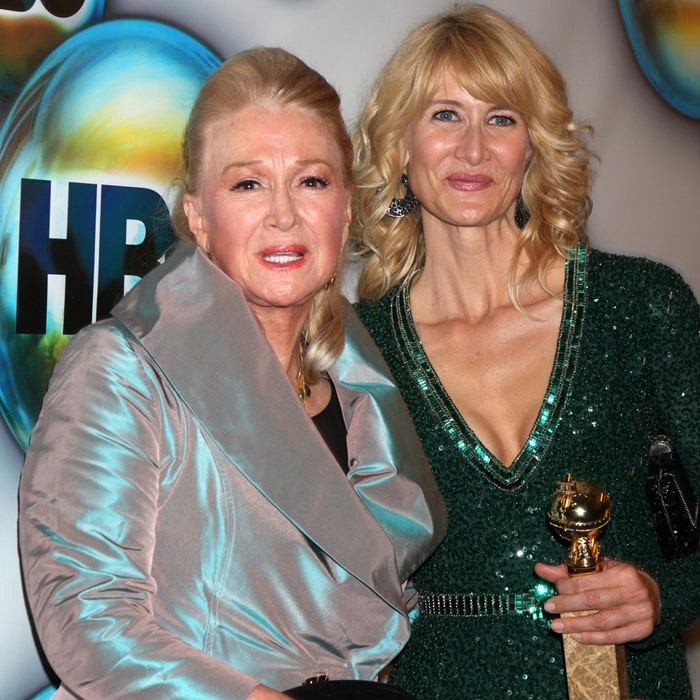 Actresses Diane Ladd (L) and Laura Dern attend HBO's Post 2012 Golden Globe Awards Party at Circa 55 Restaurant on January 15, 2012, in Beverly Hills, California
Diane Ladd is currently married to Robert Charles Hunter, former CEO of PepsiCo Food Systems. This is her 3rd marriage.
Cheryl Ladd married actor David Ladd and assumed his last name in 1973.
The couple had a daughter, Jordan Ladd, who was born in 1975. David and Cheryl Ladd subsequently divorced in 1980, but she did not revert to her maiden name after their divorce.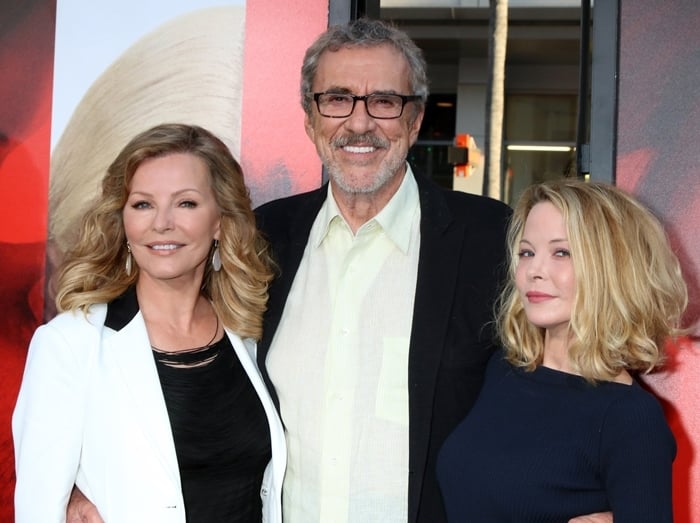 Actress Jordan Ladd, her mother Cheryl Ladd, and her stepfather Brian Russell attend the premiere of Warner Bros. Pictures' "Unforgettable" at TCL Chinese Theatre on April 18, 2017, in Hollywood, California
Cheryl since married music producer Brian Russell in 1981, and through the marriage became a stepmother to Lindsay Russell.
Are they related?
Despite their shared last name, there is no relation between Diane Ladd and Cheryl Ladd. Diane Ladd shortened her last name from Ladner when she entered the Hollywood scene, while Cheryl assumed her ex-husband's last name when they married in the 70s.
Beyond their last names, there are no familial relations between these two Hollywood stars.
They worked together more than once!
Both Diane and Cheryl are Hollywood stars with striking similarities in appearance. They have gained popularity through their many performances in television movies, and they have even starred in films together.
Because of their shared last names, it's quite understandable why some might think they are related.
In 1983 in the TV movie "Grace Kelly", Cheryl and Diane co-starred together as mother and daughter. Cheryl portrayed Grace Kelly and Diane played her mother Margaret. Five years later they joined forces again in the 1988 drama "Bluegrass".
Let's take a closer look at their rise to Hollywood stardom.
Diane Ladd's Long-Lasting Hollywood Career
An intelligent woman with many talents, Diane Ladd turned down a scholarship at Louisiana State University and took her chance at acting in the Big Apple. She made her off-Broadway debut in New York City, in "Orpheus Descending".
Years later in 1971, Diane starred in the long-time running CBS Soap Opera series The Secret Storm, playing Kitty Styles. She received considerable fame from this role and quickly became a known celebrity on the scene.
She later starred in the 1974 film Chinatown and was later nominated in the category of Best Actress in a Supporting Role for her part in the film Alice Doesn't Live Here Anymore.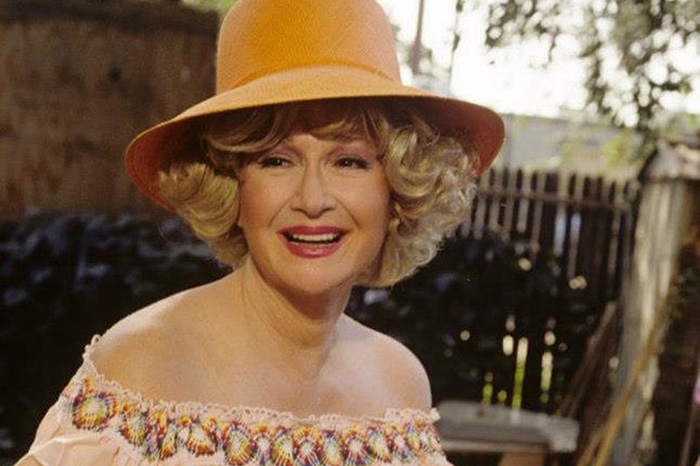 Diane Ladd as Lucille (Southern belle) in Hold Me Thrill Me Kiss Me, a 1992 American comedy film
In 1992, she appeared in a comedy called 'Hold Me, Thrill Me, Kiss me' where she showed off her diverse acting skills. Not one to be type-cast, Diane Ladd can change her acting repertoire and this skill has provided her a steady stream of acting gigs in both television and film for decades.
Diane's daughter, actress Laura Dern, starred alongside her in the film Rambling Rose. Both received Academy Award nominations and the mother-daughter nomination was a moment in history – the first time a mother and daughter had been nominated for this prestigious award at the same time.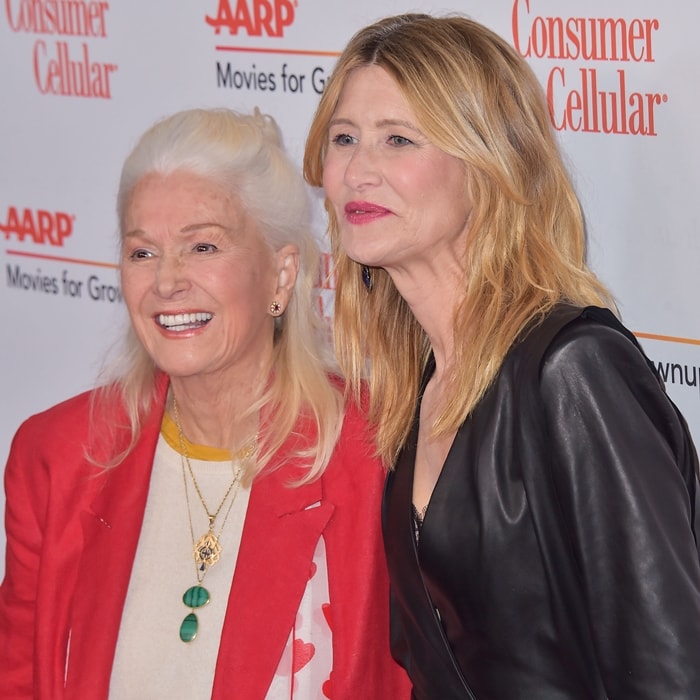 Diane Ladd and Laura Dern attend AARP The Magazine's 19th Annual Movies For Grownups Awards at Beverly Wilshire, A Four Seasons Hotel on January 11, 2020, in Beverly Hills, California
Incredibly, the mother-daughter duo was also nominated for dual Golden Globe Awards later that year. Talk about talent!
Cheryl's Career
Cheryl Ladd started her career in the music industry and was known as "Cherie Moor" at that time. She was the voice of Melody on the animated series Josie and the Pussycats.
In 1970, she was featured on the album, and she was ecstatic about her rising fame.
Cheryl spoke of her early days to Closer Weekly, "I was the singing voice of Melody. I was 19 when I arrived in Los Angeles and it was my first job, which I got on one of my first auditions.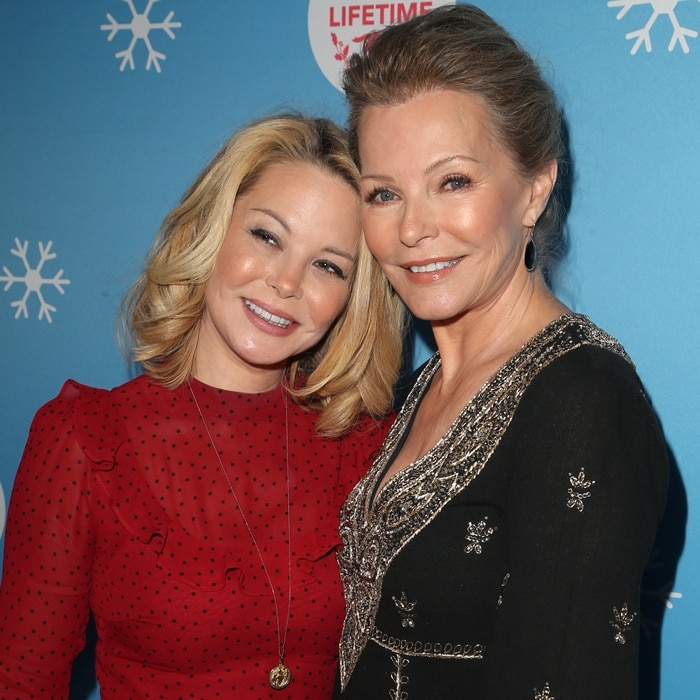 Actresses Jordan Ladd (L) and Cheryl Ladd attend the opening night celebration of the Life-Sized Gingerbread House Experience at The Grove with the Stars of Lifetime's Christmas Movies on November 14, 2018, in Los Angeles, California
So it was a wonderful time for me. Within six months of arriving in L.A., I had a used Mustang car, an apartment with some girlfriends, $3,000 in the bank and I'm driving down Sunset Boulevard wondering, 'Wow. Does it get any better than this?"
It definitely did! She later landed guest appearances on famous shows such as The Partridge Family, The Muppet Show, and Happy Days.
Cheryl's big break came when she starred in Charlie's Angels between 1977 and 1981.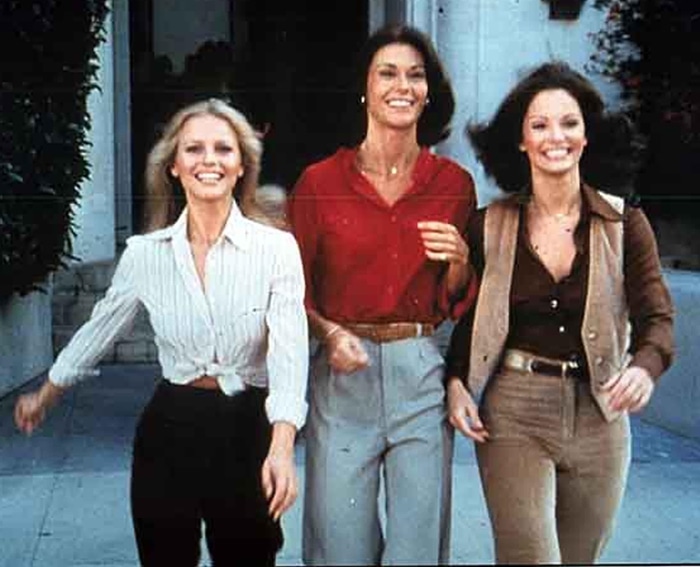 Charlie's Angels enjoyed huge popularity with audiences by emphasizing the sex appeal of the female leads
In 77' her big break propelled her into Stardom. Ladd was cast as Farrah Fawcett's character's younger sister, making her a part of Angel's family.
With her Charlie's Angels fame, Cheryl continued to pursue her musical career and even performed the National Anthem at Super Bowl XIV in January 1980.
In total, Cheryl Ladd released three albums, with considerable success. One of her records achieved Gold status and she had a top-40 Billboard Hot 100 single.
In 2005, Cheryl Ladd published Token Chick: A Woman's Guide to Golfing With the Boys, an autobiographical book which focused on her love of golf
Her acting career has continued for decades, and Cheryl has starred in dozens of made-for-TV films. Like Diane, Cheryl is also a diverse actress, who has been featured on the big screen alongside A-List celebrities like Drew Barrymore in the 1992 film Poison Ivy.
Cheryl also took a stab at her writing skills, publishing a children's book called The Adventures of Little Nettie Windship, in 1996. It is still available on Amazon.
Nearly a decade later, she continued her authorship journey and wrote an autobiography focusing on her love for golf, called Token Chick: A Woman's Guide to Golfing with the Boys that you can buy on Amazon.
Aging Gracefully
Both Diane and Cheryl have aged gracefully, and so have their careers. They have continued to work in Hollywood taking on diverse roles in both film and television.
Cheryl and her husband of 40 years, Brian Russell, are successful entrepreneurs that have entered the real estate market. Cheryl Ladd Signature Homes is run by Cheryl and her husband, and they are known to build beautiful custom homes around the United States.
Actress Cheryl Ladd attends the 27th Annual Movieguide Awards Gala at Universal Hilton Hotel on February 8, 2019, in Universal City, California
While they run their real-estate enterprise together, Cheryl Ladd still continues to take on interesting acting roles.
In her interview with Closer Weekly, Cheryl claimed, "I still love my craft. I take it seriously. I try to do the very best I can and try to find some interesting people to play. And right now in my life, I'm finding some really interesting women to play, which is fabulous."
Diane has been enjoying family life in Ojai, California, and continues to play a role in the Hallmark channels series Chesapeake Shores. Chesapeake Shores has been renewed for a 5th season and airs on the Hallmark Channel weeknights at 5 pm.
Laura Dern with her mother Diane Ladd, her son Ellery Harper, and her daughter Jaya Harper attend the 92nd Annual Academy Awards at Hollywood and Highland on February 9, 2020, in Hollywood, California
Credit: Nikki Nelson / WENN / Avalon / FayesVision