Chrissy Teigen is a 'Sports Illustrated' model, a fantastic cook, a funny blogger/tweeter, and the wife of multi-awarded singer-songwriter John Legend. Now, after being invited to throw the ceremonial first ball at last Tuesday's Los Angeles Dodgers game, she has one more title to add to that already long list: flawless first pitch thrower, putting to shame the likes of 50 Cent, Justin Bieber, and even President Barack Obama.
Not that we had any doubts that Chrissy would throw a great first pitch. Seeing how her swimsuit model body is in top shape, her fitness must be at top levels as well. Check out Chrissy's great form while throwing the ball and her swagger after seeing that she nailed it:
Chrissy Teigen before and after throwing the ceremonial first pitch at the Los Angeles Dodgers vs. Los Angeles Angels baseball game at Dodger Stadium in Los Angeles, California, on August 5, 2014
Watch the full throw, now being dubbed as the best celebrity first pitch, here:
Brava, Chrissy! Score one for the supermodels!
Chrissy Teigen at the pitcher's mound and holding up the ball she used for the ceremonial first pitch
In addition to the pitch, Chrissy also nailed the sporty, baseball-chic style that day. She sported a customized Dodgers jersey printed with "Nugz 40" at the back (which stands for 40 chicken nuggets, her favorite drunken food from McDonald's). She wore Dodger's blue team color in her hair ribbon, on her spandex shorts, striped crew socks, and cool adidas wedge sneakers.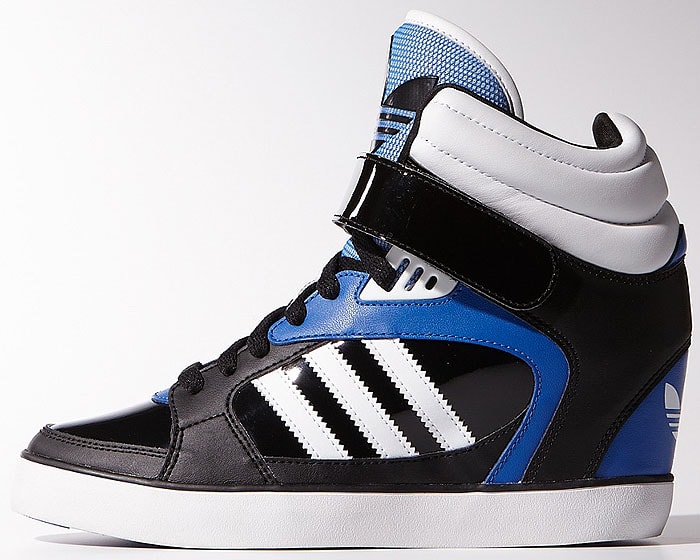 adidas Originals "Amberlight Up" Hi-Top Wedge Sneakers, $90
As much as we love Chrissy's sporty look, she actually arrived at the Dodger Stadium in a much chicer outfit featuring trendy cutoff shorts and very modelesque over-the-knee boots.
Chrissy Teigen before the first pitch – posted by @denisebrownLA on Twitter on August 6, 2014
Now, this style is more like the Chrissy Teigen that we know, isn't it? You can get better views of her fierce boots in this Instagram video of her practicing the pitch with her dad:
Chrissy's boots are the 3.1 Phillip Lim "Ora" boots named after, you guessed it, Rita Ora. It must be Rita's obsession with gladiator boots that inspired Phillip Lim to design and name the boots after the "R.I.P." singer. We first spotted Rita wearing the open-toed version of the boots at her gig at the Parklife Festival in Manchester, England, last year.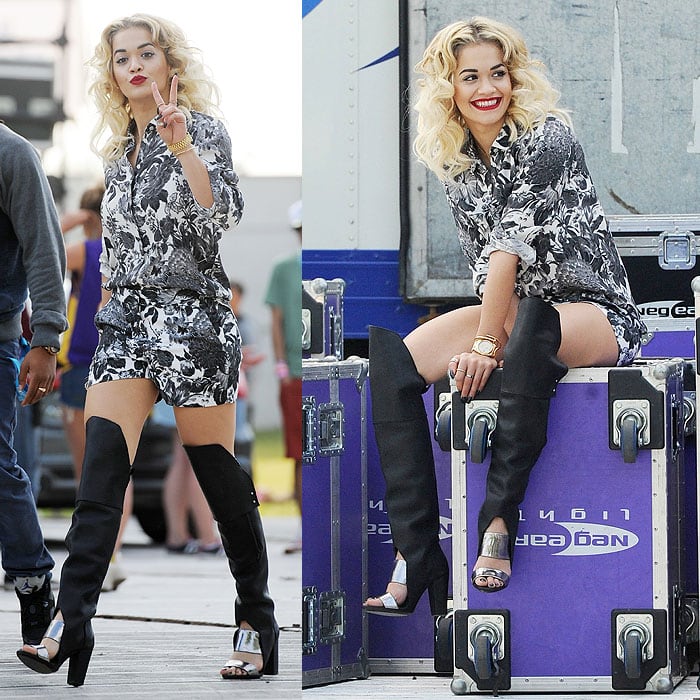 Rita Ora backstage at Parklife Festival in Manchester, England, on June 9, 2013
As the Ora boots are from the 3.1 Phillip Lim Fall 2013 collection, they are now sold out. You can shop the latest 3.1 Phillip Lim shoe styles at Shopbop and Nordstrom.
3.1 Phillip Lim "Ora" Over-the-Knee Boots
Credit: Steve Searle / WENN