Ciara flashed her incredible legs on the blue carpet at the 2019 BET Awards that honored Mary J. Blige with the Lifetime Achievement Award.
Ciara flaunted her legs on the blue carpet at the 2019 BET Awards in Los Angeles on June 23, 2019
The 33-year-old singer donned an orange Jean Paul Gaultier Spring 2019 Haute Couture dress featuring dramatic shoulder pads and a train.
Earlier this week, she appeared on RuPaul and opened up about her parents splitting up after 33 years of marriage.
"Actually, I've never said this before. I think I can see it with okay…within myself…my parents were married for 33 years, and they're not together anymore. However, they're both happily married, so…it's good!" she told RuPaul.
"That was very out-of-body…when I had my child, my son, my first child…that was like, whoa, when that happened at that time."
Ciara is the only child of Carlton Harris (a military man) and Jackie Smith Harris (a homemaker). She grew up in Germany, New York, Utah, California, Arizona, and Nevada. Her parents split in 2015 when their daughter was going through her own troubles in her dating life.
"The one thing I fear in life is really wasting my life. I really fear that 'cause you realize that time does not stop, and it will be the worst scenario to stay in a situation that it's just not healthy, it's not going to get any better. I realized that I have to start making different decisions," she told RuPaul.
In 2013, Ciara was engaged to American rapper/producer Future and pregnant with their son, Future Zahir Wilburn. They broke up due to Future's infidelity and Ciara later married Seattle Seahawks quarterback Russell Wilson.
At the 2019 BET Awards, she completed her look by showing off her sexy feet in red Stuart Weitzman Nudist sandals that you can buy at Amazon and Zappos.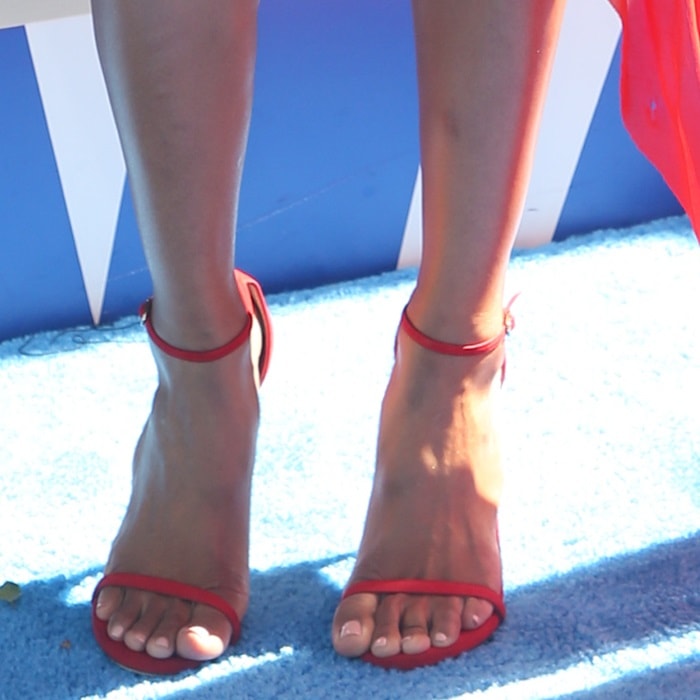 Ciara's hot feet in red Stuart Weitzman Nudist sandals
Credit: FayesVision / WENN