Everyone's favorite diva is back in full glam mode. Mariah Carey didn't hold back the sparkling displays as she kicked off her "Sweet Sweet Fantasy" tour in the UK .
What more could we expect from notorious Mimi though, than revealing gowns and glittering embellishments, honestly. Opening up her new tour in Glasgow, Scotland on Tuesday night, the glam goddess dazzled in a silver sparkly body suit which did little to cover up her assets.
Following her stunning debut, Mariah stepped out to enjoy the St. Patrick's Day parade in London. Always one to dress to the occasion, Mimi looked festive in a fabulous white fur coat and plunging bedazzled green gown.
Though Mariah isn't unaccustomed to showing some skin, we have to wonder if this slew of sexy ensembles has anything to do with her recent engagement to billionaire businessman James Packer. With a rock that big on her finger, her confidence has to be soaring.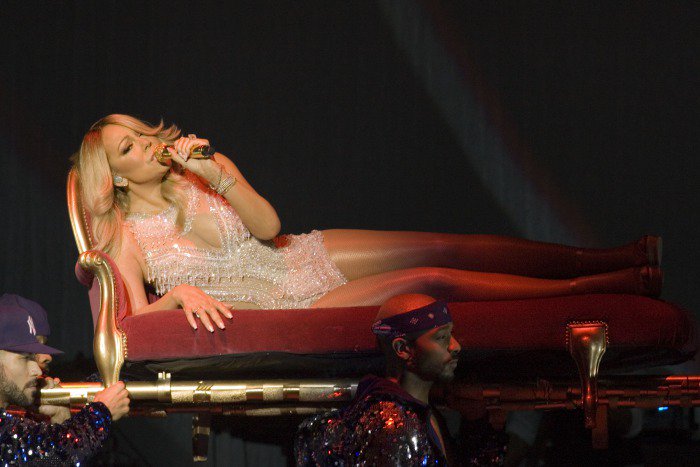 True to her pop diva status, Mariah made quite an extravagant entrance for her opening act. Carried to the stage in a red chaise lounge by a slew of muscular men, the 45-year-old singer proved she's still got it. She dominated the spotlight with her sexy dance moves, risque ensemble, and nostalgic performances like "When You Believe."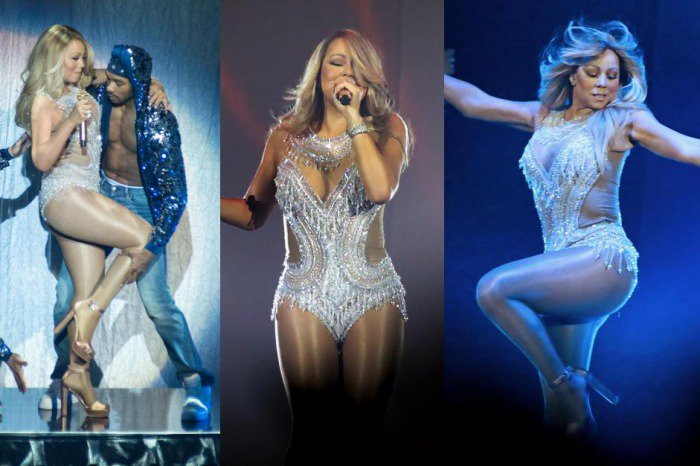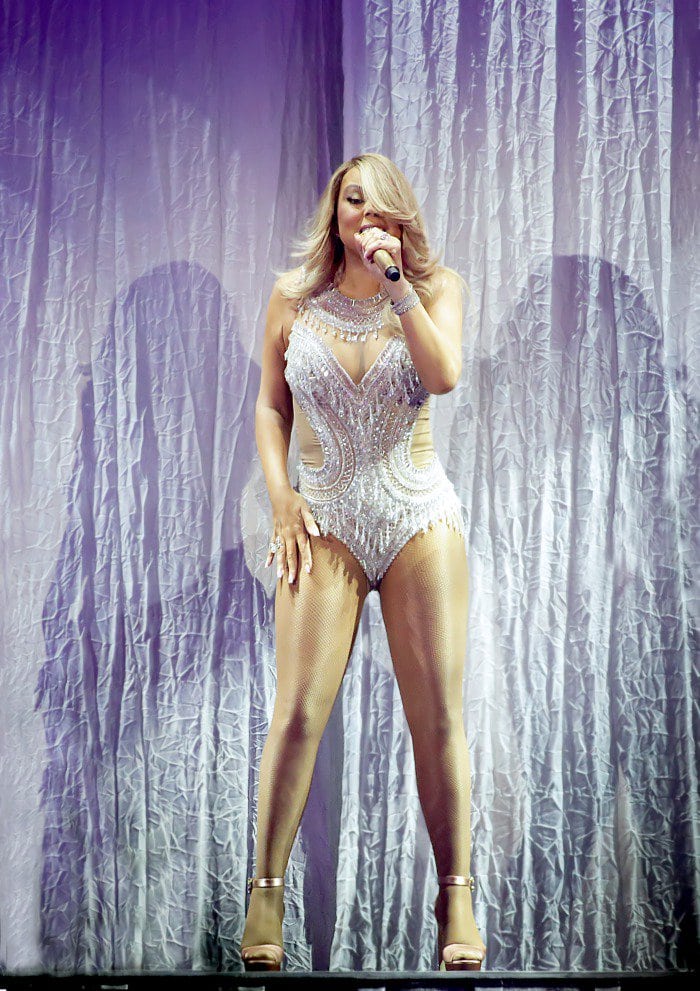 Mariah Carey opened up her "Sweet Sweet Fantasy" tour in the UK, performing at the SSE Hydro in Glasgow Scotland on March 15, 2016
Her diamond-studded leotard looked flashy and fun as she flaunted her stuff around the stage with the male dancers. She kept her locks down in a feathery flipped out style, and wore gorgeous bronze-tinged makeup.
For her feet, she added to her height with a towering pair of rose gold satin platform sandals. Can you help us I.D. her fabulous footwear? They feature peep-toes, buckled ankle straps, about 5.5-inch chunky heels, and 1.5 inch platforms.
Just two days after her tour's debut in Scotland, Mimi was hard to miss  at the St. Patrick's Day parade in London. Glittering and green, the busty Roberto Cavalli frock she wore had her looking like the holiday's official mascot. Of course, what more could we expect from this pop queen?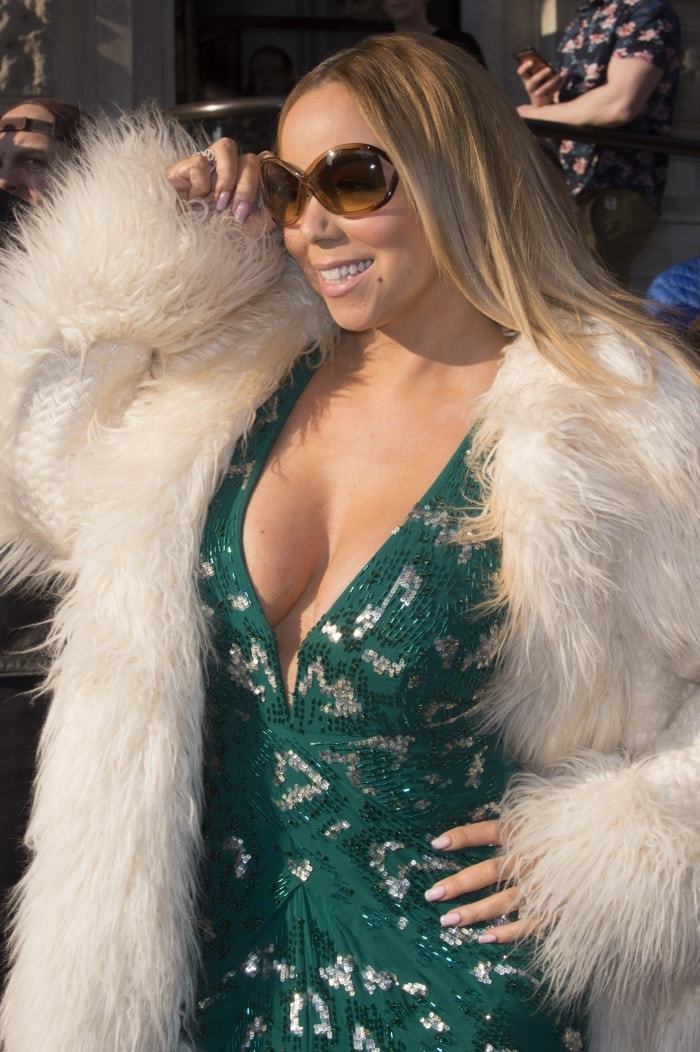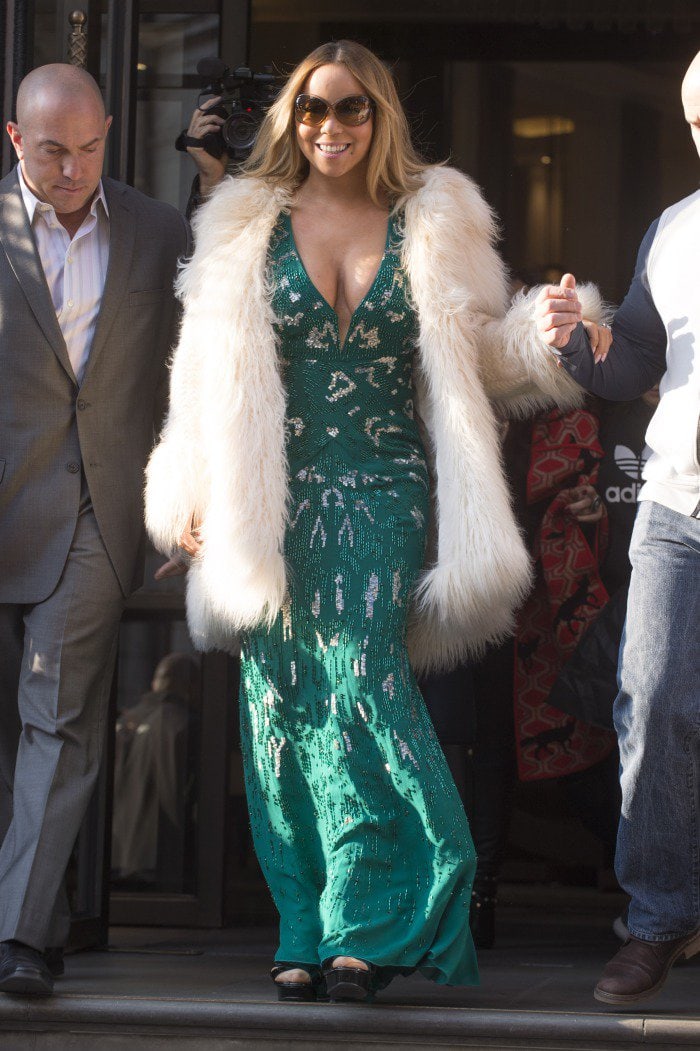 Mariah Carey attends the St. Patrick's Day parade in London on March 17, 2016
The beaded and sequined number features a plunging neckline and fishtail design which struggled to hide the singer's voluptuous figure. Increasing the glam factor, this diva covered up in a huge white fur coat and shielded her eyes behind large beige sunnies.
Though her outfit was exactly what we had hoped for in terms of maintaining her over-the-top fab status, she lost us with the footwear. Come on girl, if you're going to go out in public during the day in a boobie-baring bejeweled ball gown, you can't totally kill the vibe with some nylons under a pair of black strappy sandals.
These black patent sandals feature cross toe straps, 4.5-inch heels, and about 1.5-inch platforms, and they would have been a decent choice for Mariah if it weren't for the nylon disaster visible beneath!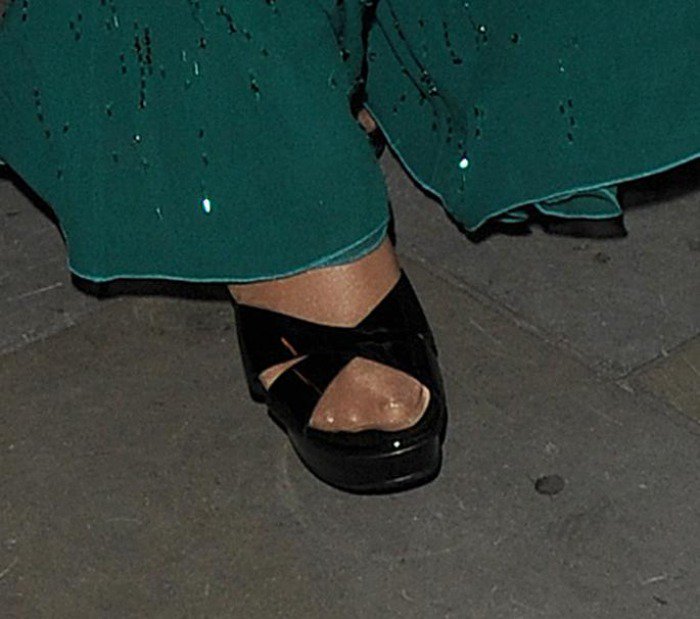 Credit: Will Alexander/Euan Cherry/Tony Oudot/Peter Kaminski/WENN