While Hermione Granger Emma Watson was the star of the show at the "Harry Potter And The Deathly Hallows – Part 2" world premiere, it was Fleur Delacour Clémence Poésy who really piqued our interest.
Yes, Emma looked absolutely divine in her designer duds, but you can't really go wrong (or be any more right) when you've got on an Oscar de la Renta gown and a pair of Giuseppe Zanottis on your feet!
Clémence Poésy on the other hand, went for a light, frothy white Nina Ricci silk chiffon cocktail dress paired with, shall we say, an interesting choice of footwear. Celebs and their stylists would usually pair strappy sandals or the standard black/nude pumps with this kind of dress, but Clemence went for these boat-like peep toe platform wedges that are dangerously tipping the scales between HOT and NOT:
Clémence Poésy attends the world Premiere of "Harry Potter and The Deathly Hallows – Part 2" held at Trafalgar Square in London, England on July 7, 2011
It's the kind of dress + shoe combination that many people would be on the fence about.
Clémence Poésy has always had that quirky yet chic French femme style but isn't the shoe y'know, too heavy?
I, for one, love it on her but think it would be dreadful on other celebs.
It's also a look that slowly grows on you, but what's your initial reaction to Clémence Poésy's light dress + heavy wedge combination – LOVE or HATE?
Clémence Poésy's debate-starting shoes are these wedges: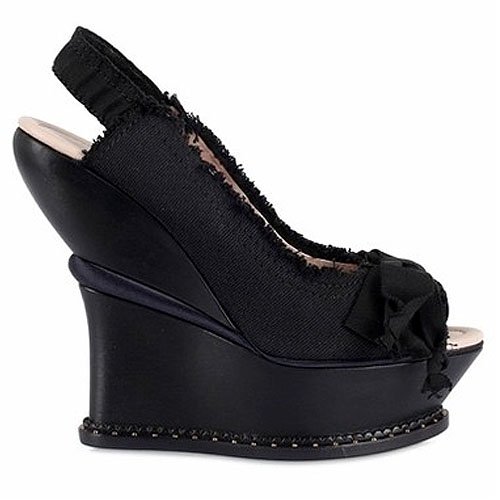 Nina Ricci peep toe platform wedges, $844
There's also this amazing nubuck, cork and straw two-strap version of this wedge in the same exaggerated silhouette:
Nina Ricci draped nabuk wedges, $1,422.00
Credit: WENN