There are days when Rihanna looks immaculately put together, and those are the ones we love best. When it comes to hair color, we also like it when she keeps it close to black.
Somehow, dark tresses suit her better. Her latest do, for example, is perfect. It's very Cleopatra-inspired, sleek, and sophisticated.
Rihanna's Cleopatra-inspired, sleek, and sophisticated hairstyle
Speaking of Rihanna at her best, we found the singer doing some retail therapy at Moncler in Beverly Hills early this week. She left the store through the back entrance, hoping to escape the paparazzi but unfortunately had no luck.
For the shopping session, Ri-Ri wore a simple but skintight tea-length tank dress and paired the frock with gold extras. Her choice of baubles was on-point, and so were the Christian Louboutin sandals she used to cap off the outfit.
Rihanna trying to escape the paparazzi in a skintight tea-length tank dress by exiting the back entrance of Moncler in Beverly Hills on February 17, 2014
Doesn't she look amazing? She's glam and classy all at once.
Mixing gold accessories with a white outfit can have that effect. Of course, choosing the right white pieces and glimmering extras to go with is just as critical. In any case, Rihanna demonstrated the mix so flawlessly here that it's actually worth taking a cue from.
Where Rihanna got her dress is still a mystery, but the rest of what she wore on Monday have already been ID'ed — a collar necklace from Jeremy Scott, ice-cream cone earrings from Melody Ehsani, and cuff bracelets from Balmain. As for the edgy espadrilles on her feet, well, they're by none other than Christian Louboutin — the 'Cataclou' studded platform espadrilles.
These strappies are crafted from metallic leather decorated with gold-tone pyramid studs. The native platforms, which are about an inch thick, are also surrounded by the same add-ons. The shoes only have 2.25-inch-high wedge heels so you can practically walk in them for a whole week and not feel any pain.
Cataclou Studded Platform 60mm Sandals, $795 at Nordstrom and Saks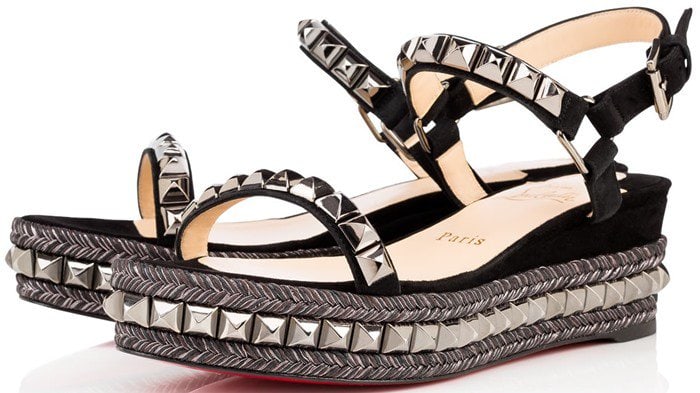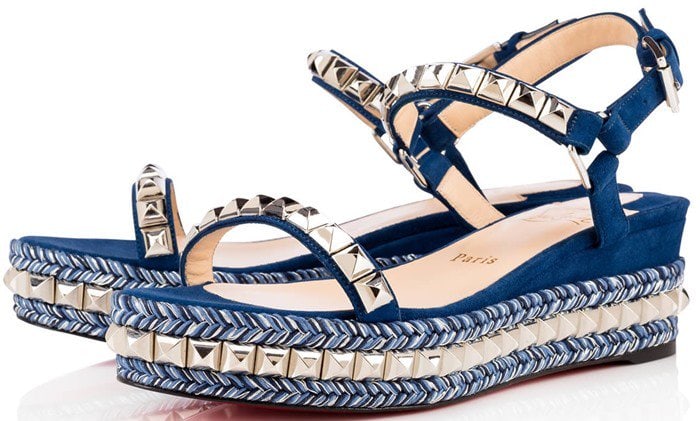 Now that you've seen Rihanna's sandals up close, do you fancy them?
Credit: WENN