Emma Watson has grown up to be a strong-willed, fierce, and outspoken woman.
And, her character in the 2015 historical thriller film "Colonia" seems pretty close to Emma's real-life personality. She plays the role of Lena, a young woman who is forced to join the cult "Colonia Dignidad" to rescue her kidnapped boyfriend Daniel (Daniel Brühl).
While based on a true story, the film has been criticized for historical inaccuracies and was a box office bomb.
"It's certainly tense, and the 1973 backdrop is effectively captured by the design team. But the tone – it's a sexually charged ripping yarn topped with an Argo-esque airport nailbiter of an ending – seems off. It's a glib trivialization of one of the grimmer chapters of Chilean history," wrote film critic Wendy Ide in The Guardian.
Emma Watson clips her hair up at the Berlin premiere of Colonia held on February 5, 2016, at Potsdamer Platz in Berlin
"The film doesn't really put across the horrors of Colonia, seeming more interested in telling a tidy heroine-saves-her-man story. It's a historical exposé reduced to TV movie simplicity. Ms. Watson — Hermione from the Harry Potter movies — is still in need of a role that will propel her to the next acting level," American playwright Neil Genzlinger of The New York Times wrote in a scathing review.
Inspired by a true story, Colonia stars Emma Watson as a young woman who joins the cult Colonia Dignidad to rescue her boyfriend Daniel
Emma looked the epitome of style and class at the Berlin premiere of her movie as she joined her co-stars Daniel Bruhl and Michael Nyqvist on the red carpet.
Emma was faultless in a cream Behno overcoat, which she layered over an elegant white Maiyet mini dress.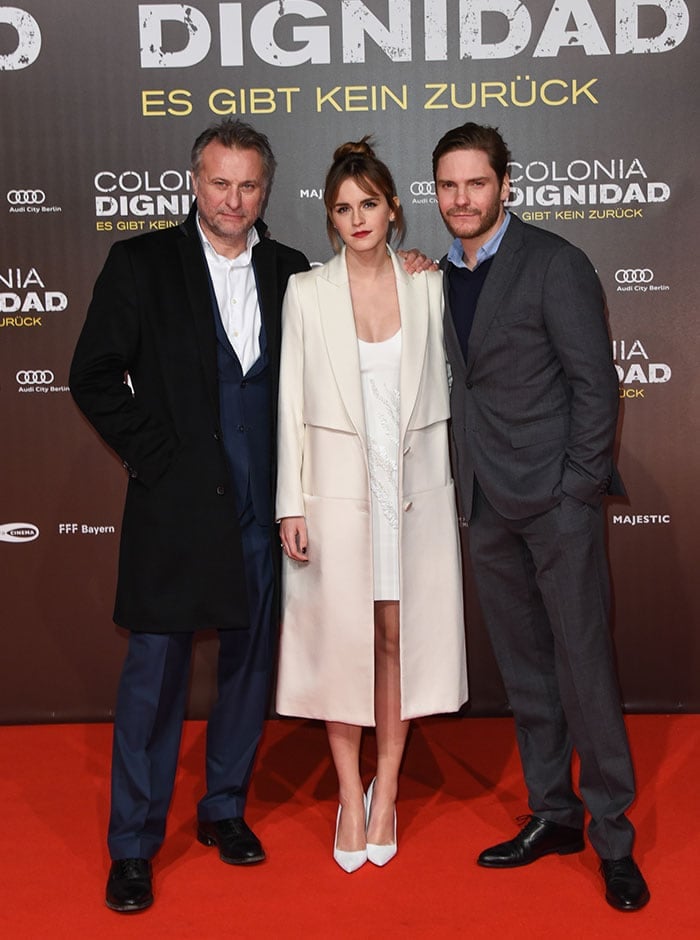 Michael Nyqvist, Emma Watson, and Daniel Bruhl pose for photos on the red carpet at the Berlin premiere of "Colonia"
The immaculate white frock fell a couple of inches above her knees and featured fine embroidery and a plunging neckline that showed off just the right amount of cleavage.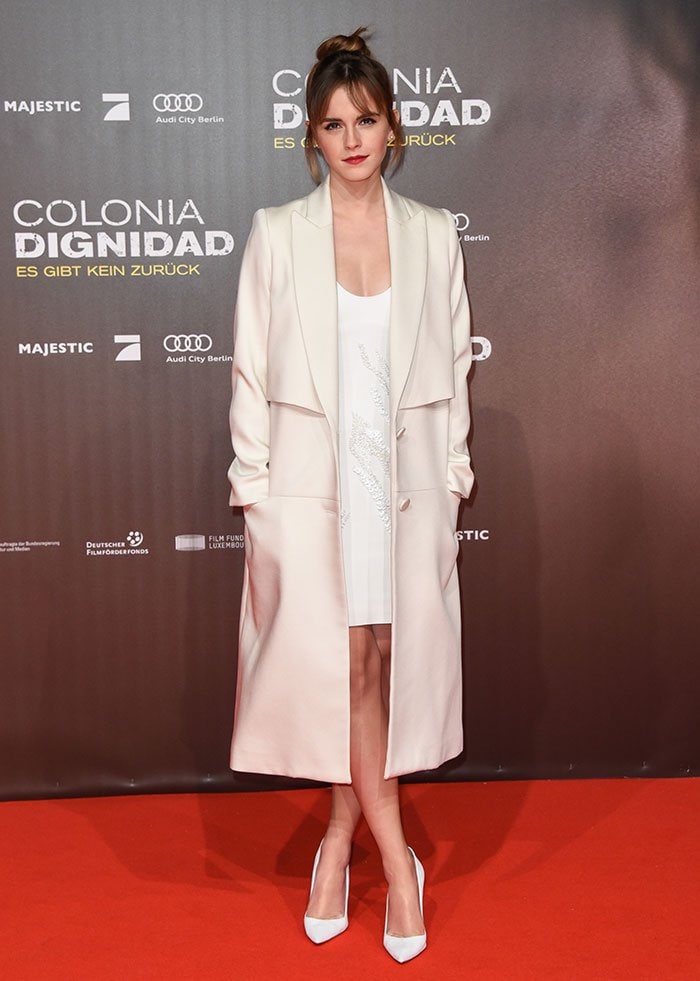 Emma Watson wears a cream-colored Behno coat on the red carpet
An oversized twill coat — which featured a lapel collar, hidden pockets, two buttons, and a clean, streamlined cut — further classed up her look.
Emma Watson wears a Maiyet dress and Behno coat at the premiere of "Colonia Dignidad"
The UN Women Goodwill Ambassador kept the look elegant with minimal accessories, wearing only a pair of Vita Fede pearl earrings and some white pumps.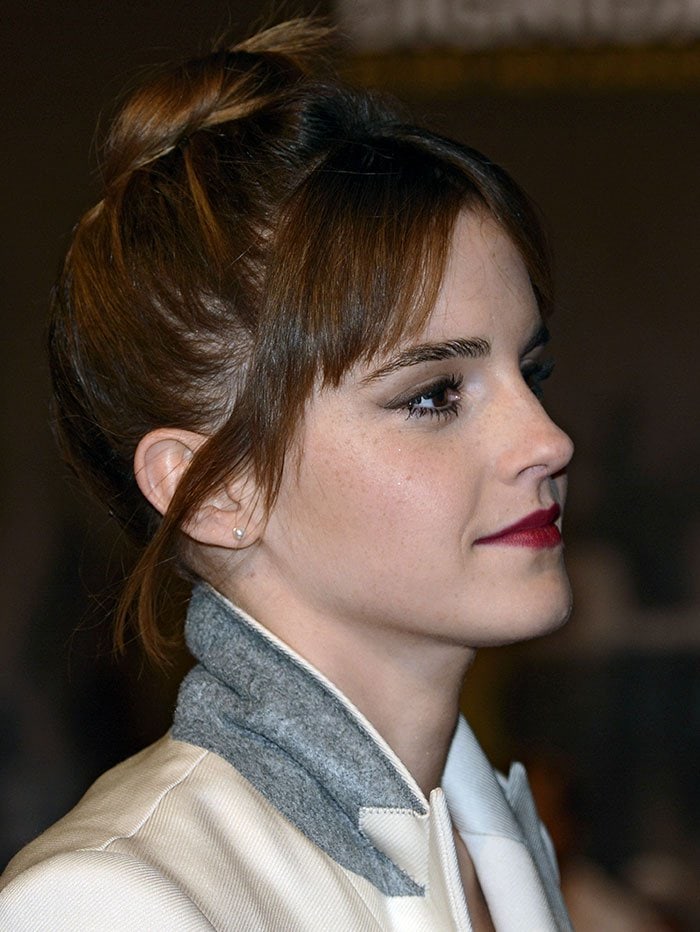 Emma Watson wears her hair in a loose updo as she poses for photos
She wore her hair in a chic updo and left her new fringe loose. To round out the look, she sported glamorous makeup, including dark eyeshadow and a slick of red lipstick.
Emma Watson wears a Maiyet mini dress and Behno cream overcoat
Emma chose a classic pair of white pumps by Manolo Blahnik for her feet. They're the "BB" pumps, which feature pointed toes, low-cut vamps, and four-inch stiletto heels.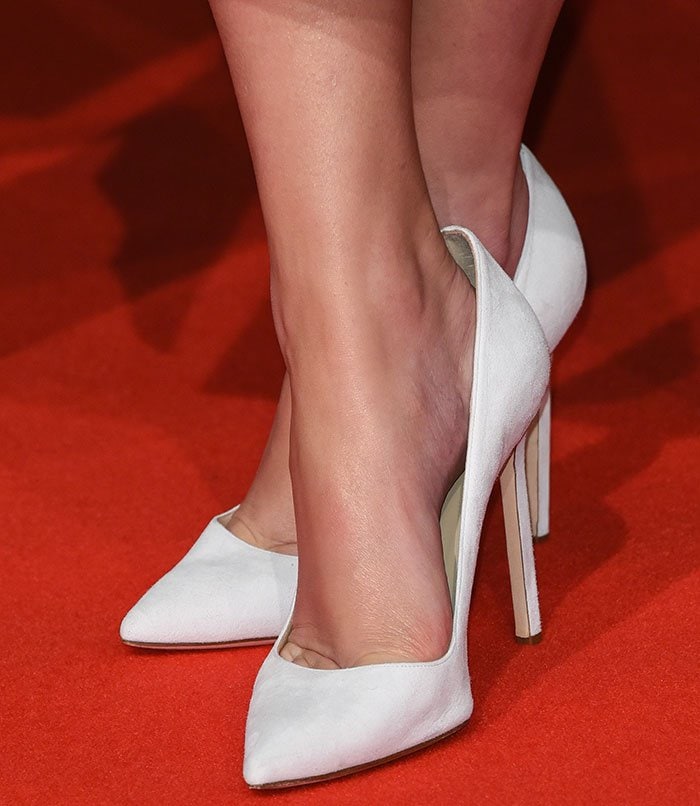 Emma Watson's feet in white Manolo Blahnik pumps
You can check out these Manolo Blahnik "BB" pumps in different versions at Farfetch and Nordstrom.
Manolo Blahnik BB Pointy Toe Pumps, $595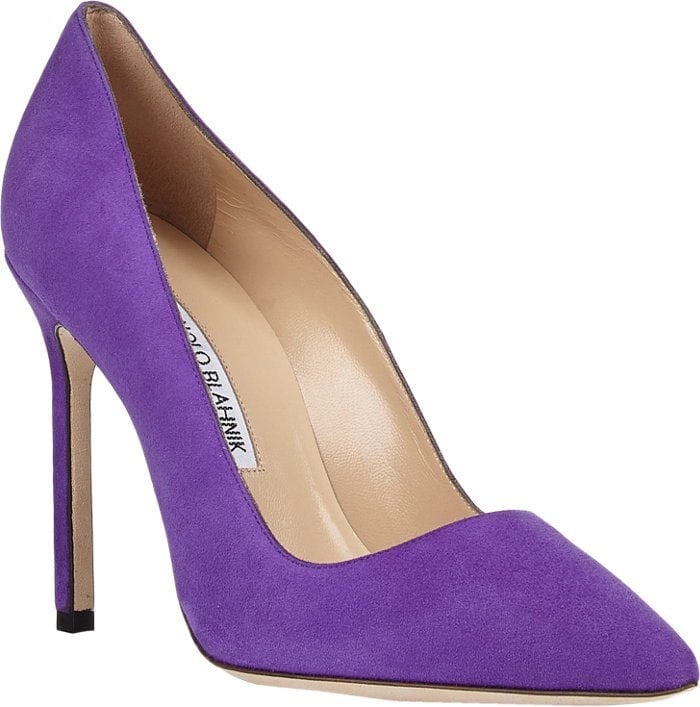 Credit: Brian Dowling / Patrick Hoffmann / Ralf Succo / Frederic / Future Image / Clemens Niehaus / WENN