Conchita Wurst pretty much summed up what we feel every time we purchase new shoes with this picture she posted on Twitter:
Conchita Wurst's TwitPic captioned, "#paris i'm on my way ❤️ with all my @D_Michetti 's to Dance around the #eiffeltower" – shared on Twitter on June 25, 2014
Apparently having gotten brand new Daniele Michetti shoes, the Eurovision Song Contest 2014 winner promptly wore one of the pairs, dropped to the floor, and curled up hugging the rest of the fresh additions to her shoe collection. An apt and very natural reaction from any shoe lover, we would say.
Two days later, we spotted Conchita wearing one more pair of her new shoes at her arrival at the Dylan Hotel in Dublin for her gig at the 2014 Gay Pride Festival launch party. She chose the caped clear pumps to complement a molded bustier and a sequined pencil skirt and accessorized with a slim patent belt and an oddly mismatched chocolate-brown shawl with fur trim.
Conchita Wurst at the Dylan Hotel in Dublin, Ireland, on June 27, 2014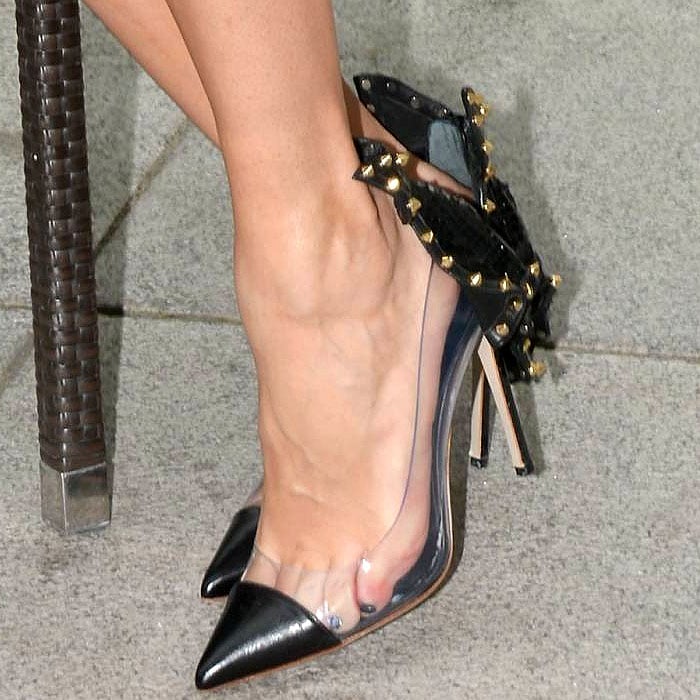 Daniele Michetti "Tali" pumps on Conchita Wurst
How would you react if you were given or just bought three pairs of Daniele Michetti shoes?
The style Conchita is wearing in the pictures above is the "Tali," which features Daniele Michetti's signature cape-bow in a studded elaphe design. It's now on sale at LuisaViaRoma!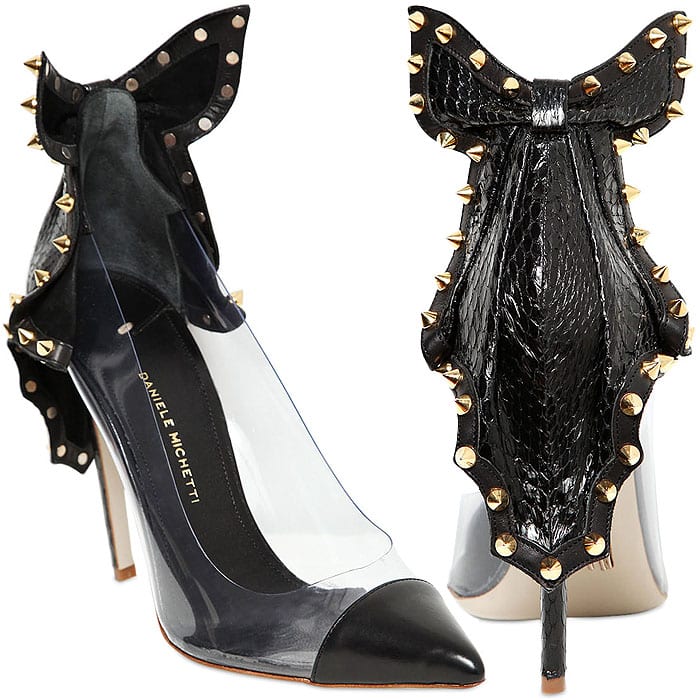 Daniele Michetti "Tali" Elaphe and PVC Studded-Cape-Back Pumps, $675 (before: $965)
Credit: WENN / Conchita Wurst's Twitter