Meagan Good has come a long way from being Nina from Nickelodeon's "Cousin Skeeter."
In June 2016, the then 34-year-old Eve's Bayou actress was taking quite a progressive stance on certain social issues, which she discussed at the 2016 BET Awards in Los Angeles.
Meagan Good twists her long hair at the 2016 BET Awards held June 27 at the Microsoft Theater in Los Angeles (Credit: Adriana M. Barraza / WENN)
Cousin Skeeter is a popular American children's TV series that first aired on Nickelodeon from 1998 to 2001. The show stars Robert Ri'chard as Bobby, a young boy whose life takes a turn when his quirky cousin Skeeter comes to live with his family.
With Skeeter's guidance, Bobby navigates the challenges and triumphs of growing up while learning important life lessons. The cast also features Meagan Good as Bobby's friend Nina, Rondell Sheridan as Bobby's dad Andre, and Angela Means as Bobby's mom Vanessa.
When the first episode of Cousin Skeeter aired on September 1, 1998, Robert Ri'chard was 15 years old, Rondell Sheridan was 40 years old, Meagan Good was 17 years old, Angela Means was 34 years old, and Bill Bellamy was 33 years old.
Cousin Skeeter was a popular African American sitcom starring Robert Ri'chard, Rondell Sheridan, Meagan Good, Angela Means, and Bill Bellamy that aired on Nickelodeon from September 1, 1998, to October 12, 2002 (Credit: Nickelodeon)
Skeeter, the titular character, is brought to life through the art of puppetry and voice acting by Bill Bellamy, with Drew Massey performing the puppetry and Alice Dinnean assisting. In the show, Skeeter is treated as a normal human being, and no reference is made to him being a puppet.
Although the show is shot in a single-camera format, a laugh track is used for comedic effect. The theme song for the show is a playful parody of 702's 1996 hit "Steelo," written by the legendary Missy Elliott.
Angela Means and Meagan Good both appeared in the film "Friday," although they did not share any scenes together. Tisha Campbell and Angela Means both starred in the movie 1994 American comedy film House Party 3.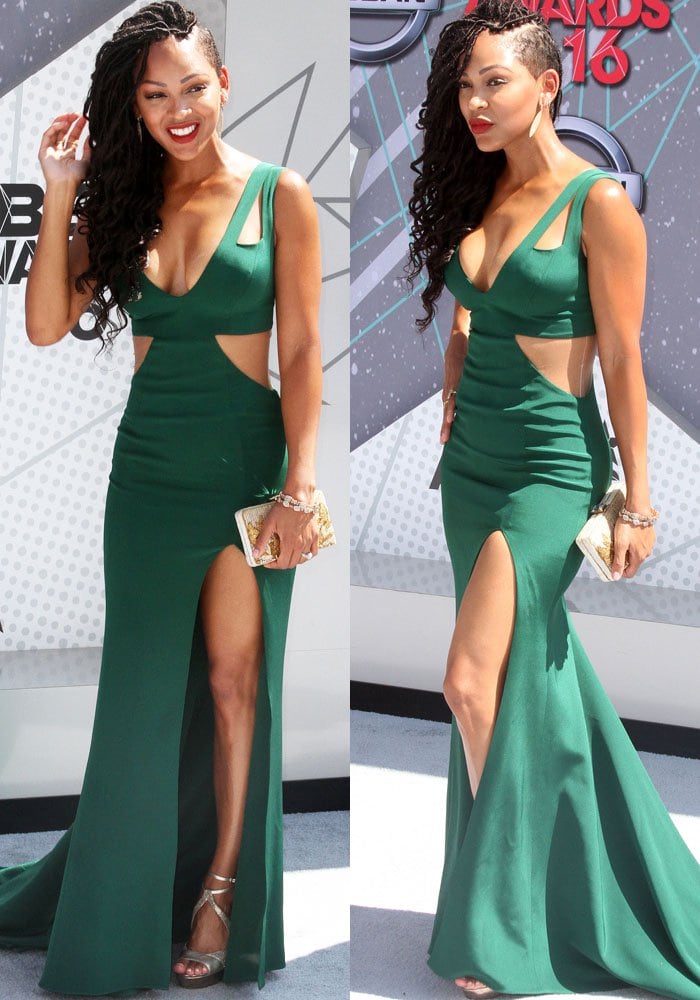 Meagan Good stuns on the carpet of the BET Awards in a green floor-length Lorena Sarbu gown (Credit: Adriana M. Barraza / WENN)
At the 2016 BET Awards, Meagan looked gorgeous in a green cutout plunging dress by Lorena Sarbu, which she dressed up with diamond earrings from Bavna, a few matching diamond bracelets from Le Vian, and a clutch from Helmer Ltd.
The actress added the finishing sparkly touches to her ensemble with the Jimmy Choo "Valdia" sandals that we've also spotted on Jenna Dewan-Tatum.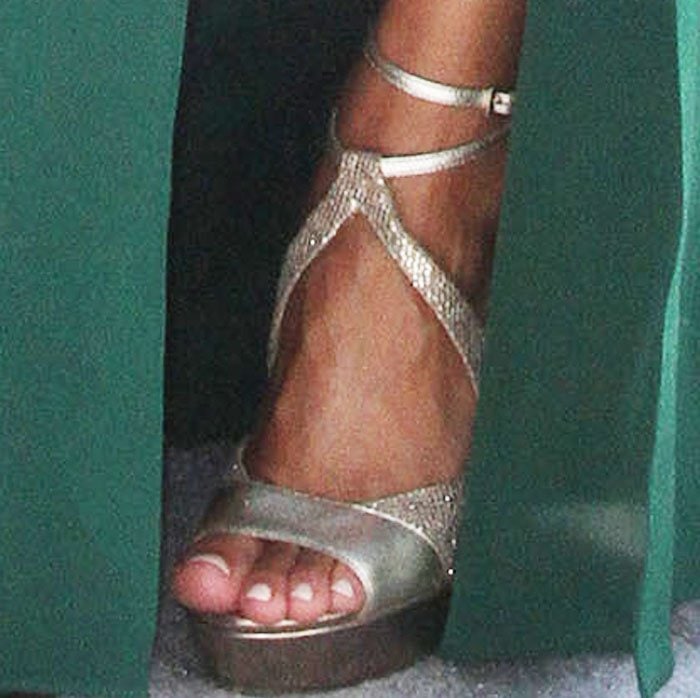 Meagan Good's feet in sparkling Jimmy Choo sandals (Credit: Adriana M. Barraza / WENN)
Meagan posed with friends and family — including her sister La'Myia Good — on the carpet.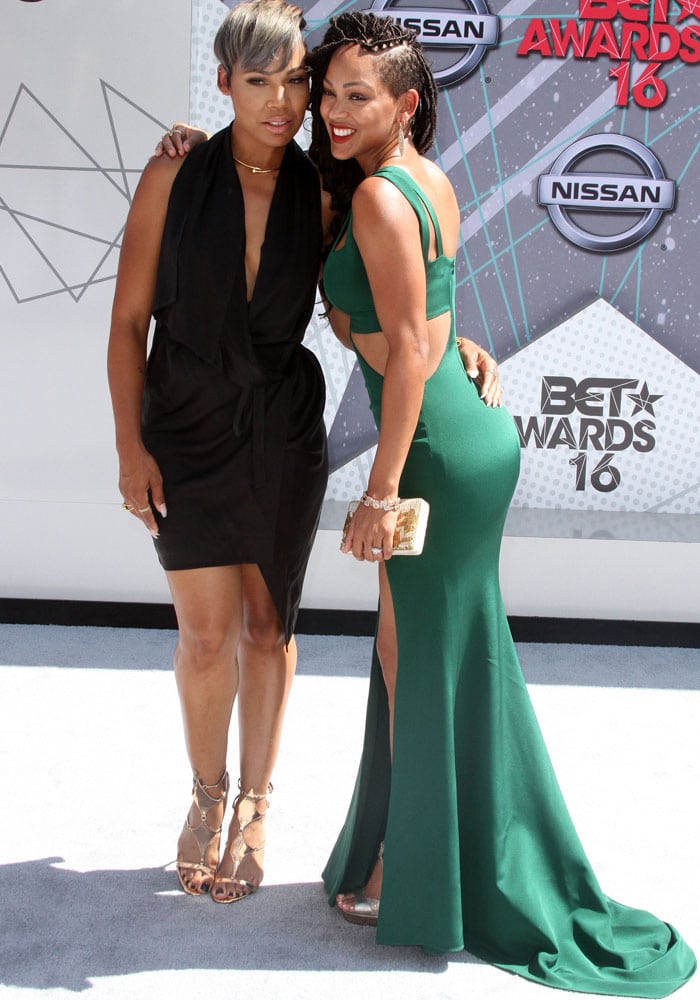 Meagan Good posing with her older sister and fellow actress La'Myia Good (Credit: Adriana M. Barraza / WENN)
Meagan was asked whether she thought it was a celebrity's responsibility to speak out on issues, given the fame and reach of such a platform.
The actress cleverly answered that it's not a celebrity's obligation, but it's something that they should do. After all, she said, a celeb's God-given platform would not live out its purpose if he or she didn't speak up.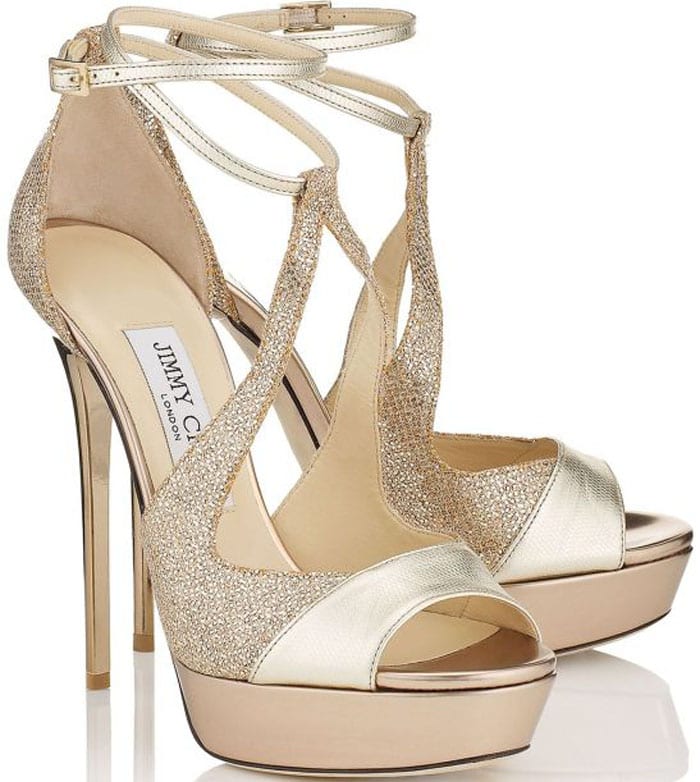 Jimmy Choo "Valdia" Glitter & Metallic Leather Strappy Sandals, $925