Tyra Banks is well known for speaking her mind. The top model is, in fact, one of the few women in the industry willing to talk about what it's like to struggle.
So, we're not surprised to see Tyra speaking her mind once again. The supermodel took to Instagram to voice some of the pressures she faces as a model.
She uploaded a photo of her teenaged self waiting backstage at a YSL show, all dolled up on the makeup chair. In the snap, Tyra was wearing a flannel shirt, sneakers, and ill-fitting pants.
Tyra Banks attends America's Next Top Model Cycle 22 premiere party in West Hollywood on July 28, 2015
Tyra stated in her caption that the important thing back then was how models performed on the runway and contrasted that to today's attitude toward models: That they must be "at work" 24/7.
Also known as BanX, she recently hit the red carpet to promote the 22nd cycle of America's Next Top Model.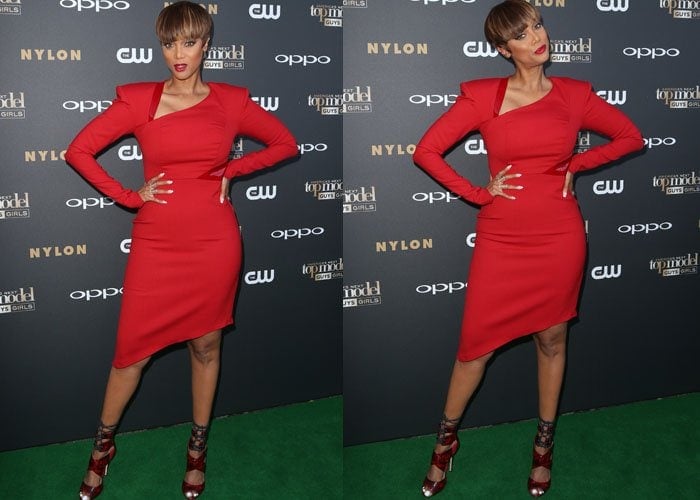 Tyra Banks poses and shows off her blunt bob on the green carpet
The 41-year-old encouraged young aspiring models today to stay strong despite industry pressures.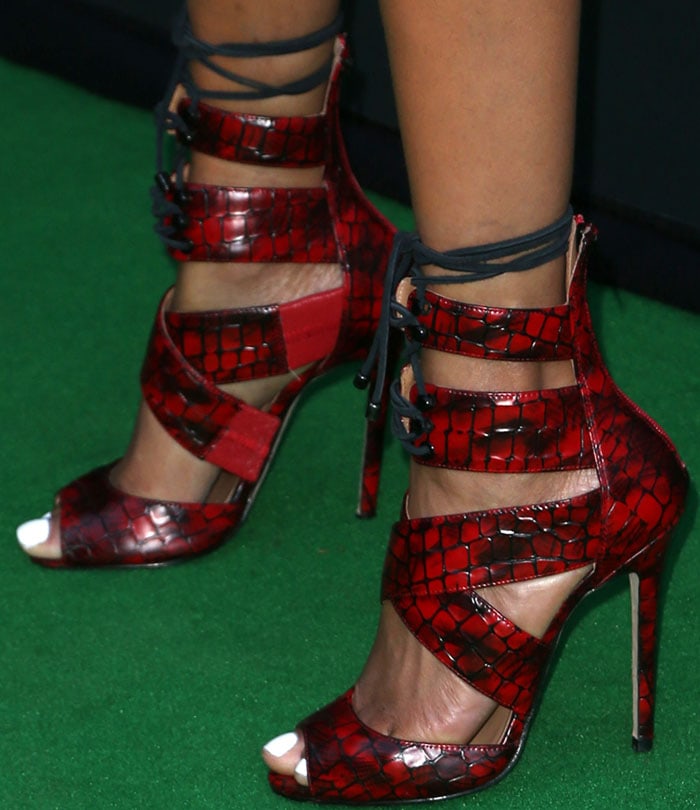 Tyra Banks' sexy feet in strappy red stilettos on the green carpet
Tyra had fun on the ANTM carpet with her crazy posse in an asymmetrical red dress by Bryan Hearns. She paired the bright piece with her new short bob and a pair of ferocious-looking red snakeskin heels by Alejandra G.
Tyra Banks poses on the green carpet of an America's Next Top Model event with Co-Executive Producer J. Paul Buscemi, Executive Producer Dana Gabrion, Co-Executive Producer Jaimie Glasson, ANTM Judge J. Alexander, Executive Producer Ken Mok, Executive Producer Laura Fuest Silva, and Producer Jonah McMichael
We took it upon ourselves to find a pair of fierce red heels similar to Tyra's. Good news! We found some, and you can get them with only one mouse click at Zappos.
Jessica Simpson Marthena Sandals in Lipstick Trop, $114.99
Michael Antonio Jace Sandals in Coral Snake PU, $54.99
Michael Kors Norma Sandals, $197.99
Credit: Tyra Banks' Instagram / FayesVision / WENN