New year, new crazy designs: The Israeli footwear designer, Kobi Levi, has come out with even more bizarre shoes for 2013.
Kobi Levi once said he's not out to make money off his shoes, but it looks like he is even if he didn't want to in the first place. Not a bad problem to have, huh? With Internet fame and gaining fans in celebrities such as Lady Gaga and Whoopi Goldberg, there really is no place for Kobi Levi and his shoes to go but up!
Whoopi Goldberg alone has been spotted in three different Kobi Levi shoe designs. She has the "Banana Peel" shoes, the "Mr. Orca" shoes, and the "Chewing Gum" shoes, which she infamously wore to meet President Obama on an episode of The View.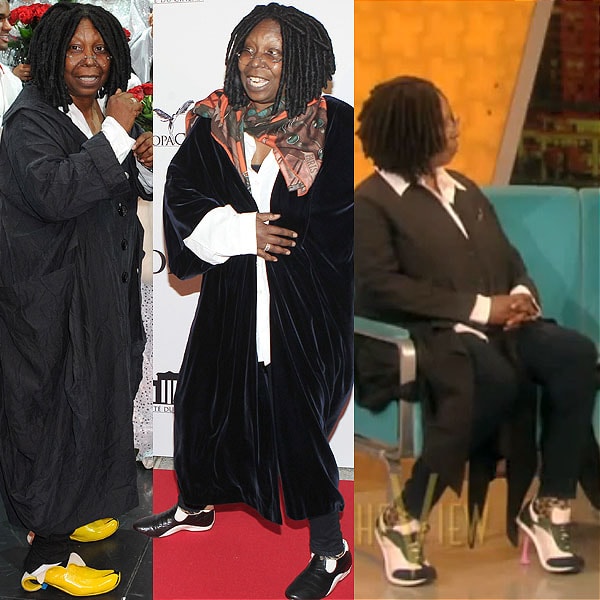 Whoopi Goldberg in Kobi Levi  "Banana Peel" shoes at the opening night of 'Sister Act' at the Mogador Theater in Paris, France on September 20, 2012; in Kobi Levi "Mr. Orca" shoes at The Opening of the Luc Besson's Cité du Cinéma in Saint Denis Paris, France on September 21, 2012; in Kobi Levi "Chewing Gum" shoes on an episode of ABC's 'The View' aired on September 25, 2012
We wonder which of the new Kobi Levi shoes below Whoopi Goldberg will add to her growing collection. Once again, Levi drew inspiration from animals for these new styles, but he has a couple of new muses — cheerleaders and baseball. Kobi Levi footwear can be purchased at Kobi Levi Design.
Inspired by sports:
"Cheerleader" shoes in Red, $2,100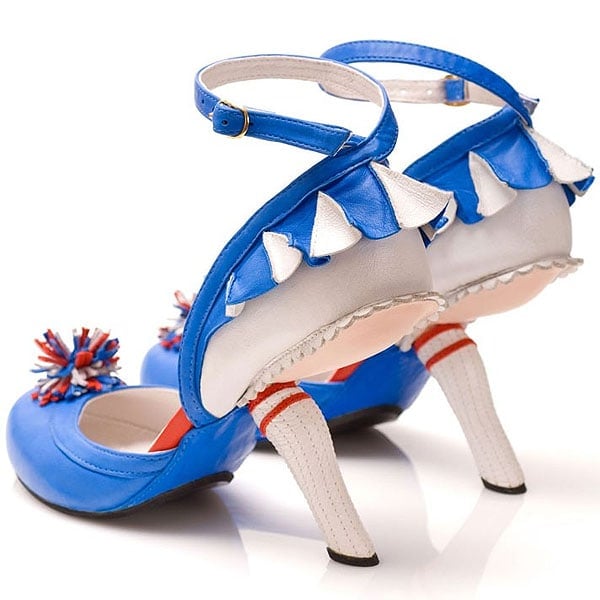 "Cheerleader" Shoes in Blue, $2,100
Kobi Levi "Baseball" Shoes, $2,100
Kobi Levi "Baseball Cap" Shoes, $2,100
Inspired by animals:
Kobi Levi "Ostrich" Shoes, $1,960
Kobi Levi "Flamingo" Shoes, $1,960
Kobi Levi "Stork" Shoes, $1,960
Kobi Levi "Black Swan" Shoes, $1,680
Kobi Levi "Chicken" Shoes, $1,540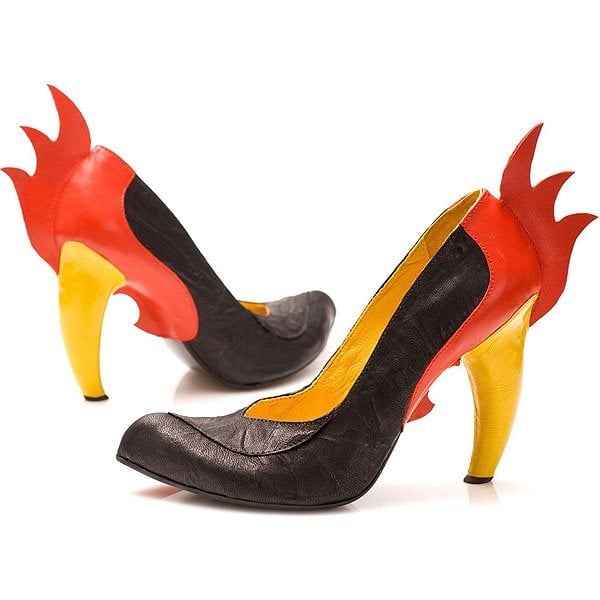 Kobi Levi "Rooster" Shoes in Black, $1,540
Kobi Levi "Rooster" Shoes in Brown, $1,540
Credit: News Pictures / WENN / The View