It's about time shoes got on the designer parody or fake fashion label trend. Oh, you know what trend we're talking about — it's the spoofing of top designer labels by twisting recognized brand logos, such as Givenchy into "Giraunchy," Celine into "Féline," Hermès into "Homies," and, a personal favorite, Comme des Garçons into "Comme des F**kdown."
Plenty of celebrities have shown that they are fans of the trend. Christina Milian and Ashley Tisdale in the photos below are wearing some of the parodies we just mentioned, but Rihanna is showing that even non-designer labels are fair game.
Christina Milian in a parody Hermes "Homies" t-shirt at The Grove in Los Angeles, California, on February 13, 2013; Rihanna in a parody UTZ "Slutz" cropped tank in Manchester, UK, on July 16, 2013; Ashley Tisdale in a parody Celine "Celfie" t-shirt in Los Angeles, California, on August 6, 2013
We don't think there is a bigger fan of this trend than Cara Delevingne, though — from snapbacks to shirts to beanies, she can't seem to get enough of her faked fashion labels.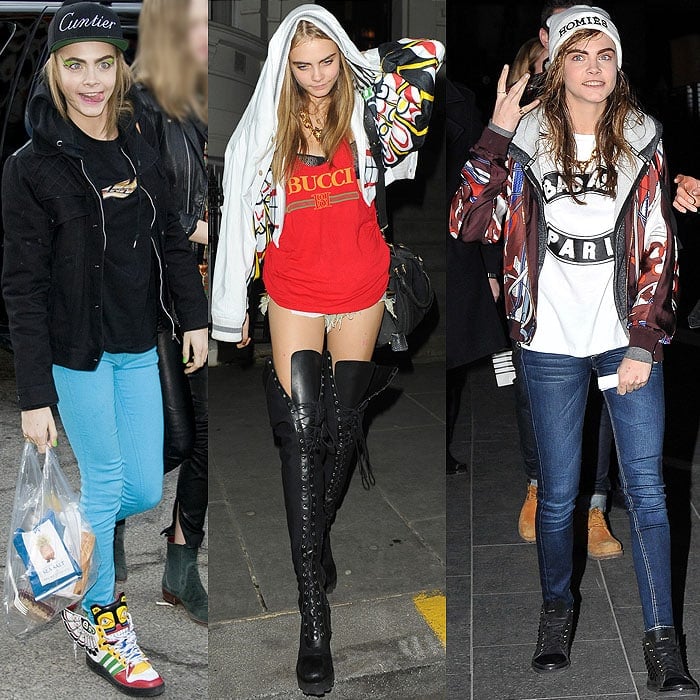 Cara Delevingne in a parody Cartier "Cuntier" snapback in New York on February 13, 2013; in a parody Gucci "Bucci" tank at a house party in Notting Hill, London, on February 16, 2013; in a parody Hermes "Homies" beanie at the Jean Paul Gaultier after-party in Paris, France, on March 2, 2013
You can see that, so far, the designer parody trend has mostly been on clothing, so we're excited to show you these slip-ons that are finally in on the fashion joke! Check out the "Praduh" shoes, a special collaboration between Solestruck and a new clothing label interestingly named "Made in Hell-A."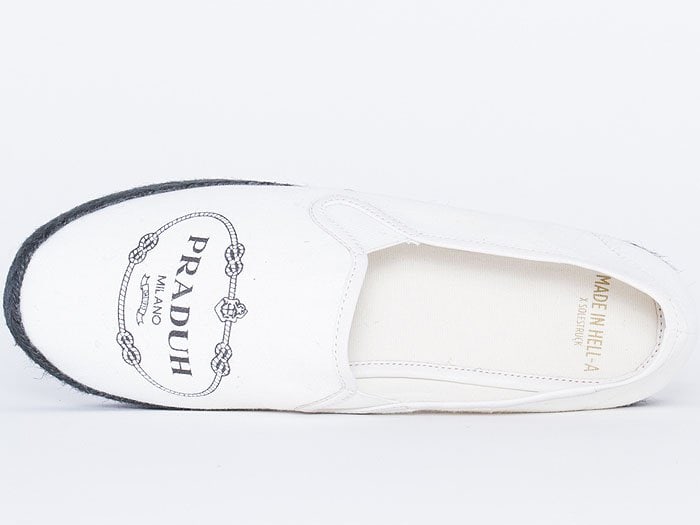 Made in Hell-A x Solestruck Women's "Praduh" Slip-Ons, $109.95 / Made in Hell-A x Solestruck Men's "Praduh" Slip-Ons, $109.95
It's pretty cool that they made versions for both women and men, huh? Do you want to order a pair for you and your man?
We wonder what they would do to our other favorites, such as Christian Louboutin and Giuseppe Zanotti.
Credit: Winston Burris/WENN/Will Alexander/Ivan Nikolov/Antoine Cau