After donning all sorts of over-the-top costumes at her concerts during her world tour, Katy Perry was decidedly more toned-down at the premiere of "Katy Perry: The Prismatic World Tour" at the Ace Hotel in LA on Thursday.
Katy Perry at the screening of "Katy Perry: The Prismatic World Tour" held at The Theatre at Ace Hotel Downtown Los Angeles in Los Angeles, California, on Mach 26, 2015
The 30-year-old pop star wore a business-like Balenciaga tuxedo dress with black satin lapels and oversized buttons. Her raven hair was swept up, and her makeup was kept clean and somber-hued.
Katy Perry rocking some heavy metal piercings in her ears and through her nose
But the seriousness seemed to have stopped there because Katy rocked some pretty hardcore accessories, including heavy metal ear piercings, a huge lilac stone ring, and sparkly glitter nail polish on her fingers and toes.
Katy Perry having a laugh at the world premiere screening of "Katy Perry: The Prismatic World Tour"
Of course, we can't forget Katy's fab lace-up boots — check out those corset-style lacings that went all the way up her legs.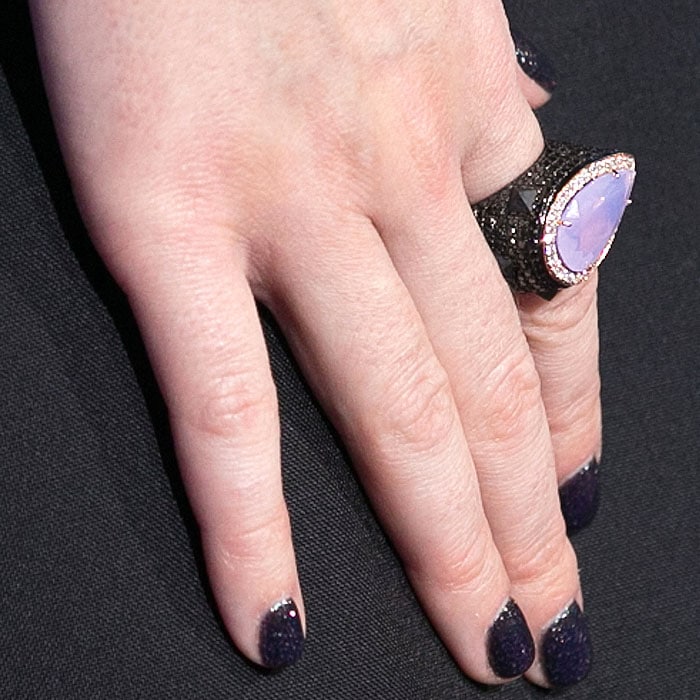 Katy Perry's faceted lilac stone ring and sparkly dark purple nails
Katy showed off so many gorgeous accessories, but she had one more that she saved for last: her Cavapoo dog, Butters. When the caramel-colored pup joined the performer on the pink carpet, it stole our attention away from her shoes, which is saying a lot!
Butters even stole attention away from Katy Perry herself, only giving its human owner a sloppy kiss on the lips as some sort of consolation.
Katy Perry being joined on the pink carpet by her dog, Butters, whom Katy also calls the official mascot for the Prismatic World Tour
Butters giving Katy Perry a sloppy kiss
Katy Perry posing with a fan dressed as a pink cat
Check out Katy Perry's black suede lace-up boots up close in the pictures below. We'd recognize those sexy lacings anywhere — they are a Giambattista Valli signature, and the boots are a brand new style for fall/winter 2015.
Katy Perry's sparkly silver painted toenails peeking out from her Giambattista Valli open-toe lace-up boots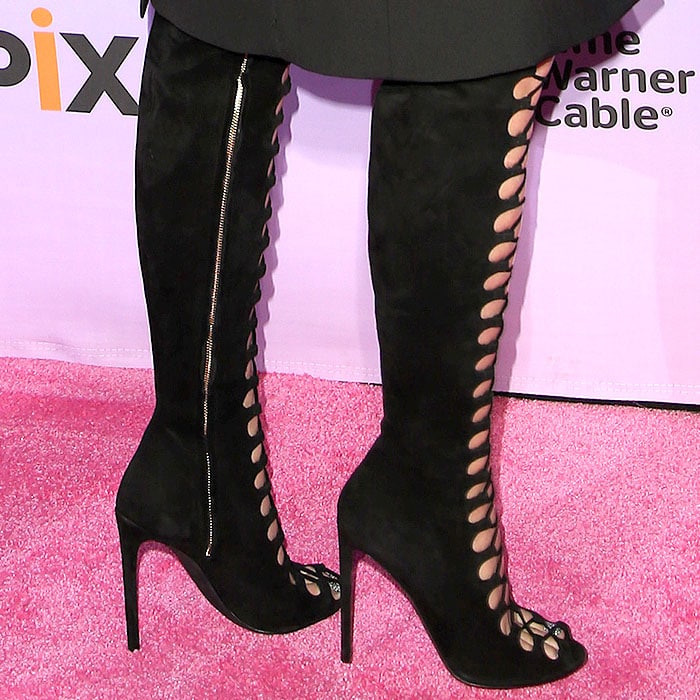 Side view of Katy Perry's Giambattista Valli black suede lace-up boots
Giambattista Valli Open-Toe Lace-Up Boots, $1,575
Shop these similar lace-up boot styles at wallet-friendlier prices:
From L to R: ZiGi Soho "Valerina" Open-Toe Lace-Up Boots, $129 / Room of Fashion Lace Peep-Toe Lace-Up Boots, $49.99–$79.99 / Chelsea + Zoe "Pagan" Lace-Up Over-the-Knee Boots, $110
Credit: Brian To / FayesVision / Nicky Nelson / WENN