"It costs a lot of money to look this cheap," according to legendary country singer Dolly Parton.
The beloved star has always been open about her plastic surgery and her notoriously large breasts. When once asked about it, she told Today's Willie Geist, "If I see something saggin', baggin' or draggin', I'm gonna get it nipped, tucked or sucked".
Her authenticity and transparency are just two of countless reasons the world is enamored with the curvy blonde. Her image is undoubtedly distinct, which she old Oprah Winfrey was imperative for her appearance.
Oprah Winfrey and Dolly Parton on the American variety show Dolly in 1987 (Credit: WENN)
In many ways, her image has become her brand, and it's received a lot of attention for decades. In fact, she appeared on the cover of Playboy in 1978.
Despite declining an invitation to pose nude for the magazine, she appeared wearing the infamous playboy bunny outfit, including the ears.
Her breasts are a large part of her signature look – and I mean that both figuratively and literally. Her 40DD chest on her petite frame really stands out.
The media has often said that her breasts enter the room before she does. Her notorious breast implants were the inspiration for Dolly the cloned sheep's name, as she was cloned from a mammary gland.
For many who know Dolly, it seems as if she has always looked this way and hasn't changed over the years, so many aren't sure what she's had done and what is natural.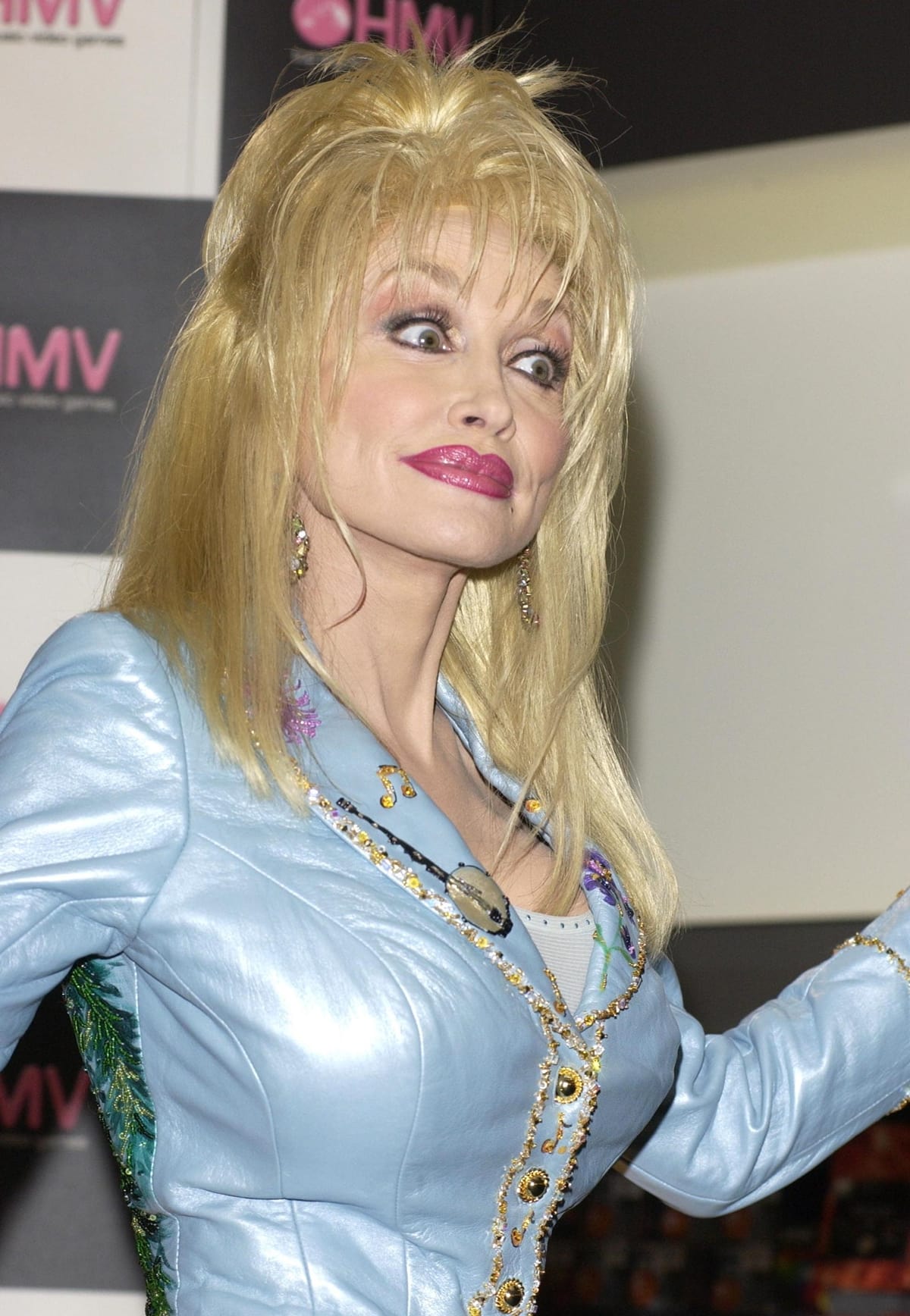 Singer Dolly Parton highlights her boobs while promoting her new album Halos and Horns on October 8, 2002, at the Oxford Street HMV store in London, England (Credit: WENN)
She went under the knife for the first time at a relatively young age. Her first experience with plastic surgery was in her twenties, and she has continued to get various plastic surgeries as time has gone on. Dolly and her plastic surgeon have been quite open about the procedures she has had done.
Breast Implants
Although Dolly has had other work done, her breast implants are the most popular. Her surgeon is Dr. John Grossman, a renowned celebrity plastic surgeon with offices in Denver and Beverly Hills. When interviewed by People, he said, "She has a generous bosom, which I augmented some years ago."
She had said she had always had nice breasts but got them pumped up in her twenties, before becoming famous, and again in her thirties. This is why we've always known Dolly to look this way.
Dolly Parton and her lookalike Pete Burns are both known for their numerous plastic surgery operations (Credit: WENN)
When she first got into the business, some people would make fun of her for it, and although it initially embarrassed her, she realized that it was also because of her tight, flashy clothes that enhanced the look.
Because her breast implants are such a significant part of her personal brand, she insured these precious assets for $300,000 each. She's also named them; they go by 'the twins' as well as West Virginia and East Virginia.
Breast Reduction
"My breasts have been a trademark to me – but I've paid a hell of a price," said Dolly according to France 24. She has spoken out about the back pain her large chest had started to cause, prompting her to get a breast reduction.
The weight of her large breasts had compressed her spin and started to create crippling pain. After about 30 years, in 2004 she had them reduced slightly. The pain was still there, so she again had them reduced in 2011.
Facial Rejuvenation
At the age of 57, Dolly hadn't undergone a full facelift, but "she's had her face rejuvenated on a number of occasions." Her plastic surgeon said she is "genetically gifted. Her skin is beautiful. In the South, getting a tan was a sign that you had to work in the fields, so she never went in the sun. She's pretty, but even pretty people age".
These remarks contrast the self-deprecating comments Dolly has made about herself. In an interview with CBS Sunday Morning, she said, "I wasn't naturally pretty, so I make the most of anything I've got."
Dolly Parton has admitted to having her face rejuvenated on a number of occasions (Credit: PNP / WENN)
She went on to say, "You should have seen me this morning before I got ready to see you. I'm serious, though. I'm not a natural beauty, but I can enhance it. Whatever it takes, I do. I try to make the most of everything".
Dolly has dabbled in facial surgeries since her thirties, including a brow lift, eyelid surgery, chin augmentation, and rhinoplasty. Now at the age of 75 years old, it is believed Dolly might have received that facelift after all.
Vartan Mardirossian, a facial plastic and reconstructive surgeon told Closer Weekly that she has likely had a facelift, neck lift, and possibly a lip lift over recent years. She likely has received Botox and filler as well.
Plastic Surgery and Her Career
Dolly has been outspoken about her appearance, specifically her breasts, and how they have become a big part of her career. It created an image – a signature look that was quickly recognizable and distinct.
Although the media attention hasn't always been positive, Dolly says she makes light of it with humor, or if it's too off-side, she just won't respond. She hopes to once again appear in Playboy.
Her first appearance on the cover was in 1978, over 40 years ago. With all the upkeep she has done with her plastic surgery, she dreamed of appearing in the magazine for her 75th birthday.
Dolly Parton shows off her size 5.5 (US) feet in high heels at a release party of a Special Edition DVD of "9 to 5" at the Hollywood & Highland Complex Annex on March 30, 2006 (Credit: Nikki Nelson / WENN)
When speaking with 60 minutes Australia, she said, "See, I did Playboy magazine years ago, and I thought it'd be such a hoot if they'll go for it – I don't know if they will – if I could be on the cover again when I'm 75".
"This year, my wish is a call for kindness," Parton wrote on Facebook when she turned 75 on January 19, 2021. "We can't just hope for a brighter day, we have to work for a brighter day. Love too often gets buried in a world of hurt and fear. We have to work to dig it out so we can share it with our family, our friends, and our neighbors. So today, January 19th, let's get to work unearthing love," the singer added.
Her history with plastic surgery is a big part of her story. In April 2020, A&E released Biography: Dolly, a special about the busty country-singers life, which featured her and interviews from her closest friends over the years. In the doc, viewers learned that her beauty enhancements go beyond plastic surgery, including wigs and fake nails.
Her Famous Breasts Cost $1 Million
"I've slapped a few people who didn't stare at them! This kind of money, they'd better be looking at them," Dolly told UK magazine Q about having spent $1 million on her breasts. "No, I've not insured my boobs. I just paid a million dollars for them and I hope they look like a million dollars, too!"
Dolly always felt her hands were too small, so she got long acrylic nails to make them look bigger. This impacted her career in a significant way.
When she was at the onset of the iconic film 9 to 5, she would "just walk around on the set and I [would] wear acrylic nails. I thought, I'm just going to play my nails". So, she used her acrylic nails as a percussion instrument to write the theme song.
Lily Tomlin, Dolly Parton, and Jane Fonda starred in the 1980 American comedy film 9 to 5 (Credit: WENN)
Dolly's big blonde hair is another important aspect of her signature look. After years of bleach and styling in her twenties, her hair started to break, and she turned to wings.
"I used to try to keep my own hair teased as big as I like it, and having the beach and all that, it just broke off," she told Hallmark. "I thought, 'Why not just wear wigs?' That way, I never have a bad hair day. I have a big hair day, but not a bad hair day".
As a self-proclaimed feminist, Dolly changed the music industry for women. Female country music stars were to look proper and more subdued, but she changed that. She also fought for pay equity which is recognized in her songs and film 9 to 5 and achieved success thanks to her personal brand.
This brand and her distinct image helped her create the cult following she's had all these years. In 1986 she even opened her own theme park called Dollywood.
The park is a reflection of Dolly; it's what's referred to as "The Dollywood Difference," that done "all in a manner consistent with Christian values and ethics."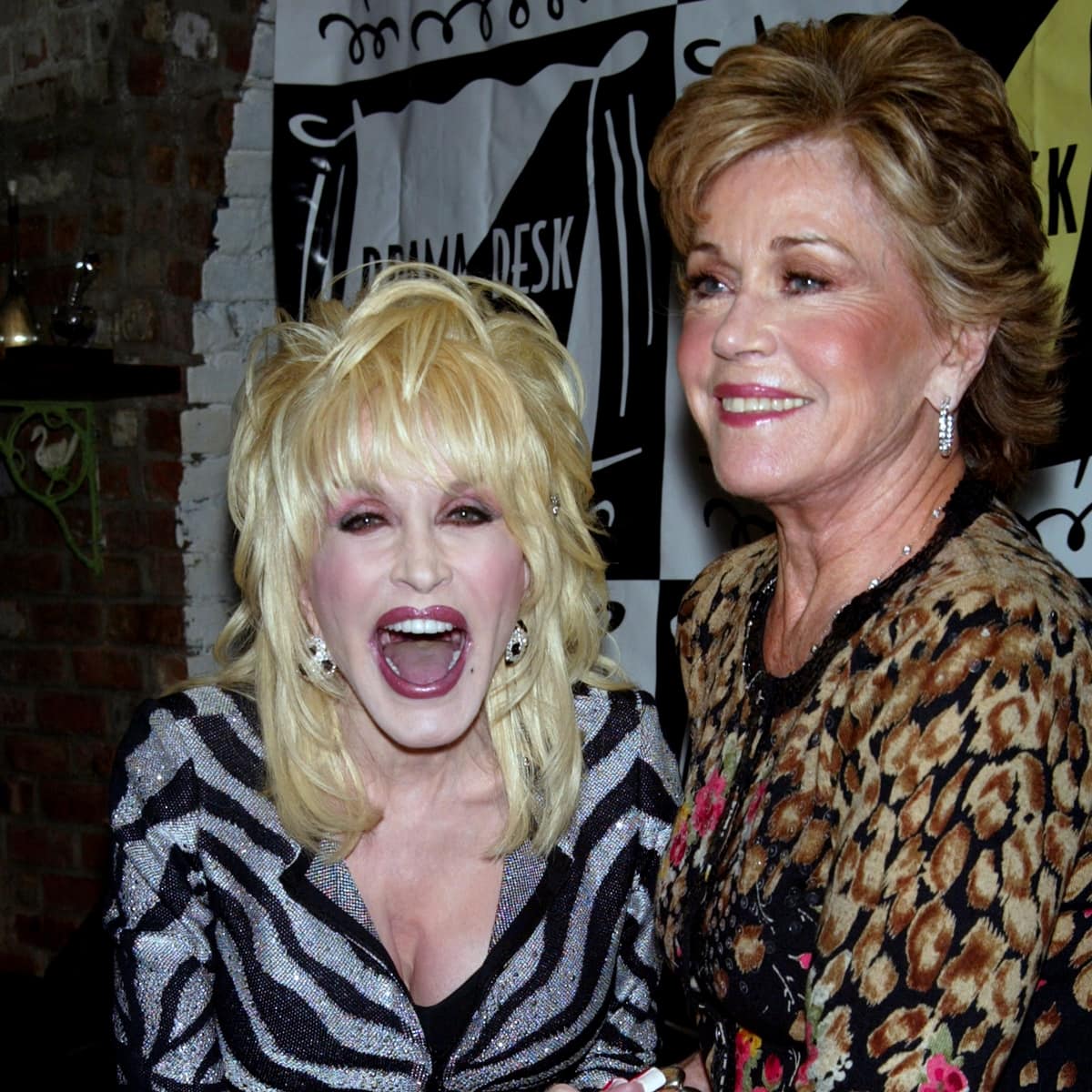 Dolly Parton and Jane Fonda smiling at a party in 2009 (Credit: Joseph Marzullo / WENN)

In addition to being a country singer, Dolly has released several Christian songs as well. Her spiritual and religious beliefs are a big part of who she is though she didn't start making contemporary Christian music until much later in her career.
When asked by People about it, she said, "I've just felt like God was calling me into that. I've always felt like my music was more my ministry than a job. I just feel that this day and time, we need more people that are in a position to help to try to do something, if they can, to brighten the world a little bit. That's what I'm hoping to do now".
Dolly Parton shows off her boobs at the CMA Music Festival at Nashville Convention Center Nashville Nashville, Tennessee, on June 11, 2011 (Credit: Judy Eddy / WENN)
Dolly breaks down stereotypes and repeatedly redefines the industry. You can be a successful Christian artist with platinum blonde hair and large breast implants. Miley Cyrus's godmother is, and always has, carved her own path, and there is no stopping her.
If she were to appear in Playboy again, it would be yet another ground-breaking, barrier-removing move from Dolly, showing that age is nothing but a number.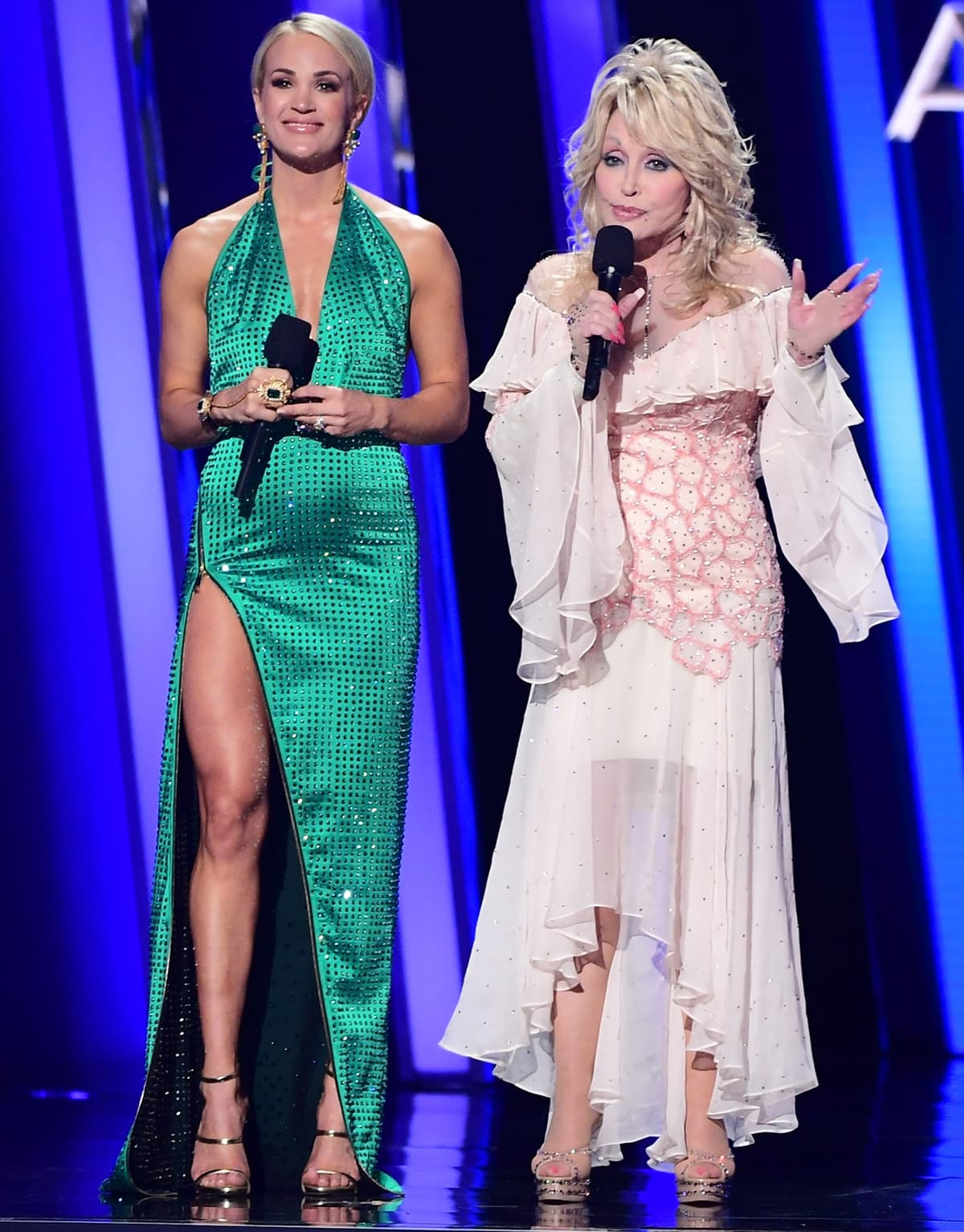 Carrie Underwood (L) and Dolly Parton speak onstage during the 53rd annual CMA Awards at the Bridgestone Arena on November 13, 2019, in Nashville, Tennessee (Credit: Instar / WENN)
In April 2016, the then 70-year-old Dolly Parton took to the stage with Katy Perry to sing a duet of her hits at the 2016 Academy of Country Music Awards held at the MGM Grand Garden Arena in Las Vegas. They sang "Coat of Many Colors," "Jolene," and "9 to 5″ together that evening.
The legendary American singer-songwriter, actress, author, businesswoman, and humanitarian was also awarded the Tex Ritter Award for her work producing the TV movie "Coat of Many Colors", which tells the story of Dolly's upbringing.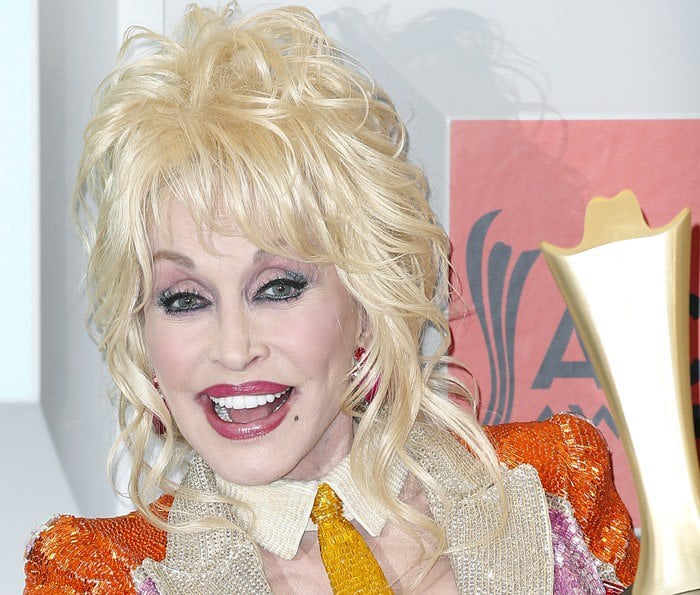 Country music legend Dolly Parton shows off her teeth (Credit: Judy Eddy / WENN)
For her performance, Dolly Parton sported a true-to-form sequined ensemble paired with a sky-high pair of Christian Louboutin heels. High heels have no age limit!
Dolly Parton is awarded the Tex Ritter Award at the 2016 Academy of Country Music Awards held at the MGM Grand Garden Arena in Las Vegas on April 3, 2016 (Credit: Judy Eddy / WENN)
Do you plan to wear high heels when you're in your 70s? Let us know how you like Dolly's sparkling sequined jacket!
Katy Perry and Dolly Parton perform at the 2016 Academy of Country Music Awards held at the MGM Grand Garden Arena in Las Vegas on April 3, 2016 (Credit: WENN)
"Katy Perry is a living doll," Dolly Parton told Rolling Stone.
"I like her because she is very upfront, open, honest, and funny. I like her approach to her music. She's a very talented and serious songwriter and I always appreciate that. I look forward to getting to know her better personally as we have a lot in common. . . our love for songwriting and our similar upbringing. It was a joy getting to sing with her on the ACMs. I was a hit with my nieces, nephews, and my young friends as they can't believe I met Katy Perry. I met a girl and I liked her!"
Dolly Parton in a colorful sequined jacket at the 2016 Academy of Country Music Awards held at the MGM Grand Garden Arena in Las Vegas on April 3, 2016 (Credit: Nicky Nelson / WENN)
Immediately after it was announced that she would be performing with Dolly Parton at the Academy of Country Music Awards, Perry took to Twitter to show off her excitement: "MY PRAYERS HAVE BEEN ANSWERED. I shall remember, though, that I am but one sequin on this living legend's costume!"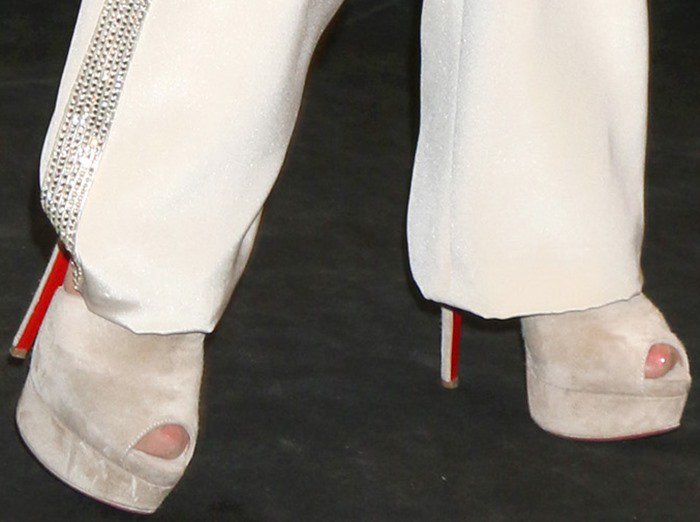 Dolly Parton rocks high Christian Louboutin heels (Credit: Nicky Nelson / WENN)