Best known as the scheming Eden Lord on the FX television series Nip/Tuck (2003) and as the pampered Loren Wakefield on the MyNetworkTV telenovela American Heiress (2007), AnnaLynne McCord started dating Prison Break and Legends of Tomorrow star Dominic Purcell in 2011.
They met on the set of Officer Down, a 2013 American action film directed by Brian A. Miller. He is 17 years older than her and has a net worth of $8 million.
Dominic Purcell and AnnaLynne McCord started dating after meeting on the set of Officer Down in 2011
The couple announced an amicable split in 2014 but rekindled their romance in 2015 when Dominic Purcell was diagnosed with skin cancer.
"I came back into his life as his friend, and I took him to his doctor's appointments and I was there with him because whether or not he realized it, I love him," the actress told People.
"One of the things he said was, 'You really love me, don't you?' I was like 'Oh my God. Are you kidding me? Are you kidding me? After all this time, you still don't know that? I gave up all my 20s for you!' "
AnnaLynne McCord gives her boyfriend Dominic Purcell a kiss while attending the Women's Rebuild for the St. Bernard Project kick-off at Pure Nightclub in Las Vegas on October 1, 2011
In January 2018, they ended their relationship once again. Purcell, who has four children with his ex-wife Rebecca Williamson, remained good friends with AnnaLynne, who was the 18th actress to be cast in The CW series 90210, portraying antiheroine Naomi Clark.
"I still see him from time to time," she told Yahoo Lifestyle on the set of Build Series NYC in January 2018. "We're friends. We're not together anymore, but we are very close."
"His daughters stay at my house," McCord continued. "I love him. He's like family to me. The kids are like family. I've watched them grow up. I saw him the other night, and he was in town. We're very, very amicable."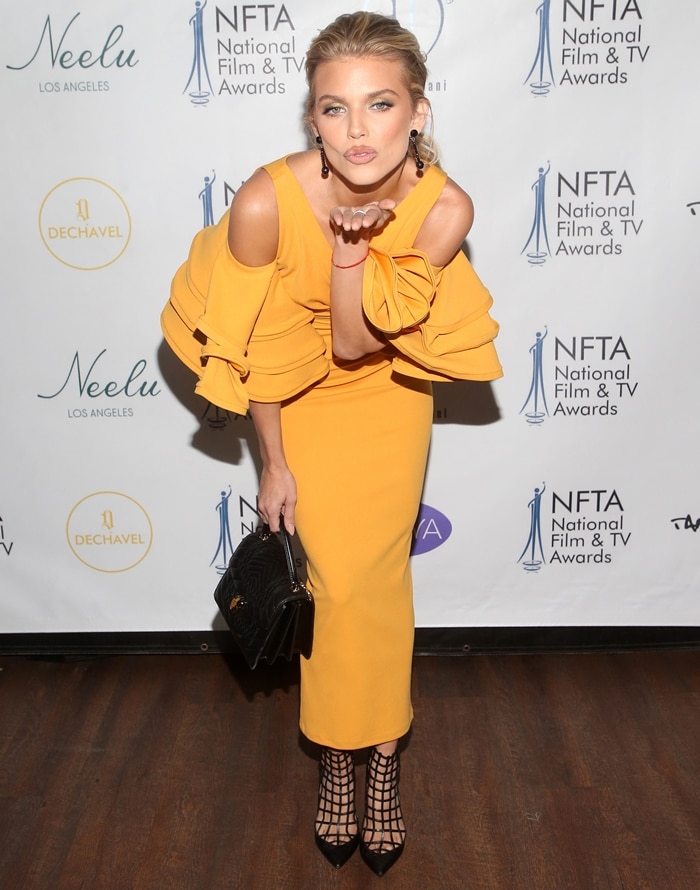 AnnaLynne McCord attends the 2nd annual National Film and TV Awards at Globe Theatre on December 3, 2019, in Los Angeles, California
In September 2020, the longtime on-and-off couple AnnaLynne McCord and Dominic Purcell were once again back together. They were seen kissing during a beach day in Huntington Beach, California.
Annalynn McCord promoting The Love Storm event in New York City on March 9, 2020
Actress AnnaLynne McCord did not have a role in the film The Perfect Guy, but in September 2015 she still stole the show as she attended the movie's premiere in Beverly Hills.
AnnaLynne McCord attends the Los Angeles premiere of "The Perfect Guy" in Beverly Hills on September 2, 2015
The then 28-year-old actress didn't disappoint as she struck a series of alluring poses on the red carpet.
AnnaLynne McCord blows a kiss from the red carpet at the premiere of "The Perfect Guy"
She wore a crop top and pencil skirt combo that strategically revealed glimpses of skin via cutouts and mesh panels.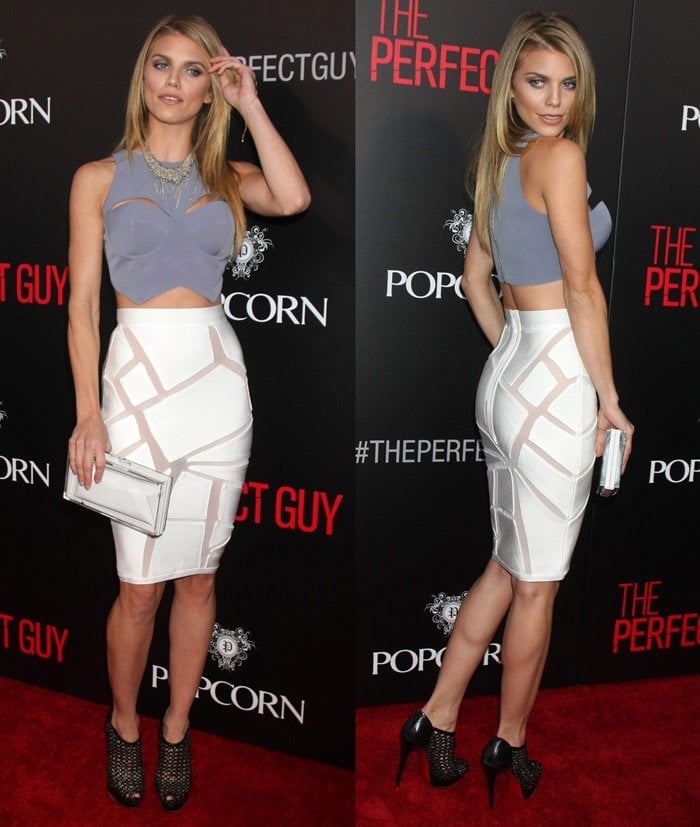 AnnaLynne McCord pushes her blonde hair out of her face as she poses for the cameras
AnnaLynne completed her sexy look with a white clutch and a pair of sky-high Christian Louboutin "Kasha" cage booties, which were priced at a whopping $1,300 at Nordstrom before they sold out a while back.
AnnaLynne McCord shows off her Christian Louboutin cage-style booties
Although her Louboutin cage booties are no longer available (they're a few years old), you can get the look for less with a similar style from EXE at Zappos.
EXE Gina Cage Booties, $65
Credit: Nicky Nelson / WENN / Judy Eddy / Winston Burris / Instar