Texas high school student Deandre Arnold recently made headlines after he was banned from his prom and graduation unless he cut his dreadlocks. According to Barbers Hill ISD Superintendent Gregory Poole, "the hair for males is to not be below the collar, not be below the bottom of the ears, and not to be in the eyes."
After receiving an outpouring of support on social media from celebrities like Gabrielle Union and her husband Dwyane Wade, he was invited to the Academy Awards on Sunday night as the special guest of filmmaker Matthew A. Cherry, who won the award for Best Animated Short Film for Hair Love.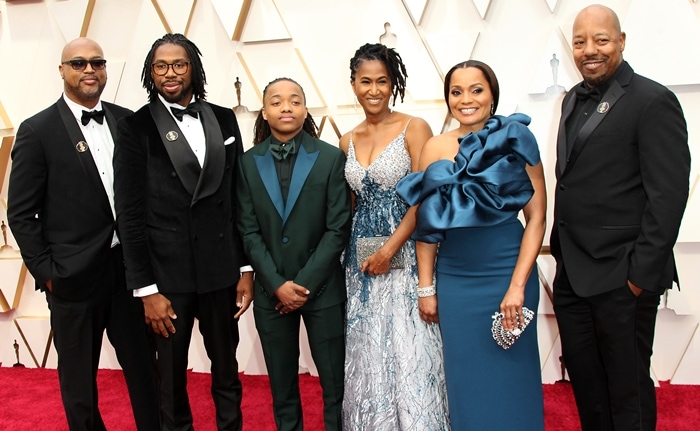 Director Matthew A. Cherry (2nd L), producer Karen Rupert Toliver (2nd R), Deandre Arnold, and family members attend the 92nd Annual Academy Awards at Hollywood and Highland on February 9, 2020, in Hollywood, California
"I'm so grateful. I never expected any of this," Arnold told Refinery29. "The message of that movie and my message go together so well. I think it's really amazing how they reached out to me and we can fight this together."
Arnold explained that his father is from Trinidad and that many men in his culture grow dreadlocks. "I really like that part of Trinidadian culture; I really embrace that," he told KPRC in an interview last month.
Deandre Arnold was invited by "Hair Love" director Matthew A. Cherry to show off his dreadlocks at the 2020 Oscars
His mother Sandy Arnold told CBS This Morning that a lack of diversity in the school district is the issue. "There are no people of color on the school board. I get it that they don't understand his hair," she said about the school's hair policy.
The Mont Belvieu-area high school student has also received support from Ellen DeGeneres, who awarded him a $20,000 scholarship on her show. He explained to the talk show host why he decided to stand his ground and has not given in to his school's policy.
According to Barbers Hill Independent School District officials, their policy allows dreadlocks but has rules about length.
"There is no dress code policy that prohibits any cornrow or any other method of wearing of the hair," the district's superintendent, Greg Poole, said in an interview with ABC. "Our policy limits the length. It's been that way for 30 years."
Credit: Adriana M. Barraza / WENN