Dua Lipa made her first-ever Cannes Film Festival appearance on Friday, where she graced the Omar La Fraise (The King of Algiers) premiere with her French director boyfriend Romain Gavras.
Dressed in coordinated black designer outfits, the couple exuded an irresistible charm as they graced the red carpet, their affectionate display captivating everyone around them.
Romain, 41, looked dapper in a black Dior suit with satin lapels as he wrapped his arms around the 27-year-old British singer. He paired the look with a black tie, white shirt, and shiny dress shoes.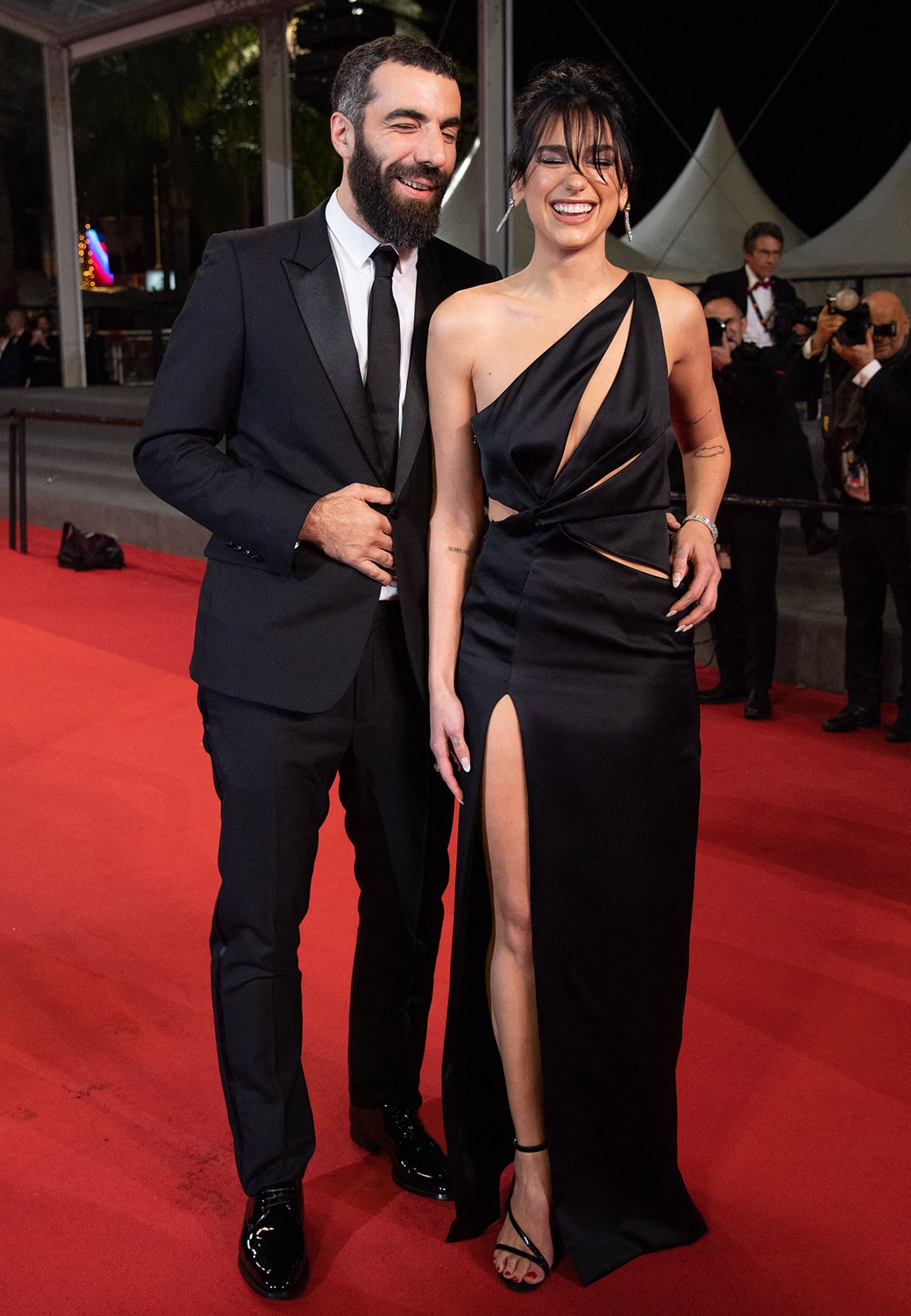 Romain Gavras and Dua Lipa make their red carpet debut at the 76th Cannes Film Festival for the Omar La Fraises premiere on May 19, 2023 (Credit: Abaca Press / INSTARimages)
Meanwhile, Dua Lipa showcased her take on the cutout black dress trend in a breathtaking Hedi Slimane creation.
Expertly tailored to her toned physique, the custom Celine dress featured a sensual one-shoulder design with revealing peek-a-boo slashed details across the bodice, exposing plenty of flesh and her arm tattoos.
As if the cutouts were not enough, the alluring dress had a sexy open back and a floor-length column skirt with a dramatic thigh-high slit that gave us a glimpse of her red pedicure and strappy black Celine Sharp sandals.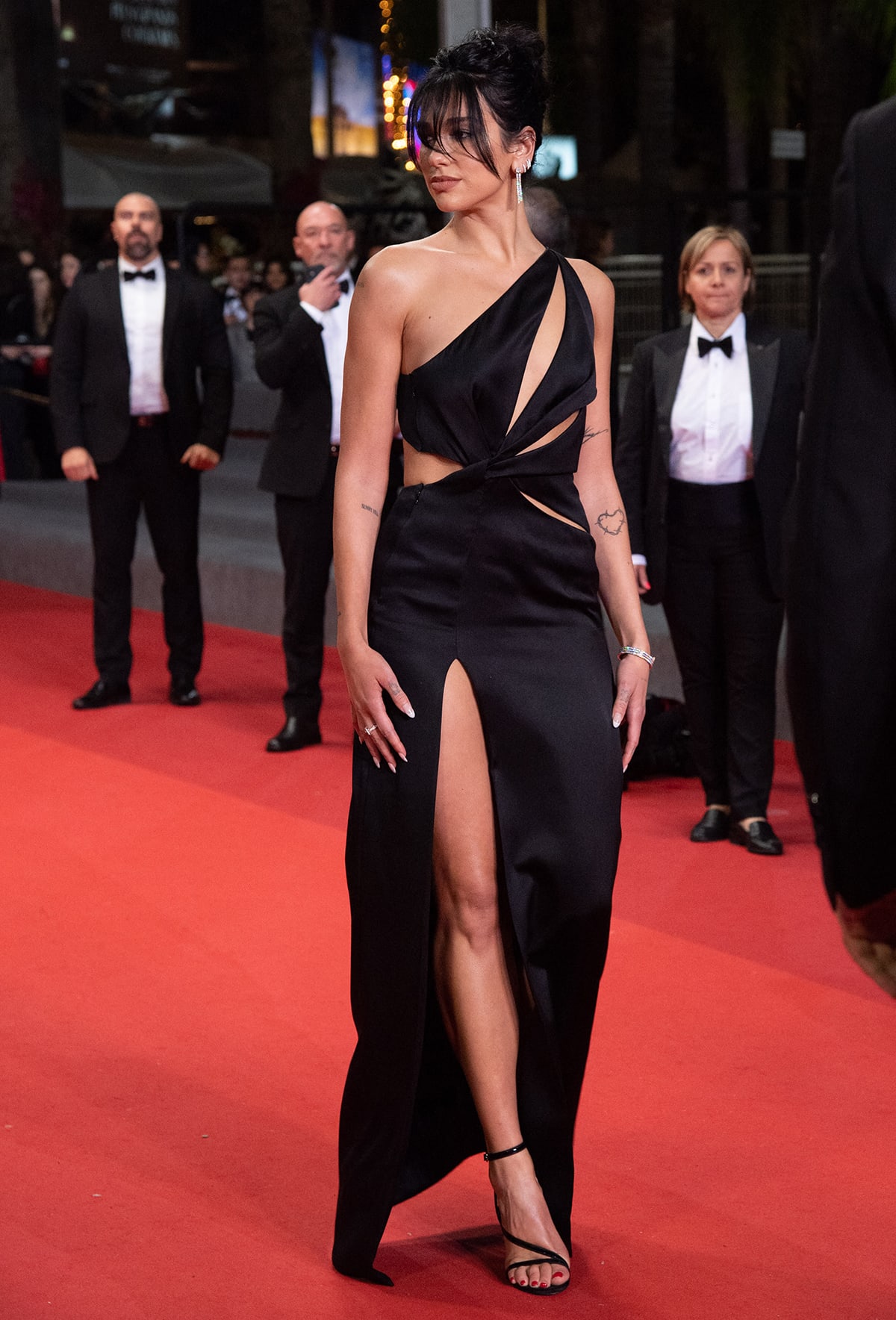 Dua Lipa wearing a sultry yet elegant black dress with a slashed bodice and a dramatic thigh-high slit custom made by Celine's Hedi Slimane (Credit: Abaca Press / INSTARimages)
Lorenzo Posocco, Dua's go-to stylist, added Tiffany & Co. jewelry to her black dress to keep with the idea of simple elegance.
The footwear designer opted for multiple hoop earrings alongside the sparkling Edge drop earrings in platinum and yellow gold with diamonds, a coordinating Edge multi-row Bypass bracelet, and the T1 ring.
Her trusted glam team, composed of makeup artist Samantha Lau and hairstylist Rio Sreedharan, kept Dua's look classy by applying glittery smokey eyeshadow and matte nude lipstick to accentuate her features.
They then coiffed her glossy raven tresses into an elegant high bun with trendy curtain bangs framing her face.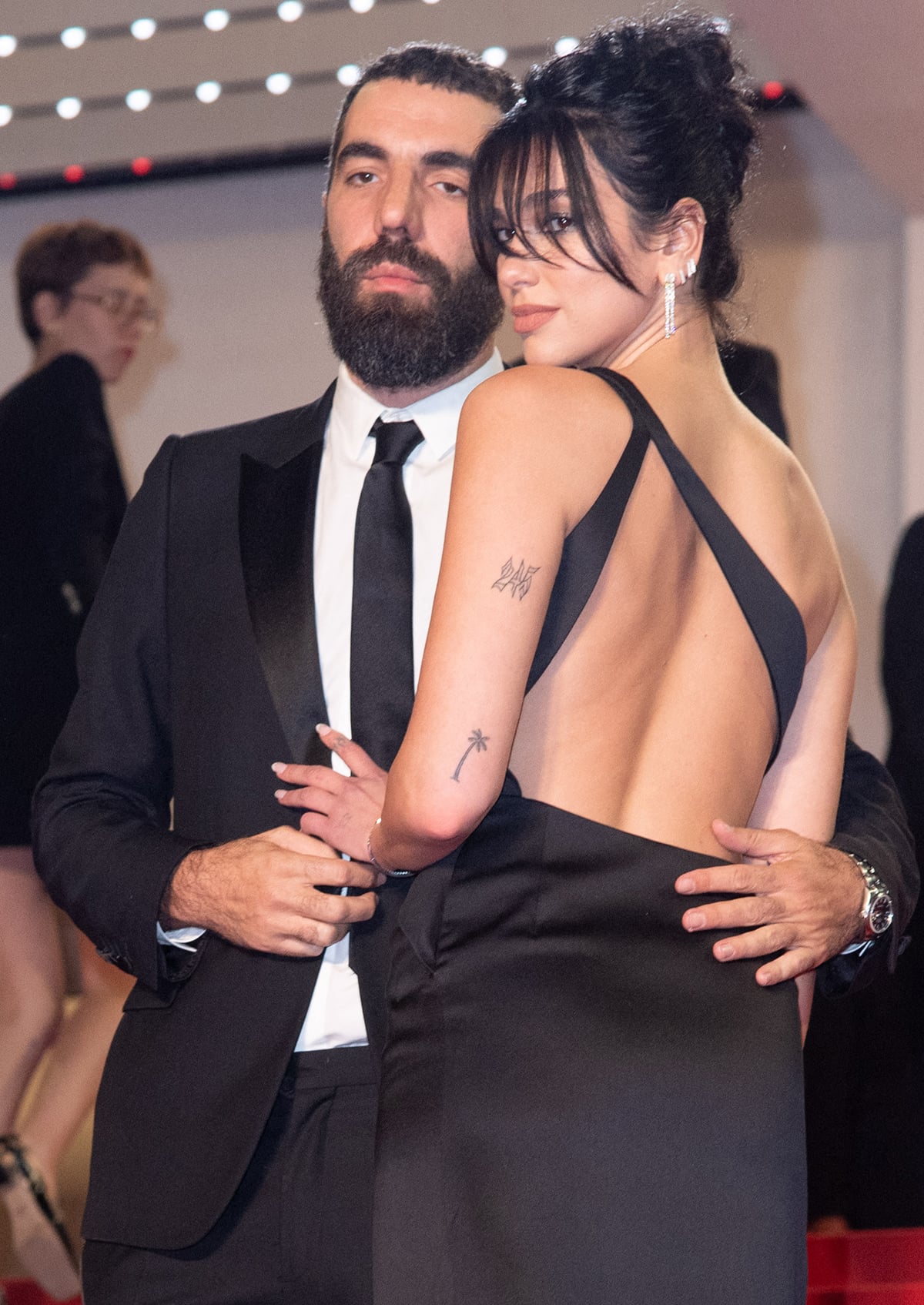 Dua Lipa showcases her sexy back and completes her glam with a fringed high bun, glittery smokey eye-makeup, and nude lipstick (Credit: Abaca Press / INSTARimages)
Aside from attending the Cannes premiere of Omar La Fraise, the 5'8″ beauty was in Cannes to help launch La Vacanza, her Versace collection co-designed with Donatella Versace.
Showing a clip of their runway show, Dua wrote in the caption: "Feeling overwhelmed with happiness and still taking in last night! Creating this collection with my dear dear friend @donatella_versace has been the most incredible insightful and inspiring process that I feel so lucky I got to experience."
Dua Lipa is now embracing a new set of guidelines as she ventures into the realm of fashion design.

In an exciting development, the Grammy winner recently presented her inaugural collaboration with the esteemed high-fashion brand Versace, known as the La Vacanza women's… https://t.co/AarPvJERfl

— Your Next Shoes (@yournextshoes) May 26, 2023
Who Is Romain Gavras?
French director Romain Gavras is 14 years Dua Lipa's senior. He was born in Paris in 1981 to Greek-French Oscar-winning director Costa Gavras and journalist and producer Michèle Ray-Gavras.
Both his siblings are also filmmakers, with his sister Julie working as a director and his brother Alexandre as a film producer.
"I grew up in a film family, so there was no other choice but to make films. At the same time, I didn't want to show my dad or mom some of the earlier things I made. I just showed them to my brother. I was very shy," he told Étage magazine.
Romain Gavras is a French director that grew up in a filmmaker family (Credit: Hubert Boesl / DPA / Cover Images)
His most recent film was Athena, a 2022 Netflix epic action drama that competed for the Golden Lion award at the 79th Venice International Film Festival last year.
"At home, the only conversation was politics and cinema. I was not allowed to watch Walt Disney when I was a kid. I still don't. I was raised listening to Greek myths or Greek tragedy," he said at a press conference for Athena.
In addition to films, Gavras received widespread recognition for directing several music videos, including Kanye West's No Church in the Wild, Jamie xx's Gosh, Justice's Stress, and M.I.A.'s Born Free and Bad Girls.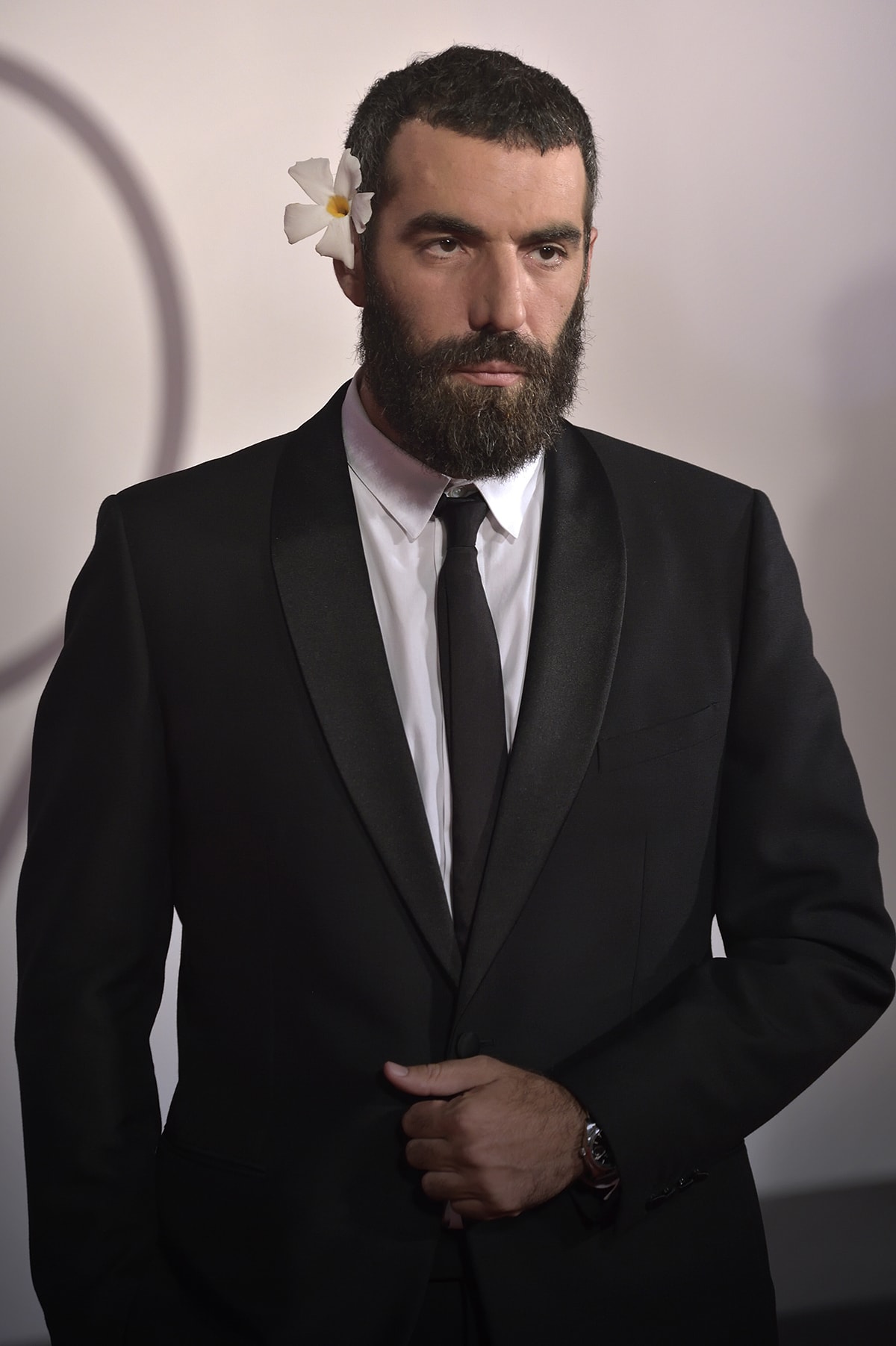 Romain Gavras' latest feature-length movie is the Athena, a 2022 epic action drama that competed for the Golden Lion award at the 79th Venice International Film Festival (Credit: Rocco Spaziani / DPA / Cover Images)
Before Dua Lipa, Romain previously dated another British singer Rita Ora from late 2020 to March 2021.
Ora is now married to Kiwi filmmaker Taika Waititi.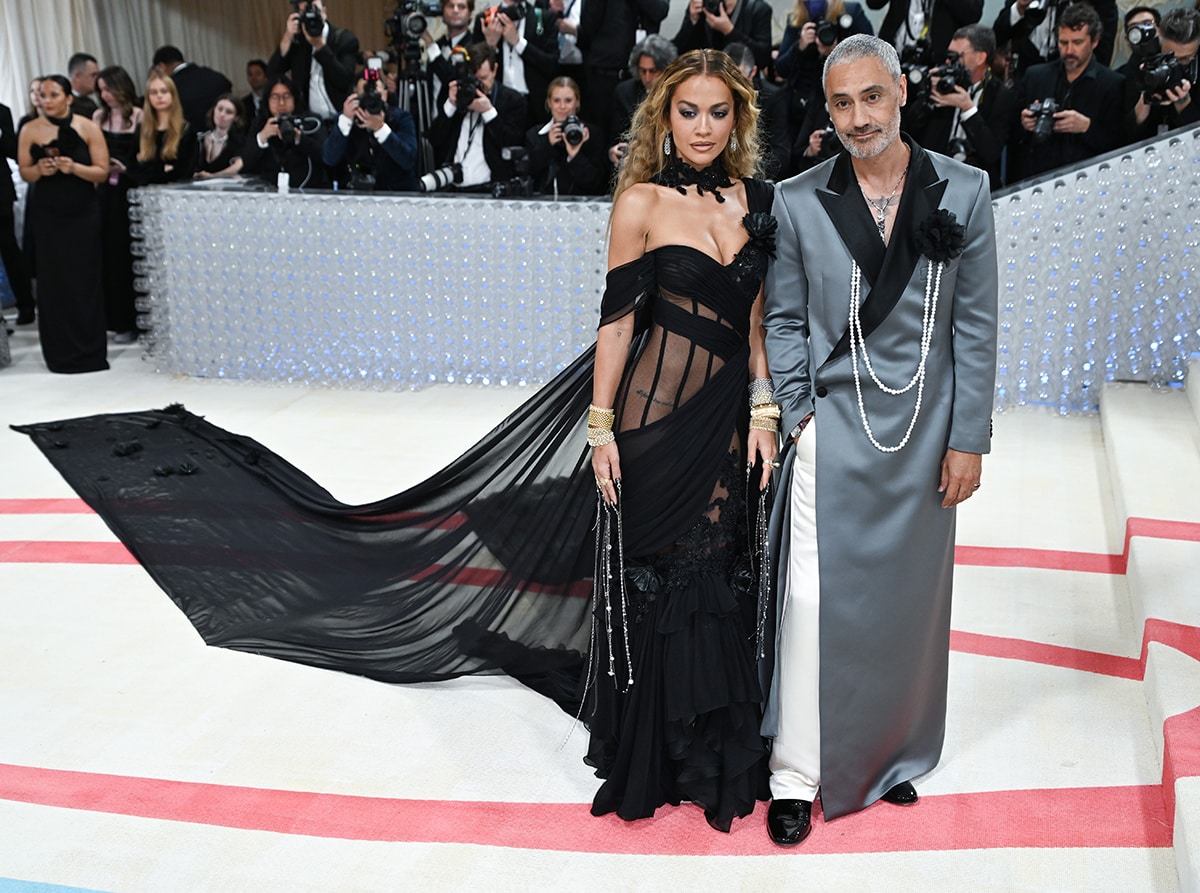 Romain Gavras' ex Rita Ora is now married to another filmmaker, Taika Waititi (Credit: Doug Peters / PA Images / INSTARimages)
How Did Dua Lipa and Romain Gavras Meet?
Dua Lipa and Romain Gavras first sparked romance rumors last February when they were pictured leaving the Netflix BAFTA after-party together.
A few days later, they were seen holding hands as they left the Saint Laurent Paris Fashion Week show.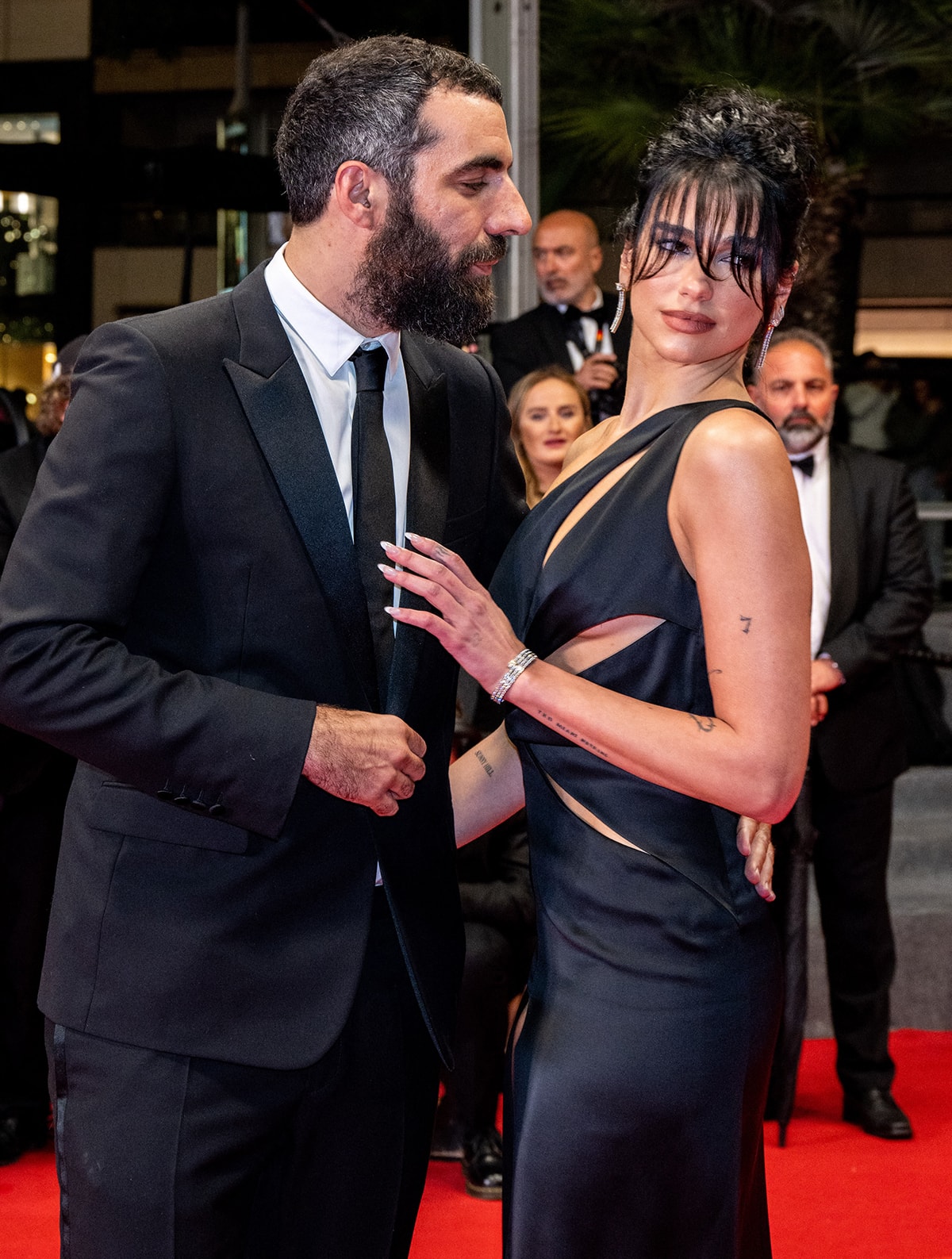 Romain Gavras and Dua Lipa were first linked in February 2023 after leaving the Netflix BAFTA after-party together (Credit: Abaca Press / INSTARimages)
A source told The Sun that Dua and Romain "met each other's close circles over the festive period and have lots in common."
The said source added that they "have been quietly getting to know each other for several months." "They have been enjoying spending time together."
This appears to be Dua Lipa's first serious relationship following her split from Anwar Hadid in December 2021. She was previously linked to Trevor Noah in September 2022 and Jack Harlow in December 2022.