Prince Phillip couldn't have passed the RAF Cadets Honorary Air Commandant patronage on to a more exemplary person than the Duchess of Cambridge. A beacon of good nature, service, and modest, traditional beauty, Kate Middleton is now the first female representative of the historic military organization.
As her first official event after earning the prestigious honor Kate attended a church service to celebrate the 75th anniversary of the Royal Air Force Cadets, held at St. Clement Danes church in Westminster on Feb. 7.
The royal mother of two looked regal and poised in her custom-made light blue Alexander McQueen coat (available at Net-A-Porter), black Lock and Company hat, and navy suede Rupert Sanderson pumps.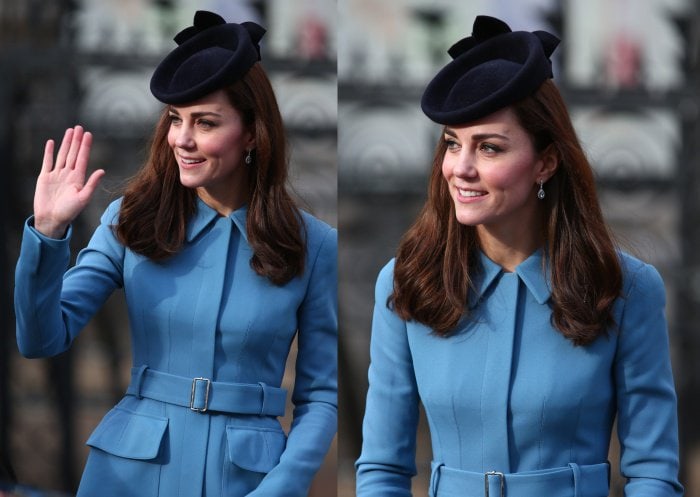 The Duchess of Cambridge, Kate Middleton, arriving at the St. Clement Danes church in Westminster London for the 75th anniversary church service commemorating the Royal Air Force Cadets on February 7, 2016
Looking perfectly fit for a military event, 34-year-old Middleton managed to stand out just enough with her powder blue coat. The jacket featured large front pockets, a wide belt and a pleated skirt. The dazzling — and borderline gaudy — brooch pinned to her chest was perhaps even more impressive than her classic coat.
This diamond Dacre brooch is historically awarded only to the top female cadets, and it was given as a gift to the new Commandant. It sparkled proudly on Kate's chest, a bold complement to her aqua drop earrings and thick brown locks.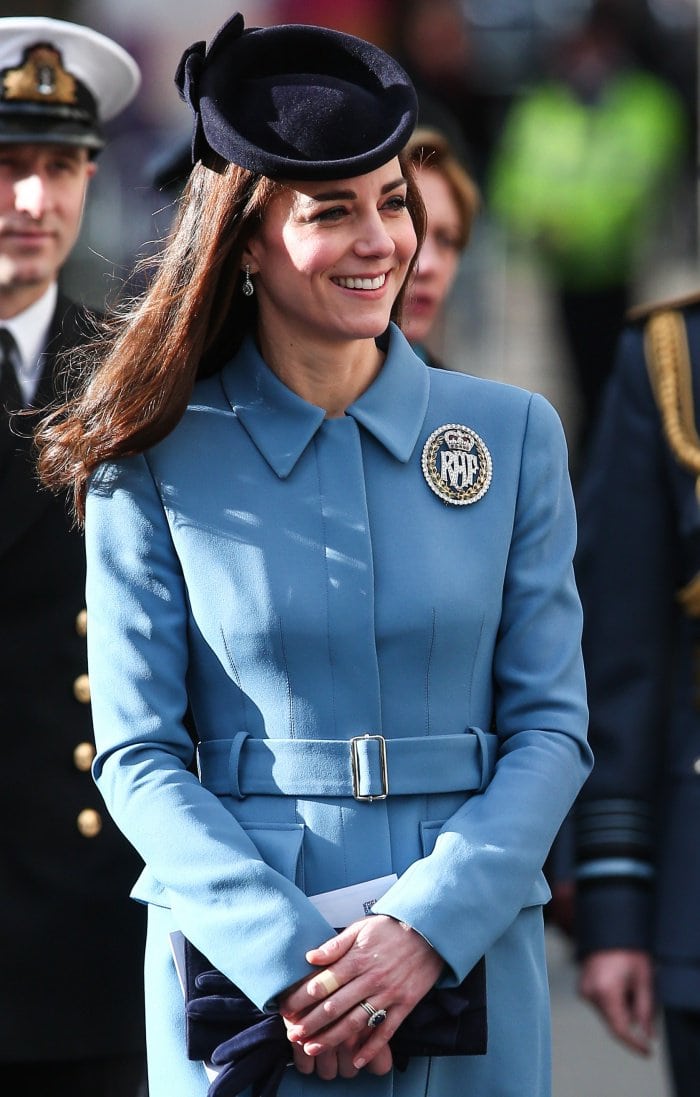 Kate added some liner to her eyes, but otherwise kept her makeup on the natural side of the scale. Her fashionable hat was the clear focal point above her shoulders, and she looked glamorous as ever beneath its rounded brim.
To complete her elegant ensemble, Kate opted for an ultra-chic pair of 'Malory' pumps by Rupert Sanderson. These navy beauties feature pointed toes and about four-inch heels. Hats off to the Duchess for her honorable title and another fashion success!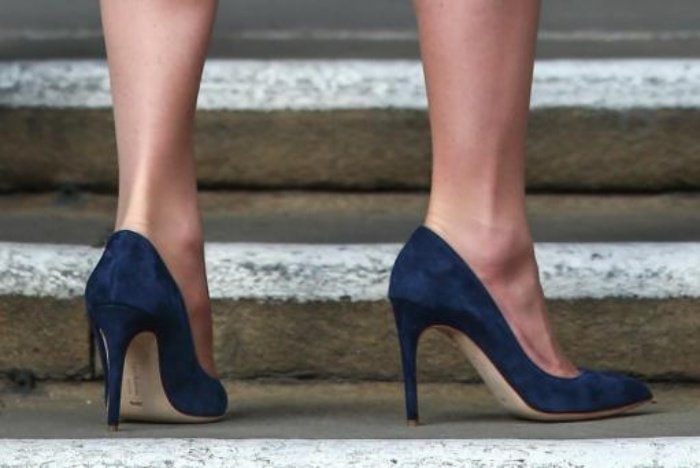 If you're interested in grabbing a pair of these heels for yourself, head over to Rupert Sanderson and check out these exact 'Malory' heels in blue suede, as well as some other gorgeous variations.
Rupert Sanderson 'Malory' Suede Pumps in Navy, $675.00 at Rupert Sanderson
Credit: WENN