Taking a quick break from filming, Vanessa Hudgens took to the streets of New York City to urge people to vote.
The fitness enthusiast was joined by Seth Phillips, aka Dude With Sign, as they held up a placard with the text: "Nothing is spookier than not voting" from the set location.
Vanessa Hudgens and Seth Phillips advocate for voting while on the set of Tick, Tick… Boom! on October 27, 2020
Seth Phillips's Instagram account Dude With Sign went viral in October 2019 after he featured the sign, "Seinfeld is way better than Friends," in front of a "Friends" billboard in the city.
His account gained 4 million followers in only four months, and he currently has more than 7 million followers.
View this post on Instagram
"So we work in a pretty funny and creative space so once the account kicked off, more ideas came in from the team," Phillips told Forbes about creating new cardboard sign protests.
"When creating the protests, we try to come up with something funny that is relatable that people don't particularly talk about. We try to have each of these elements while appealing to every type of person, which is a big part of why I think the account has accumulated as many followers as it has."
Observing proper social distancing, the two raised another sign, saying "Let's get spooky" on Seth's and "but not until you vote" on Vanessa's.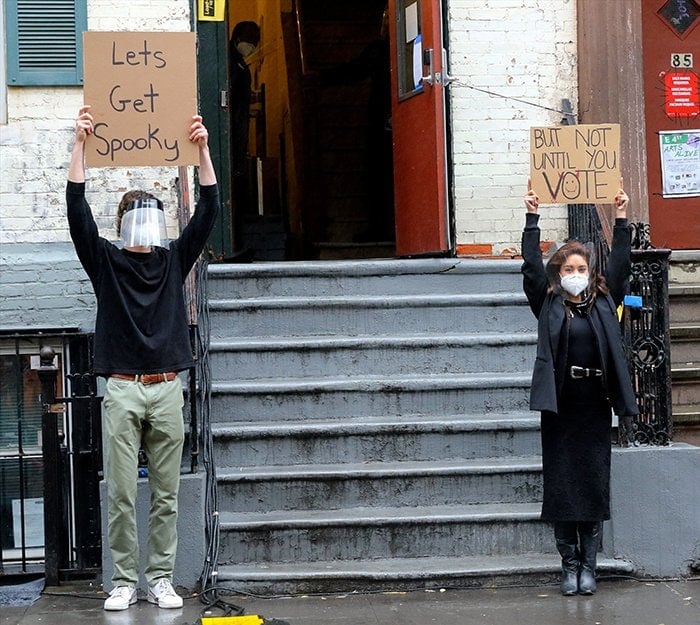 Seth Phillips, known from the hilarious Instagram account Dude With Sign, holds a "Let's Get Spooky" placard while Vanessa Hudgens raises her "But not until you vote" sign
She has finally returned to the set of her upcoming musical drama, Tick, Tick… Boom!, after production was put on hold in April due to the COVID-19 pandemic.
The film adaptation of the Broadway musical of the same name is top-billed by Andrew Garfield and directed by Hamilton creator Lin Manuel Miranda.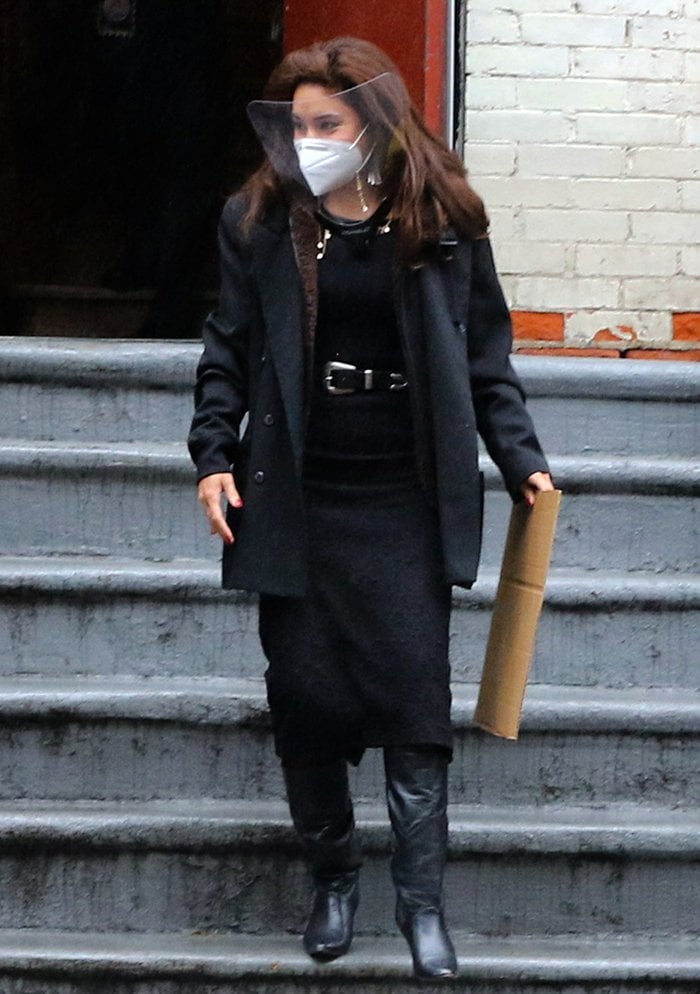 Vanessa Hudgens in a plain black midi dress and a black blazer
The 31-year-old actress dressed the part in head-to-toe black as they encouraged passersby to vote.
She wore a plain black dress that fell just below her knees, styled with a silver-buckled black belt to highlight her figure.
To keep her warm, Vanessa layered her look with a long, black blazer and slipped her feet into a pair of leather boots.
Vanessa Hudgens slips into a pair of black leather boots
Beauty-wise, she wore her auburn hair in soft curls with a side parting and some light teasing on the crown similar to her character.
Taking safety precautions while out in the street, Vanessa wore a transparent face shield along with a kn95 face mask.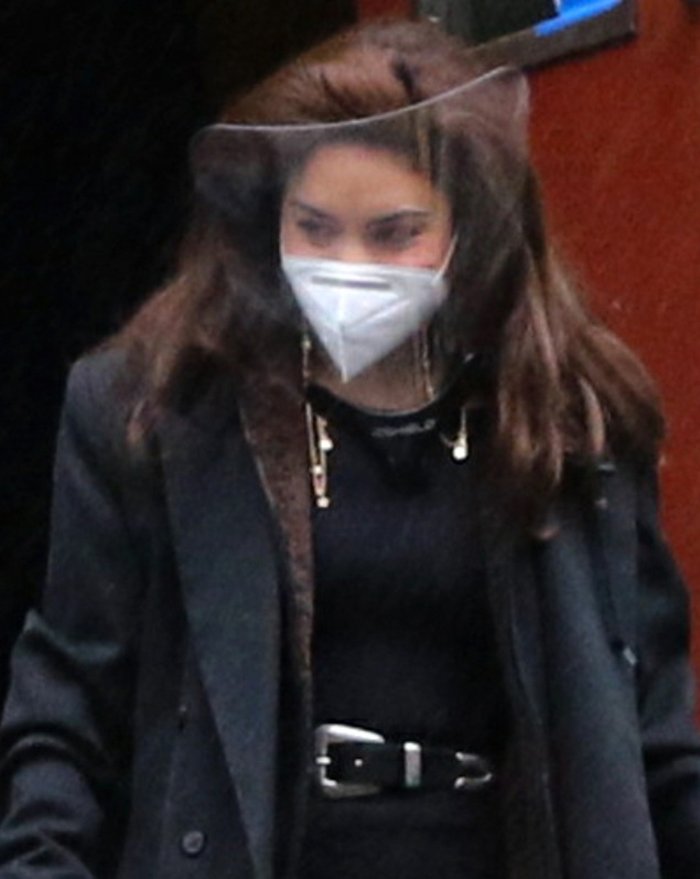 Vanessa Hudgens wears her hair in soft curls with a teased crown
Credit: Instar / WENN