…partnering the skirt with a basic white shirt. Okay, she didn't exactly say the words but it doesn't take a genius to figure out that it's one of her infallible fashion tricks. Just Google Reese Witherspoon and her skirts and you'll find quite a number of photos of her in this go-to ensemble.
Her latest look involves yet again another plain white button down shirt. But this time, the actress takes it up a notch with a colorful geometric-printed skirt.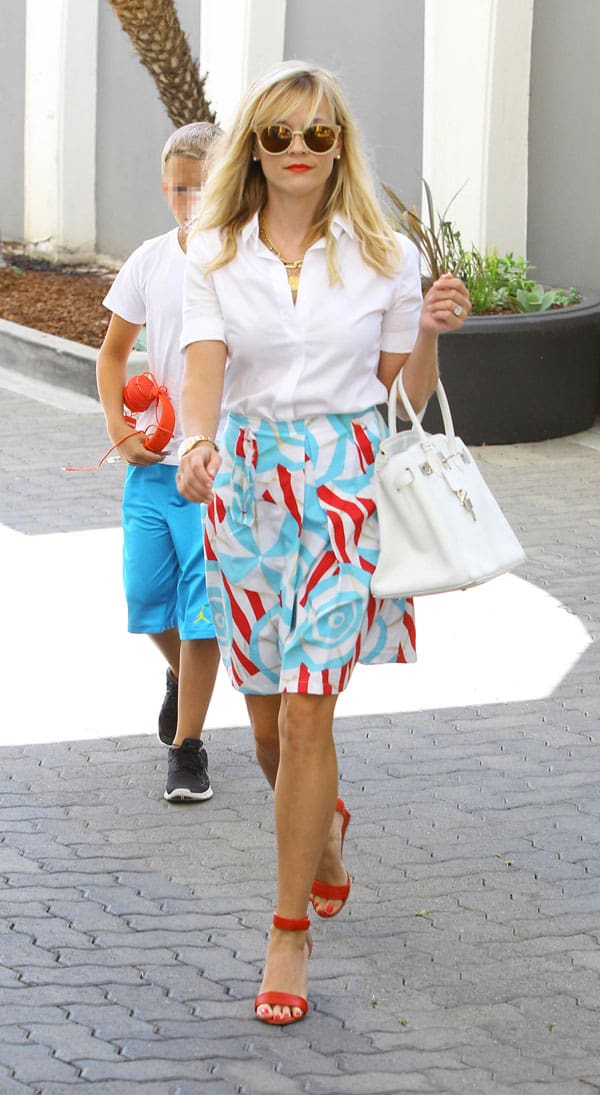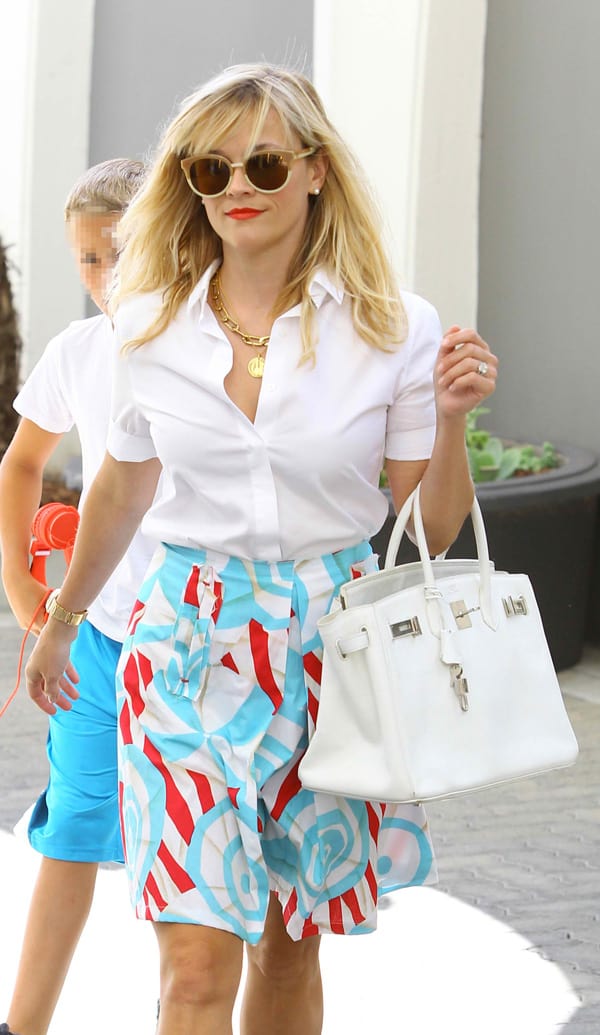 Reese Witherspoon returns to Los Angeles after vacationing in the Caribbean in Los Angeles on August 21, 2014
The print on the 38-year-old's skirt reminded us of carnivals and swirly lollipops, for some reason. It must be the red, pastel blue and white theme or the striped red print. Reese looked ready to take on the world in this faultless ensemble. She meant business in her crisp white top but the skirt took care of the fun in the outfit.
The overall effect is classy, thanks to the addition of the simple red sandals, chunky accessories, the white Hermes Birkin bag  and the big pair of sunglasses.
The Legally Blonde actress isn't the only one who relies on the versatility of the white shirt and printed skirt combo. We swear by it too! So here are some outfits we put together inspired by this look:
Outfit 1
Get This:
Mary Katrantzou Calculon Printed Full Skirt, $1226.79
Wear it with: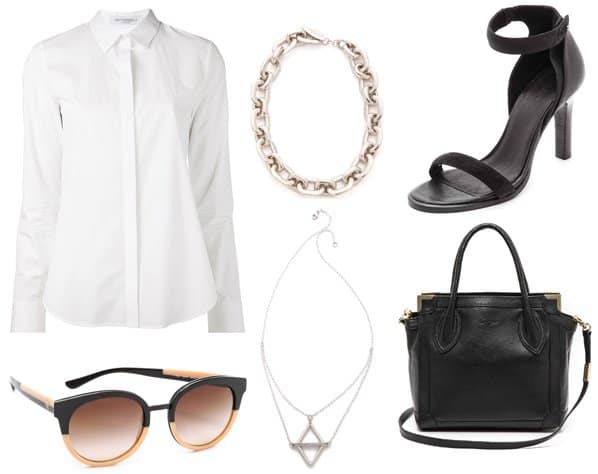 Viktor & Rolf Button Down Top, $665.00
Rag & Bone Albion Sandals, $495.00
Avant Garde Paris Valerie Necklace, $160.00
Pamela Love Balance Pendant Necklace, $560.00
Tory Burch Eclectic Sunglasses, $195.00
Foley+ Corinna Frame Mini Shopper Bag, $325.00
Outfit 2
Get This:
Giambattista Valli Metallic Jacquard Skirt, $1570.00
Wear it with: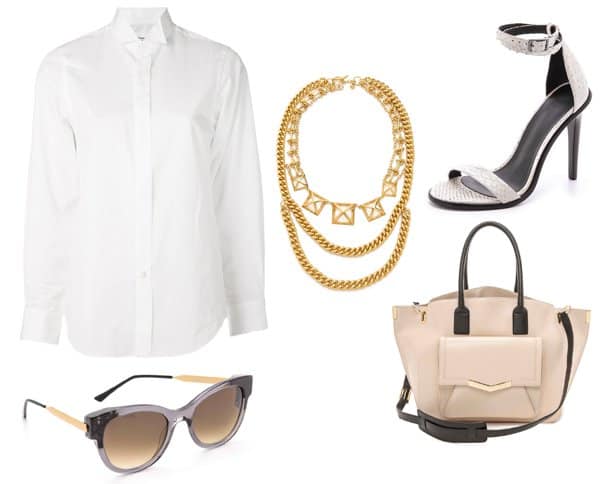 Junya Watanabe Basic Shirt, $328.00
Tibi Amber Ankle Sandals, $385.00
Rebecca Minkoff Pyramid Cutout Statement Necklace, $158.00
Thierry Lasry Angely Sunglasses, $435.00
Time's Arrow Jo Tote, $765.00
Outfit 3
Get this:
SUNO Abstract Floral Skirt, $495.00
Wear it with:
Stella McCartney Dorsey Blouse, $510.00
Tibi Ivy Mid Heel Sandals, $375.00
Michael Kors Curb Chain Toggle Necklace, $175.00
Rebecca Minkoff Pyramid Necklace, $58.00
Dita Von Teese Eyewear Sophisticat Sunglasses, $285.00
Tory Burch Robinson Pebbled Triple Zip Satchel, $535.00
With a plain white button down shirt and an array of printed skirts, you will never run out of stylish outfits!
Credit: WENN.com