So April's coming to an end now. Time flies so fast, don't you think? Soon, we will be bidding goodbye to spring and welcoming summer! Some fashion bloggers have actually started dressing up for the warmer season already.
Now, who wants summer to come quickly? We do! Lots of bright and colorful outfits and some girly, sexy clothes will surely be dominating the fashion scene in the coming months. In the meantime, here are 10 easy spring outfits to try when you're all out of ideas.
1. Amina's Yellow-Green Peplum Top
Yellow-green is one of the bright shades that we will see this season.
Amina Allam of Look By Amina Allam embraced spring with leaves printed all over her peplum top. She also wore a chic matching blazer. Love it?
Amina Allam in a yellow-green peplum top
2. Tamara's Bright Coral Top
How do you like a coral-colored top paired with a pink jacket? We love this look by Tamara of Glam and Glitter.
While we can't fully see the silhouette of her bright coral top, her fuchsia blazer, floral shorts, bright orange bag, and neon heels made this look really eye-catching. It's so fun and cheery!
Tamara Kalinic wears a bright coral top
3. Jessica's Neon Green Top
A sexy green halter top made Jessica of Mind Body Shop extra fabulous. It's perfect for a special event or a night out. She paired it with a floral printed skirt, and the entire look was flawless! Her accessories and make-up were perfect, too!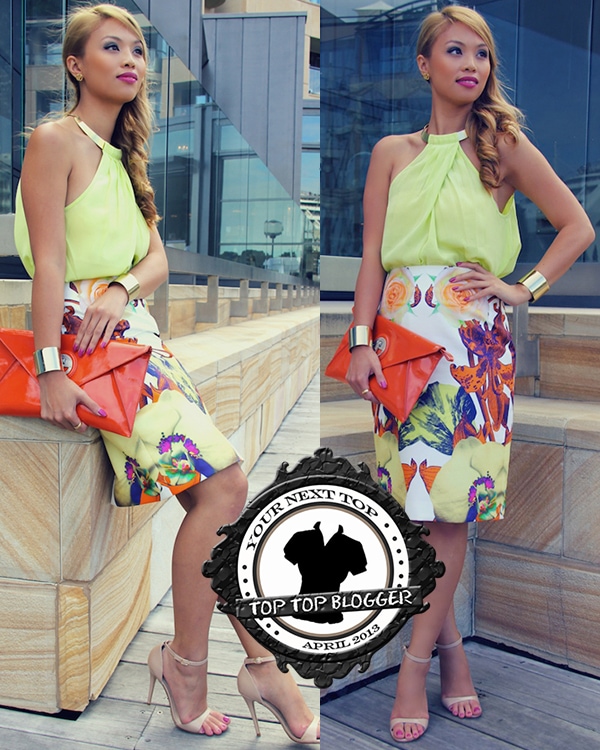 Jessica Tuong flaunts her legs in a neon green top
4. Aggie's Graphic Print Shirt
Here's another bright top featuring a graphic pink print with a contrasting neon green jewel-embellished collar. Something this bright and playful will surely start a conversation.
Aggie Kwong of Missaggie Kwong (blog no longer available online) paired her shirt with black pants.
Aggie Kwong's graphic print top with a neon collar
5. Shai's Tiered Green Shirt & Denim Shorts
Shai Lagarde of Love Chic (blog no longer online) says this outfit is perfect for a summer music festival. It's so cool, comfy, casual and definitely chic! The green tiered top screams summer.
Pairing it with denim shorts and wedge sneakers was just perfect for the warm weather.
Shai Lagarde flaunts her legs in a green tiered top
6. Sylwia's Floral Shirt & Pink Skirt
Sylwia of Feminine Dreams (blog no longer online) flaunted her legs in a top that's perfect for spring.
The pink floral prints spell spring season. Paired with a pink skirt and purple heels, this outfit could work for summer as well. It's breezy, bright and feminine!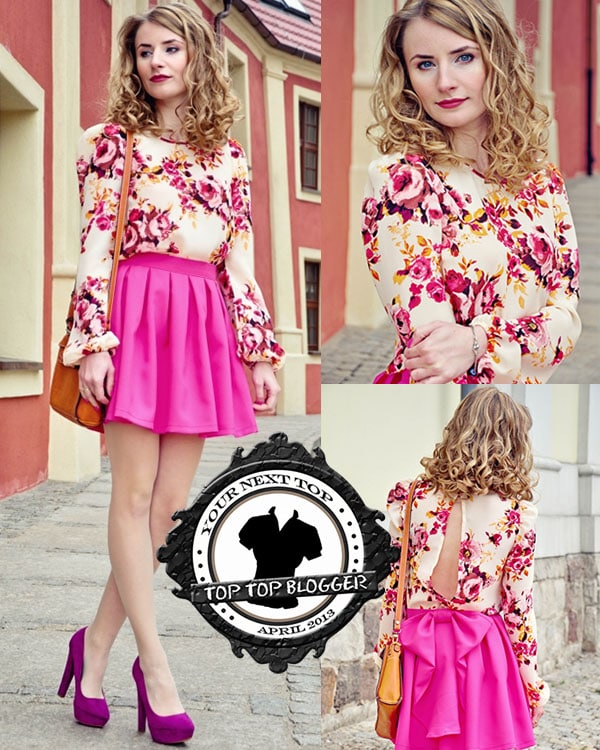 Sylwia styled a floral top with a pink skirt
7. Steffy's See-Through Knit Top
Could there a cooler and breezier top than the one Steffy of Steffys Pros and Cons rocks below?
Her see-through and knitted top is perfect for spring and summer! If I'm not mistaken, the Peter Pan collar is just a necklace. She really succeeded in channeling vintage summer-chic!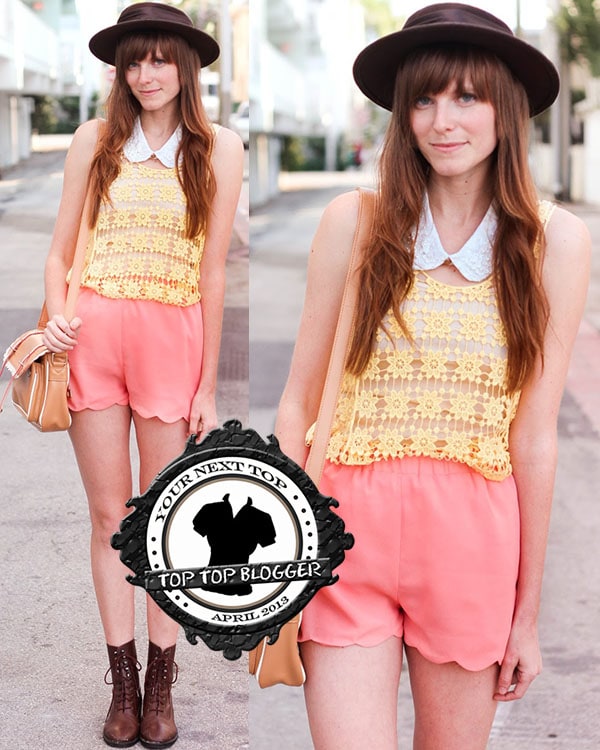 Steffy wears a see-through knit top
8. Masha's Sexy Denim Cutoffs
The combination of blue, white and red not only channels patriotic style, but it is also perfect for spring!
Masha of Masha Sedgwick styled her navy-ish striped top is with chic denim cutoffs.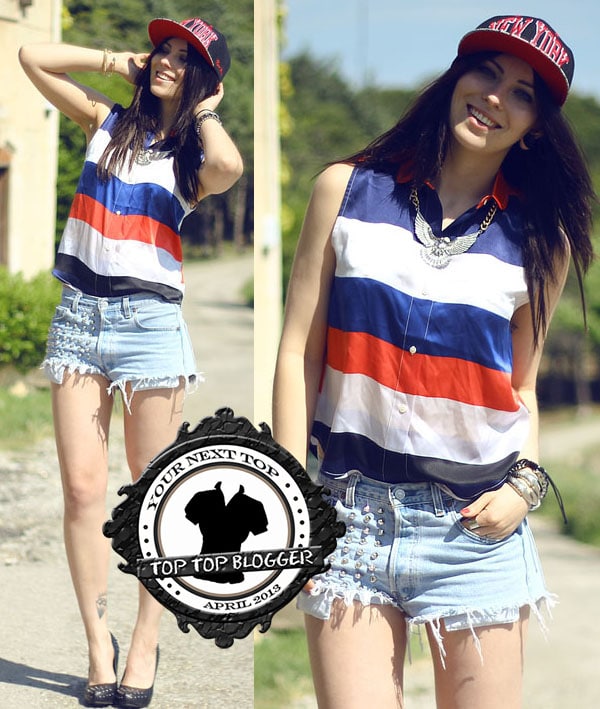 Masha Sedgwick paired a striped top with denim cutoffs
9. Laura's Cropped Crochet Top
Sexy summer look in a cropped crochet top. How's that for you? Laura Pratt of Laura Loves That shows how it's done.
She flaunted belly button her in a cropped top paired with high-waisted jeans. Don't you love this simple spring look?
Laura Pratt is ready for spring in jeans paired with a crochet crop top
10. Tor's Bohemian Spring Look
The always fashionable Tor of la SIMPLE vie loves sporting bohemian outfits in spring and summer.
She rocked a simple white sleeveless top with a chic red maxi skirt. Her versatile top would also look great with denim cutoffs or even pants! You really can't go wrong with whites in spring and summer.
Tor wears a white shirt with a long red maxi skirt