The cast members of the TV series Breaking Bad reunited for the premiere of El Camino: A Breaking Bad Movie, six years after the show's final episode aired on AMC in 2013.
The stars and other celebrity guests were dressed to the nines at the Regency Village Theater in Los Angeles to watch the film ahead of its October 11 release on Netflix.
While we wait for the premiere of the crime-drama film, which is a continuation of the critically-acclaimed AMC series, let's have a closer look at some of the prettiest shoes and celebrity feet at the red carpet premiere.
One of the standouts at the event was Michelle Monaghan in Jimmy Choo's Smokey slide sandals.
1. Krysten Ritter Looks Bewitching in Chloe Gosselin Nicole Pumps
Krysten Ritter made a daring comeback on the red carpet just two months after giving birth to her first child.
The 37-year-old actress, who played Jane Margolis in the original series, went braless in a Georges Chakra Fall 2018 couture beaded tulle dress.
Krysten Ritter goes braless in a cleavage-baring black tulle dress at the El Camino: A Breaking Bad Movie premiere in Los Angeles on October 7, 2019
The new mom finished off her bewitching red carpet look with accessories, including Hearts on Fire jewelry, a Kate Spade croc box clutch, and a pair of Chloe Gosselin Nicole pumps.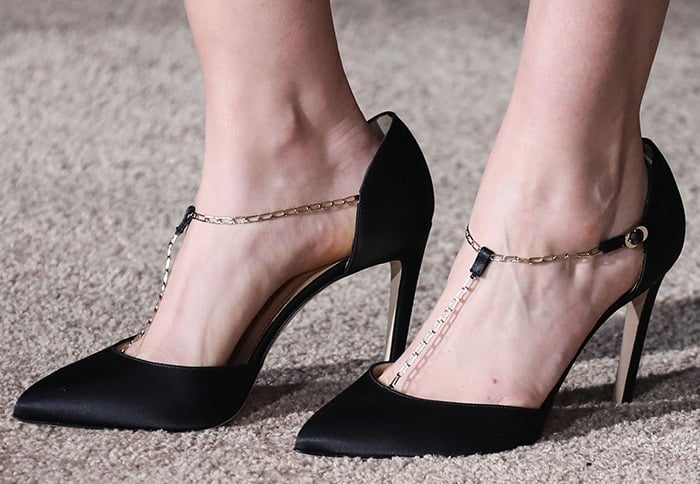 Krysten Ritter shows off her feet in chain-link T-strap pumps by Chloe Gosselin
The delicate gold chain-link T-straps provide a sexy update to these black crepe satin pumps. With four-inch heels and sleek pointed toes, these pumps will surely elevate your every look.
Chloe Gosselin Nicole Pumps, $675
2. Kirsten Dunst Low-Key Chic in Brock Collection Pumps
Kirsten Dunst let her pumps do all the talking as she attended the premiere with her fiancé, Breaking Bad star Jesse Plemons.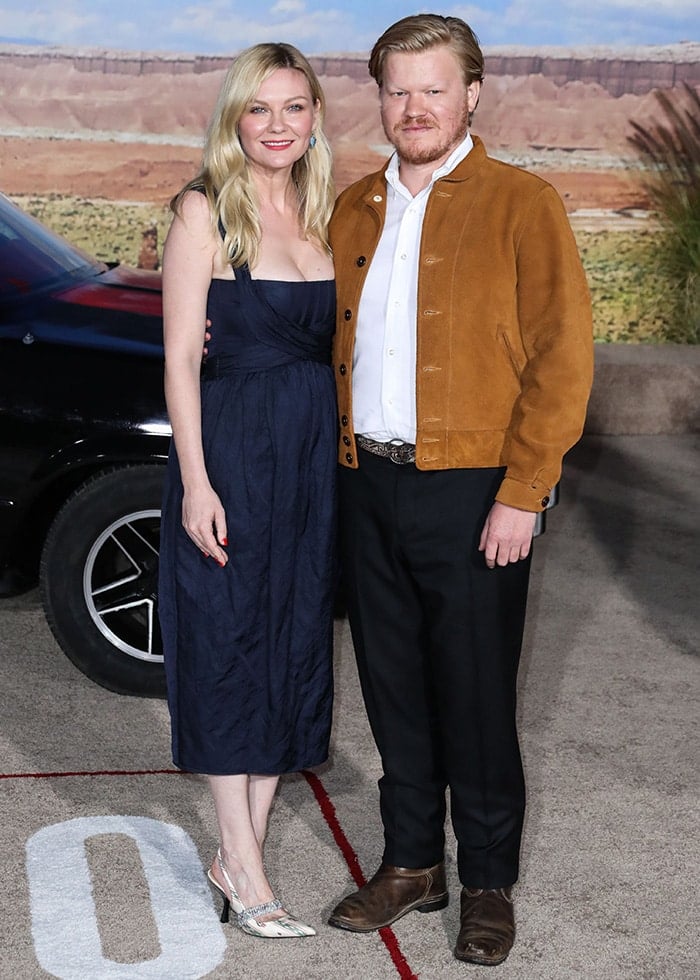 Kirsten Dunst posed alongside fiancé Jesse Plemons at the El Camino: A Breaking Bad Movie premiere in Los Angeles on October 7, 2019
Opting for a head-to-toe Brock Fall 2019 look, the 37-year-old actress donned a rather low-key navy crepe midi dress that's cut low enough to show a peek of cleavage.
While it's a simple dress, the addition of teal earrings from Irene Neuwirth and jacquard pumps from Brock Collection took the whole look up a notch.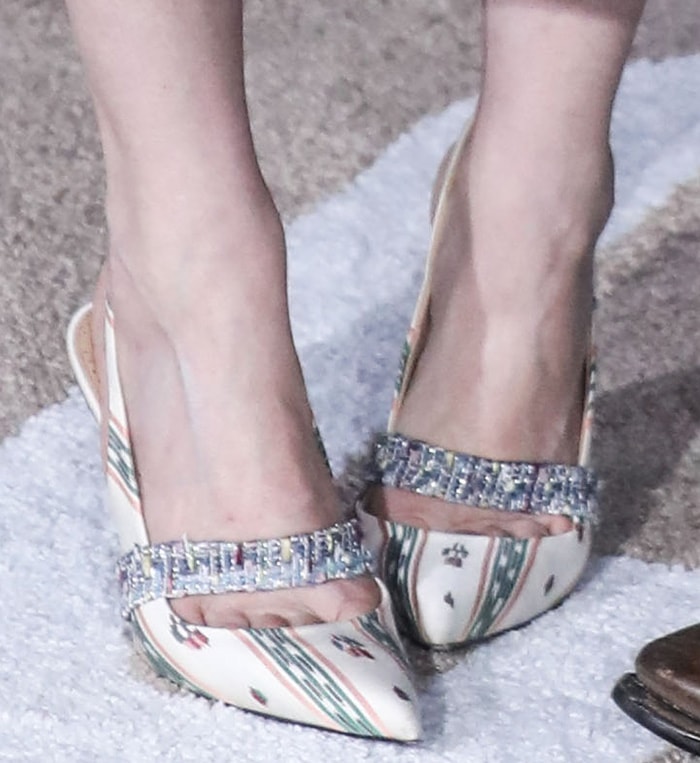 Kirsten Dunst took the whole look up a notch with Brock Collection slingback pumps
These slingback pumps feature an interesting combination of multicolored striped jacquard fabric and tweed instep straps, enough to make any outfit standout.
Kirsten Dunst flaunted her feet in striped jacquard pumps
This pair is completed with pointed toes and 4-inch stacked French heels.
Striped Jacquard Slingback Pumps, $695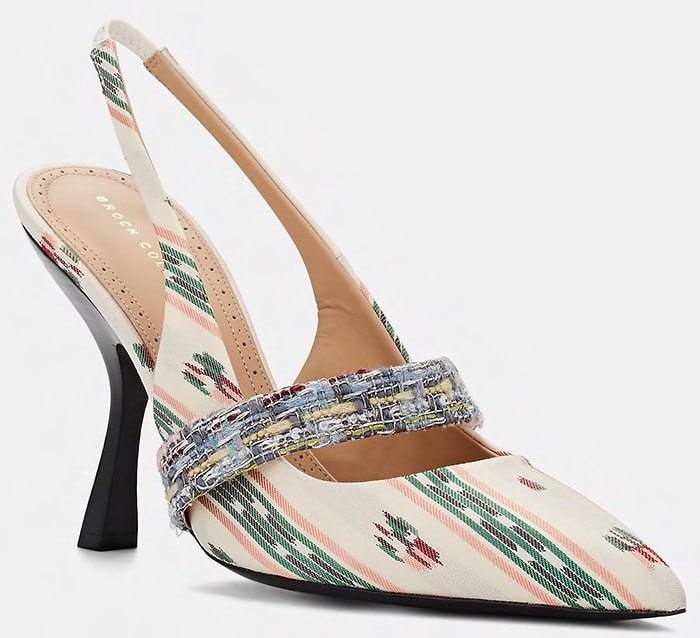 Buy these Brock Collection pumps at Ssense for $695. You might also want to check out the floral jacquard version at Shopbop.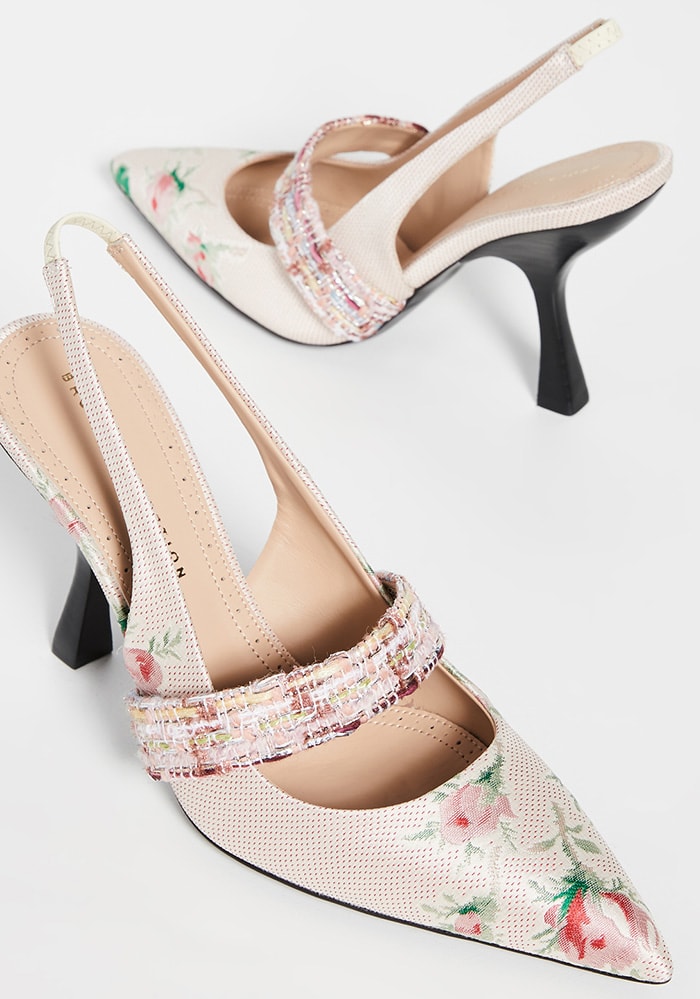 3. Sophia Bush Keeps It Classic in Stuart Weitzman Heels
Sophia Bush arrived at the premiere in a black pleated asymmetrical dress with spaghetti straps and billowy sleeves. It's not the most flattering outfit, but somehow she managed to make it work.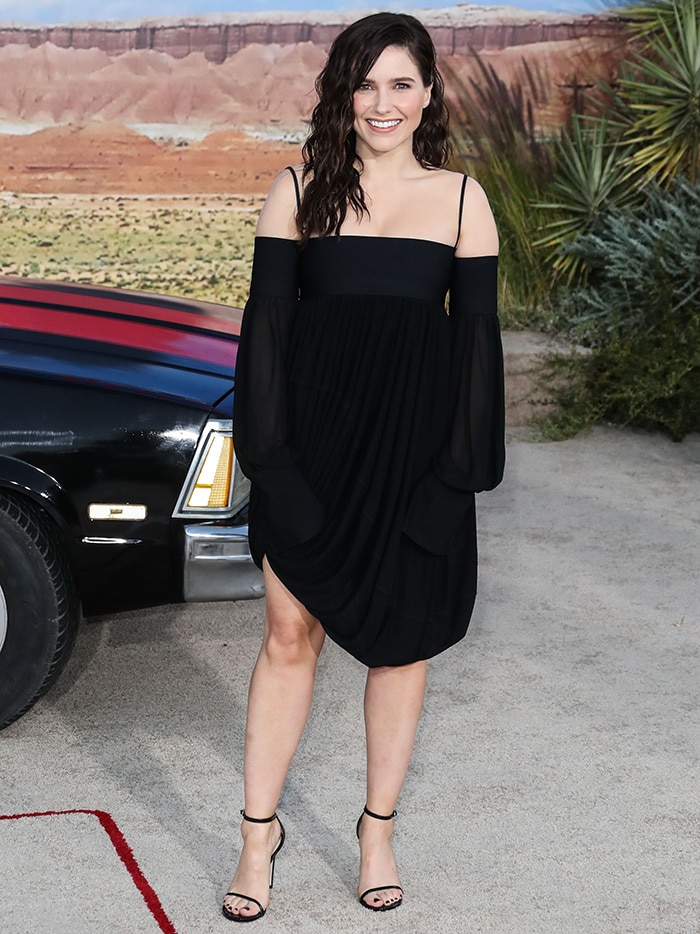 Sophia Bush kept things simple in black at the El Camino: A Breaking Bad Movie premiere in Los Angeles on October 7, 2019
The 37-year-old actress kept the look simple, accessorizing with stud earrings, hairpins, and black heels.
Sophia Bush displayed her sexy feet in Stuart Weitzman sandals
Sophia was wearing the all-time celebrity favorite Stuart Weitzman Nudistsong sandals in black patent leather. She even matched her toenail polish with her all-black ensemble.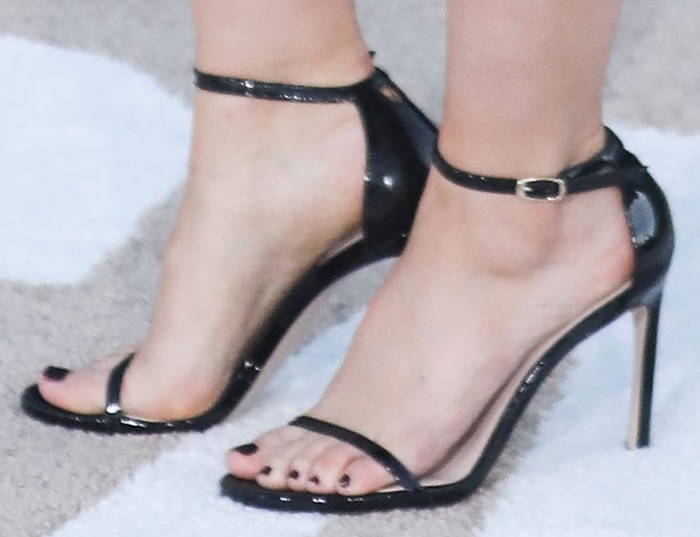 Sophia Bush matched her all-black look with black nail polish
Crafted with minimalist silhouette, these Stuart Weitzman sandals are made of patent leather and feature slender toe and ankle straps and 4-inch heels.
Nudistsong Ankle Strap Sandals, $340 at Nordstrom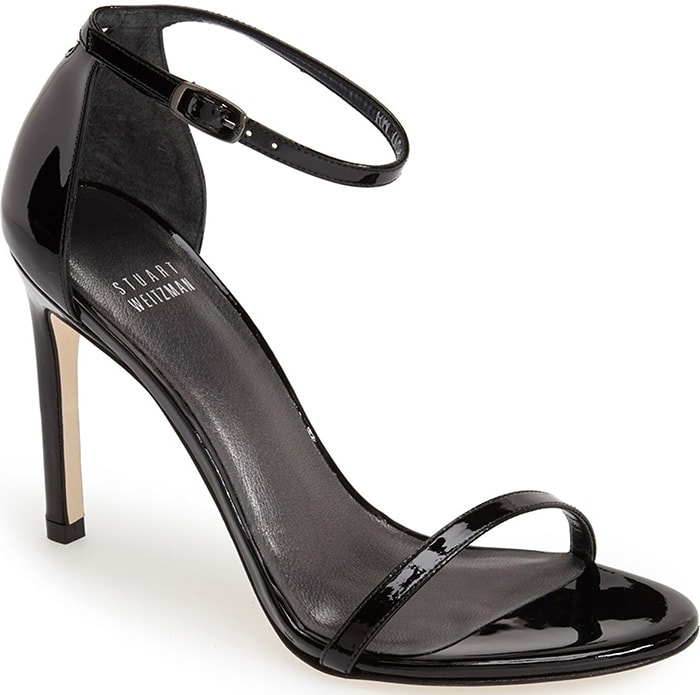 Available in black and nude versions, these classic sandals are now on sale at Saks Fifth Avenue for only $340.
4. Rhea Seehorn is Radiant in Metallic Gold Heels
Rhea Seehorn, who plays Kim Wexler in the Breaking Bad spin-off prequel series Better Call Saul, looked radiant in a Haney Spring 2019 jumpsuit paired with metallic gold heels.
Her one-shoulder long-sleeved jumpsuit was tied around the waist to accentuate her curves.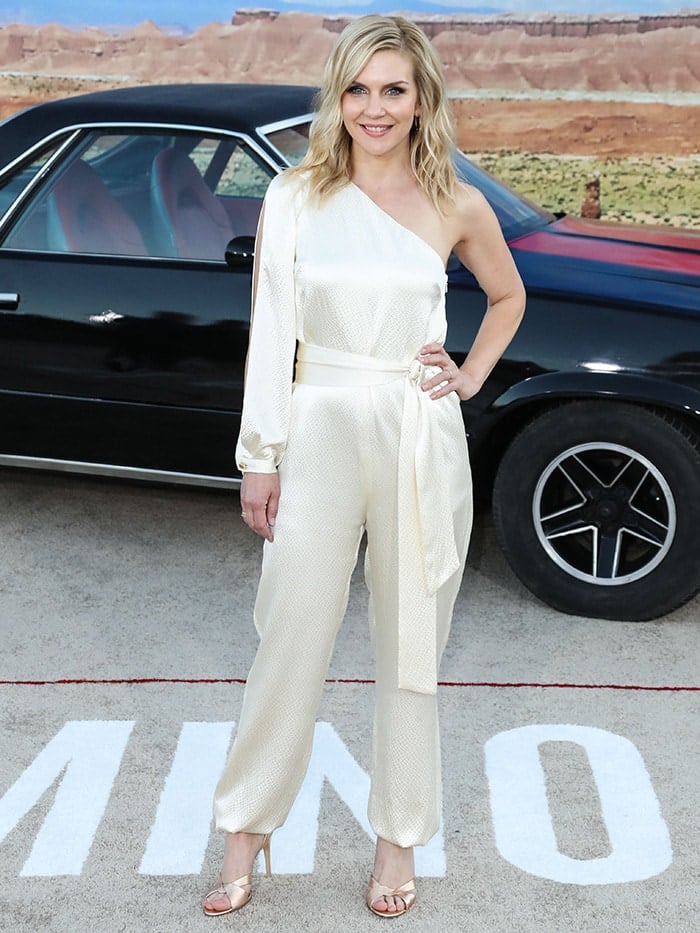 Rhea Seehorn showcased her nice physique at the El Camino: A Breaking Bad Movie premiere in Los Angeles on October 7, 2019
Although she was glowing from head to toe, wearing a bolder lip shade or accessorizing with a brightly colored purse would've been a perfect choice to offset the look.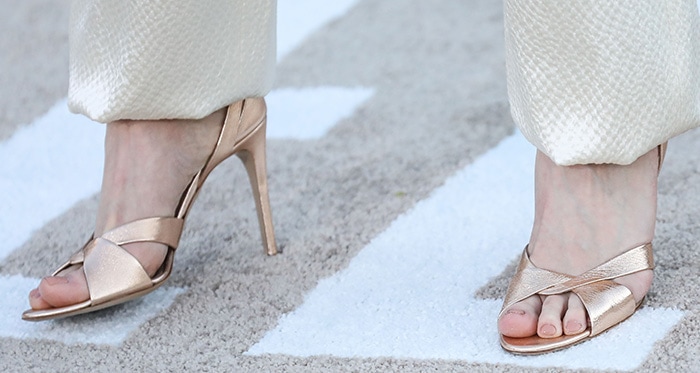 Rhea Seehorn completed her radiant look by showing off her pretty feet in gold sandals
Do you know where to find her metallic sandals? They feature crisscross front straps, ankle straps, and about 4-inch heels.
5. Lauren Parsekian Tames Her Look with Stuart Weitzman Pumps
Lauren Parsekian, wife of El Camino lead star Aaron Paul, went for a wild look in a spotted mini dress from Markarian (available at Farfetch for $1,695).
The flattering frock features puffed sleeves, a ruched detail along the center, and a sweetheart neckline.
Lauren Parsekian flaunted her toned legs at the El Camino: A Breaking Bad Movie premiere in Los Angeles on October 7, 2019
Allowing her curves and her dress to take center stage, the 32-year-old director and actress teamed her look with a pair of black pumps by Stuart Weitzman.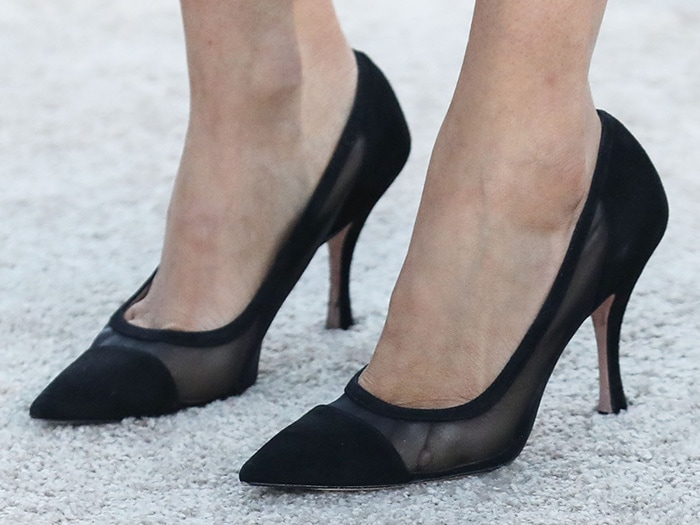 Lauren Parsekian softened her wild look simple with black pumps
These Stuart Weitzman Monroe pumps show a sexy yet refined look with a combination of suede and mesh fabric materials. They also have toe caps and about 2.75-inch heels. You can purchase them at Amazon for $220.79.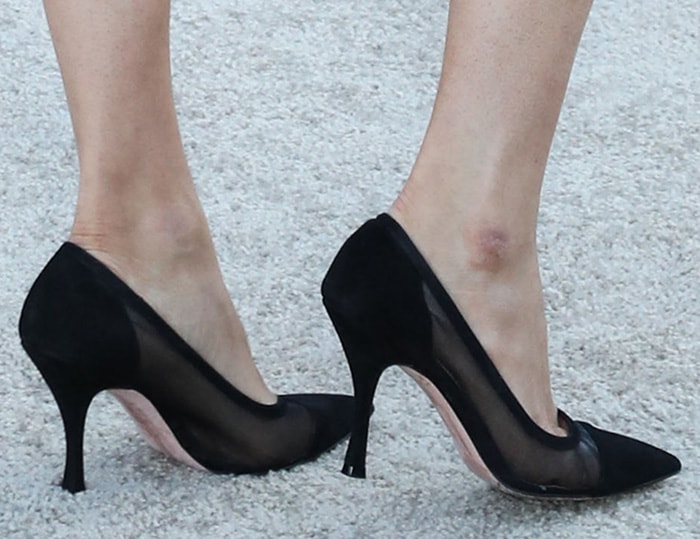 Lauren Parsekian opted for sexy yet refined pumps by Stuart Weitzman
Stuart Weitzman Monroe Pumps, $220.79 at Amazon
6. Arielle Vandenberg Shimmers in Metallic Gold Sandals
Actress and model Arielle Vandenberg also showed her support, arriving in a glittery mini dress that showcased her legs. It has ruffled sleeves and hem and a tie around the waist to highlight her figure.
Arielle Vandenberg in a glittery mini dress at the El Camino: A Breaking Bad Movie premiere in Los Angeles on October 7, 2019
The newly-engaged actress drew attention to her toned stems with a pair of glistening gold sandals. They feature slender ankle straps and block heels that are about four inches high.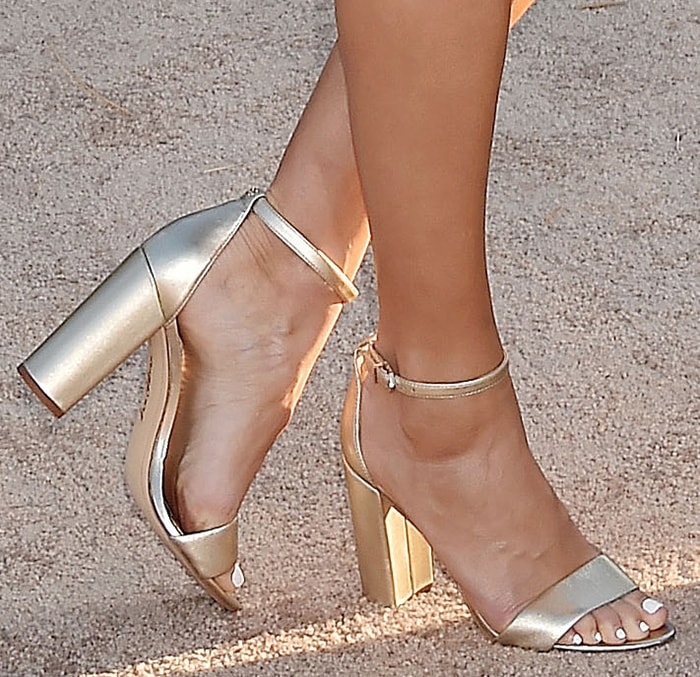 Arielle Vandenberg added more glimmer to her look by showcasing her toes in gold sandals
So what do you think of these pretty shoes? Which pair is your favorite?
Credits: Avalon / WENN