Elizabeth Taylor is an American legend, and her eye color remains one of Hollywood's greatest mysteries. An English-American actress, Taylor began her career in the early 1940s as a child actor.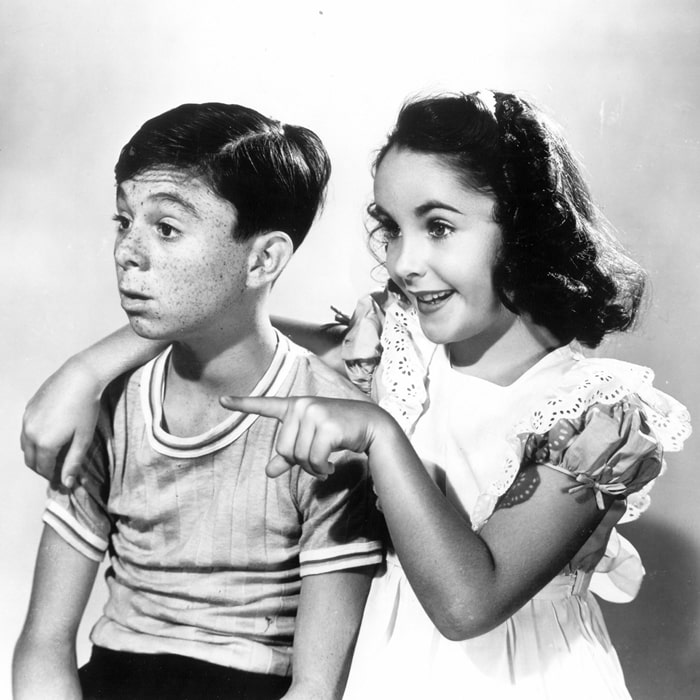 Elizabeth Taylor made her film debut with Carl "Alfalfa" Switzer in There's One Born Every Minute, also known as Man or Mouse, a 1942 American Universal Pictures comedy film
She grew in fame and played starring roles in some classic films such as Cat on a Hot Tin Roof (1951), Suddenly, Last Summer (1959) Butterfield 8 (1960), and Cleopatra (1961).
Elizabeth Taylor became a popular teen star after appearing in National Velvet (1944) with Mickey Rooney and Jackie 'Butch' Jenkins
In 1999, The American Film Institute named her the seventh-greatest female screen legend. Elizabeth Taylor was a striking beauty, with unique features that stood out long before the days of colored contacts and plastic surgery.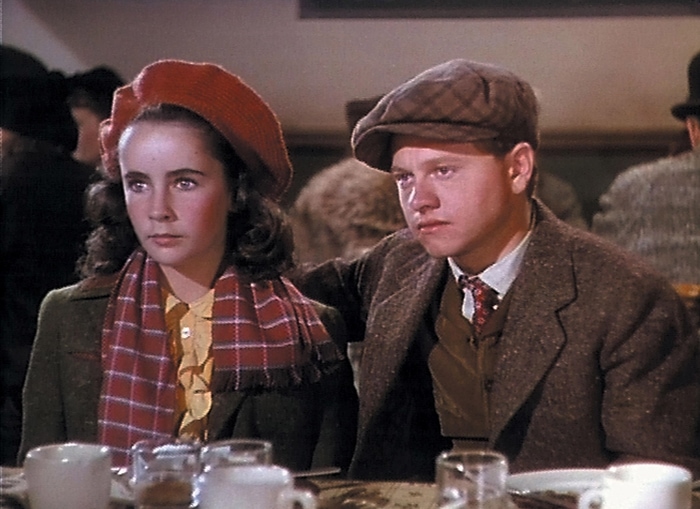 Elizabeth Taylor (as Velvet Brown), Mickey Rooney (as Michael "Mi" Taylor) in National Velvet, a 1944 American Technicolor sports film directed by Clarence Brown
Her eye color was truly fascinating, prompting numerous questions as to whether they were purple, violet, or even lavender-hued as some claim.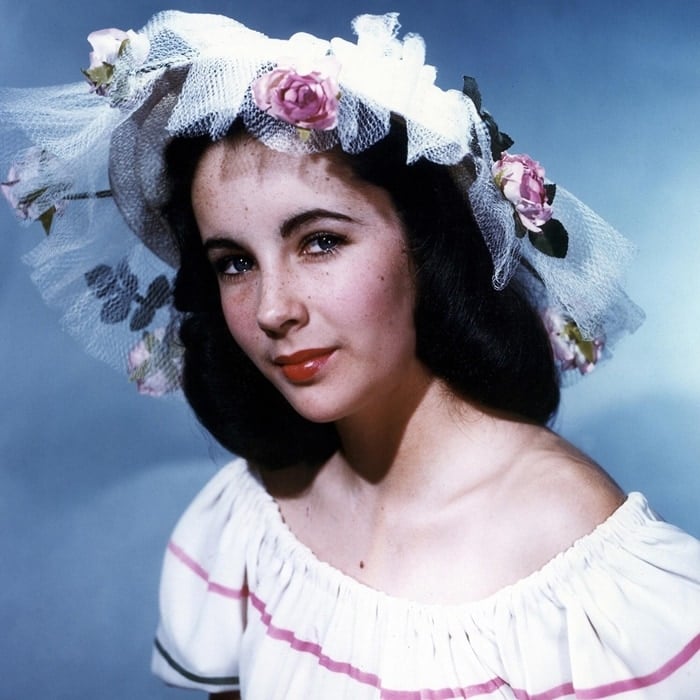 Pictured in 1946, Elizabeth Taylor transitioned to more mature roles in the 1950s
When you look at photos of Elizabeth Taylor, you'll likely notice how her eyes appeared to change colors from photo to photo. Depending on the light, her eyes would range from a bright cobalt blue to a deep purple to light violet.
Elizabeth Taylor's beautiful eyes in particular drew attention
Nowadays, we might question whether her eye color was even natural, but given colored contacts were only available commercially since 1983, we know Elizabeth Taylor's eyes were real.
Photoshop wasn't around in those days, so they have to be real, right? Let's dig a bit further.
Elizabeth Taylor's eyes were blue to the extent of appearing violet
The iris is the colored portion of one's eye and the appearance of the iris depends on how much natural pigment (melanin) it contains. The more melanin, the darker your eyes appear.
Elizabeth Taylor had such unique pigmentation of her eyes that resulted in a purple or violet hue in certain lights while wearing certain colors.
Elizabeth Taylor's eyes were rimmed by dark double eyelashes, caused by a genetic mutation
According to a Live Science interview with Norman Saffra, chairman of the ophthalmology department at Maimonides Medical Centre in Brooklyn, N.Y, "there are various shades of blues and grays, with many in-between.
Violet may have been her typical pigmentation, it's possible to have that eye color, it all depends on the amount of melanin."
So, scientifically, we know it is possible. However, were Elizabeth Taylor's eye purple or violet?
What is the difference between violet and purple?
To simplify it, purple is more reddish and saturated, while violet is more bluish and less saturated. What's interesting is Elizabeth Taylor's eyes could appear both purple and violet all in the same day.
But what color were her eyes, really?
The truth is, Elizabeth Taylor had blue eyes. While they often appeared purple, the truth is her eyes were neither purple, lavender nor violet.
Her ever-changing eye color was often played up using makeup and clothing, but her true eye color was blue. Taylor was often seen wearing purple headwraps or clothing paired with blue or purple eye shadow, which definitely helped amplify her most beautiful feature!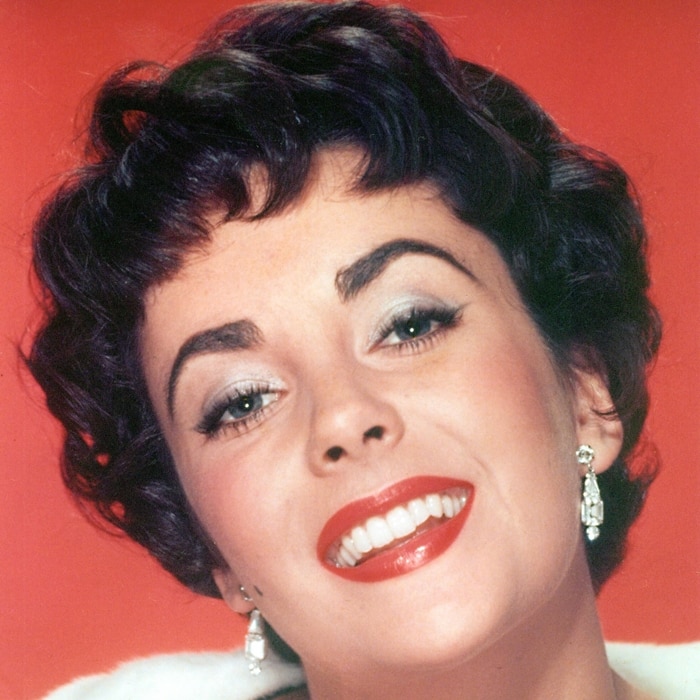 Elizabeth Taylor's eyes were neither purple, lavender nor violet
With that said, everyone's eye color will have some variation, and this is based on the amount of light they are absorbing. White clothing, for example, can reflect into your iris's and make your eyes appear significantly lighter.
This is even more true for light-eyed people! Even though her eyes were a shade of blue, under the right conditions they appeared to be a beautiful shade of violet.
Legendary actress Elizabeth Taylor's eyes are famously beautiful
What made Elizabeth Taylor's eyes even more stunning was her gorgeous dark black lashes, that were actually extra-thick due to a genetic mutation.
Yes…there's a genetic mutation that results in two-layers of thick lashes! When Elizabeth Taylor was born, she was diagnosed with "distichiasis," a rare medical disorder also known as "double lashes."
Elizabeth Taylor's pretty eye color always drew attention
The condition of extra lashes is defined as abnormal development of the FOXC2 gene, which can cause a painful and unpleasant feeling due to the second row of eyelashes. Luckily, she never experienced the adverse effects of distichiasis and was known for her gorgeous lashes that made her light eyes pop.
Elizabeth Taylor's eye color still remains a popular topic of discussion, even after her passing in 2011. With 325,000 google searches a year on the subject, her eyes were truly infamous. But there is more to this Hollywood legend.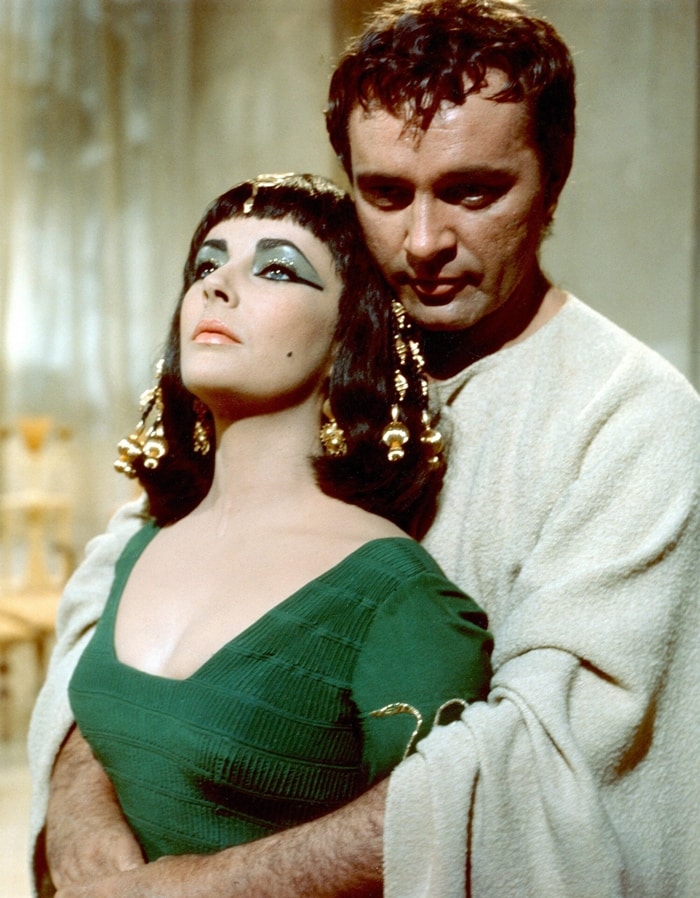 Elizabeth Taylor and Richard Burton in Cleopatra, a 1963 American epic historical drama film directed by Joseph L. Mankiewicz
A two-time Academy Award winning-actress, Taylor was no stranger to show business. In fact, she'd been preparing for it since she was a small child. At the age of 3, she performed ballet for the entire royal family.
She began acting at only 9 years old. But instead of enjoying her success in film, she was miserable. She told Rolling Stone magazine "I was used from the day I was a child and utilized by the studio. I was promoted for their pockets."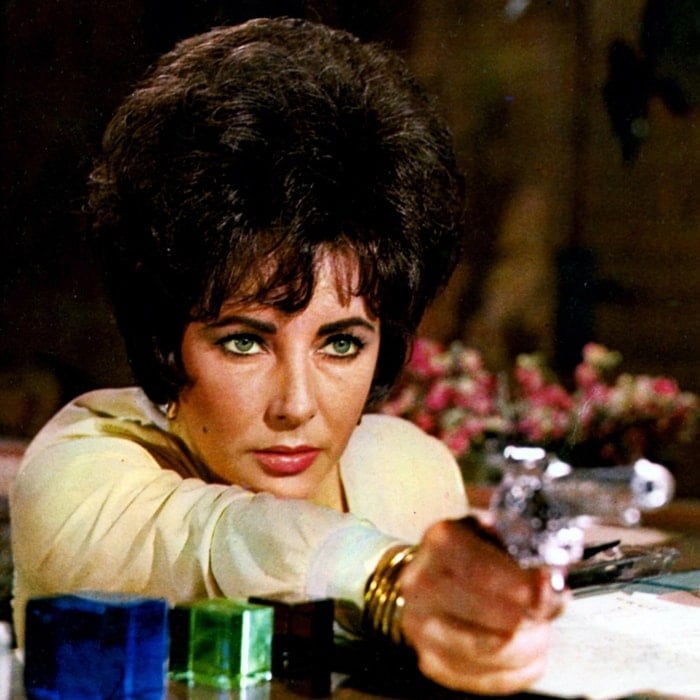 Elizabeth Taylor's role as Martha Pineda in The Comedians, a 1967 American political drama film directed and produced by Peter Glenville, was originally intended for Sophia Loren
At 12 years old she was thrown further into the spotlight after starring in 1944 box office sensation "National Velvet". Her acting career continued throughout the golden ages of Hollywood, and her joie de vivre made her stardom continue well into her senior years.
Elizabeth Taylor's love life often overshadowed her talent. One could even say it was as fascinating as her eye color. Taylor was married 8 times in her life, with 7 husbands – she married Richard Burton twice.
Dame Elizabeth Taylor arrives with her children, (L-R) Michael Wilding Jr., Christopher Wilding, Maria Burton, and Liza Todd Burton, for Taylor's 75th birthday party at the Ritz-Carlton, Lake Las Vegas on February 27, 2007, in Henderson, Nevada
When asked about her many marriages, Elizabeth Taylor simply stated she was lucky enough to "know great love".
Elizabeth Taylor was a timeless beauty with a legendary Hollywood lifestyle. Her blue-sometimes-violet eyes were fascinating and unparalleled, to this day.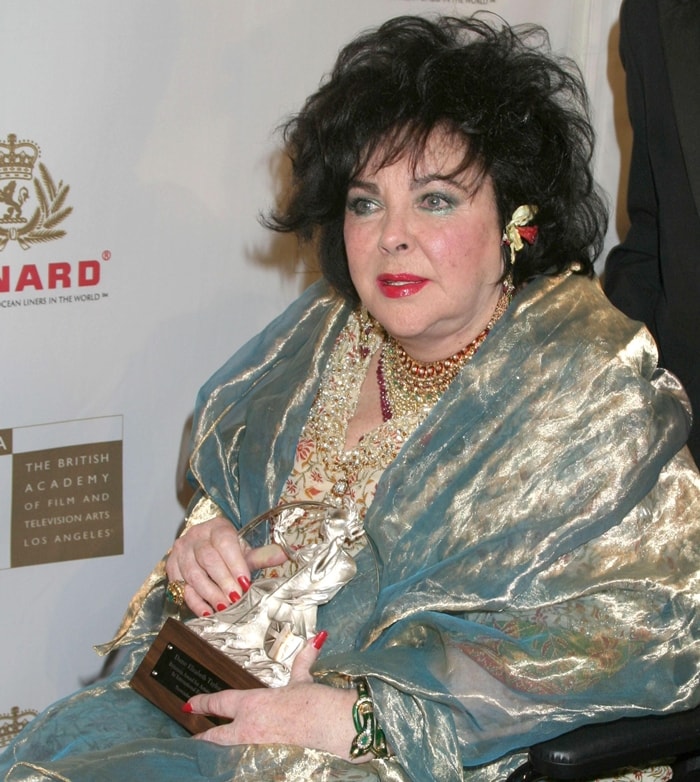 Dame Elizabeth Taylor during the 2005 BAFTA/LA Cunard Britannia Awards held at Beverly Hilton Hotel in Beverly Hills, California, on November 10, 2005
Other Hollywood actresses known for their unusual eyes include Kate Bosworth, Olivia Wilde, Alexandra Daddario, Alice Eve, Mila Kunis, and singer/songwriter Lauren Jauregui.
Credit: Nikki Nelson / WENN / Chris Connor