In May 2014, Maleficent actress Elle Fanning looked like she was about to have a sleepover when she arrived at the Ed Sullivan Theater in New York City for an appearance on Late Show with David Letterman.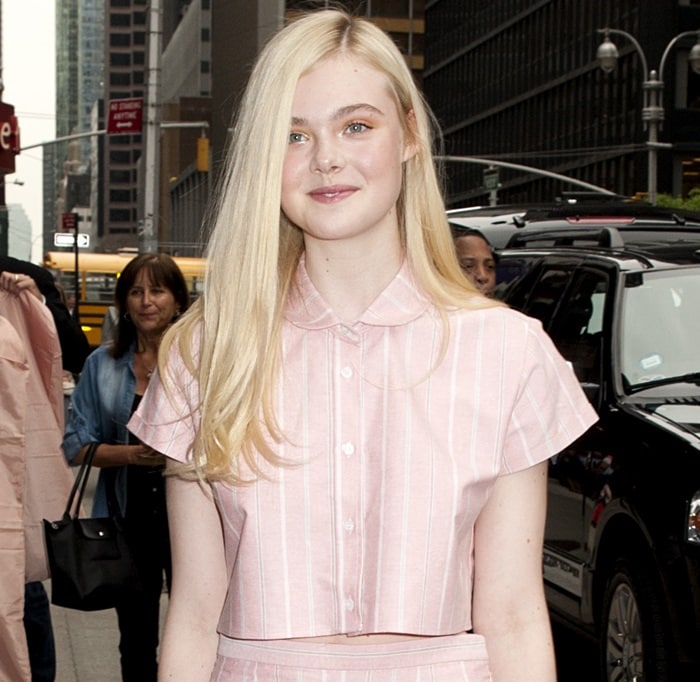 Elle Fanning arrives to promote Maleficent on Late Show with David Letterman at Ed Sullivan Theater in New York City on May 14, 2014 (Credit: WENN)
The then-16-year-old actress, who was busy promoting the 2014 American fantasy film Maleficent, wore a pink striped crop top with matching pants from In God We Trust that looked like pajamas.
Filmed between June and October 2012 when Elle Fanning was 14 years old, she was 16 when Maleficent had its first screening at Kensington Palace in London on May 9, 2014.
Brenton Thwaites, who portrays Prince Phillip in the movie, is 9 years older than Elle Fanning.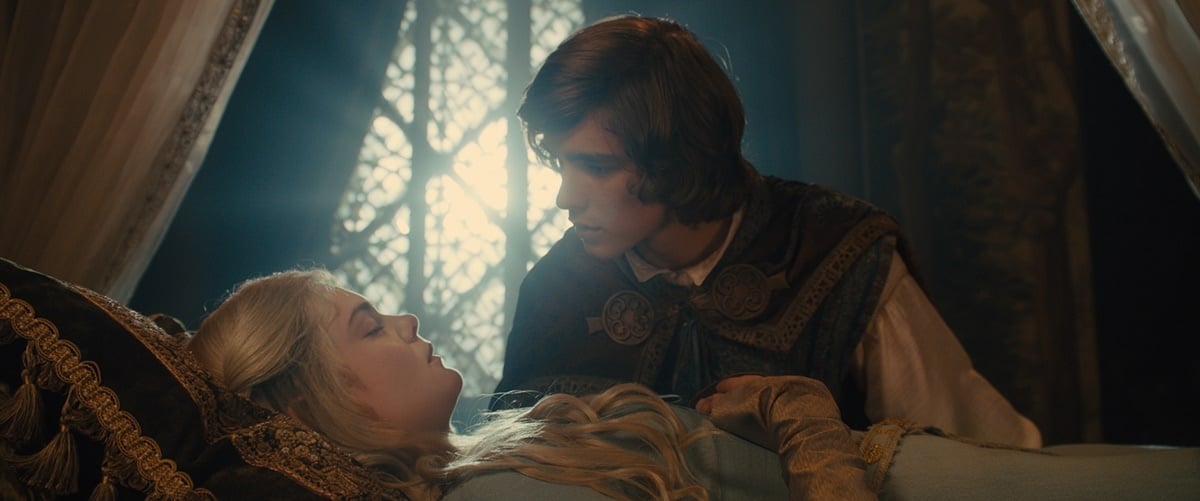 Elle Fanning as Aurora, daughter of Queen Leila & King Stefan, and Brenton Thwaites as Prince Phillip in the 2014 American fantasy film Maleficent (Credit: Walt Disney Studios Motion Pictures)
Angelina Jolie and Elle Fanning became great friends while filming the Disney movie. The two actresses also starred together in the 2019 sequel Maleficent: Mistress of Evil.
"When we met at 14, you were young but you were always impressive," Angelina Jolie told ET about Fanning.
"I'm very proud. She always held herself so well and she always had such grace and she's such a strong actor that you never seemed like a child. You've also maintained — which I think is almost unheard of in this business — such sweetness and gratitude for the job and for every minute and for everybody."
Elle plays Sleeping Beauty in the dark fantasy movie, so perhaps she just wanted to get into the theme. During the interview, though, she looked every bit the Disney Princess as she changed into a silky pink draped dress.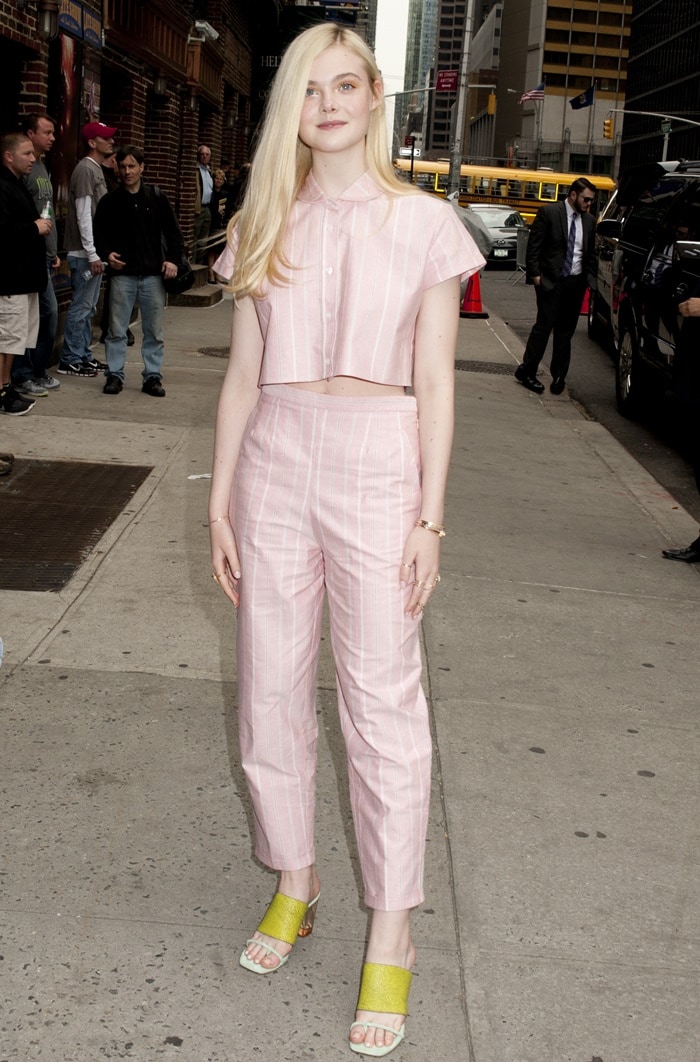 Elle Fanning styled a pale pink striped pantsuit with Opening Ceremony sandals (Credit: WENN)
As she stepped out of her car, the young star immediately turned heads in her pajama-like outfit. Her hair was sleek and straight, while her eyes were shimmering with bronze eye shadow. She accessorized with a few gold rings and bracelets.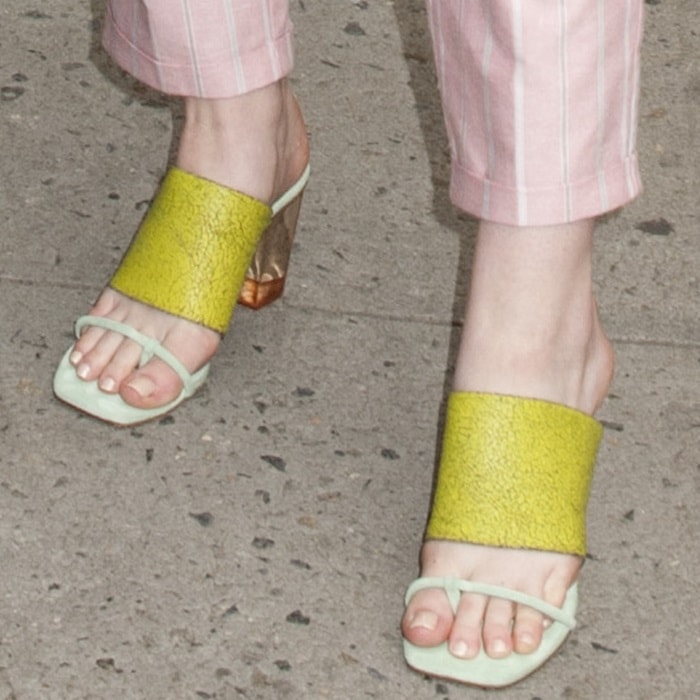 Elle Fanning displays her feet and toes in sandals featuring an adjustable buckle ankle strap and a toe thong (Credit: WENN)
Rounding off her look were striking sandals that feature wide crackle leather midstraps in yellow, front straps with thong toe straps in mint green, and about 3-inch clear Lucite heels.
Elle Fanning shows off her feet in Opening Ceremony "Jindo" heeled sandals (Credit: WENN)
How do you like Elle Fanning's look? Yay or nay? How about her "Jindo" sandals from Opening Ceremony?
Check out the different versions of the sandals, including a flat pair, at Farfetch: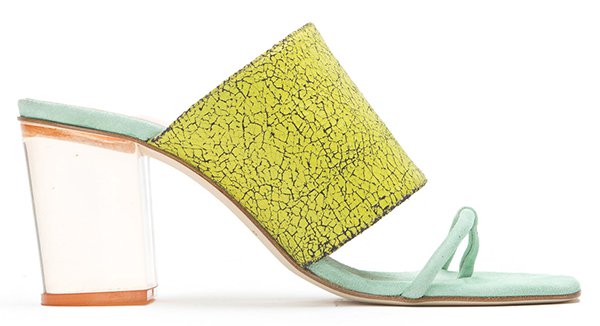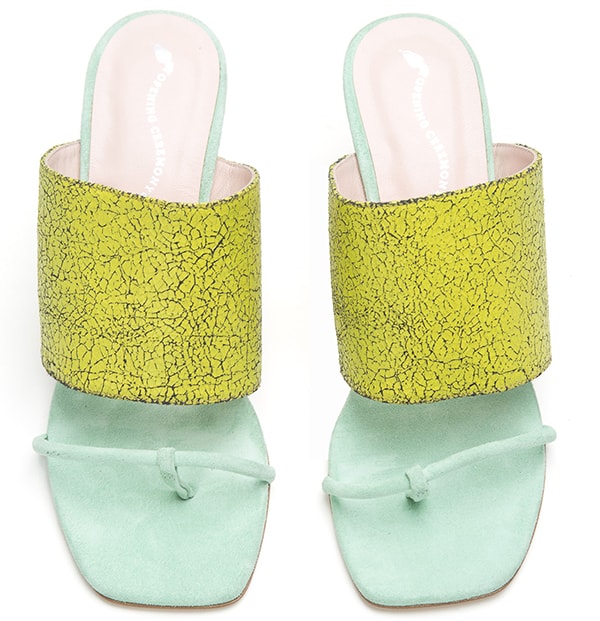 Opening Ceremony "Jindo" Heeled Sandals in Tetra/Mint, $440
Opening Ceremony "Jindo" Heeled Sandals in Jet Black/Stone White, $440
Opening Ceremony "Jindo" Heeled Sandals in Silver Foil/Jet Black, $370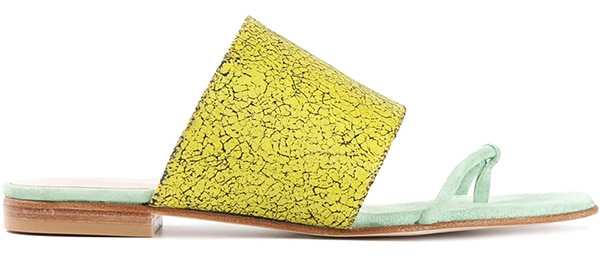 Opening Ceremony Textured Flat Sandals, $274.27