Emily Blunt is best known for her roles in the movies The Devil Wears Prada, Sicario, Edge of Tomorrow, as well as in the musical films Into the Woods and Mary Poppins. A graduate of Hurtwood House, an independent boarding school known for its performing arts curriculum, she has a net worth of $25 million dollars.
One of her most recent critically acclaimed movies was the 2018 horror film, A Quiet Place, directed by her husband John Krasinski. John also starred as Emily's husband in the movie, which had a worldwide box-office gross of over $340 million.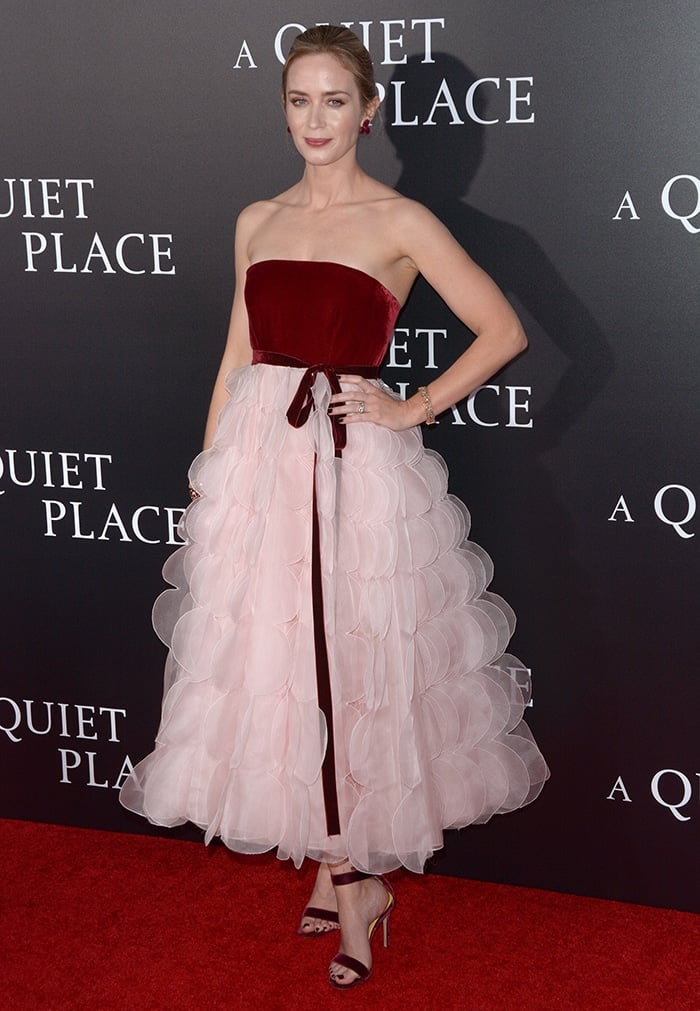 Emily Blunt in Oscar de la Renta Fall 2018 dress at the A Quiet Place New York Premiere on April 2, 2018
Following the success of the film, a sequel was announced in April 2018. John will only be appearing in flashback sequences in the movie, but Emily will be reprising her role from the first film.
A Quiet Place II had its world premiere in New York City on March 8. Paramount Pictures initially planned to release the film on March 18 but had to delay it due to the COVID-19 pandemic.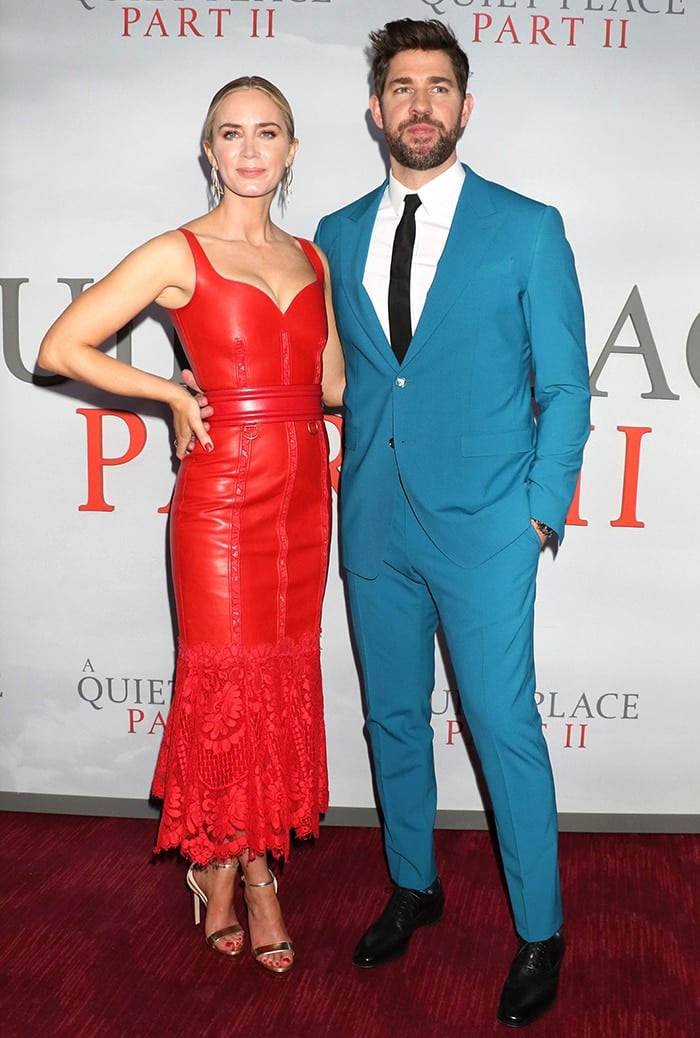 Emily Blunt in Alexander McQueen dress with husband John Krasinski at the A Quiet Place Part II premiere on March 8, 2020
On March 10, Emily was spotted heading inside Jimmy Kimmel Live studios to promote the mystery-thriller film.
The 37-year-old actress was on her way to the taping, wearing a white rib-knit turtleneck top underneath a red shearling coat.
Emily Blunt bundles up in a turtleneck top and a red coat as she heads to Jimmy Kimmel Live taping on March 10, 2020
Called "the most tremendous actress of our time," she paired the look with AKNVAS pre-fall 2020 plaid pants and Axel Arigato bird-embroidered sneakers that you can buy on Farfetch.
Emily Blunt completes her outfit with Axel Arigato sneakers
Keeping a low-key look, Emily simply wore her hair down and hid her eyes behind a pair of white-framed sunglasses.
Emily Blunt keeps a low-key look with white-framed sunglasses
Following her appearance on the show, Emily stepped out in a white knitted crop top, cropped pants, and a long white coat.
Emily Blunt leaving Jimmy Kimmel Live studios in a white knit crop top and long coat
She teamed the look with the same white leather Clean 90 bird embroidered sneakers from Swedish footwear upstart Axel Arigato that she wore earlier.
Axel Arigato Clean 90 Bird-Embroidered Sneakers, $210 at Farfetch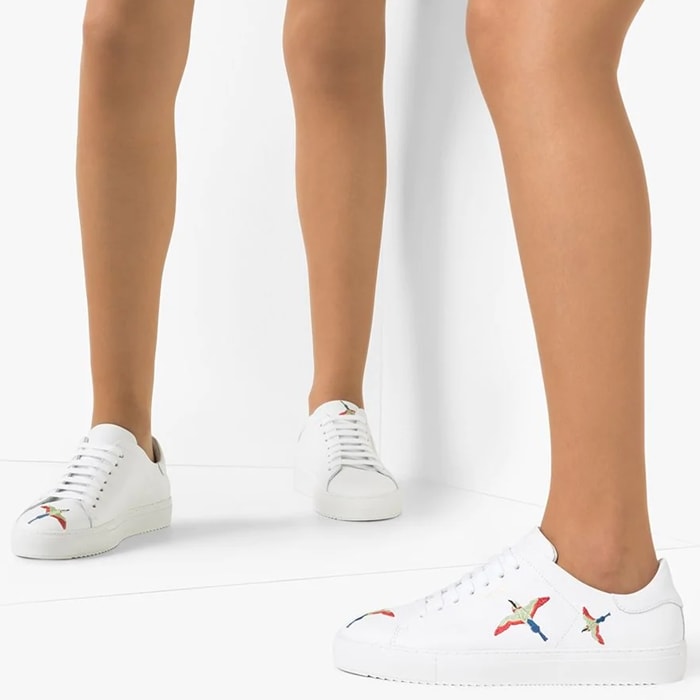 John Krasinski and Emily Blunt were reluctant to do the sequel
After the surprising success of A Quiet Place, Paramount Pictures immediately started developing a sequel. However, director John Krasinski admitted that he initially had reservations.
John told The Daily Californian: "Basically, the studio asked to do a sequel and I very quickly said no. I wanted no part of doing a sequel because I never thought that I could match the experience that I had on the first one or … articulate (the same kind of) organic storytelling."
Emily Blunt and John Krasinski at the London premiere of A Quiet Place on April 5, 2018
At the red-carpet premiere of the movie in New York City, Emily told Variety: "We were both reluctant and unnerved at the idea of trying to do another one. A lot of people came into the studio and tried to pitch ideas and we were both like, 'We're not going to do it.'"
Three months after the release of the movie, John changed his mind and agreed to write and direct the second installment.
How did John convince Emily to star in the sequel?
It was reported that 17-year-old deaf actress Millie Simmonds will emerge as the heroine in the sequel.
John told Variety that he "had this small idea, which was to make [Millie Simmonds] the lead of the movie."
"Not only did I think she would give an amazing performance, which I knew she could do, her character opens the door to all the themes I was dealing with in the first movie," he added.
Emily Blunt, Millie Simmonds, and John Krasinski pose together at the A Quiet Place II premiere on March 8, 2020
Although the movie will not center on Emily's character, she said she agreed to do the film after learning about its opening sequence.
"He pitched me the opening and I was like, 'Oh my God.' [It was] undeniably great, and I realized I would have been an idiot not to want to be in that opening sequence," she told Variety.
How much was Emily paid for A Quiet Place II?
Emily, who has a net worth of $25 million, was reportedly paid $12 to $13 million for her role in A Quiet Place II, according to Variety.
Credit: Guillermo Proano / Instar / Ivan Nikolov / JRP / WENN