Emily Ratajkowski was looking mighty shiny in the face at the APEX Social Club grand opening at Palms Casino Resort in Las Vegas on Friday night. She might've been trying the glass skin trend, but we can't explain the sausage-brown lipstick color unevenly applied around her signature puffy lips.
The 26-year-old model also seemed to have dropped her usual dark eyebrows in favor of an ungroomed, less filled-in look. Could this be the start of a new beauty trend for brows?
Emily Ratajkowski rocking sparsely filled-in eyebrows and unevenly applied lip liner. 
Makeup fails aside, Emily was her usual smashing self in a cleavage-flaunting Nookie "Glamour" dress that is currently on sale at $154 at Revolve. She matched an orange Tyler Ellis "Lee" pouchet to her orange-tone makeup and completed her sexy ensemble with gold Jimmy Choo "Minny" sandals.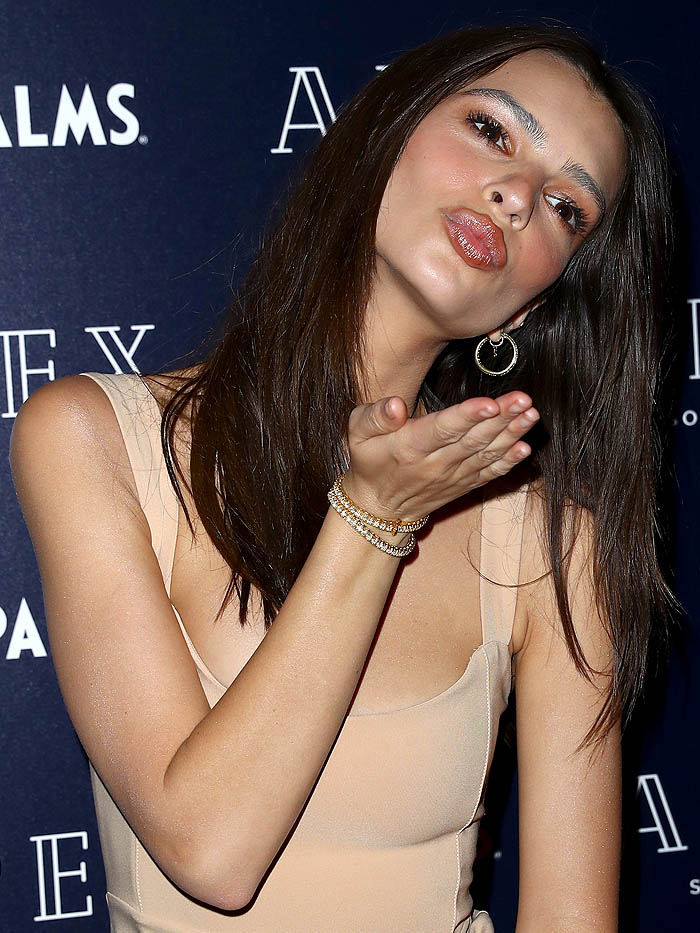 Emily Ratajkowski at the grand opening of APEX Social Club + Camden Cocktail Lounge at The Palms Casino Resorts in Las Vegas, Nevada, on May 25, 2018.
Details of the metallic gold Jimmy Choo "Minny" sandals on Emily Ratajkowski.
It looks like we can add Emily Ratajkowski to the ever-growing list of celebrity fans of the Jimmy Choo
"Minny" sandals. The "We Are Your Friends" star wore the glitter-fabric version of the heels with a revealing Marc Jacobs scoop-back gown to the 2018 Met Gala earlier this month.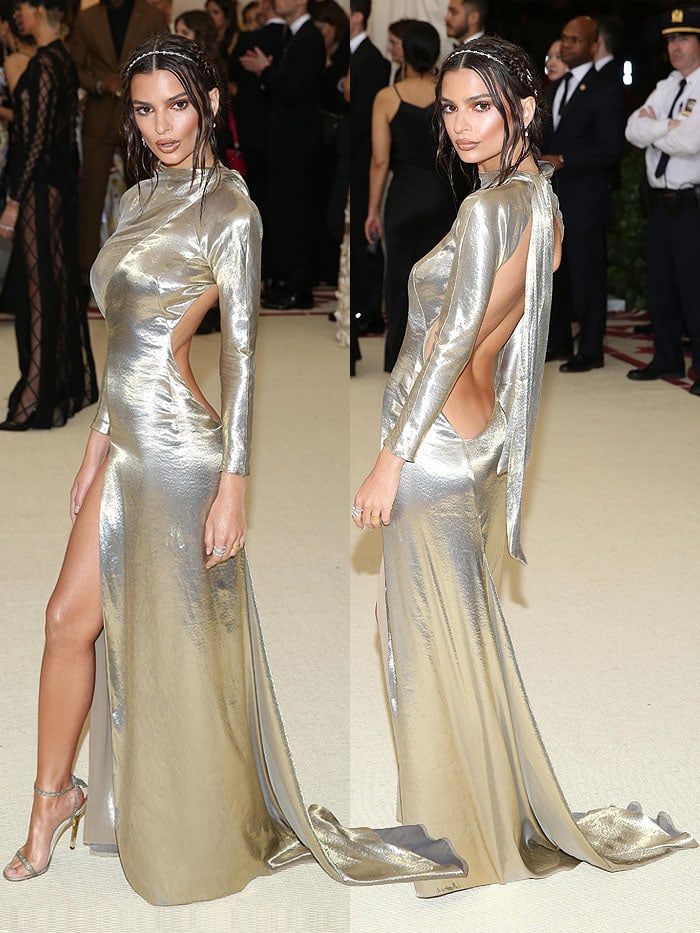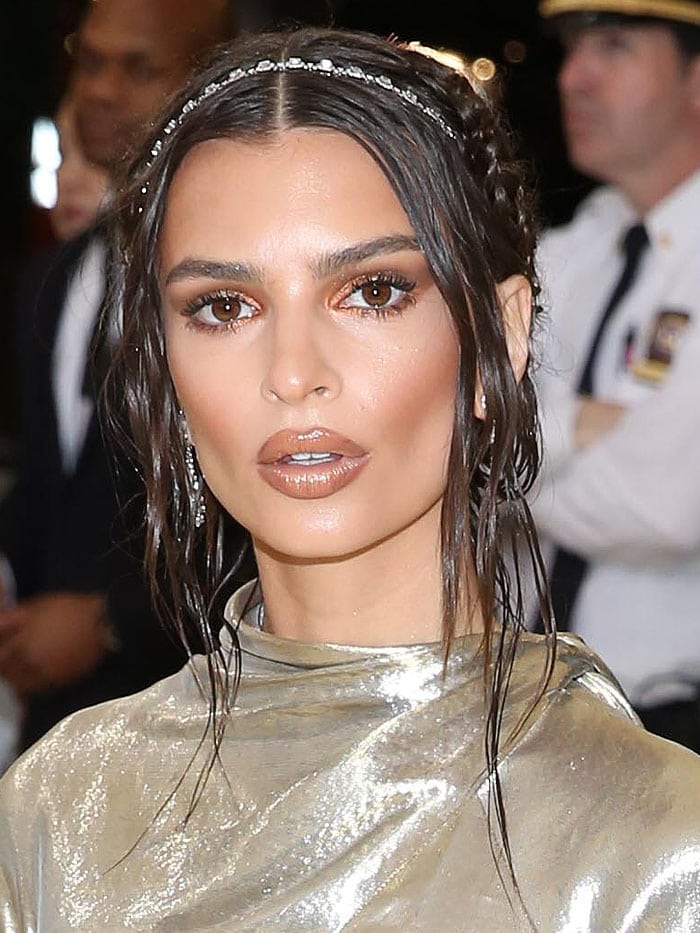 Emily Ratajkowski at the 2018 Met Gala held at the Metropolitan Museum of Art in New York City on May 7, 2018.
Emily Ratajkowski's Jimmy Choo "Minny" sandals in glittery fabric.
Jimmy Choo 'Minny' Sandals, $833.96 to $89 at Amazon
If you think basic ankle-strap sandals like the Jimmy Choo "Minny" and the Stuart Weitzman "Nudist" are all Emily goes for, she does make more exciting shoe choices from time to time.
At the "In Darkness" premiere last week, the brunette stunner rocked a head-to-toe Jacquemus Spring 2018 ensemble rounded out with interesting brown-suede sandals featuring wooden ball embellishments dangling from the metal heels.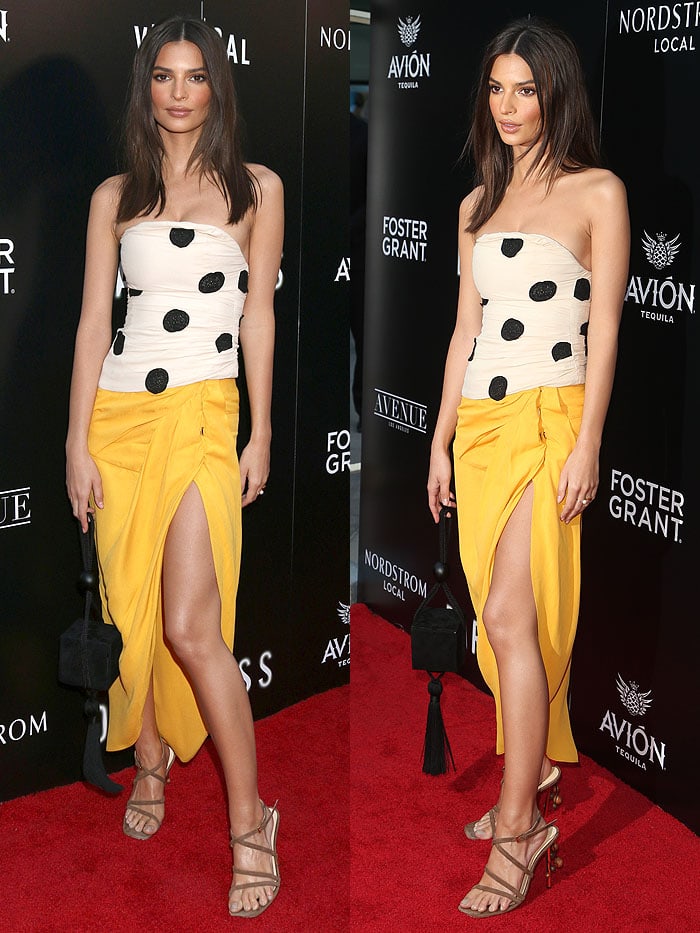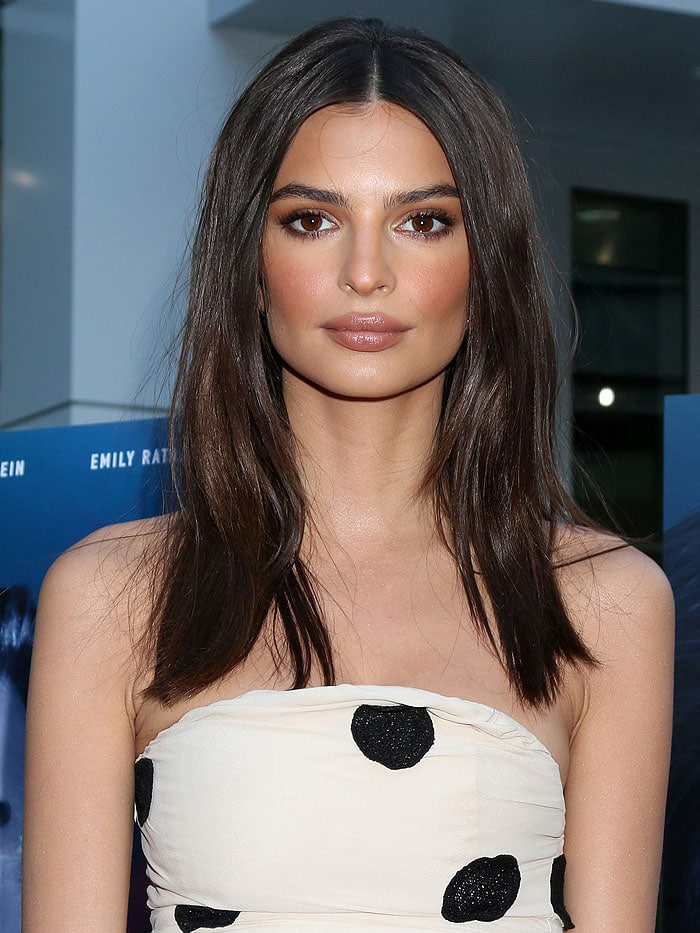 Emily Ratajkowski at the premiere of "In Darkness" at the ArcLight Hollywood in Hollywood, California, on May 23, 2018.
Closeup of the Jacquemus Spring 2018 brown-suede sandals with wooden ball embellishments on Emily Ratajkowski.
Shop the similar Jacquemus "Chacha" sandals below.
Jacquemus 'Chacha' Wooden-Bead-Embellished Sandals, $495 at Matches Fashion
Movement is integral to the design of Jacquemus's white leather Chacha sandals. They're crafted with a skinny silver-tone metal heel that is surrounded by wooden beads suspended from strands of brown cord, and feature an angular square open toe to create a proportionally balanced silhouette.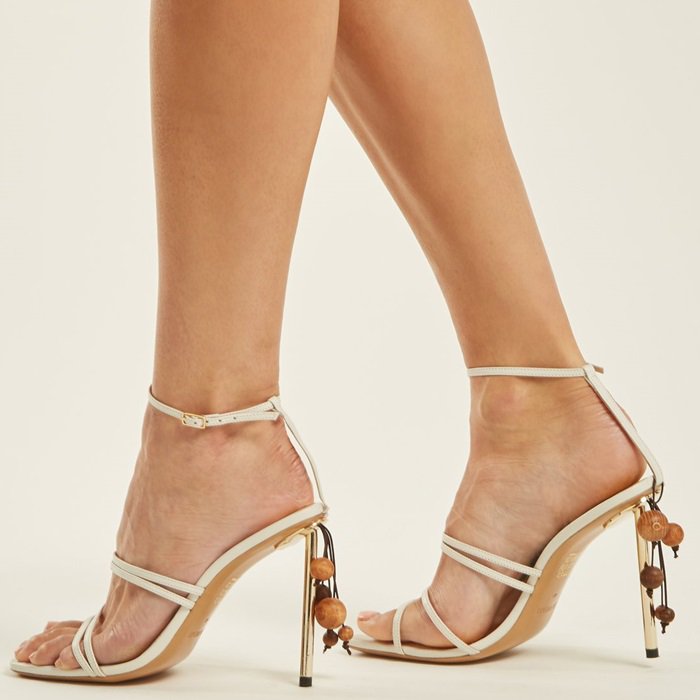 Credit: Andres Otero / FayesVision / Judy Eddy / Nicky Nelson / WENN