Eminem marked an important milestone in his life on Saturday (April 20) and took to his Instagram account to show off his AA coin, which reads, "To thine own self be true". He received it for being 11 years sober.
It is also stamped with the Roman numeral for eleven, "XI," and the words "Unity," "Service" and "Recovery." A sobriety coin is a token given to Alcoholics Anonymous or other 12 step group members representing the amount of time the member has remained sober.
The 46-year-old rapper captioned the photo, "11 years – still not afraid."
View this post on Instagram
Two years ago, Eminem opened up about being sober in an interview with Elton John, who has achieved almost thirty years of sobriety by focusing on one day at a time. "Getting clean made me grow up. I feel like all the years that I was using, I wasn't growing as a person," he said.
In 2007, Eminem had a near-death experience from an accidental overdose after his addiction got so bad that he was taking up to 20 pills a day. He opened up about his near-fatal overdose on Revival, his ninth studio album that was released in December 2017 and has spoken publicly about his addiction to prescription drugs, including Vicodin, Ambien, and Valium.
"When I got out of rehab, I needed to lose weight, but I also needed to figure out a way to function sober," the American rapper told Men's Journal in 2015. "Unless I was blitzed out of my mind, I had trouble sleeping. So I started running. It gave me a natural endorphin high, but it also helped me sleep, so it was perfect."
He added, "It's easy to understand how people replace addiction with exercise. One addiction for another but one that's good for them."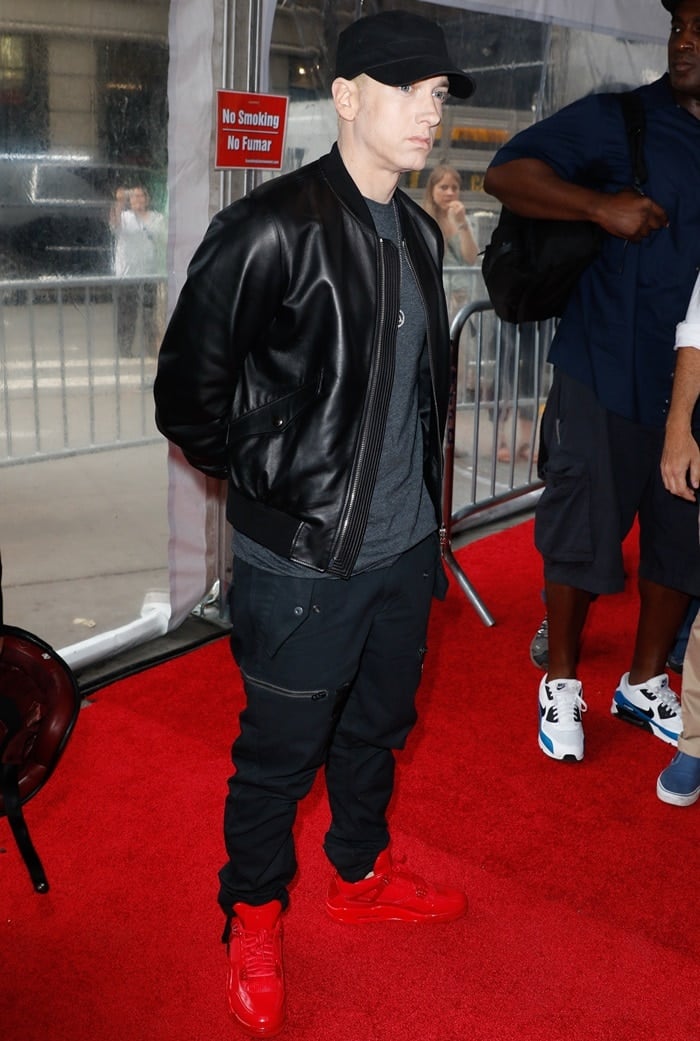 Eminem, who lends his voice to the movie's soundtrack, at the premiere of Southpaw held at AMC Loews Lincoln Square in New York City on July 20, 2019
In addition to exercise, he credits his biological daughter Hailie and his two adopted daughters, Lainey and Whitney, with keeping him sober.
Credit: Abel Fermin / WENN